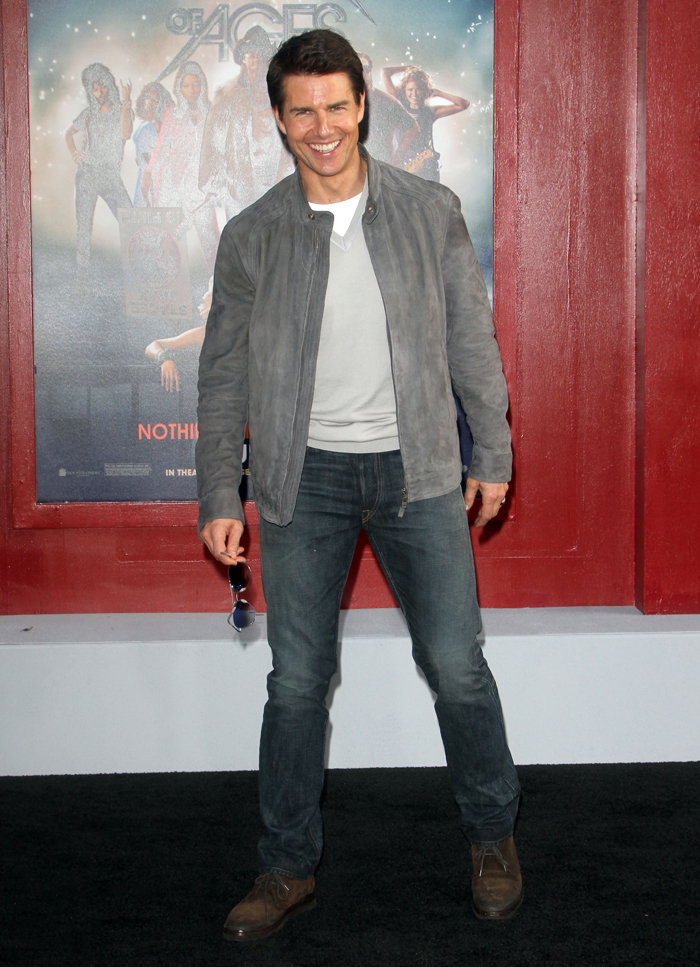 As we've already noted (with much hilarity), Scientology is in huge trouble from a public relations standpoint after fallout from the TomKat divorce. Now cult leader David Miscavige is rallying his celebs to help out with a new PR strategy that's sure to fail, but that won't stop former golden boy Tom Cruise from hitting up the old recruitment tactics as well. His new target? Russell "Shag-a-Million" Brand, whom Tom first enjoyed contact with while they filmed their mutual box-office flop, Rock of Ages.
Tom apparently believes that recovering (drug, alcohol, and sex) addict Russell would not only make a great CO$ recruit but also a gloriously effective spokesperson for Narconon, the CO$-affiliated drug rehab program that aims to detox drug addicts through a ridiculous regimen of vitamins and saunas. Never mind that Narconon's flagship center has just experienced its third patient death in a matter of six months, and never mind that Russell has very low tolerance for religious extremes (as in Katy Perry's parents) in any shape or form. Tom still thinks Russell would be a great fit and is said to be putting on the moves to get him indoctrinated at the Celebrity Centre. Russell probably has had a good laugh about it and declined to take any of Tom's calls in the future. Here's the story:
Tom Cruise is hoping to introduce comic Russell Brand to Scientology.

Newly separated Cruise is keen to recruit his Rock Of Ages co-star to be a spokesman for Scientology rehab project Narconon.

"Tom thinks Russell's battle with alcohol and drug addiction is a way to reach out to the vulnerable," says an LA spy.

Cruise also introduced Brand to Hollywood studio boss Sumner Redstone, who asked Russell to compere an event to help addicts.
[From Daily Mail]
First off, Russell would never fall for any religion that treats celebrities like gods because he himself has said, "Who cares about bloody celebrities?" Secondly, Russell is a terribly intelligent man who has articulately argued for compassion towards addicts in front of Parliament. Russell believes that addiction is an illness that finds its roots in "emotional difficulties [and] psychological difficulties," and Scientology doesn't jibe with the ideas of "illness" or "psychological difficulties" as concrete subjects that require treatment from a physician or, for that matter, anything other than auditing. Further, we've already seen that Russell has very little patience for bullsh-t, which is evidenced by the fact that he cut his marriage to Katy Perry short after merely fourteen months. In other words, Tom is wasting his energy here.
Here's Russell out and about in Beverly Hills with his new girlfriend, Isabella Brewster (sister of Jordana) on 7/21. Yes, he's putting her in a headlock, and yes, she's biting his arm in response. How romantic.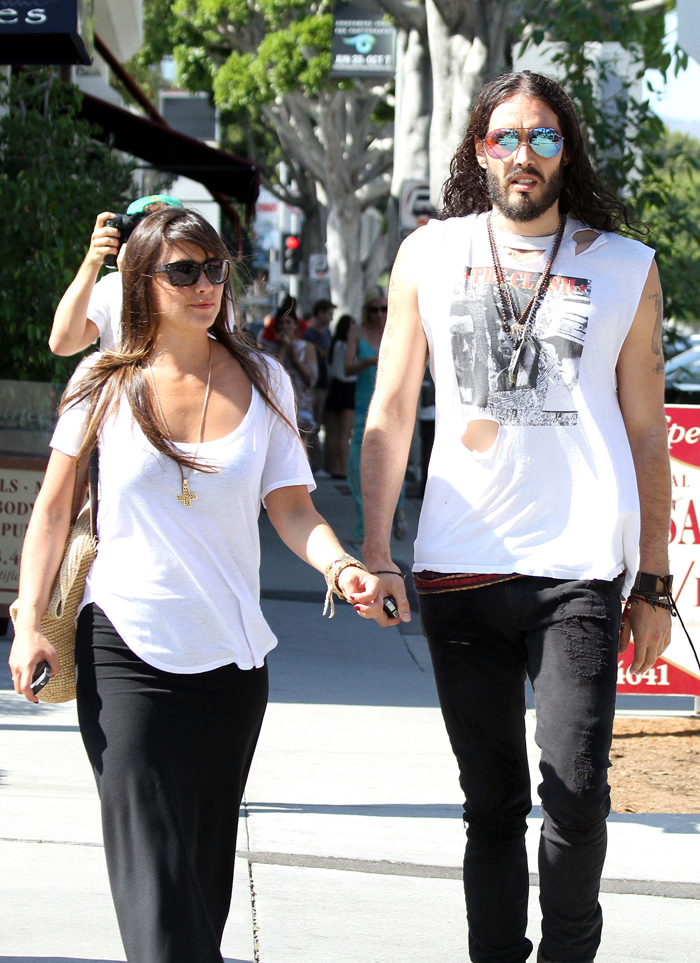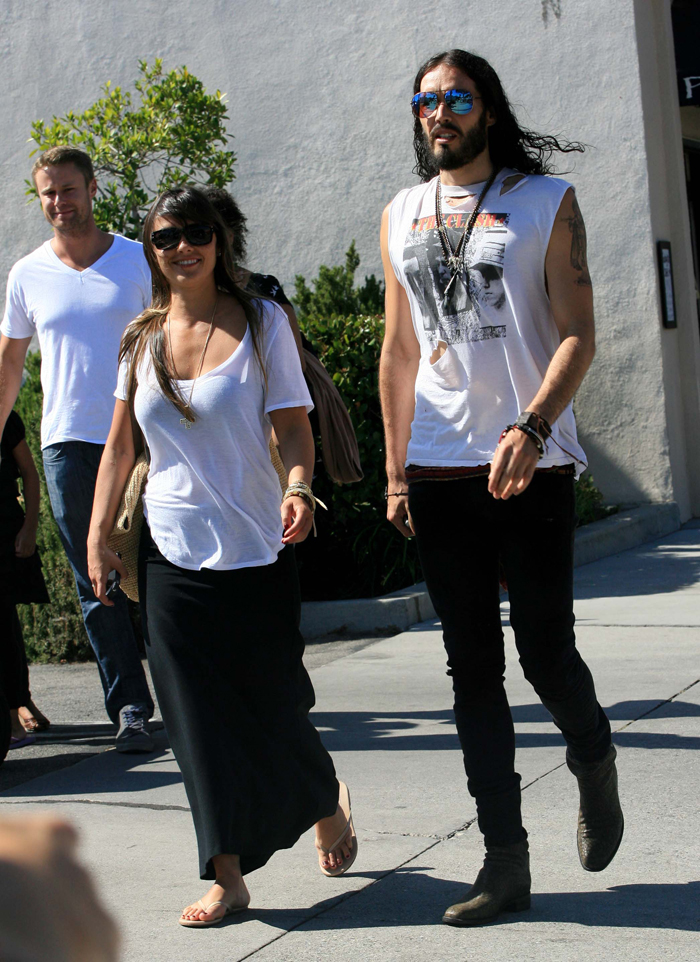 Photos courtesy of Pacific Coast News and Fame/Flynet