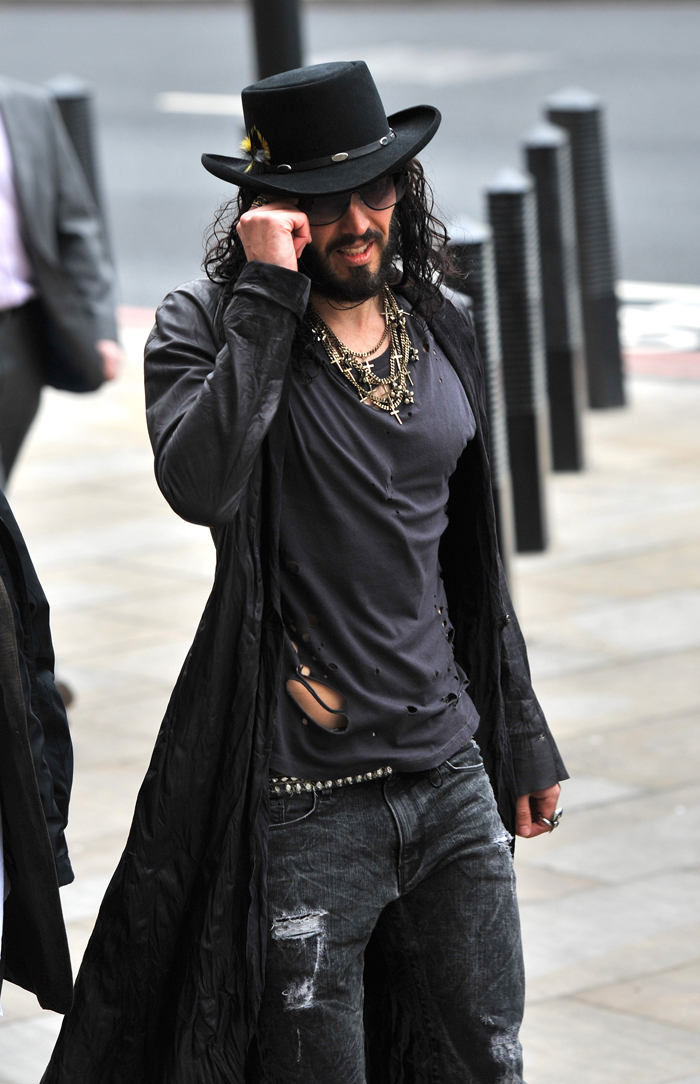 Until recently, Russell Brand was famously married to pop-tart extraordinaire Katy Perry, but don't hold that against him. Before that short-lived, ill-fated marriage, Russell has previously lived several lives of his own, and the most notorious incarnation that he continues to discuss to this date was the life of an addict. He has famously written about addiction (of the drug, alcohol, and sex varieties) not only in his two Booky Wook autobiographies but also in a very touching tribute to Amy Winehouse upon her untimely death last year. Now he has testified in front of Parliament, and we have received a few requests to cover this story even though (forgive us) it is a few days old by now.
At present, it is important to acknowledge how brave it is for Russell to step in front of lawmakers to discuss his former (and ongoing) struggles with addiction. However and as a celebrity, his analysis is somewhat skewed even though he claims to argue for the common man. Where Russell is concerned, addiction did not present so many legal problems as professional ones. For example, he was fired from MTV UK for showing up to work on 9/12/2001 while dressed up as Osama Bin Laden. Russell's defense for his behavior has always been that he only thought it was an immensely good idea to do so because he was incredibly high on drugs and lacked coherent judgment. At this point, I do believe him.
Now Russell has gone before the UK Home Affairs Committee to present his testimony as part of a drugs policy inquiry at Portcullis House. Russell does not present any immediate answers to the question of how to ultimately handle addiction in a legal sense, but he emphatically stresses that the condition is a disease and that educating the public in this regard is paramount. Brand disagrees with the legalization of drugs because he believes that deterrence does indeed have an effect. He is an incredibly articulate and (dare I say) brilliant man, and he passionately spoke for a full 30 minutes minutes in front of Parliament — even pausing for a moment to address the MPs as "mate." Here is a lengthy video of Russell's testimony, and some excerpts follow:
"I don't feel entirely qualified to talk about legislation. For me, what's more significant is the way we socially regard the condition of addiction. It's something that I consider to be an illness and therefore more of a health matter than more of a criminal or a judicial matter. I don't think that legalization is something I've (as I've said) that I'm particularly qualified to get into. I can see areas in fact where decriminalization might be considered useful and more efficient in countries like Portugal or Switzerland, [where] it seems to have had some efficacy. But for me, it's more important that we regard people suffering from addiction with compassion and that there's a pragmatic rather than a symbolic approach to treating it. And I think that if the legislative state of addicts and the criminalization of addicts is kind of symbolic and not really functional, I don't see how it especially helps. I'm not saying that we have a wacky free-for-all of people going around and doing drugs.

"I became a drug addict (I think) because of emotional difficulties, psychological difficulties, and perhaps a spiritual malady. For me, taking drugs and excessive drinking were the result of a psychological, spiritual, or mental condition, so they're symptomatic. I was like sad. lonely, unhappy, detached. And drugs and alcohol for me seemed like a solution to that problem. Once I dealt with the emotional, spiritual, mental impetus, I no longer felt the need to take drugs or use drugs. I got clean actually at Chip Summers — his facility focuses on abstinence-based recovery; and that's what we essentially believe in, is that if you have the disease or illness of addiction or alcoholism, the best way to tackle it is to not use drugs in any form — whether it's state-sponsored opiates like methodone or illegal street drugs or a legal substance like alcohol. We see no distinction between these substances. What we believe in is that abstinence-based recovery is the best solution for recovery for people suffering from this condition."
[From YouTube]
Russell further addressed the death of Amy Winehouse and urged Parliament that her death not stand "in vain" and should, instead, inspire new drug policies in the UK as a "force for change and good policy." He further stated that "addicts will always be able to get drugs whether they are illegal or not." Russell also added that putting addicts on methadone via social programs does not help but them but "leave[s] them on the sidelines" because "just to park people on methadone for four to seven years is criminal." When pressed about the social responsibility of celebrities, Brand responded, "Who cares about bloody celebrities?" Of course, Russell agrees that not everyone will respond to abstinence-based recovery without the aid of methadone, but he adds that "I'm not a legal expert. I'm saying that, to a drug addict, the legal aspect is irrelevant. If you need to get drugs, you will. The criminal and legal status, I think, sends the wrong message. Being arrested isn't a lesson, it's just an administrative blip." So what is the ultimate answer on how to deal with drug addicts in the UK (or elsewhere)? Nobody really knows, but at least Russell Brand is willing to speak out about his experiences and open up the dialogue for further discussion.
As to Russell's dubious fashion sense? There's no hope for recovery in that regard, mates. Especially since he showed up to Parliament wearing this outfit.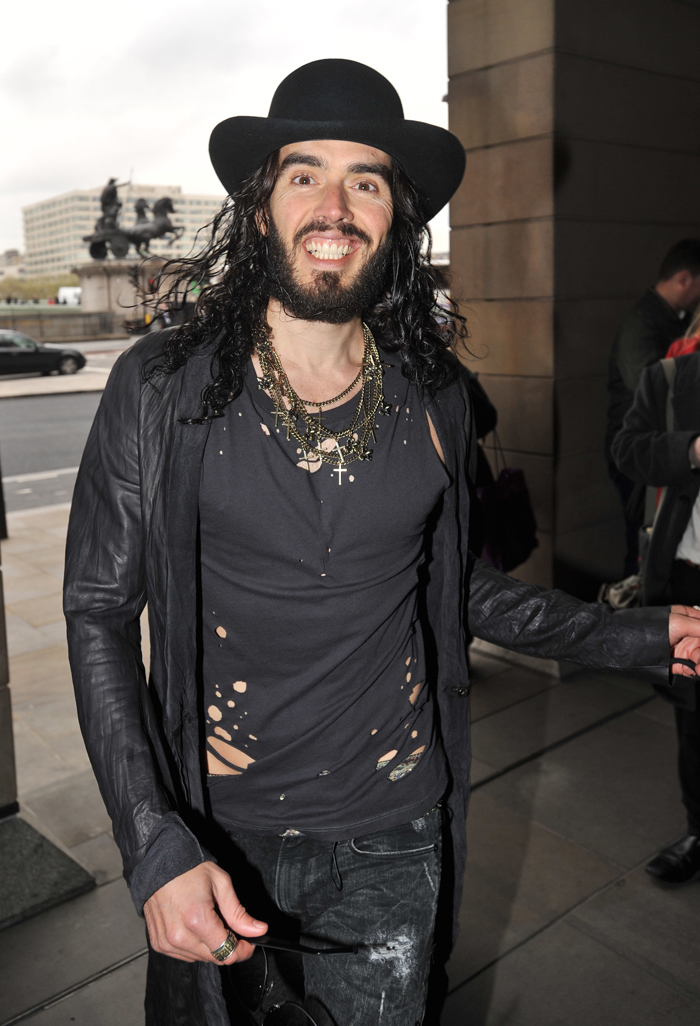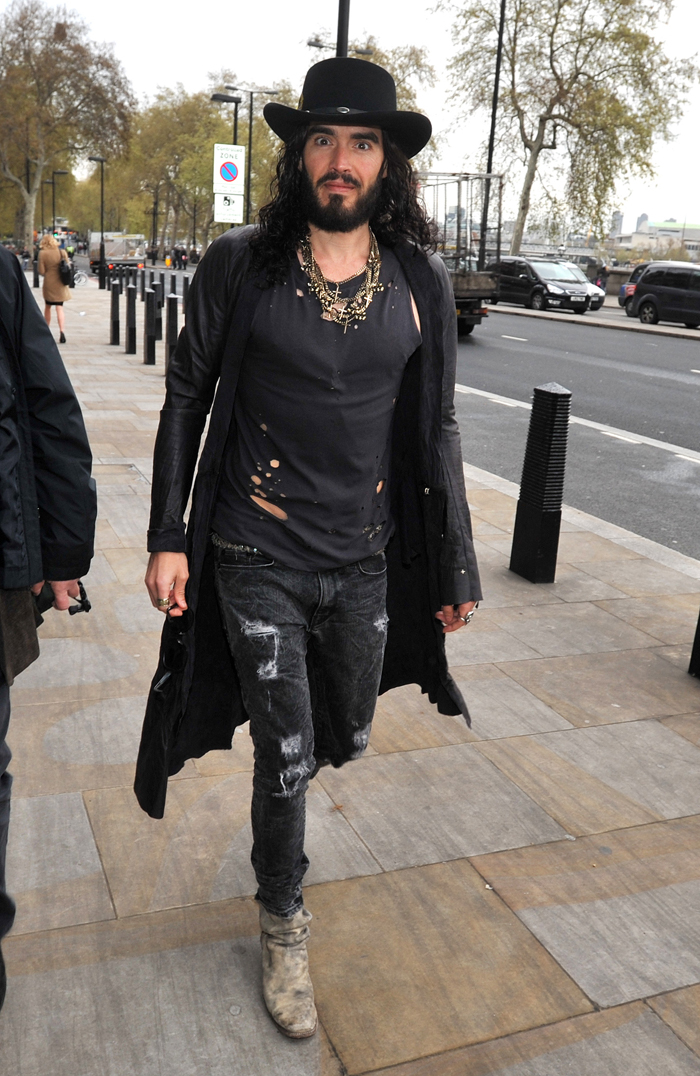 Photos of Russell Brand after testifying in front of Parliament courtesy of WENN