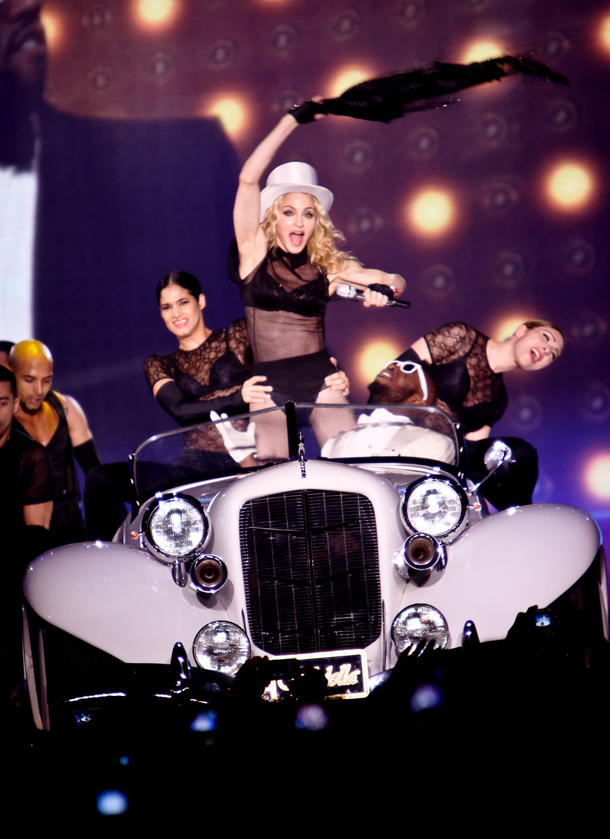 Madonna decided to make a bit of a scene and ensure she got a lot of tongues wagging by flirting with boyfriend/soul mate Alex Rodriguez, who was front and center for her Miami concert yesterday. And just to up the class, Madge showed up two hours late and didn't apologize, and at one point told the audience to smell their armpits. A happy Thanksgiving indeed.
Was that the look of love Madonna and Alex Rodriguez were beaming at each other Wednesday night? It sure looked like it to some folks at Madge's Sticky & Sweet concert at Dolphin Stadium in Miami. As A-Rod sat in a front row between Rod Stewart and his amour's manager, Guy Oseary, Madge fixed her gaze on him and sang, "You Must Love Me." He smiled at her, and the Material Girl got all teary-eyed.

Many in the crowd nodded knowingly when, before her rendition of "I'm So Far Away," she told fans, "I'm sure you can relate about a long-distance love affair." In a couple of hotter moments, Madge gyrated in A-Rod's direction while winking at him and later went pneumatic on a speaker while staring his way.

Through it all A-Rod smiled, applauded and even rose to his feet when Madge – apparently in need of more crowd participation – shouted, "C'mon you mother——-, stand up and stop trying to look bored. Put your hands in the air and smell your armpits." Apparently nothing Madge can do offends her fans or A-Rod.
[From the New York Daily News]
I still find the idea of Madonna and anyone doing anything pretty much nausea-inducing at this point. The combination of her bodybuilder physique and perfectionist ice queen personality makes it hard for me to believe she's nice to cuddle up to. At some point I bet this realization is going to hit A-Rod like a ton of bricks.
Speaking of which, Rodriguez did indeed spend Thanksgiving with his two daughters, ex-wife Cynthia, and her family in Miami. While I don't want to give Alex too much credit, I doubt that was the most comfortable meal he's eaten and it's good that he did that. It also says a hell of a lot about Cynthia Rodriguez and her family to invite the ex-husband who publicly humiliated her (and made an ass of himself) into their home for the holiday. I'm sure they're doing it for the kids, but though a lot of divorced couples say they plan on doing that, very few actually go through with it.
And what's a better way to top off a nice Thanksgiving meal than with a heartwarming, armpit-raising Madonna concert?
Here's Madonna performing in Atlantic City on Sunday. Images thanks to Fame.