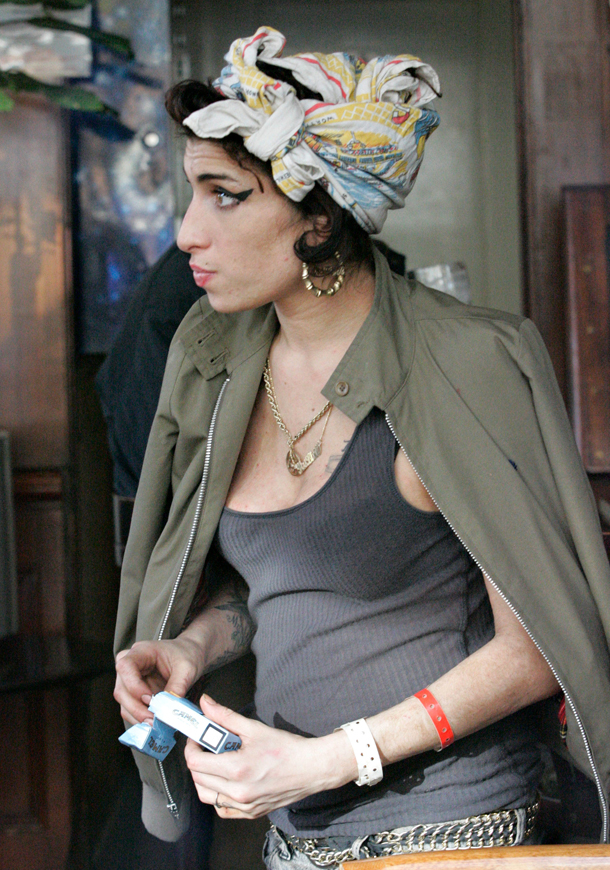 On Tuesday Amy Winehouse was hospitalized after having a seizure. Though her publicist claims it was due to the specific combination of prescription medicine she's taking, The Sun says that Amy and husband Blake Fielder-Civil got into a major screaming match over the phone, resulting in Amy going on a long bender. Now they're reporting that Amy is so serious about ending her marriage that she met with divorce lawyers – while she was still in the hospital.
AMY WINEHOUSE met divorce lawyers yesterday to discuss a separation from BLAKE FIELDER-CIVIL. The junkie diva, 25, who is in a London clinic following a "seizure", asked her dad Mitch to organise the meeting.

Amy is being treated after a phone bust-up with her husband. Druggie Blake continued to make angry calls to her after she was kept in hospital for tests.

The Sun revealed on Tuesday that Amy went on a drink and drugs binge sparked by the screaming match.

Blake then ranted over the phone at cab driver Mitch for "obstructing" their relationship. But pals say Amy wanted to end the marriage and then asked her dad to bring divorce lawyers to hospital for a meeting.
[From The Sun]
Wow, what a man. What a fabulous, caring husband. Technically we can't blame Blake for the fight (since we don't know what the fight was about) or for Amy's decision to react to it by going on a bender. But tracking her down in the hospital while she's being treated so he can continue the fight? That really takes a commitment to being an asshole. That says a lot about his character and priorities. He wasn't worried about Amy and calling to see if she was okay. He wanted to prolong the argument as long as possible and make sure he had the last word. Pathetic.
Hopefully Amy will divorce this guy while he's stuck in rehab so it's easier on her. And then she needs to buckle down and seriously work on her own issues and forget about Blake.
Here's Amy at a pub in Kentish Town neighborhood of London on November 11th. Images thanks to Fame.