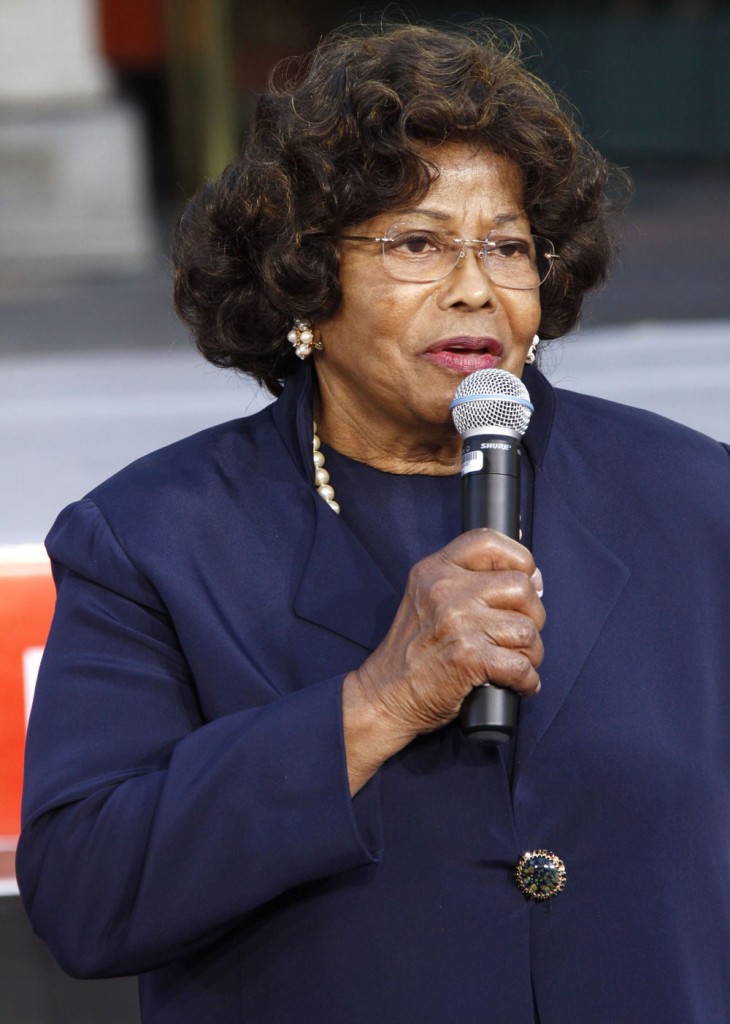 When Katherine Jackson was re-emerging after her over week long "spa vacation" at the insistence of four of her children challenging Michael's will, she claimed that she voluntarily gave up her phone during the trip. She also took pains to say that she wasn't taken against her will, and was perfectly happy with her children. When Katherine made that pre-written statement, she was surrounded by five people and the one journalist there wasn't allowed to ask any questions. Well now a new version is emerging, one that people suspected for some time. In new court papers requesting that Katherine share guardianship with Tito's son, TJ, she claims to have been tricked into the trip and to have had her cell phone, iPad, and other access to the outside world taken away, including access to a television.
Katherine Jackson has submitted a sworn declaration that says she had no cell phone, no working television or telephone in her room at the Miraval spa, and had her iPad taken away, RadarOnline.com is reporting.

The papers also state she had no idea that Prince, Paris, and Blanket had been trying to reach her.

The Jackson family matriarch says a doctor was brought to the house on July 14, 2012, and "stating he had been in contact with my longtime personal physician and was coming to check on me because my personal physician was unavailable. The doctor advised that it was better for me to fly and not drive to New Mexico. Believing that the doctor was sent at the request of my longtime personal physician, I followed what I understood to be a doctor's orders and boarded a flight as opposed to driving in the motorhome."

Katherine says upon arrival at Miraval Spa in Tucson, Ariz. her cell phone was taken away, and "when one of the people asked if I could communicate with my iPad and I replied yes, my iPad was taken away. While there was a telephone in my room, the telephone was not functioning and I could not dial out. In addition, there was no picture on the television in my room.

"Despite repeated requests to those with me to have it fixed, the television was never fixed. One morning I woke up to the sound of the television. While there was no picture, I heard a broadcast that stated I was missing. I was also never told that my attorney, Perry Sanders, Jr. had flown to Tucson in an attempt to meet with me in person in attempts to find out what was going on."

Jermaine, Janet, Rebbie, and Randy Jackson were staying with their mother at the Miraval Spa.

"I was never informed that Prince, Blanket, and TJ were trying to reach me. Had I known that fact, and if I had been provided with the means to contact Prince, Paris, Blanket and TJ, I would never have gone for such a long period of time without communicating with them.

"While I was away, I had no reason to question whether the people with whom I placed trust would inform me that Prince, Paris, and Blanket were trying to reach me. The day before I was brought home from Tucson, I was finally permitted to use the phone to speak with Prince, Paris, Blanket and TJ."

Michael's mom supports her grandson, TJ, being named as co-guardian of the children, and asked the judge for permission to take the kids to Gary, Indiana, for a birthday celebration for the late King of Pop.

"TJ and I along with Prince, Paris, and Blanket are planning to travel out of California toward the end of August for a family function that will include a celebration involving the memory of my grandchildren's father, and my son, Michael. It is important that security planning and travel arrangements for the trip are made soon so that the trip can go forward."

The judge signed off on allowing the kids to travel outside the state of California, as long as Katherine and TJ Jackson both agree. The duo are expected to be appointed permanent guardians of the children on August 22.
[From Radar Online]
This explains Jermaine's change of heart recently – he was ashamed. He should be – who does this to their own mother? Also, Miraval tried to save face when this came out earlier by claiming that Katherine had a working phone in her room, but obviously that wasn't true.
Fox News reports that plans for a Jackson family reunion, which takes place every summer, have been scrapped in light of this fiasco.
In terms of the children's guardianship, there's news that Diana Ross met with them, since she was named in Michael's will as the children's alternate guardian. Katherine's lawyer explained that Diana needed to sign off on the new guardian. He described the meeting as "very thoughtful and pleasant." Another source told Radar that Ross "only wants what is best for the children," and that she "hasn't been a big part of their lives because she lives on the East Coast," but "is very fond of them." And I thought those stories about Diana being named alternate guardian weren't true.
Also, there's news I heard on D-Listed that La Toya got a reality show on Oprah's network. That just goes to show that Oprah is kind of scraping bottom, doesn't it? Not that La Toya won't be entertaining, especially if she's interacting with her massively dysfunctional family.