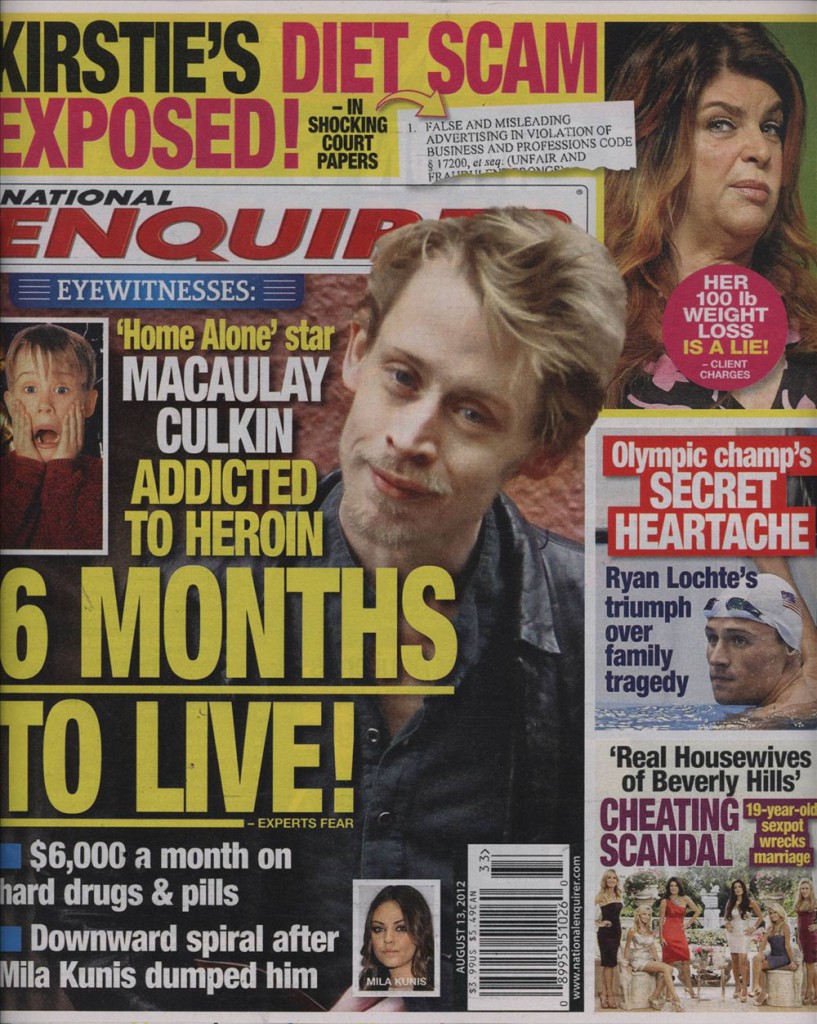 The National Enquirer's cover story last week claimed that former child star Macaulay Culkin, 31, is a drug addict who is addicted to heroin and Oxycontin, and regularly takes a cocktail of dangerous prescription drugs. Macaulay's rep denied the story and tried to appeal to common decency to get other outlets not to repeat it. His rep wrote: "We beseech the responsible media to consider the source and its reputation and to please not perpetuate this destructive and insulting story by pursuing it any further."
In response to Macaulay's denial, The Enquirer has named their source and challenged Macaulay to a drug test to disprove their claims. Even if he's telling the truth and isn't addicted to anything, you know he's not going to take them up on it. Here's the Enquirer's report where they double down on the story:
The NATIONAL ENQUIRER hopes the cover story on its latest issue, "Home Alone' star Macaulay Culkin Addicted To Heroin – Only 6 Months To Live!" will act as a dramatic and much-needed wake-up call to the 31-year-old actor.

Our advice to Macaulay is to seek professional help to avoid the same tragic fate of other beloved celebrities, including Whitney Houston who died earlier this year.

We believe that the former child star should be doing everything he can to get the treatment he so desperately needs – and which could have saved the life of his friend Elijah Rosello.

Her family confirmed to The ENQUIRER that she did drugs with Macaulay before her drug-related death in March.

Should Macaulay's representatives continue to deny The ENQUIRER's accurate and detailed report, we are ready to offer him the opportunity to take a blood test administered by an independent medical lab.

It is a fact that as The ENQUIRER tracked Whitney Houston's descent into her drug hell, she refused to admit she had a problem – and Whitney was represented by some of those people now denying Macaulay's potentially deadly problems.

The ENQUIRER editors would hate to see Macaulay end up like Whitney.
It's true that The Enquirer was running stories about Whitney being back on drugs before she died. Then when she died they put a photo of her in repose in her casket on the cover. So it's not like they were motivated out of concern for her, you know?
The "Six Months To Live" headline is one the Enquirer uses a lot to move copies. They take celebrities, have a quack doctor look at photos of them and speculate on their general health, and then proclaim that they have X amount of months or years to live. In a couple of cases they've been right (I looked over past issues and they did predict Michael Jackson and Elizabeth Edwards' demise) but most of the time it's just a dubious effort to entice people to buy the tabloid. What I'm saying is that I hope The Enquirer is wrong. I hope that Macaulay has way more than six months to live and that he's not addicted to anything except Red Bull. (A can of which he's been seen with virtually every time he's been photographed this year.) Some of you have floated the theory that he's sick with an undisclosed illness and that may be why he looks so gaunt. I hope that's not true either, but you never know.
Macaulay reportedly attended Natalie Portman's wedding over the weekend. He's said to be old friends with her. That's good news.
I found this video of Macaulay at NY Comicon in October, 2011 as part of the Robot Chicken panel. (He voices a character on the animated show.) Macaulay licks Seth Green's face in response to a member of the audience asking Seth for a "sexy pose with Macaulay." Macaulay does not seem sober at all. Maybe he's just really high.
Macaulay in February, 2012. Credit: FameFlynet