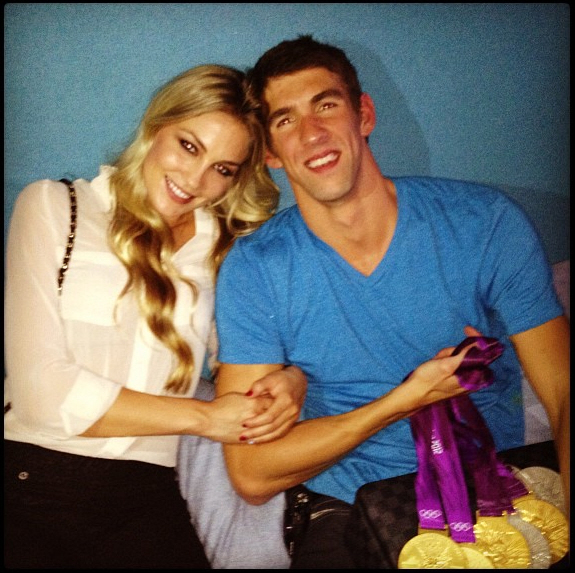 Michael Phelps has had a girlfriend this whole time. Okay, maybe not the WHOLE time, but he's definitely had a girlfriend for most of this year. Her name is Megan Rossee and most legit outlets are referring to her as a "model". That's backed up by the fact that I could actually find some model-y shots of her, so maybe it's for real. Apparently, the whole relationship has been very under-the-radar, but people saw them hanging out together in London over the weekend. It's also weird that people are only putting it together now, because I glanced through her Twitter, and she's been tweeting about him a lot, and she just started posting photos of Phelps on Instagram. Some selected tweets: "Michael Phelps this probably will get lost in your tweets but since I can't text I miss you and cant' wait to spend time with you for real xo" and "Good luck tonight bear." Yes, she calls him "Bear". Because apparently they're Casper Smart and Jennifer Lopez.
But of course there's already a scandal. Sort of. Radar is trying to make a big deal out of the fact that Megan doesn't really work full-time as a model. Radar describes her as "a cocktail waitress" and "a bottle server at Blok nightclub in Hollywood." A source told Radar that Phelps and Rossee met at Blok:
"Michael and Megan have been an item since January. He met her in Blok nightclub – and despite advances from Paris Hilton's ex Doug Reinhardt, she chose Michael. Megan thinks Michael is very funny, kind-hearted, loves hanging out with him and is just as athletic. She loves to keep in shape, so they have a lot in common. She was with him in Omaha, cheering him on at the Olympic trials and has been playing the part of devoted fan and girlfriend. Michael was desperate for her to see more of the world, so he decided that she should join him in London for the Olympics. He's also hoping that eventually she quits her nightclub job to go full-time on her modeling career. He hates that she still works at Blok. Michael is completely besotted with Megan and now that he's retired is even thinking of popping the question," the source revealed.
Sounds like wishful thinking on behalf of Megan and her friend, but who knows, really? I think Phelps does tend to go for the model/waitress types, right? And why not? If it's good enough for George Clooney, it's good enough for Michael Phelps. Except that Radar has OTHER sources who claim that Rossee might be a user. *clutches pearls*
Friends fear that Michael Phelps' new girlfriend Megan Rossee is only in it for the fame, RadarOnline.com is exclusively reporting. The Olympic swimming champion is besotted with the leggy, blonde aspiring model – but has been warned that she's just using him to climb the showbiz ladder. Worse still, pals are concerned that he will be left heartbroken if things don't work out between them.

"Michael is like a puppy dog around Megan – he's completely in love with her," a close source said. "However, like any young girl hoping to make it in Hollywood, she's ambitious and knows that by associating herself with Michael she will get a lot of press herself. She's desperate for her own fame – her career has been a slow-burner but this will certainly accelerate it.

"Megan supplements the little money she makes through modeling by working as a cocktail waitress at Blok nightclub – but neither she nor Michael want her doing that forever. Now that people know who she is, Megan is hoping that she will get more offers for photoshoots and her modeling and acting career will finally take off," the source revealed.

Despite supporting Michael at the Olympic trials in Omaha and the London 2012 Olympics, friends are wary that Megan will leave the Olympic swimming champ heartbroken if their relationship was to ever end.

"He took her to the Olympics at a time when he was trying to become the most decorated Olympian of all time – that's how much she means to him," an insider divulged.

"Michael adores everything about Megan, she's athletic, makes him laugh and she's obviously drop dead gorgeous. But what happens when the buzz of the Olympics dies down and life goes back to normal? Will she want to date a retired swimmer?"

As RadarOnline.com exclusively revealed, the mystery blonde Phelps was spotted celebrating with in London was cocktail waitress, Megan.

The pair have been serious since January – but wanted to keep their relationship under wraps as Michael concentrated on becoming the most decorated Olympian of all time at the 2012 London Games.
FFS. "But what happens when the buzz of the Olympics dies down and life goes back to normal? Will she want to date a retired swimmer?" Oh, I don't know, "source". Will a struggling model/waitress/famewhore want to hang out with a completely ripped, famous, and beloved millionaire with nothing but time on his hands? Rossee is definitely pushing this WAY too hard.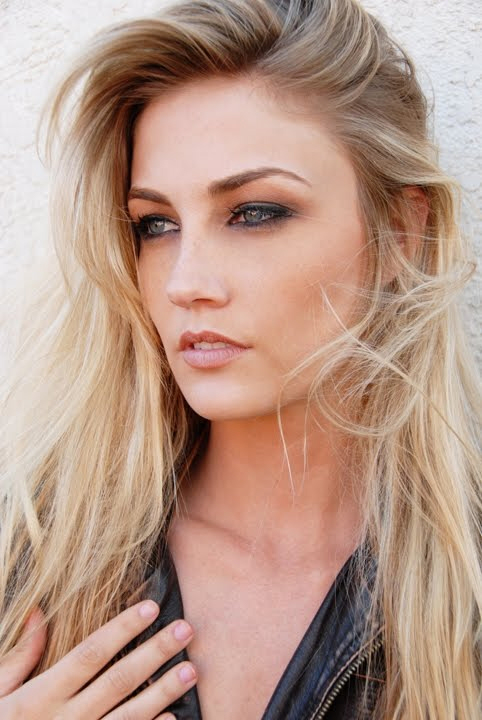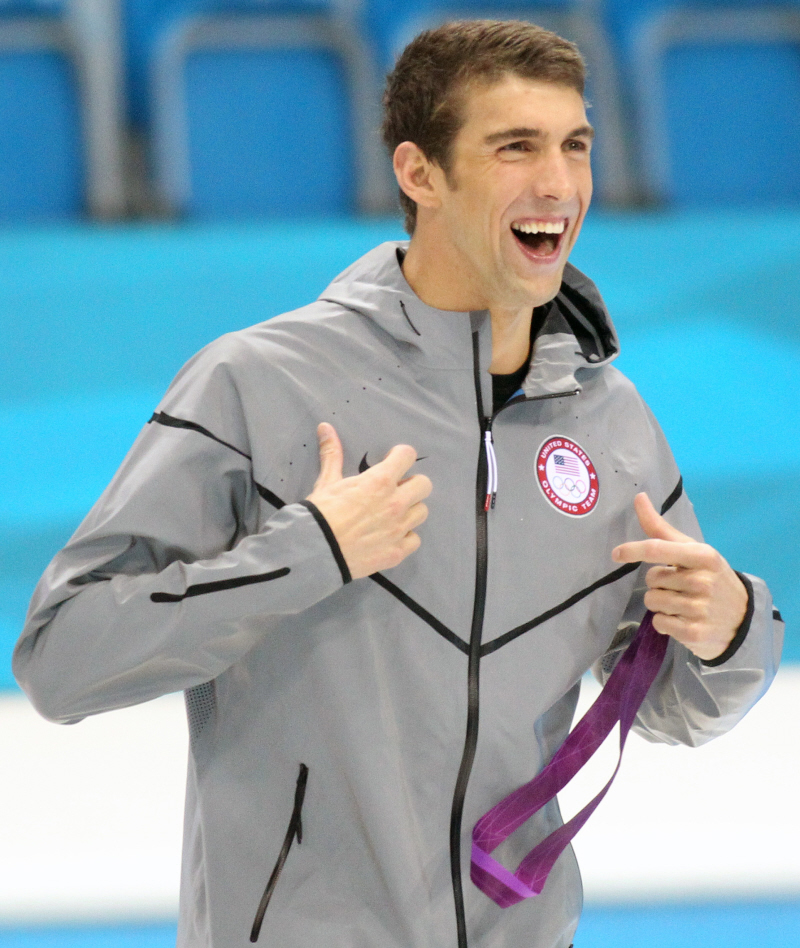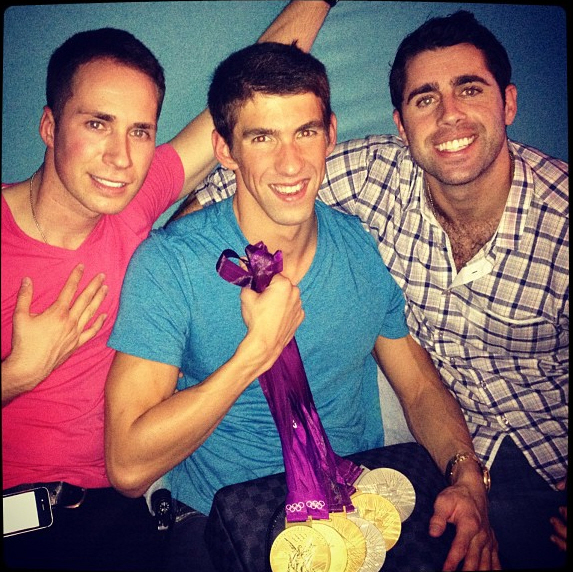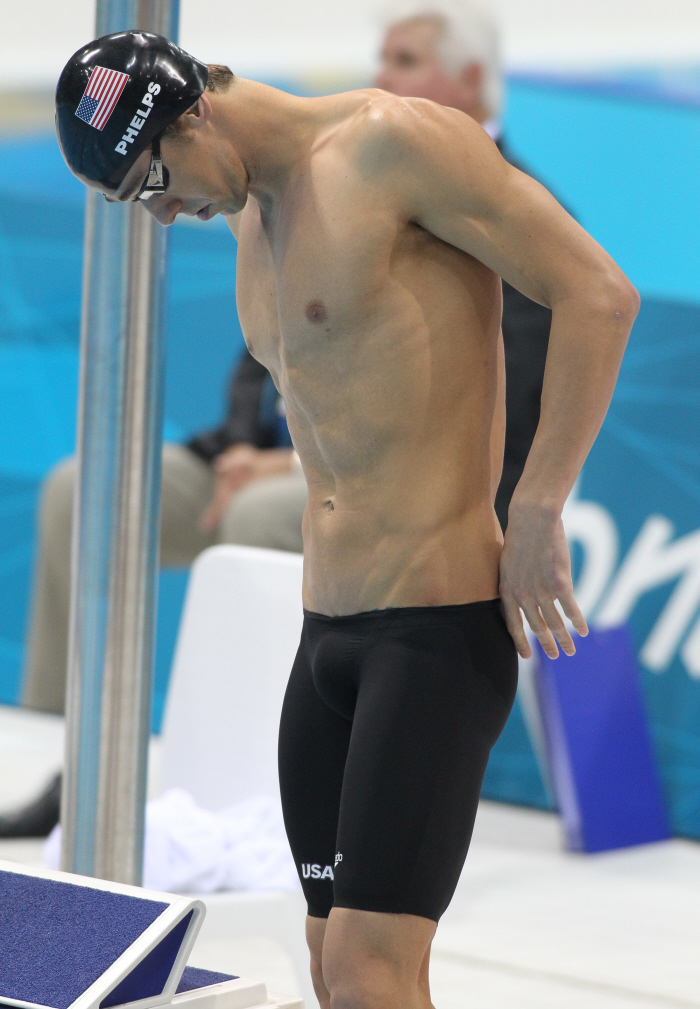 Photos courtesy of Instagram, WENN.