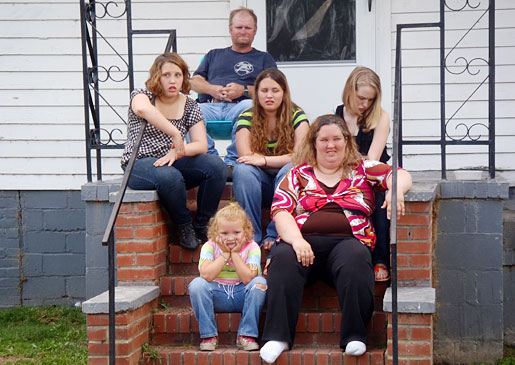 This is a promotional photo from TLC. I did not just pick the worst photo to use
Six year-old Honey Boo Boo Chile, one of the precocious stars of TLC's "Toddlers & Tiaras," has her own spin-off show on TLC. Honey Boo Boo's co-star, Eden Wood, got a show on Logo this year called "Eden's World" in which she and her family coached other tots in the competitive, bizarre world of child beauty pageants. So I guess this is the second spin off for a T&T castmember, featuring the one with the most colorful family to put it lightly.
Earlier this year we covered Honey Boo Boo and her mom, June, on Dr. Drew. June admitted that she regularly gives her daughter a mixture of Red Bull and Mountain Dew as part of her pageant prep, calling it "Go Go Juice." No we can get a glimpse inside their fascinating family life, and the preview makes the show look as exploitative as a kiddie beauty pageant. Here's more:
Get your go-go juice and tiara because it's the Return of Honey Boo Boo! Toddlers & Tiaras' breakout pageant superstar, Alana "Honey Boo Boo" Thompson, is back, and this time she's brought her entire family with her! Yee haw! And we have a sneak peek at all the hilarity in store for TLC's August 8th premiere!

TLC introduced 6-year-old pageant princess Alana in January and she instantly became an internet sensation with her thick accent, go-go juice-imbibing ways, coupon-queen mom, and her signature catch phrase, "A dollah makes me hollah, honey boo boo."

Each episode follows Alana, her stay-at-home mom June, chalk-mining dad "Sugar Bear," sisters 12-year-old Lauryn, 15-year-old Jessica, and 17-year-old pregnant Anna. From four-wheeling through mud pits to picking up road kill for the family cookout and beauty pageants, viewers see more to the trials and tribulations of a family living in rural Georgia.

Here Comes Honey Boo Boo premieres on Wednesday, August 8, 2012 on TLC with six half-hour episodes.
[From The Insider]
For those of you who watch The Simpsons – do you remember when Cletus' kids got hired by Krusty the Clown to provide entertainment on his show, and made them play up being backwoods hicks? That's what this show reminds me of. Only Lisa isn't going to swoop in and save anyone from this mess.
Here's the trailer for the show. There's a 17 year-old sister who is pregnant, the family has a pig that seems to live in the house, and their recreational activities include four wheeling and jumping into mud. A commenter on YouTube mentions that the mother, June, is 32, which would have made her about 14 when her oldest daughter was conceived. (The 17 year-old that's pregnant now.) Her husband is 40, which means he was about 22 at the time and it was statutory rape. I just hope June is lying about her age.
I can't with this show. TLC should be ashamed, but you know that network has no capacity for shame. They regularly feature people who eat rocks and drink their own pee. Watching these clips makes me feel sick to my stomach, not because of this family but because a show like this even got made.
Here's a clip where they go to an auction and bid on donuts or something. The mother sneezes multiple times during her interview segment and never says "excuse me." There's another clip available on Huffington Post where the pregnant 17 year-old gets an ultrasound and the technician makes the brilliant decision to perform one on six year-old Honey Boo Boo so she can see the chicken nuggets in her stomach. (Really.) I'll say something nice – she's a cute kid.