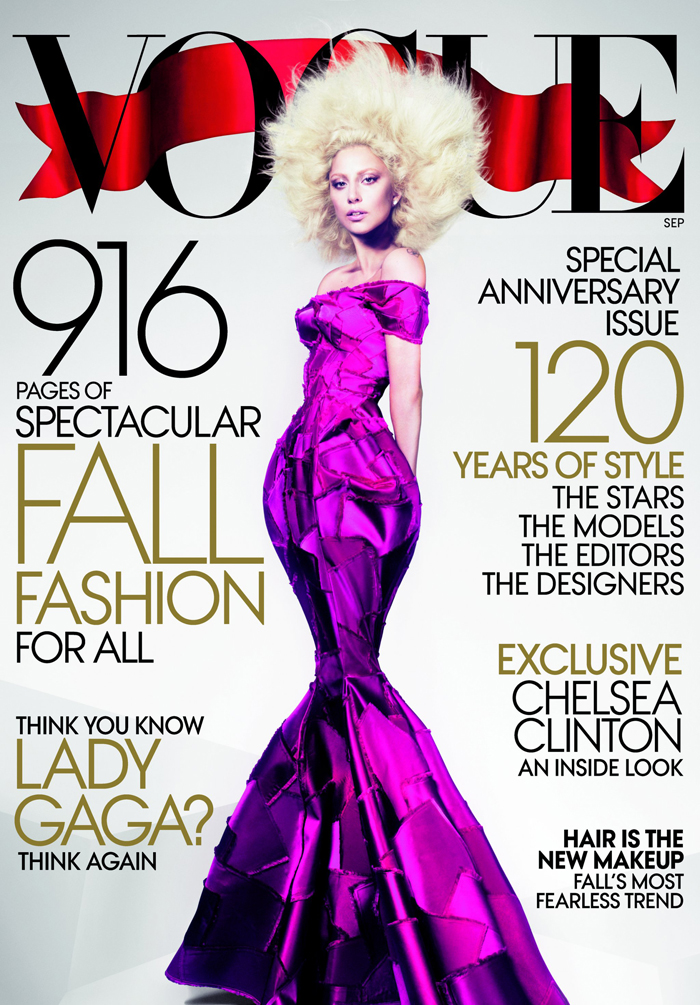 Lady Gaga covers the September issue of Vogue. Why? I don't know why except that Anna Wintour might be wearing a meat dress underneath that fur coat — she loves Gaga so much. Gaga previously covered the March 2011 issue of the fashion bible, but now Gaga is evidently good enough for the September issue as well. Can you tell I'm a bit Gaga-weary already? Speaking of Gaga fatigue, we've enjoyed a bit of a reprieve over the past handful of months from Her Weirdness, but it's rather obvious that she's been gearing up for a return to the spotlight. The nude pool picture, the perfume ad, and the fact that Gaga's been inexplicably rubbing nips with a cracked-out Lohan — all signs that our very own Pax Romana shall soon be drawing to an end.
Now with Gaga covering Vogue for the most important issue of the year, well, I guess she's as good as back. And the cover itself looks absolutely dreadful, right? Gaga looks all washed out, and the horrific wig plus unflattering couture gown aren't helping matters. Here are some interview excerpts:
She's such a rebel: "I'm a complete free spirit, so, even though you don't see it, I still find time to have sex at night on the beach when no one's around. Or roll into a bar and get [bleeped] up, and dance with my top off. It's just that no one ever sees that, because I have great real friends who never let me do it when I would get caught."

On her artifice: "I hate the truth so much that I would prefer a giant dose of bull[bleep] any day," she says. Vogue interviewed Gaga in Japan where she says she finds her most ardent fans. "I think . . . it has to do with the obsession with fantasy. I think I sort of just fit right in over here."

On her perfume: She said yes to Coty's request on the condition that the company not only conjure scent notes to her specification but figure out how to create a liquid that appears black in the bottle, but when sprayed, becomes clear. (After all, she points out, "The fragrance is called Fame. It must be black. It must be enticing. You must want to lick and touch and feel it, but the look of it must terrify you.")

That damn meat dress is back: The reinvention of the meat dress is one of the highlights of the Born This Way Ball). "We were talking about putting the show together, and I said, OK, what if I was someone's grandma and I was going to a concert tonight. How would I know that it was a Gaga show? And we all just sort of looked at each other and said,'The meat dress.'"

Why she makes music: "I don't really make records for people to listen to and go, 'Wow, she's a genius.' I'd really like you to order a drink, maybe kiss the person you came with that evening, or rediscover something about your past that makes you feel even more brave."
[From Vogue]
Well, it's a good thing that Gaga doesn't want people to think she's a "genius" when they listen to her music because I've never had that thought by any stretch. Of course, I do think she's very savvy at manipulating her own image, and she's got a good team around her as well. All the same, I'd like her to someday drop the artifice and stop feeding us a bunch of crap about "art." It's not because she "hate[s] the truth" that she puts on airs — it's because she craves the attention. The attention, the money, and the fame.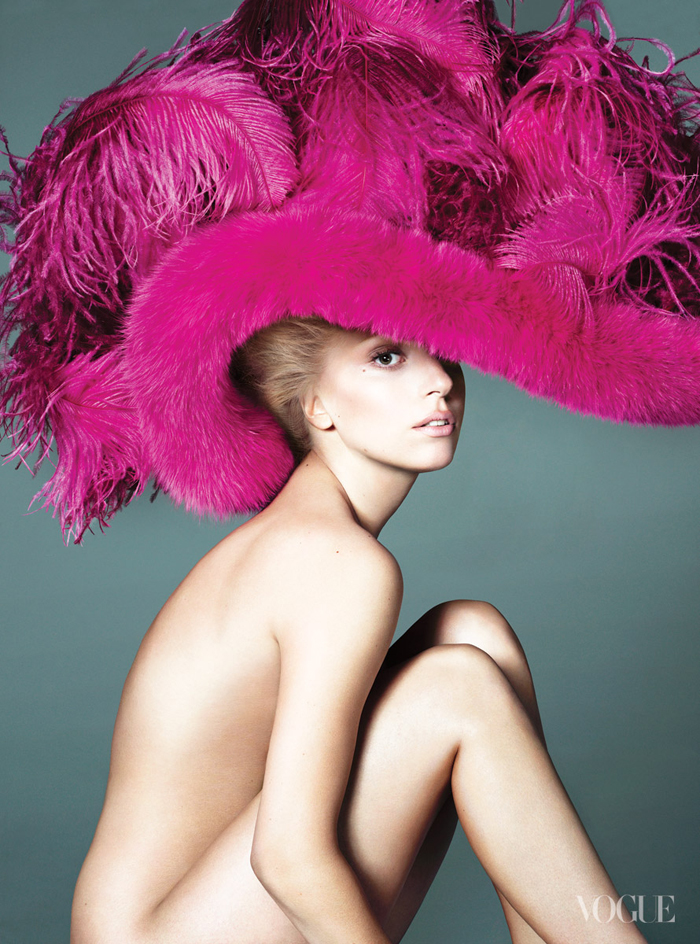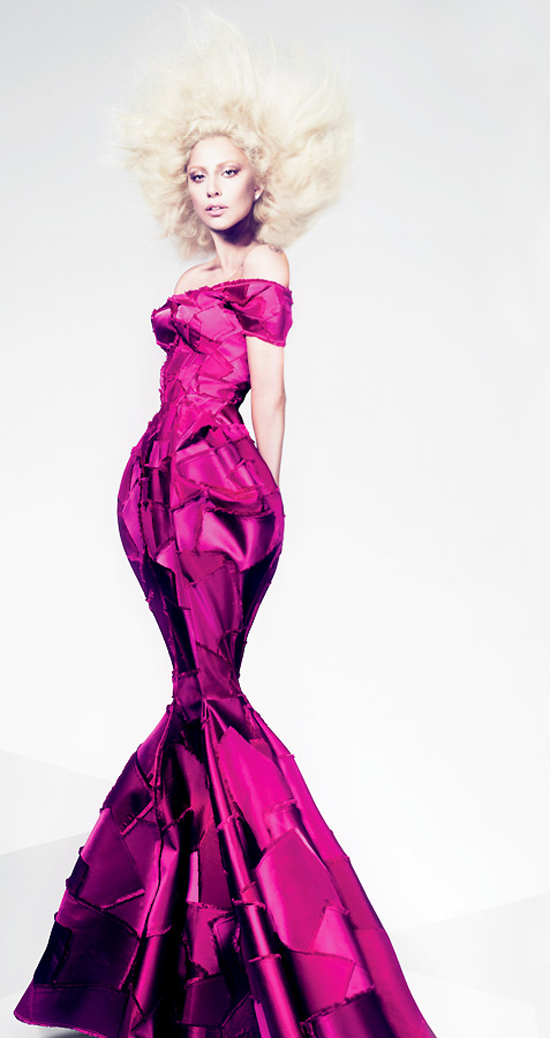 Photos courtesy of Vogue