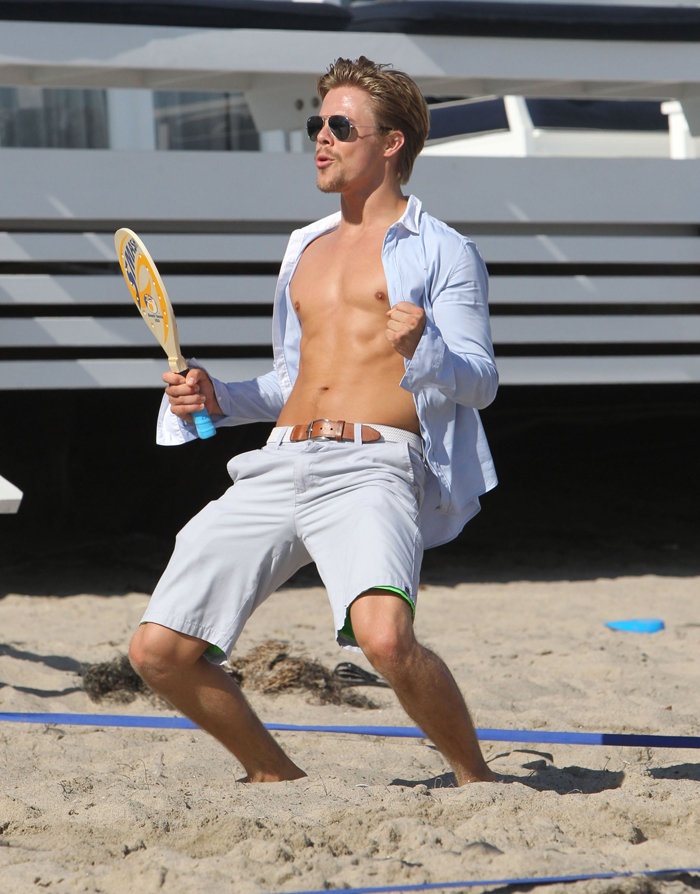 For better or worse, Derek Hough is a pretty fantastic dancer with an amazingly ripped body. That much is obvious, but there's always been something quite ambiguous about Derek, which is that he has acquired the reputation for wooing the ladies, but there might be something else there, you know? First there was the contrived romance between he and Shannon Elizabeth (which she later admitted was entirely fake for purposes of "DWTS" votes), and then he supposedly hooked up for awhile with Cheryl Cole, but then she dumped him for a fame upgrade.
All along, Derek has gotten along quite famously with his possible future brother-in-law, Ryan Seacrest, which has provided plenty of fodder for beard-related jokes. I guess what I'm saying is that there have been persistent rumors that Derek might actually be gay. Who knows if these rumors are true or not? Regardless of his sexuality, I guess all the talk may have gotten under Derek's skin. According to a story in this week's Enquirer, Derek threw a little diva fit when some dude tried to take a photo of him at a Salt Lake City gay bar: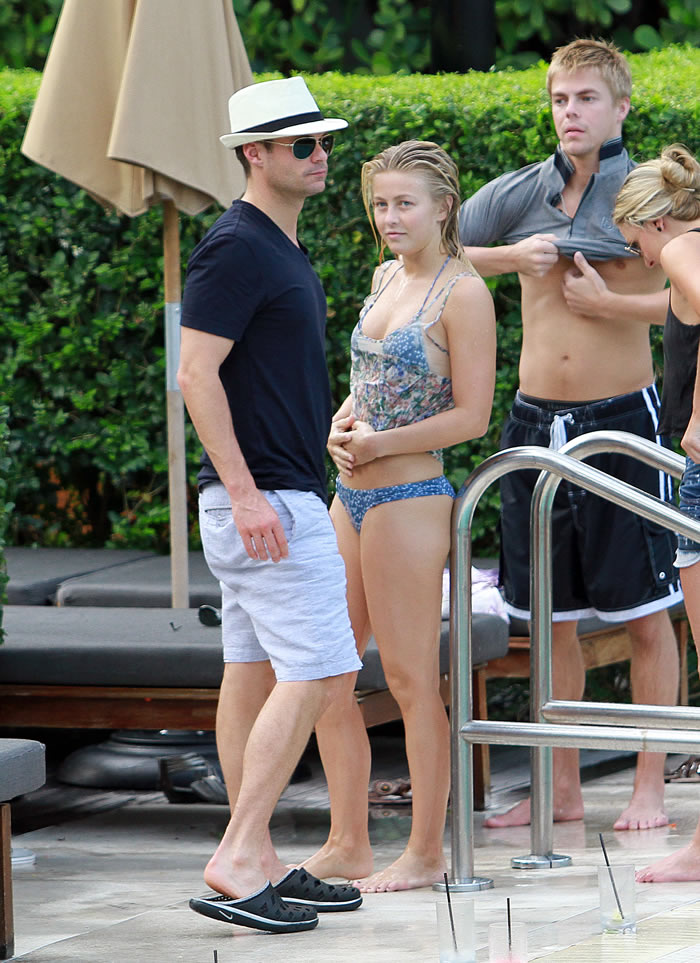 Sexy pro dancer Derek Hough donned some shiny silver pants and shook his fanny at a popular Salt Lake City gay club — but then freaked out when a fan tried to take his picture!

The talented 27-year-old has been dogged by gay rumors for years despite having a string of girlfriends. And although it's been reported that he is dating "DWTS" contestant and opera singer Katherine Jenkins, she was nowhere in sight when Derek showed up at Jam, a gay club in his hometown, on July 21, a source confided.

"I'm a big fan of Derek's, and I always thought or HOPED he was gay," Jam regular Ken lee told The Enquirer. "Seeing him shimmying with his buddies at the gay club wearing skintight, shiny silver pants just made my mind scream!"

But Ken says when he approached Derek for a photo, the dancer "got all nervous and fidgety and stammered, 'No, no, no — not here!'"

"I was really careful about approaching him respectfully," Ken explained. "I went up to Derek and said, 'excuse me' and asked very nicely if I could have a photo taken with him. Well, he couldn't have been more rude or a bigger diva!

"I was like, OK, he's clearly not comfortable about having his picture taken in a gay bar. If you're not gay, then what's the problem? Derek's behavior was very suspect."

"Derek very well may not be gay," added Ken. "But he sure was dressed pretty and threw an impressive hissy fit when I asked for a photo!"
[From Enquirer, print edition, August 20, 2012]
Gay or straight, shiny silver pants are an abomination. Derek really should know better! Now I'm worried about his style, people. Seriously though, I have to wonder whether or not this story is true because Derek probably wouldn't frequent a gay bar if he was truly worried that he'd be photographed there, right? Like, if he wanted to dance at a gay hotspot, then it follows that he shouldn't be so defensive if he got recognized there too. It just seems odd that Derek would get so bloody freaked out about it all, but who knows.
Now here's what we've all really been waiting for — more photos of shirtless Derek Hough on the beach! You're welcome.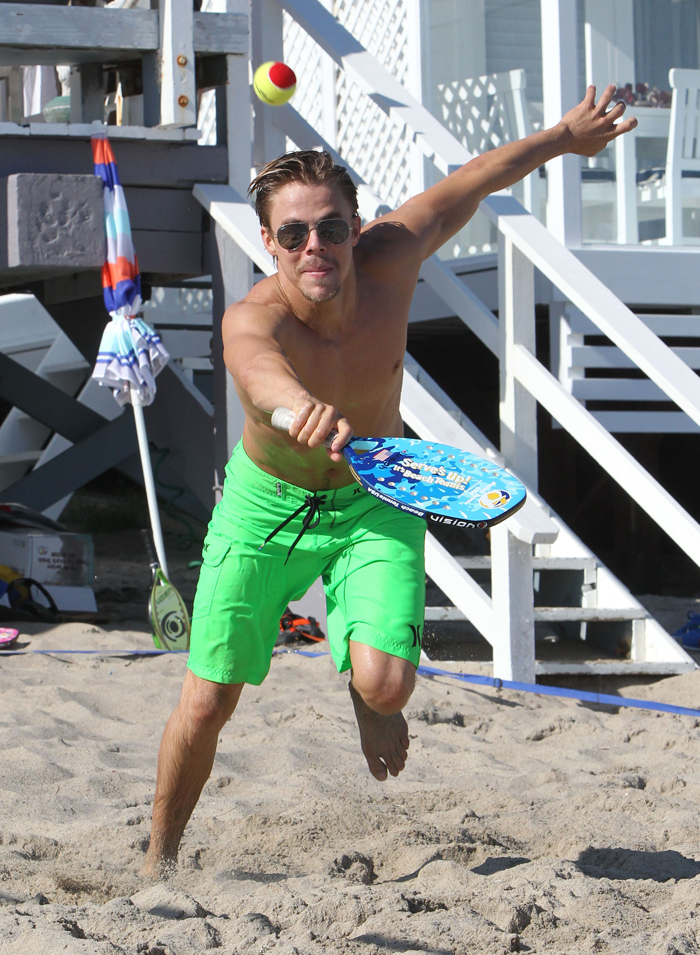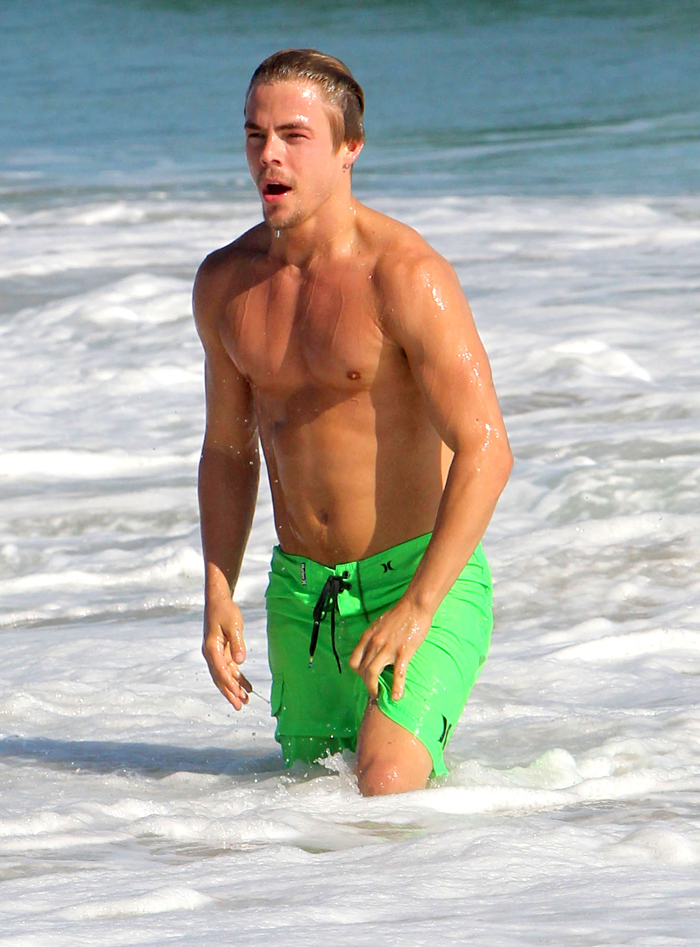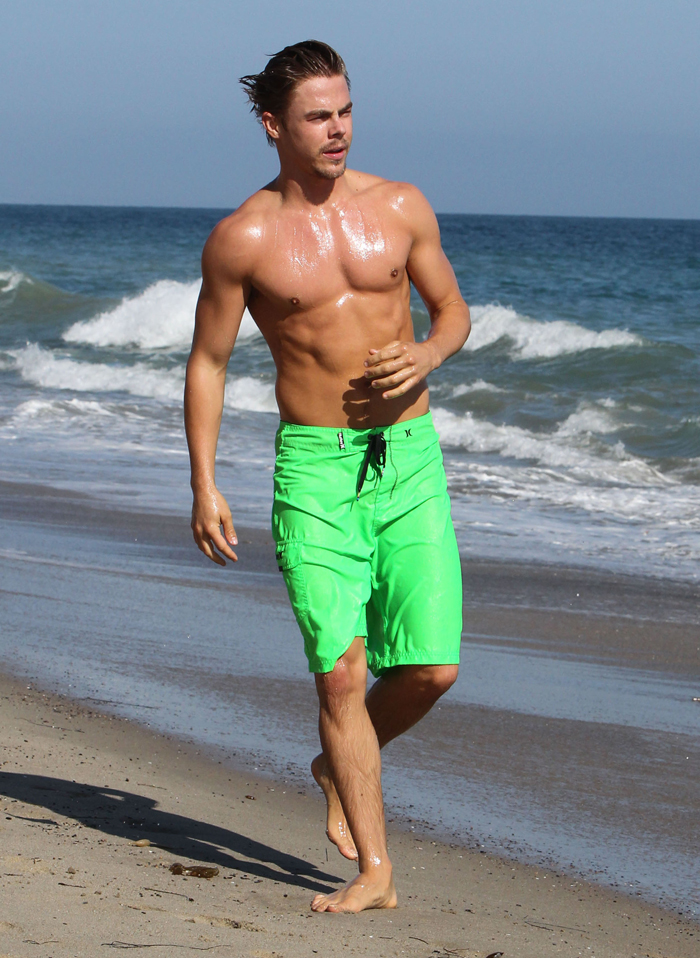 Photos courtesy of Fame/Flynet