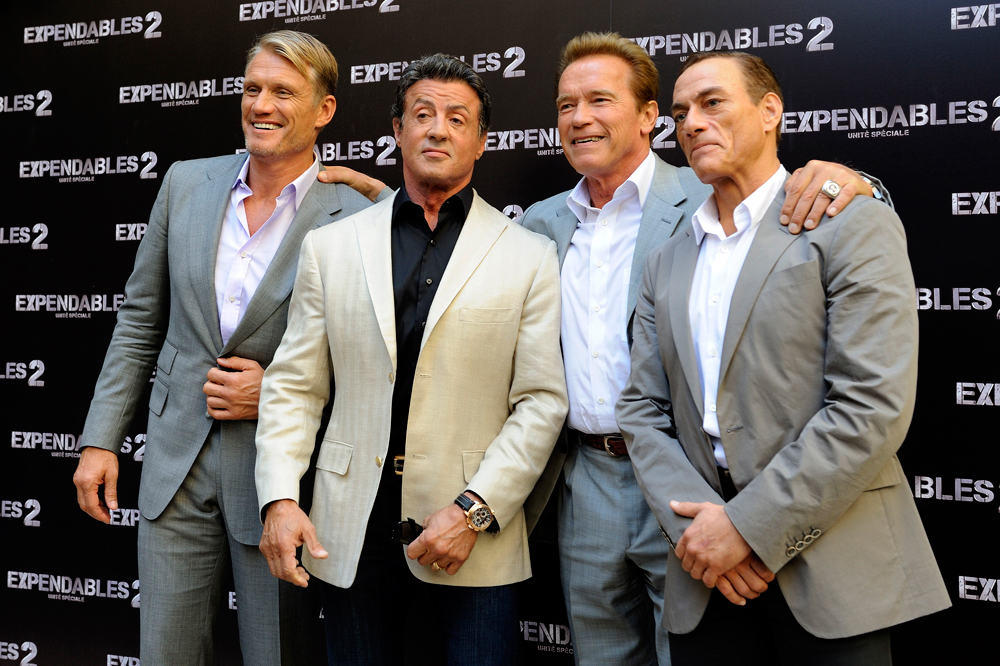 Here's a photo of Dolph Lundgren, Sylvester Stallone, Arnold Schwarzenegger and Jean-Claude Van Damme together at The Expendables premiere in Paris a few days ago. Who would have thought that Dolph would be holding up so much better than the rest of these beefcakes? And it's not just a matter of age either even though Arnie is pushing 65, and Stallone is 66. Comparatively speaking, Dolph is one of the younger ones of the group at age 54, but Jean-Claude is 51 and looks (much like Arnold and Sly) like melting wax. I guess five marriages and a $10,000 per week coke habit for years will do that to you, but Jean-Claude has reportedly cleaned up his life quite a bit in the past several years and now has a new role as the lead villain in The Expendables 2. It's his first role in a major film in well over a decade, and he's obviously trying to make the most of it even though the poor guy looks pretty rough in these photos.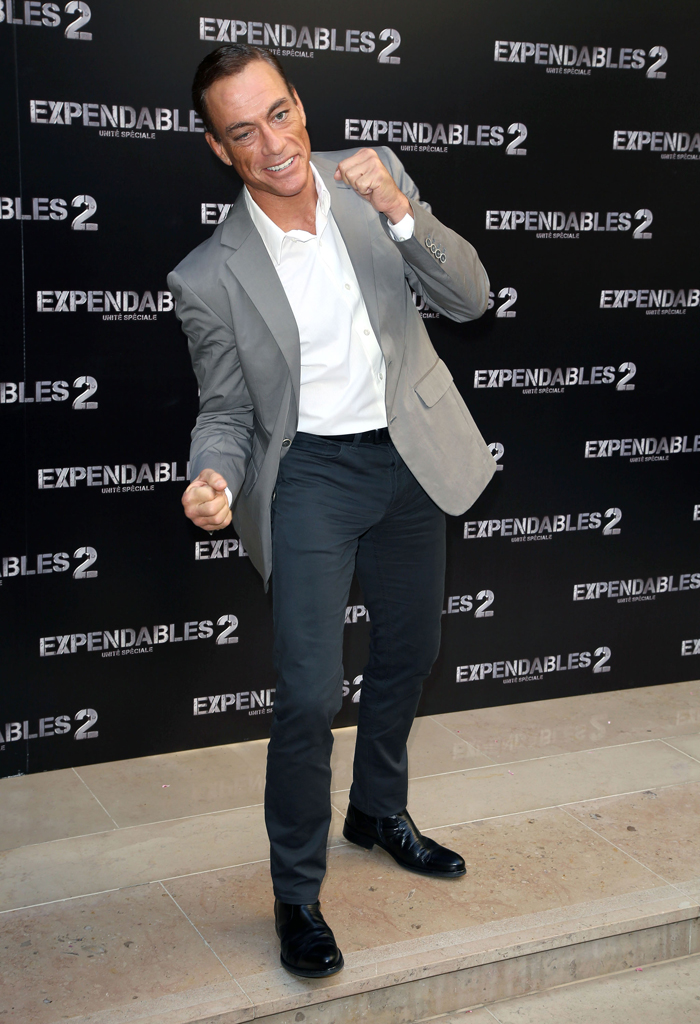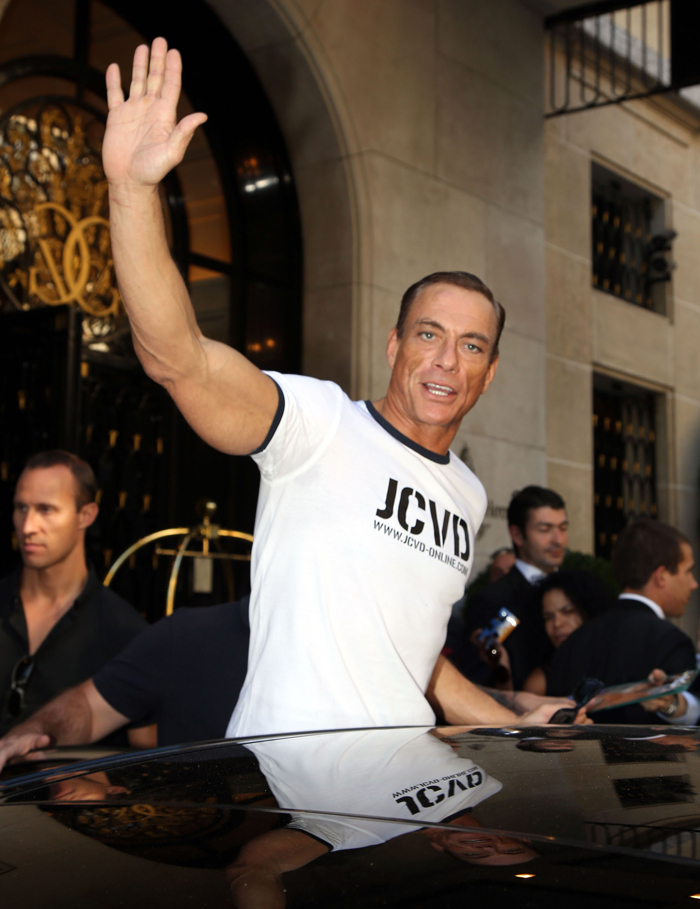 Also of note is a new revelation from Jean-Claude during a new Guardian interview, in which he reveals that he was totally doing his Street Fighter co-star, Kylie Minogue, while he was married (to one of his random wives). Maybe that's why that particular divorce happened, no? Or maybe his wife didn't like that Jean-Claude refers to his wang as "Thailand." Seriously:
On having an affair with Kylie Minogue while making Street Fighter: "Oh … who said that to you? I tell you what, you should ask her. She'll have a better memory. I'm 51 years old, do you know how much I was punched in the face on The Expendables? No, no. No. And let's just say it happened, so what? Who wants to know?

"Sometimes you let go of stuff … I don't know, maybe." He sighs, then becomes reflective. It's rather touching. "Yes. OK. Yes, yes, yes. It happened. I was in Thailand, we had an affair. Sweet kiss, beautiful lovemaking. It would be abnormal not to have had an affair, she's so beautiful and she was there in front of me every day with a beautiful smile, simpatico, so charming, she wasn't acting like a big star. I knew Thailand very well, so I showed her my Thailand. She's a great lady."

On why he was blacklisted: "[1994] saw Van Damme's biggest box-office success, Timecop, which made $100m in the US. Now he was truly a star. And that's when things started to fall apart. Universal called, offering him $12m a film for a three-film deal. He demanded $20m. "Like Jim Carrey."

He laughs at his own arrogance. "I was f#@*ked up, man. But you know, it was not about the money. The people in the UK will read this and say, 'What a f@#*ing piglet.' Sorry about my expression! I was making movie after movie, and in between movies I was doing promotion. I was tired. Everything I was touching was making money. Jim Carrey was being paid a fortune. And I wanted to play with the system. Like an idiot. Ridiculous." They hung up on him. "I was on the blacklist. That was it."

On his role in The Expendables 2: "You know what? I'm scared. It's one shot, this film, and hopefully the studios … Ringo Lam once told me they just like new faces — fresh fish. But maybe they would like an old fish. It's all about business and money and the value of the actor. Up and down. Maybe. Who knows?"
[From Guardian]
Indeed, Jean-Claude finds a rare, non-straight-to-DVD opportunity in The Expendables 2. At least now he realizes how arrogant he was to demand such a huge salary when he was clearly, you know, so expendable in the 1990s. Sorry, I am just filled with awful puns today.
Here's some photos of Jean-Claude generally acting like a whackjob at the London premiere too. Maybe he'll have that big comeback after this movie's (inevitable) success, right? Or maybe he'll just be back for The Expendables 3, which wouldn't be such a bad deal either.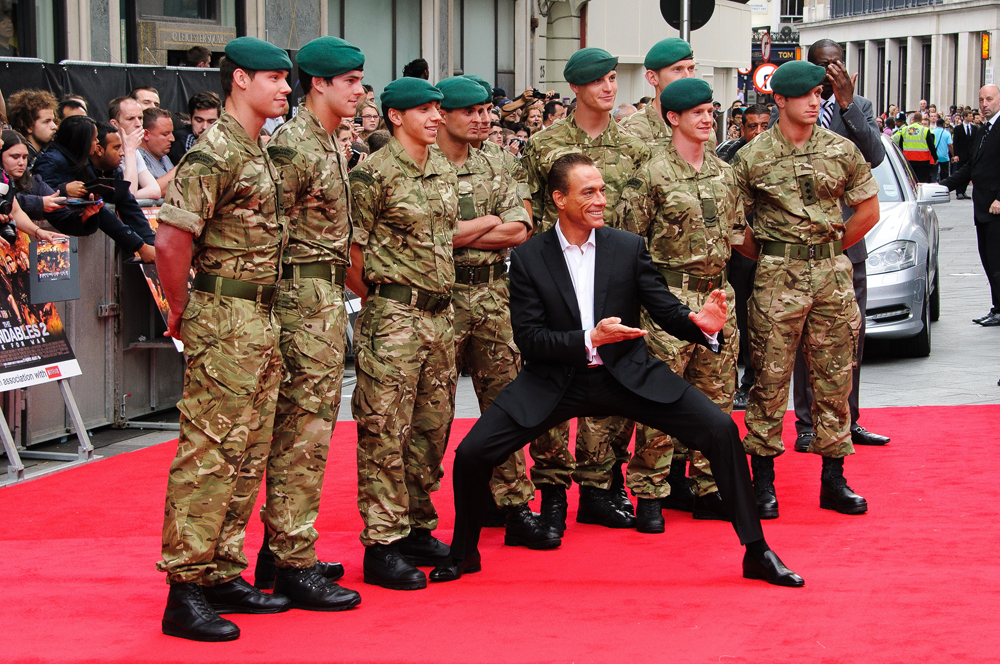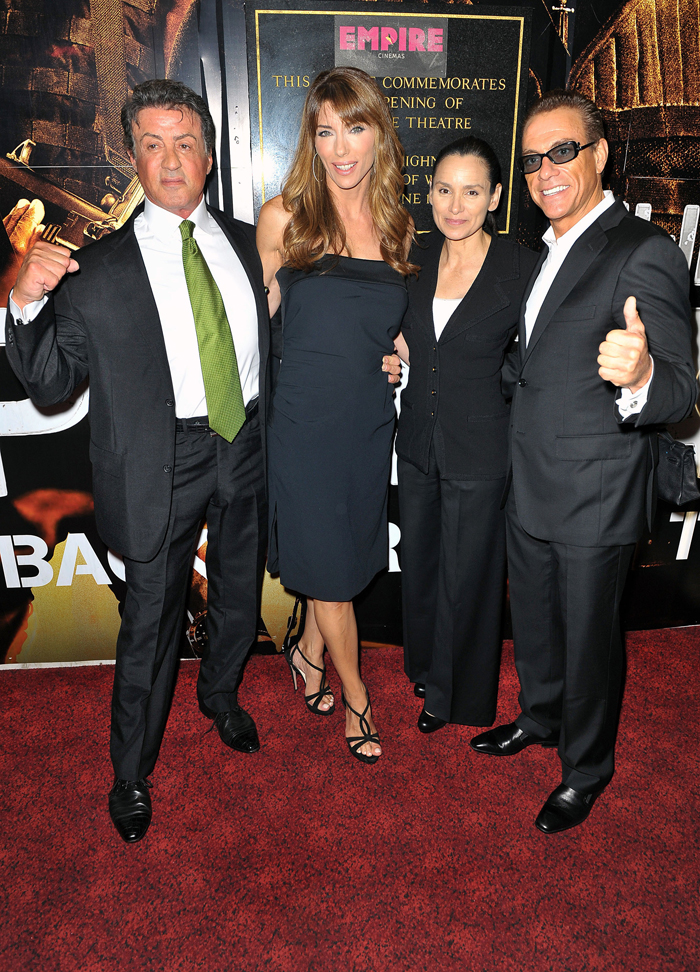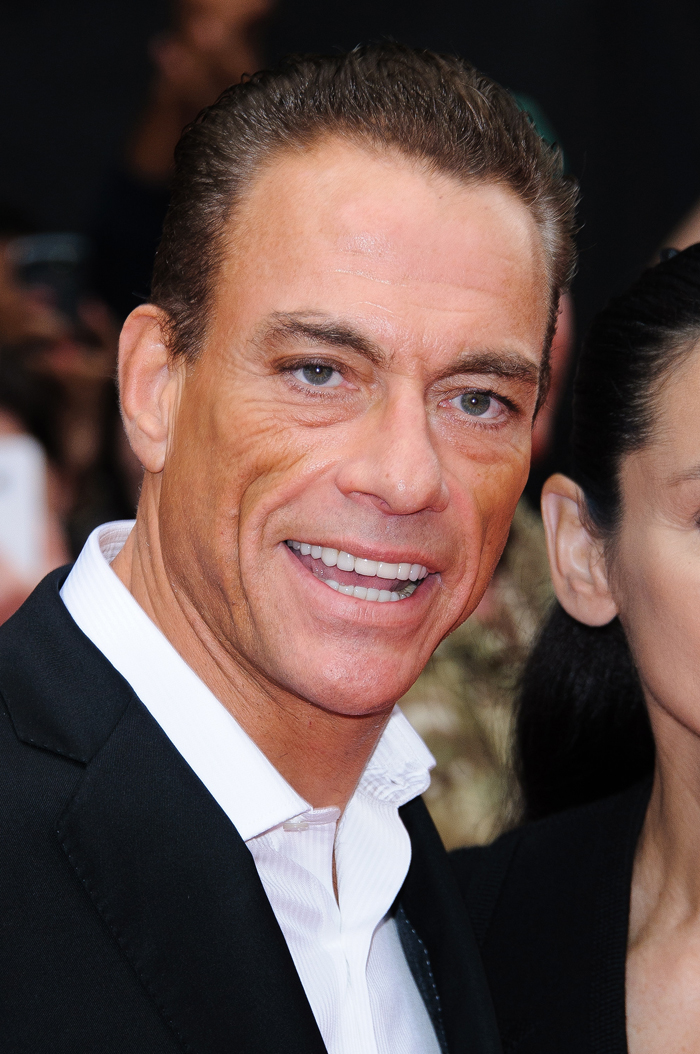 Photos courtesy of Fame/Flynet and WENN