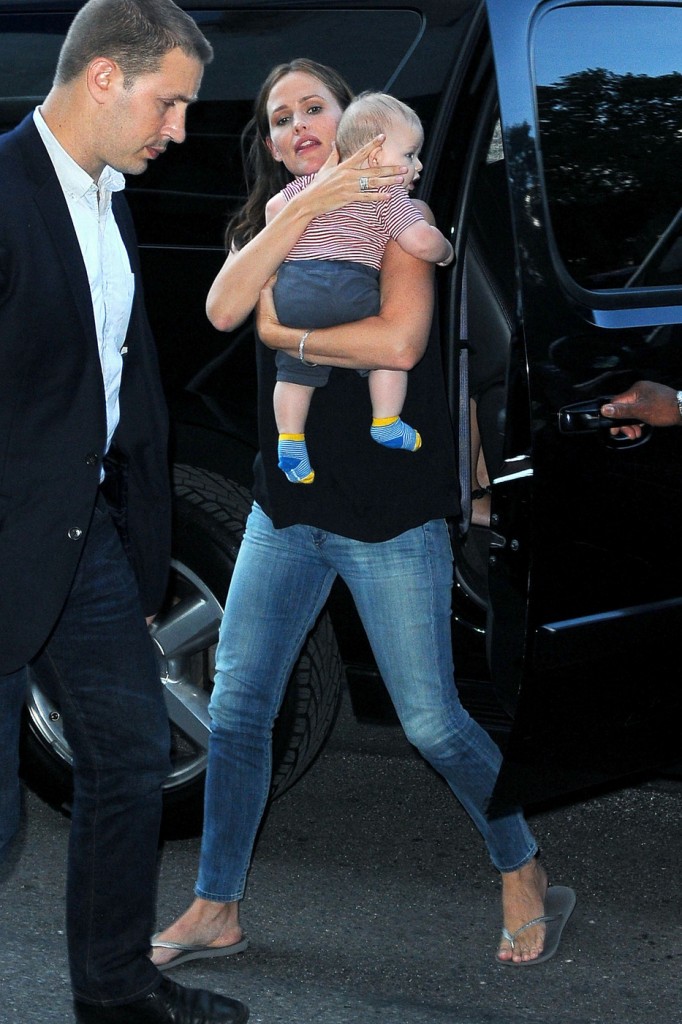 Jennifer Garner has a new interview with USA Today promoting her Disney film, The Odd Life of Timothy Green, which is out tomorrow actually. It's a cute schmaltzy looking movie, co-starring Joel Edgerton, about a childless couple whose wishes are granted when a magical 10-year old boy appears in their garden. As part of her profile in USA Today, Garner talks about her image as a mom that other woman can relate to. She also discusses how difficult life can be with the paparazzi following her family's every move, which is something she's reluctant to complain about, but you can tell it eats at her. Overall it's a very positive piece that makes her come across like the genuine article, which her fans have believed for some time. Here's more, with more at the source:
On why she's called relatable:
She smiles wryly at the mention of her much-touted relatability quotient.
"It's because I always look like I'm wearing the first thing I could find, which is the truth," she says. "I don't understand how you can make breakfast, feed a baby, get hair braided, get a lunch put together and get an outfit on. And I don't have that gift anyway, to just put something on and have it look good. I just wasn't born that way."

On losing the baby weight:
"My kids have a lot to say about the appearance of how I look naked," Garner says with a laugh, describing the three to four workouts she has been squeezing in with a trainer a week to lose her last 5 pregnancy pounds. In past pregnancies, "I've always kind of eaten what I wanted and gained 40 pounds," she says. "And it's a bummer to gain that much weight and then (have to lose it). But this time, I didn't want to gain that much weight, so I was really super-careful. And I gained 60." She shrugs and smiles, the universal what can you do?

On how her marriage and life have changed after kids.
Garner recognized the universality in Cindy Green and fought to play her. "I also floundered so much in the beginning," she says, recalling watching her and Affleck's lives change with the birth of their first daughter, Violet, now 6, and "falling in love again" with Seraphina, now 3.
"Now," she says, sharing a photo of her chubby-cheeked, blue-eyed baby boy, "I just have crazy, crazy baby love." Adding a boy to the family, so far, hasn't changed much, Garner says. "My husband says that I'm different with him, but I think I've always been crazy about babies. But he thinks that. What does he know?" she jokes.

Married seven years, both have "gotten better at it," she says. "It's really fun. I probably am up in his grill less about stuff. I don't think I'm a particularly controlling person, but I probably work less to make things fit a mold in my head. And he exceeds my expectations anyway."

On dealing with the paparazzi
Garner's everyday activities are, like many Hollywood moms', excessively photographed. In her case, it's "every day," from 7 a.m. until bedtime, she says cautiously. Celebrities complaining about paparazzi is a tricky business, and not something she likes to "give energy to." In her world, nannies at the park act as tipsters. Garner shares a photo showing 14 photographers pressed sardine-like against a pottery shop's glass storefront, a row of lenses aimed straight at her.

Outwardly, she keeps calm, smiling, she says, for her children. "So inside, I rage, and outside, I go through it. I mean, life is good. I cannot complain. I would give anything for my kids not to be exposed, not to have to deal with this." At this, her eyes water, but she steadies herself. "It's just constantly a choice. Is it better for them to get (photographed) in the parking lot of this place but for me to be with them? It's just something that I try my best to navigate."

Leaving L.A. could help, "but it's complicated," Garner says. "Then we would be separated so much more."
USA Today also has a video interview with Garner in which she goes into more detail about the film and her character. Those quotes aren't in the article that I could find. She kind of made me want to see that movie, even though I know it's going to be cheesy.
I admire how Garner deals with the paparazzi. I've seen videos of them hounding her family and it looks insane. She doesn't harp on it, she doesn't get outwardly upset, but she makes it clear that it's not ok. She's dealing with it the best she can. She's not even dressing up to go out, it's like she's saying "F it."
It also looks like her marriage is doing well and she's happily balancing motherhood and work. It must not hurt to have a lot of help at home, but I can't begrudge her that. I like her, I can't help it. She doesn't seem like she's full of sh*t to me, and that's rare.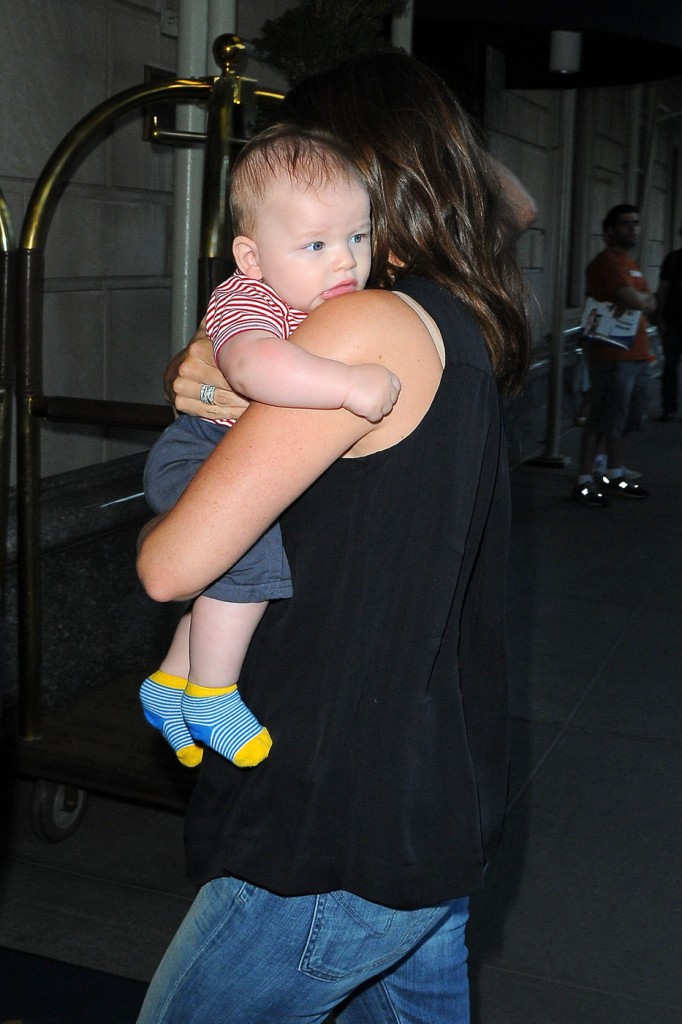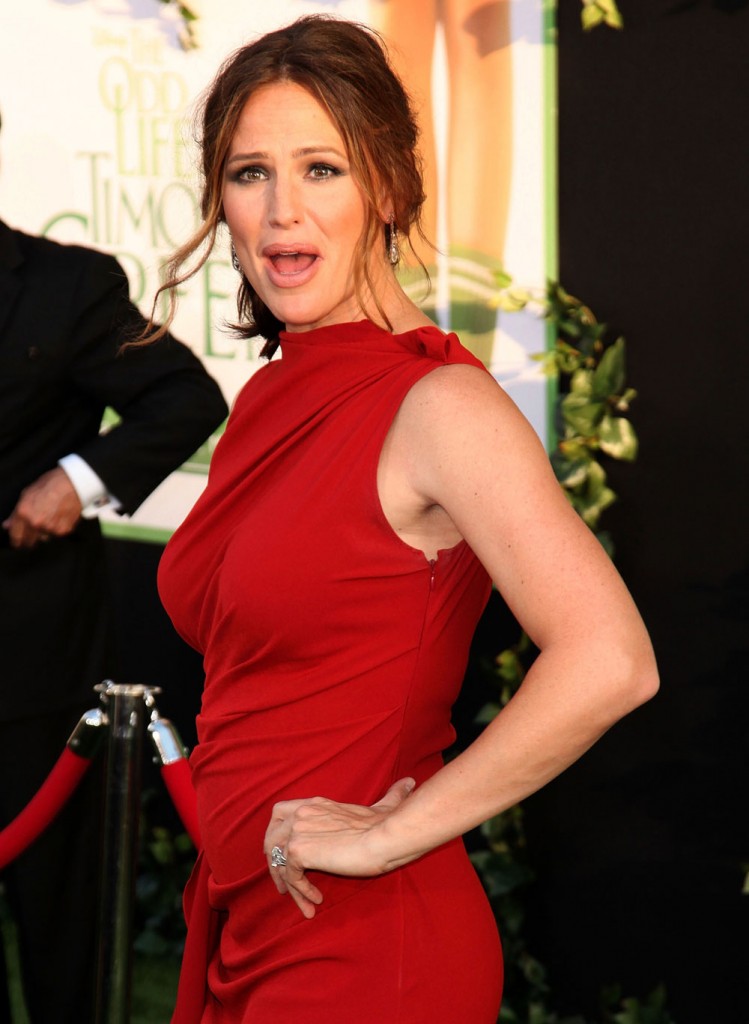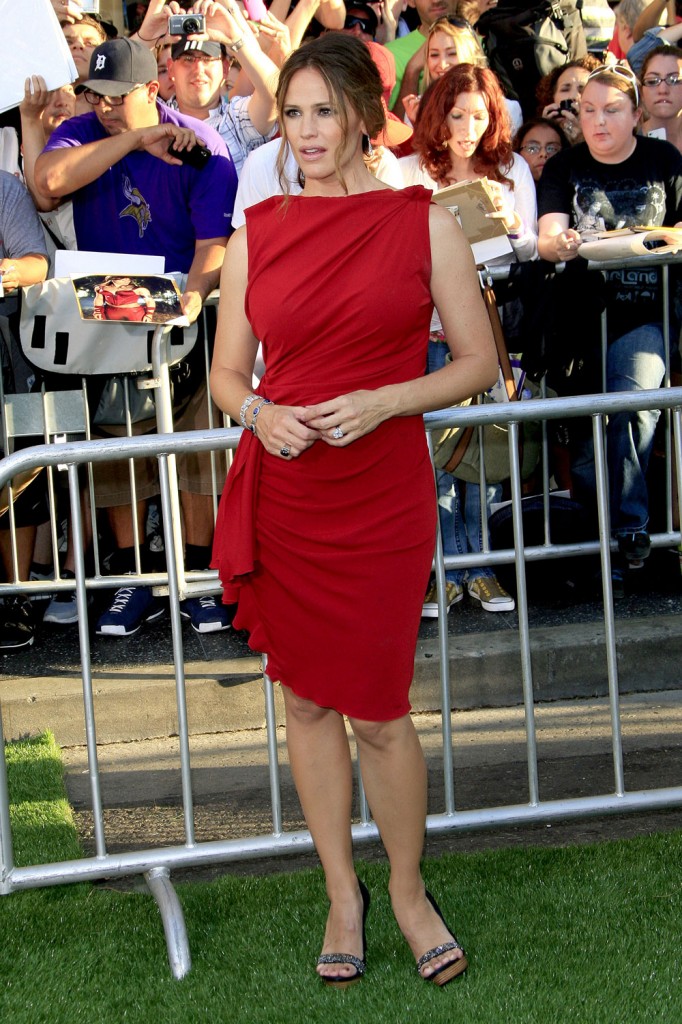 Jennifer is shown out with baby Samuel in NY yesterday, 8-13-12. Credit: Hall/Pena, PacificCoastNews.com. She's also shown at The Odd Life of Timothy Green premiere on 8-6-12. Credit: WENN.com