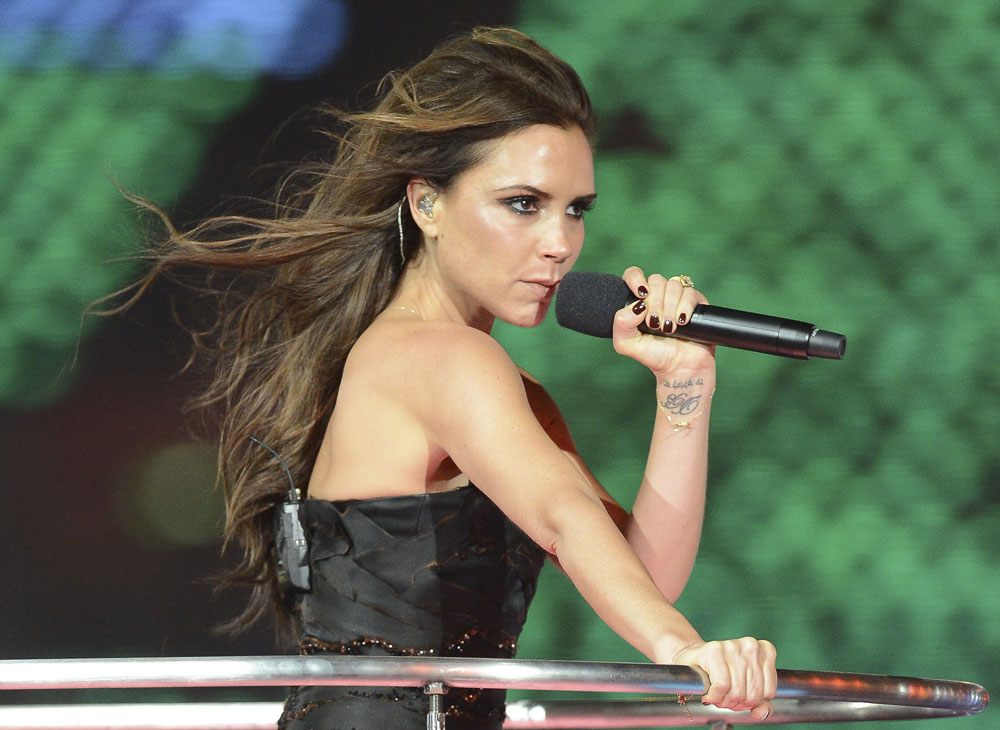 When the Spice Girls announced late last month that there would be a new musical based on their songs (none of them will actually be in it, but their music will be), Victoria Beckham stood apart from the rest of her former bandmates and looked visibly pissed off. I guess that's just her default look, but it was still funny to me. You can see the video of this over at D-Listed. During the announcement Victoria stands to the side, dressed in black, barely talks and looks down a lot. As Michael K at D-Listed writes, she looks like an "emo goth teen." When Posh finally talks, some of the other girls, especially Sporty and Scary, look like they're trying to ignore her. So it definitely looks like there's some bad blood there and like Posh is less than enthusiastic about any kind of reunion.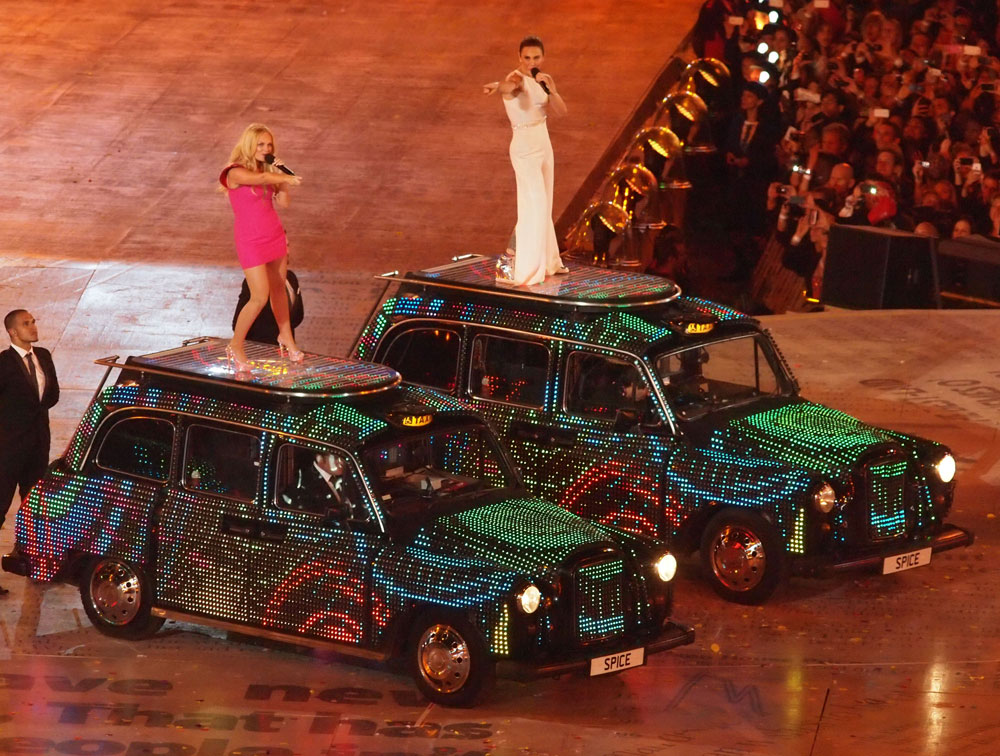 According to a new article in Radar, Posh didn't want to perform with The Spice Girls at the Olympics, but when she heard that they were going to go on without her she caved. I believe this.
The Spice Girls were prepared to perform without fellow band member, Victoria Beckham at the Closing Ceremony for the London Olympics, because David Beckham's wife had told the group she was just too busy with her fashion label and taking care of her four children, but when she learned that the band would perform without her she had a change of heart, RadarOnline.com is exclusively reporting.

"Danny Boyle (producer of the opening & closing ceremony for the London Olympics) had been trying to get the Spice Girls to perform for over a year and a half," a source close to the band tells Radar. "He felt that there was no way London could host the Olympics and not have the Spice Girls perform. They hold the record for the most popular all female band in history and are a really important part of the British music scene.

"The lone holdout during the entire negotiation process leading up to the Games had been Victoria. Victoria said her schedule just wouldn't permit it because of commitments with her fashion line and her duties of being a mother, including daughter, Harper, who just turned one year old. The ladies decided they would perform without Victoria because they felt it was a once in a lifetime opportunity to play for a worldwide audience at the Olympics. Once Victoria learned of their plans she was able to juggle her schedule to allow her to perform too."

The Spice Girls wowed viewers of the closing ceremony and the ladies performed a medley of their 90's hits, and all looked fantastic in their outfits that represented their persona with the band. Posh Spice wore a revealing black gown that showed off her gorgeous gams, and Mel B, Scary Spice wore a form fitting glitter bodysuit, which complimented her toned physique.
This reminds me of how Robbie Williams didn't want to join the Take That reunion, and then got depressed (allegedly) when their comeback without him was so successful in 2007. It's like Posh knows that it's going to be fun without her, but she can't bring herself to do it and go back there. Did she think they weren't going to go on without her, though? Was that her original game plan? She seems to have been on board ultimately, as she tweeted a lot of messages about how much fun she had. Personally I love going to reunions. Like even if I wasn't friends with everyone all of that fades away when you're partying and talking about the good old days.
Also, I wanted to talk about the lip syncing situation at the Olympics. You could tell that they were lip syncing most of the time, although some artists seem to have sung live. The Spice Girls were definitely lip syncing, but they did it to a track that was recorded live, which gave it a lot more authenticity. That was clever.
Look at these photos from Mel B's Twitter. Posh never smiles but you can tell her face is trying to crack into one: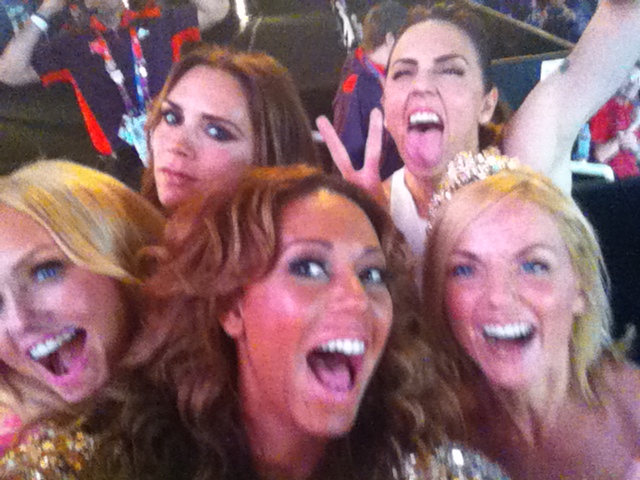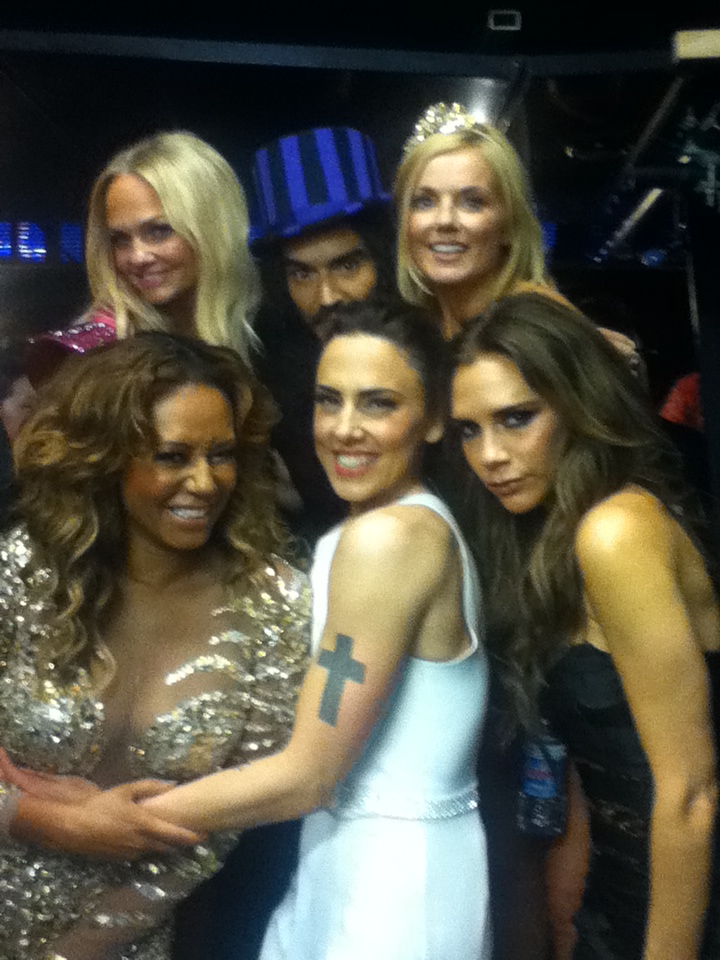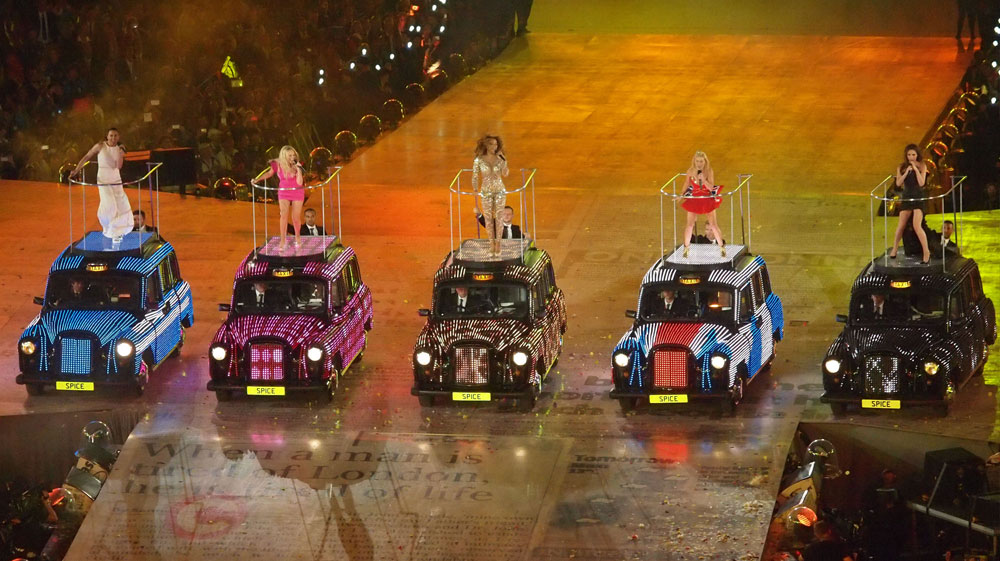 Photo credit: WENN.com