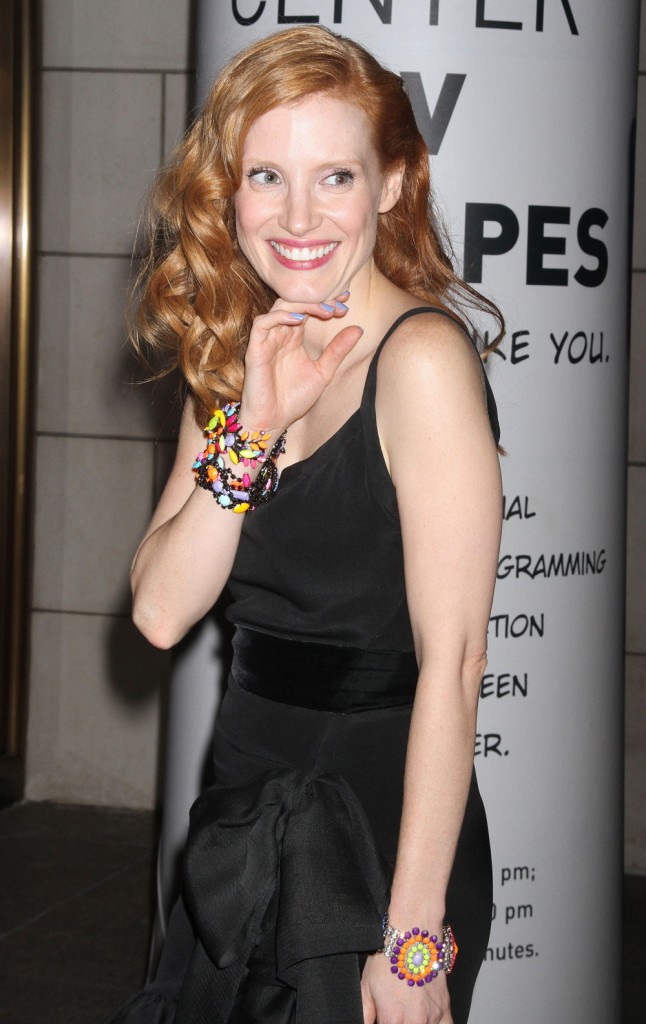 I have to admit that I was disappointed to see these photos of Jessica Chastain at a screening of Lawless at the MoMA last night. We just saw her on the NY set of her film, The Disappearance of Eleanor Rigby, sporting a short, flattering asymmetric haircut that looked like it was real and not a wig. Let's revisit that for a reminder. (Note that her cute dog only has three legs. I didn't notice that before until some of you pointed it out.)
Now Jessica has hair again, and I'm guessing these are extensions since they look a little fake. (Not obvious-fake, but you can tell if you look closely.) I was hoping to see her rock her new short hair on the red carpet, but we'll have to wait until she's comfortable with it.
Jessica is in vintage Yves Saint Laurent paired with YSL shoes. As Red Carpet Fashion awards points out, she's the face of YSL's fragrance, Manifesto. So she's being loyal to her sponsors, but she could have picked a better dress than this. Paired with those shoes, she looks like a flamenco dancer in mourning. She doesn't often get her fashion right, but she's so pretty regardless.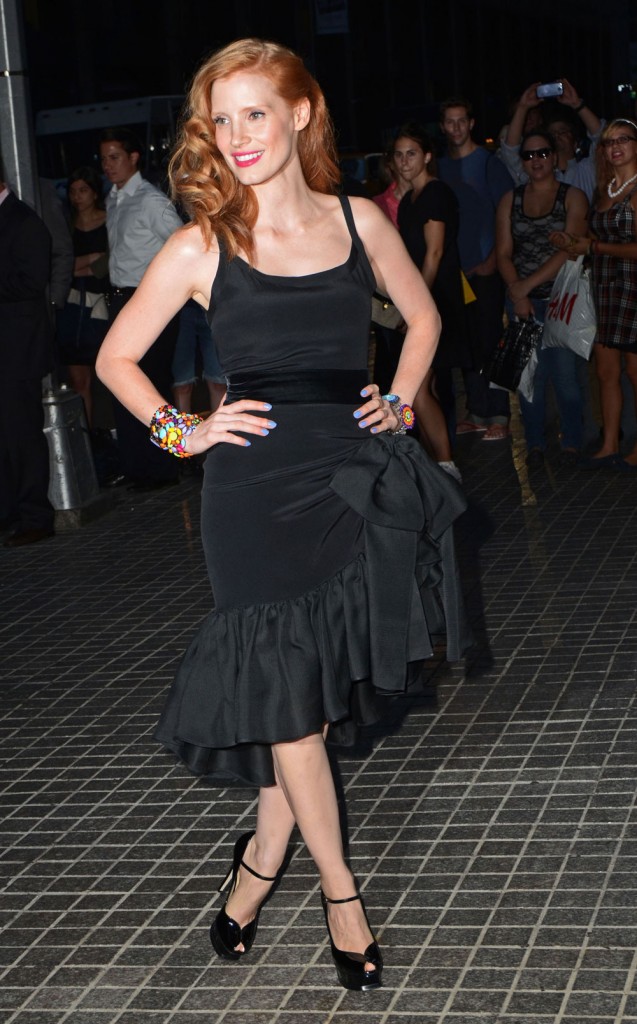 Also at last night's premiere we have the original hipster, Chloe Sevigny, in a too short flouncy frock paired with black ankle boots and a black clutch. She completes the look with red orange lipstick and natural hair, which makes me appreciate the relative effort Chastain went to compared to this.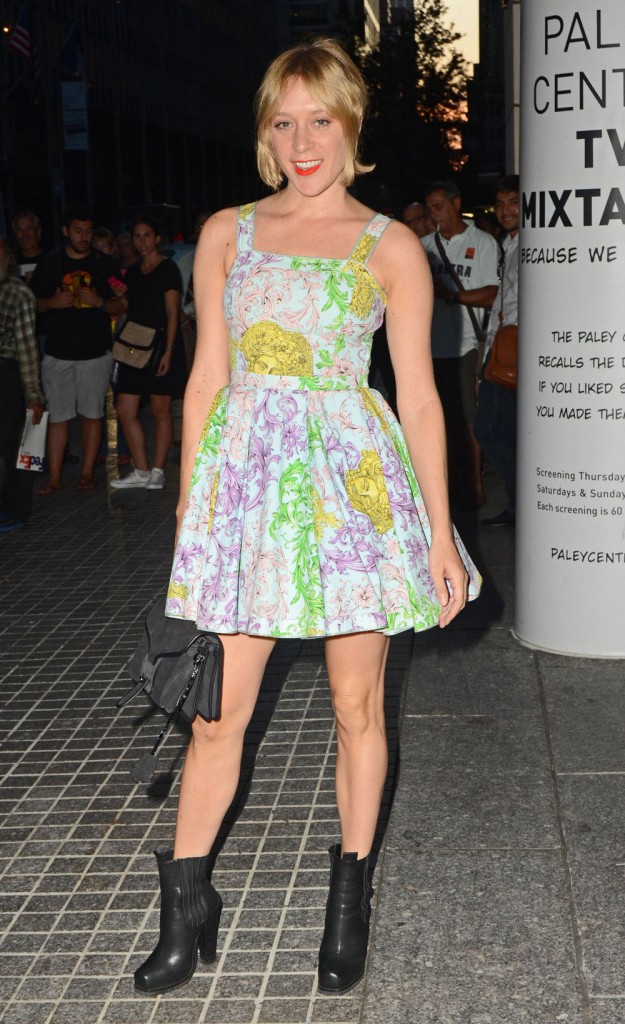 Shia LaBeouf was there looking greasy in a shiny brown suit paired with a copper tie. Joseph Gordon Levitt or Ryan Gosling could wear this suit, but it just looks out of place on Shia. A haircut and shave would do wonders for him.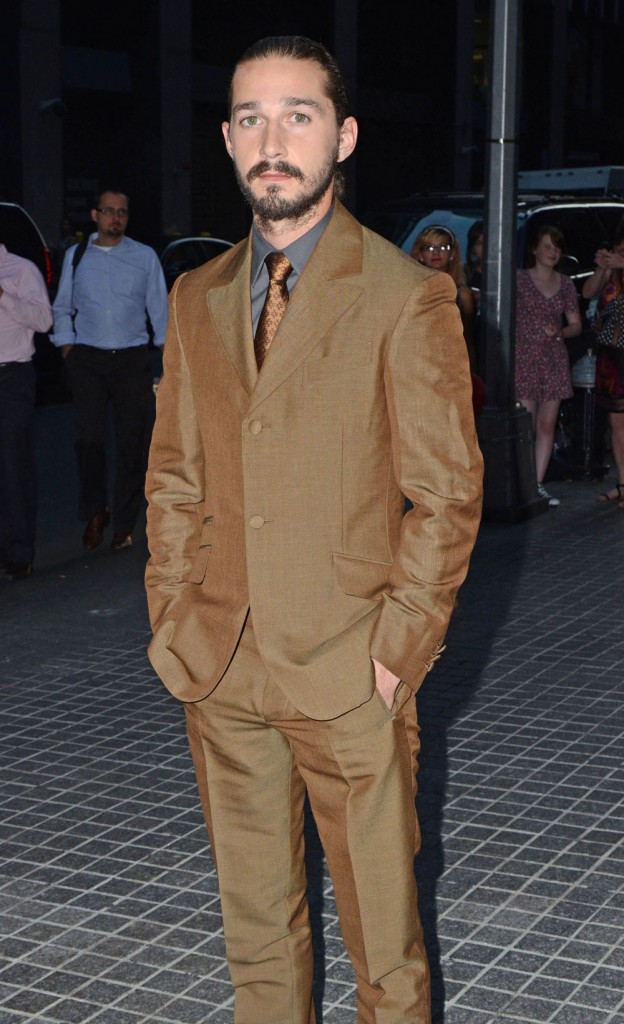 And finally here's Patricia Clarkson looking gorgeous in a summery silky dress, nude pumps and a matching purse. Look at her dainty gold heart bracelet and coordinating necklace. This is how you do dressy casual. I just looked up her age, because I was guessing a very hot-looking 45. She's 52! Work it, Patricia!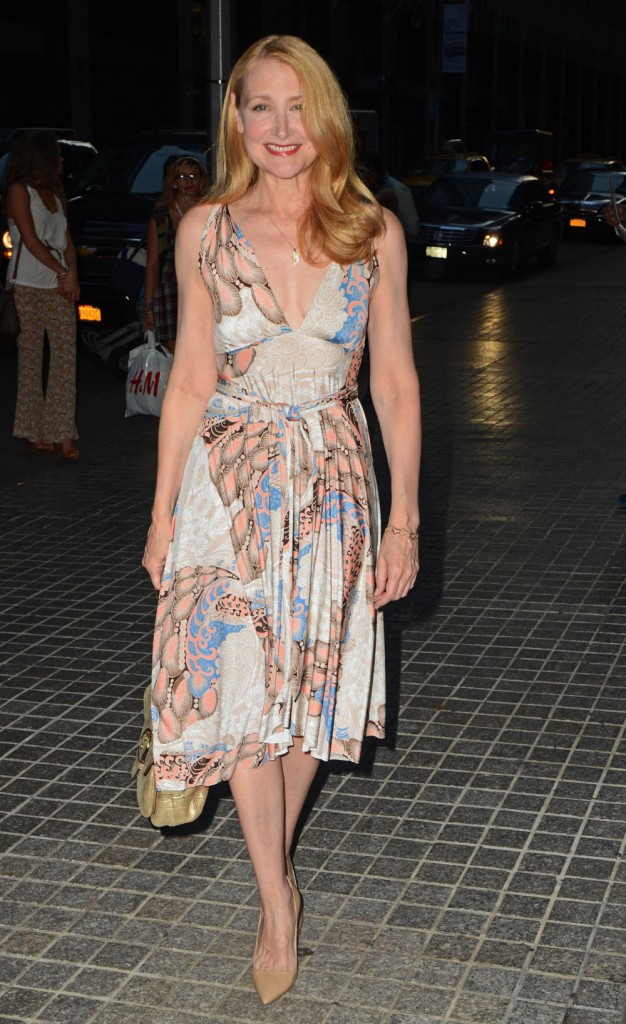 Here's the trailer for Lawless. It's also got Gary Oldman, Tom Hardy and Guy Pierce in it! It looks kind of awesome. It's out in the US on August 29th.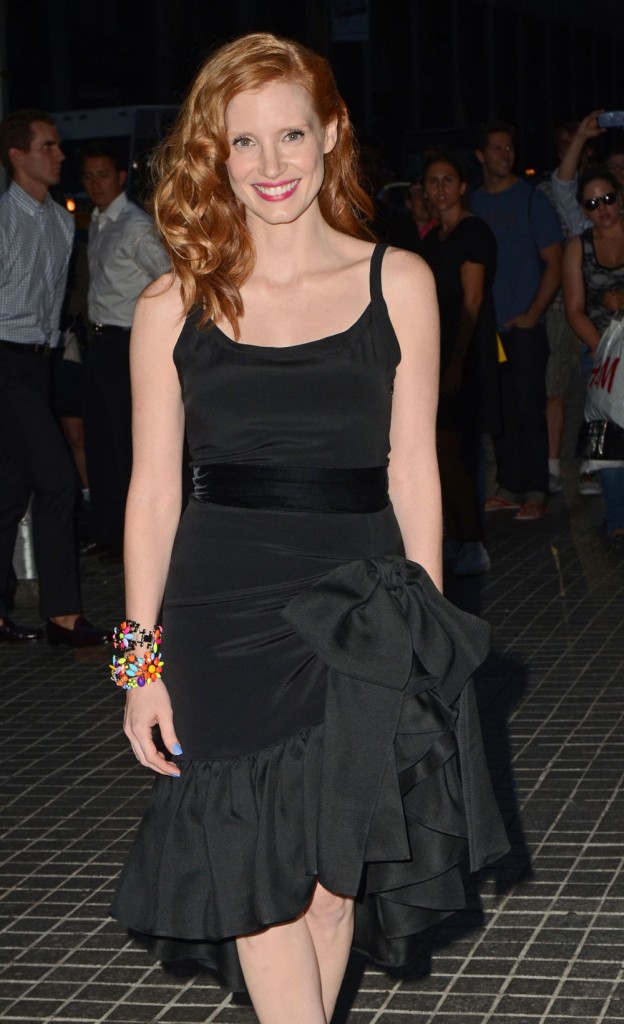 Photo credit: Fame Flynet