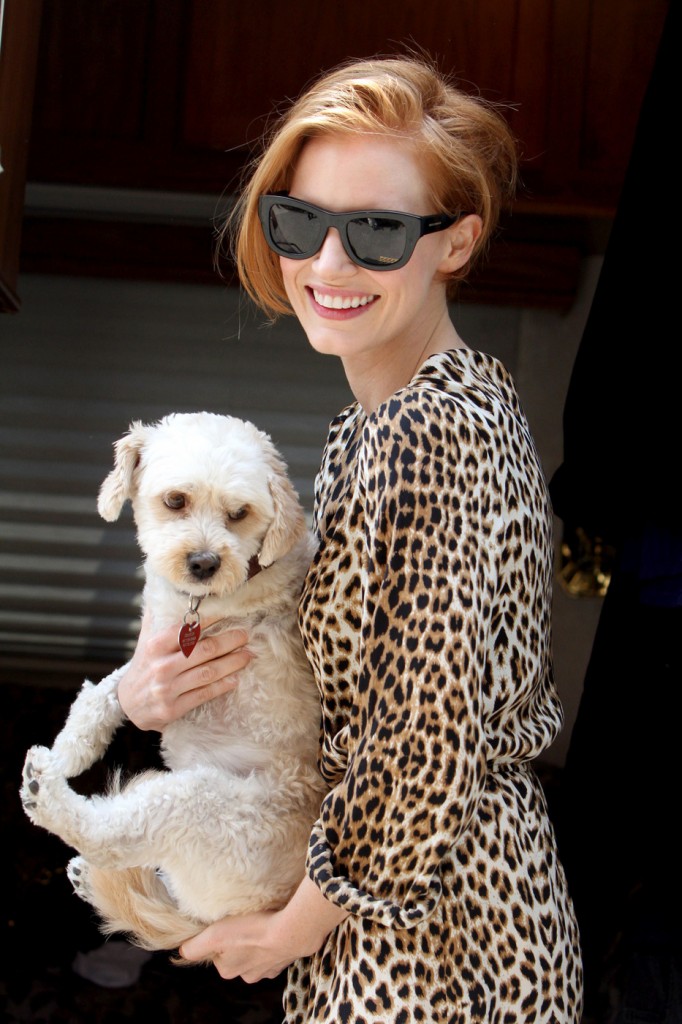 Jessica Chastain has cut her long gorgeous ginger hair (and perhaps removed a few tasteful extensions) to rock an asymmetric 60s bob. She's made the daring change for her starring role in The Disappearance of Eleanor Rigby, co-starring James McEvoy, Ciarán Hinds, and Viola Davis. We have these photos of her in NY where she's currently filming, walking her dog Chaplin. Cute!
The Hollywood Reporter has details on Jessica's dramatic change. They also mention that this film is being split into two full-length features, told from both sides of a married couple's view. IMDB has them listed as His and Hers. It sounds daring for the first full length film from relatively young writer/director Ned Benson. Here's more:
Jessica Chastain, who is in the midst of shooting one of several interesting new movies, has had her bright red below-her-shoulders wavy hair chopped off into an assymetrical chin-length, sharp-edged bob for the movie The Disappearance of Eleanor Rigby.

The movie stars Chastain and James McAvoy as a New York married couple, and tells the story of what happens to their marriage when the wife decides to go back to college. It's actually two full-length movies – one of them will be from the wife's point of view, one from the husband's. It's an interesting indie film experiment; and so is the new hair. Chastain is just one of many big female stars who's cut their hair off for a role lately, and wound up with a new image, and interest spiking as a result.
[From Hollywood Reporter]
I really like this style on her, and think it makes her look younger. Not that gorgeous Chastain looked "old" before or anything, this is just a more youthful style. (She's 35, according to IMDB and Wiki now, although it took some time for her age to be confirmed, and she's been reluctant to state it in interviews.)
I spend a lot of time in Germany, and the women there are much bolder with their hair choices. There's a lot of spiky hair, bright colors, streaks, and much shorter hair in general. Older ladies rock clown colors with pride. Jessica Chastain would fit right in with her new hair and look almost demure in comparison.
My hair is red-blonde and past shoulder length in a style similar to Chastain's before she got it cut. I'm protective of it and would have a hard time chopping it off. We've see so many striking hair transformations this year with actresses that I wouldn't be surprised if shorter, daring styles become more popular in the states. Maybe it will inspire me to make a change, especially after seeing how lovely Chastain looks in this new style. Plus it must be easier to care for. I find it tedious to blow out my hair every day.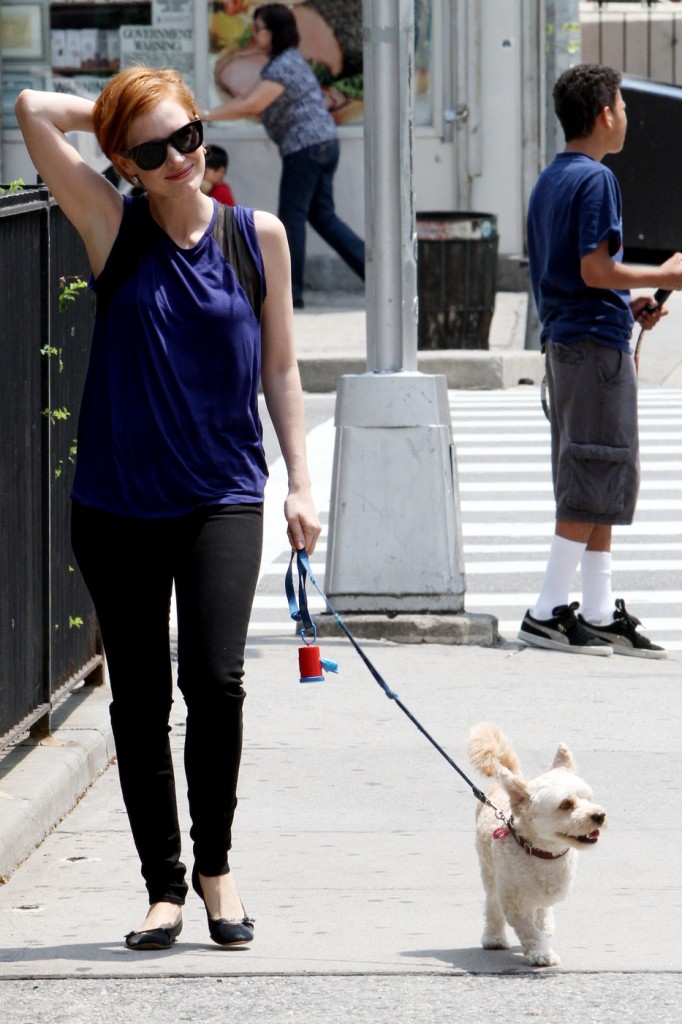 Before the cut: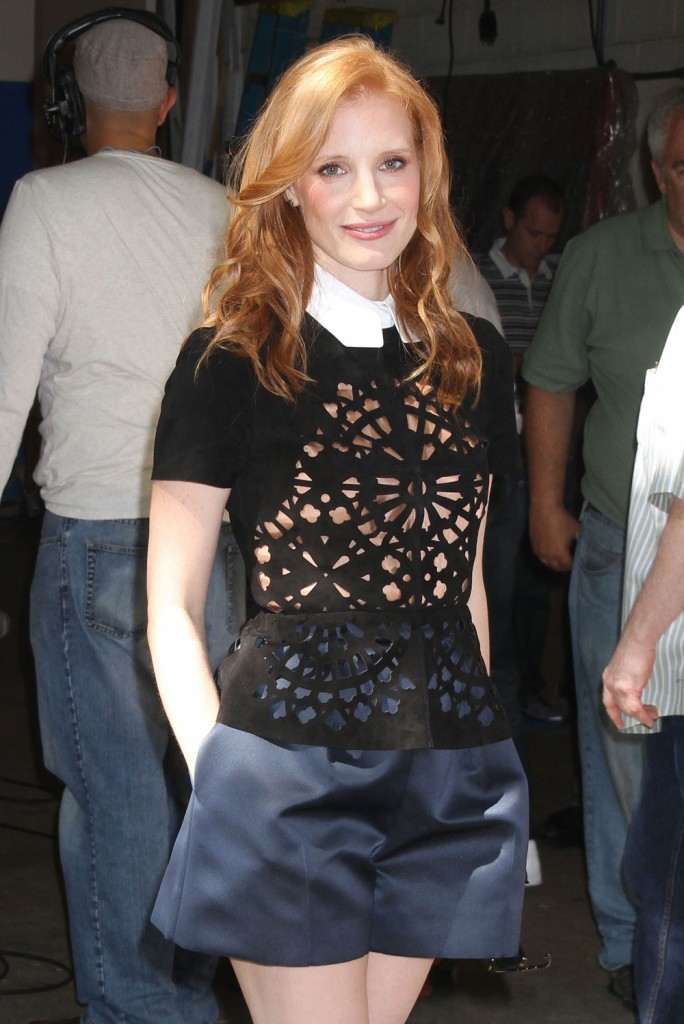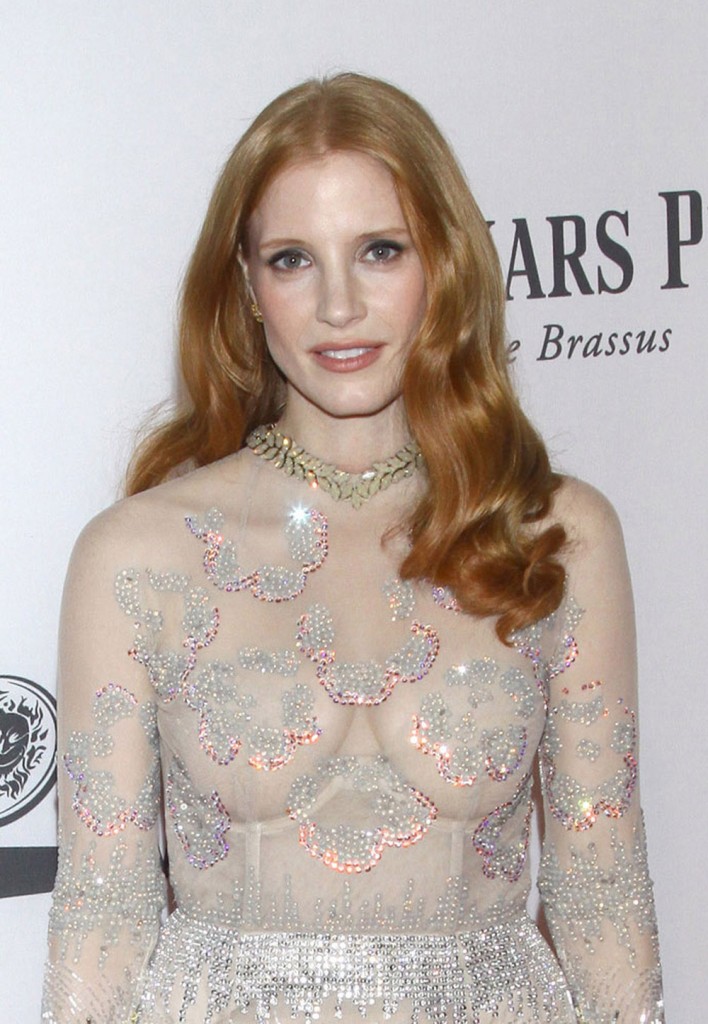 Jessica on 7-13 on set before her character's hair was chopped.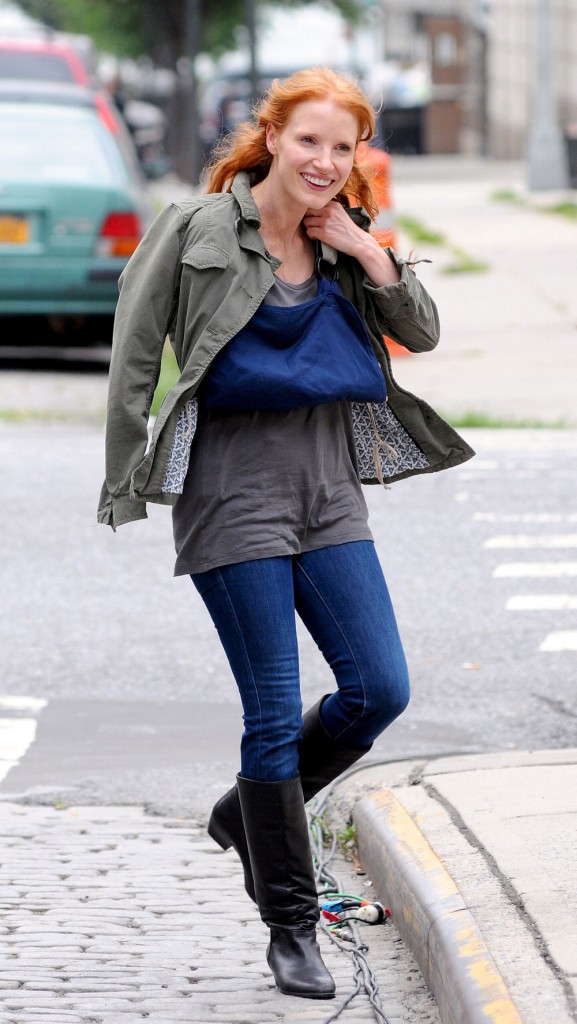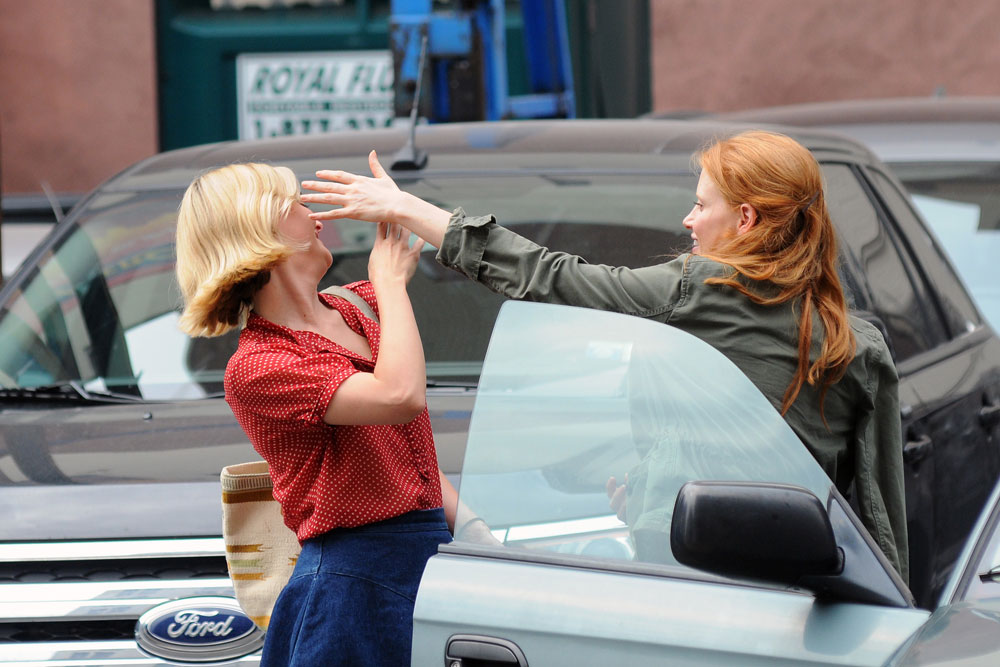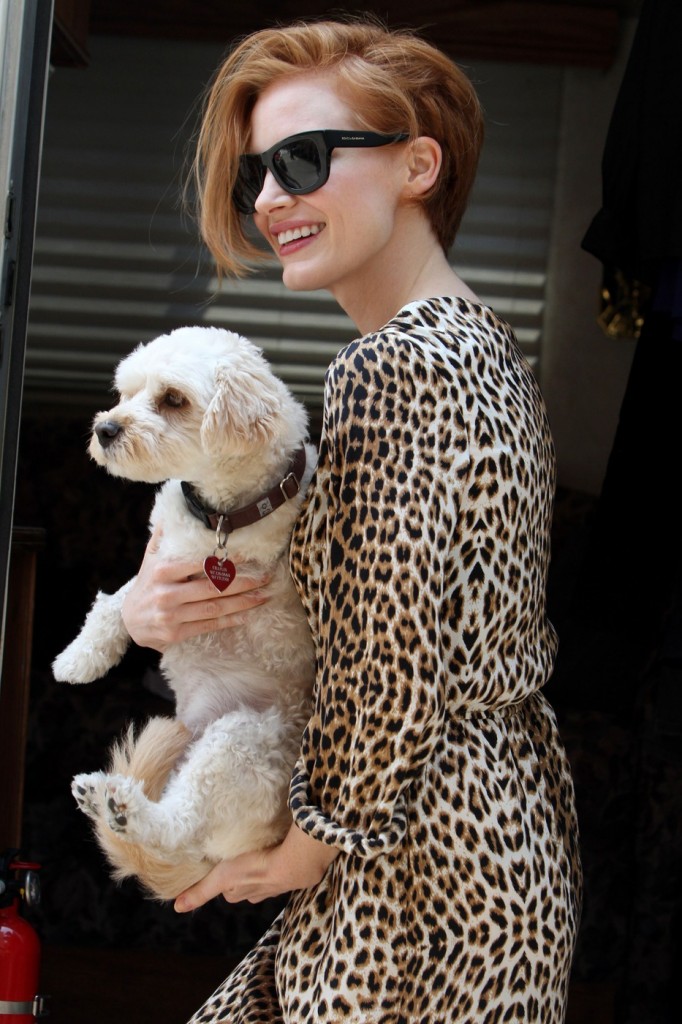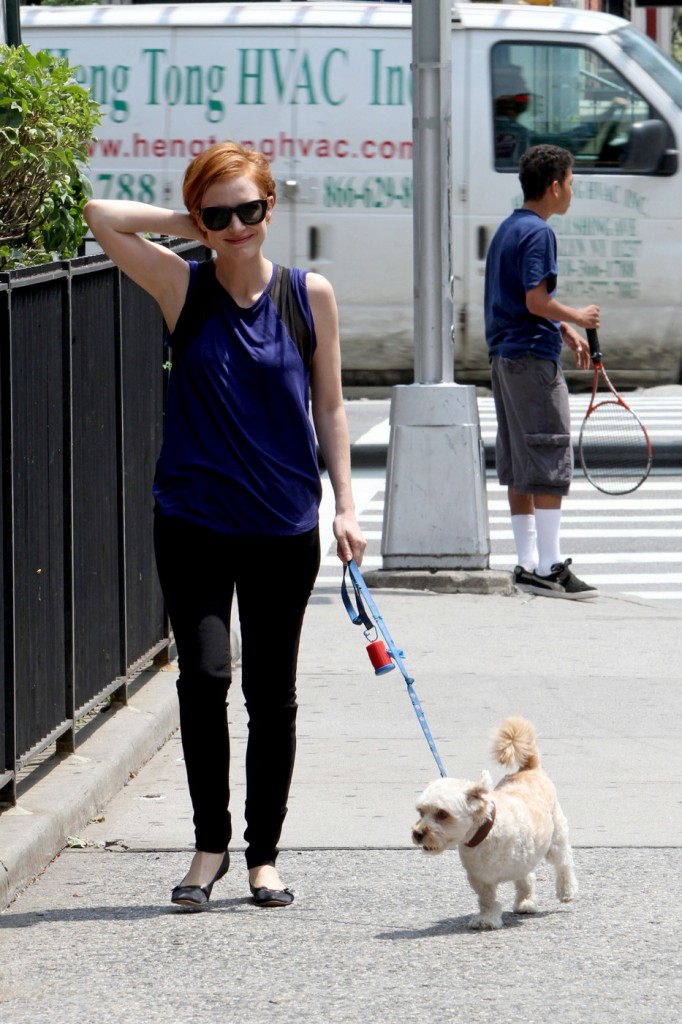 Photo credit: Hall/Pena/Pacific Coast News, FameFlynet and WENN.com