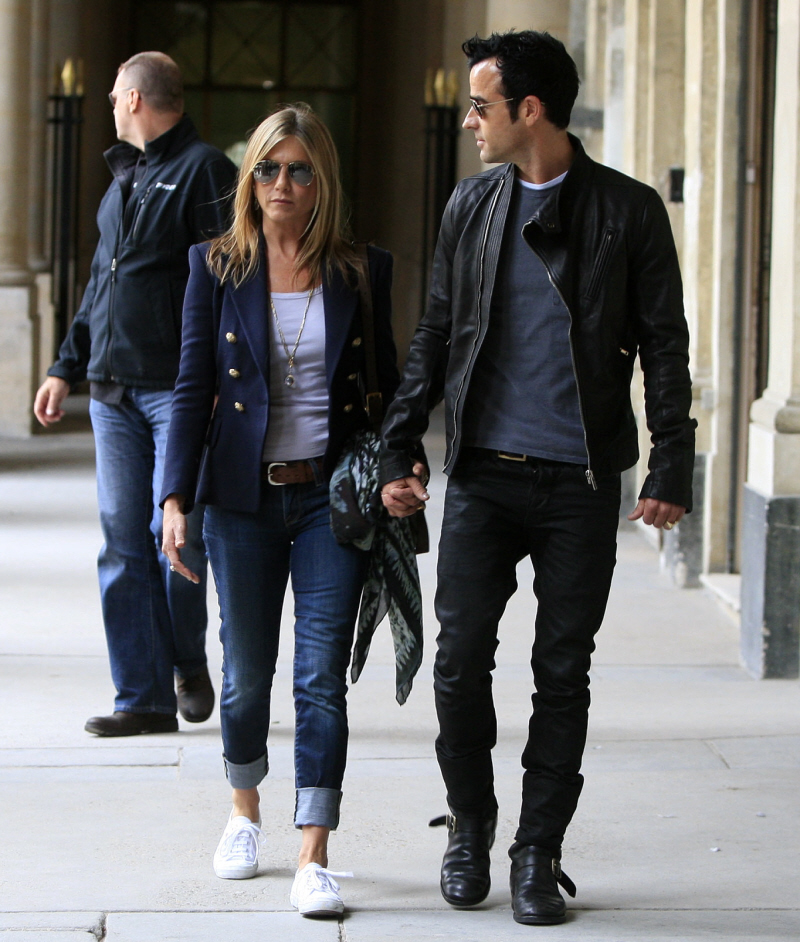 As I said in today's earlier Jennifer Aniston-Justin Theroux post, prepare yourselves for the onslaught of elopement, wedding and baby stories from the tabloids about these two. But for this week, the magazines are just trying to figure out how the engagement went down, and when Justin gave Jen this huge, remarkable and alleged "emerald-cut diamond". People Mag predictably put Jennifer's engagement news on their cover, and here's part of the story:
Jennifer Aniston and Justin Theroux hopped a private jet to New York City last weekend to celebrate Theroux's 41st birthday – but he had a little something else up his sleeve: an engagement ring.

On Aug. 10, Theroux's birthday, the pair of 15 months sat side by side at a corner table at Blue Hill restaurant in Manhattan, enjoying a quiet dinner and looking "like a long-term couple in love," a source tells PEOPLE in its new issue.

But the celebration was just getting started. As his rep exclusively revealed to PEOPLE, Theroux proposed that day – and Aniston, 43, gave him "an extraordinary gift" by accepting. "He's been dying to do it," says a Theroux pal of his popping the question. "His friends knew it was coming."

Immediately after Aniston's heartfelt "yes!" the couple called their families – including her father, actor John Aniston – and close pals to share the good news.

"Everyone is really excited for them," adds a source. "It's amazing to see how happy Justin makes Jen, and everyone was always hoping that he would propose."

Friends say that the couple got serious about each other fast, and that actor-screenwriter Theroux is a perfect match for the laid-back Aniston. "They have the same low-key attitude about life," says a member of their inner circle. "They just click and complement each other."

"I wouldn't be surprised if they eloped," the source goes on to say that they may start a family too.

"Jen loves babies. They would be great at raising a family together."

A friend goes on to say: "They're in it for the long run. Those two are madly in love."
[From People Mag & Hollywood Life]
Ah, yes. Elopement and babies. How predictable! Next week it will be that Jennifer is already pregnant and that's why Justin proposed, shotgun-style. As for the whole New York proposal thing… does anyone else find that odd? Jennifer was in North Carolina working on her film last week (and she's on the NC set this week too). Justin was photographed in North Carolina on Thursday of last week – he made a point of going down there after they had spent several weeks apart, and after Star Mag claimed that they had gone on a break. So, Justin flew down on Wednesday or Thursday of last week, then he and Jennifer boarded a private plane back to New York on Friday and the first thing they did was go out to dinner (for Justin's birthday) and he proposed to her? Of course, it's all completely possible, but is it reasonable that everything went down this way? Eh. Oh, and a rep for this restaurant, Blue Hill, told Page Six this morning, "We are thrilled about the news of their engagement, but we cannot comment on any guests." So maybe the restaurant people are like, "Seriously, Jennifer Aniston was in here on Friday? I don't remember that."
As for the sketchy, passive-aggressive timing of Jennifer and Justin's announcement and how it coincided with reports about a Brangelina wedding, a friend ("friend") of Jennifer's huffed to HuffPo: "That is absolutely not true. Jennifer doesn't follow gossip at all. She doesn't tweet or have any interest in social media, so she probably didn't even know about the wedding rumors. Plus, Justin proposed on his birthday, which is a date that has nothing to do with Brad or Angelina. She is happier than I have ever seen her and so is he. It's not easy dating one of the most famous people in the world." Cough.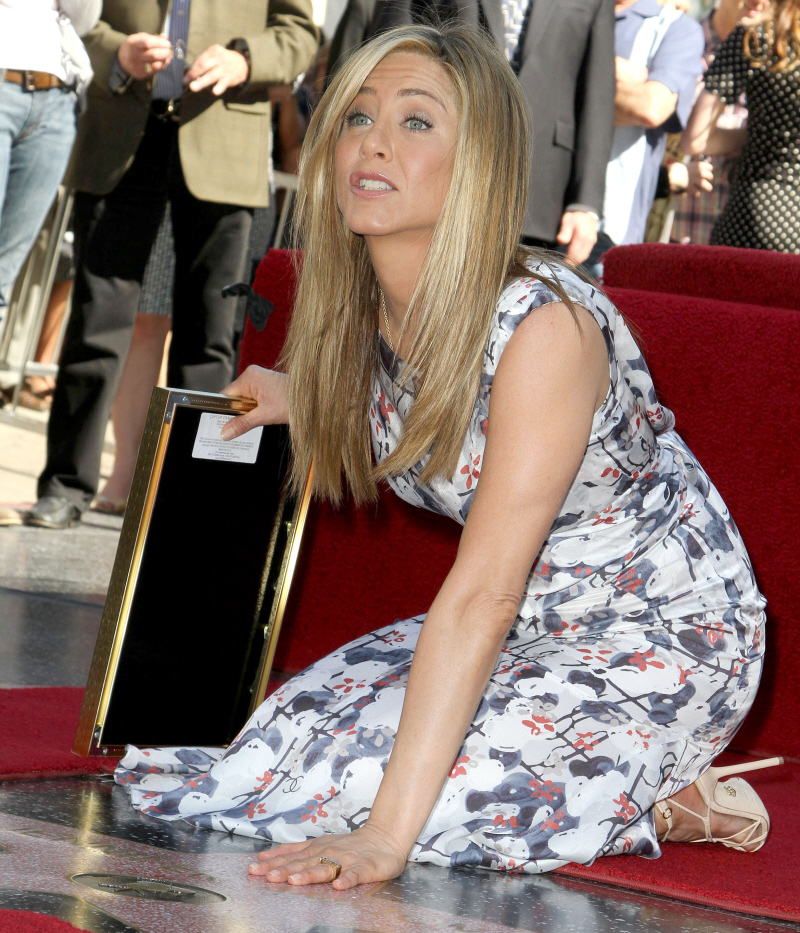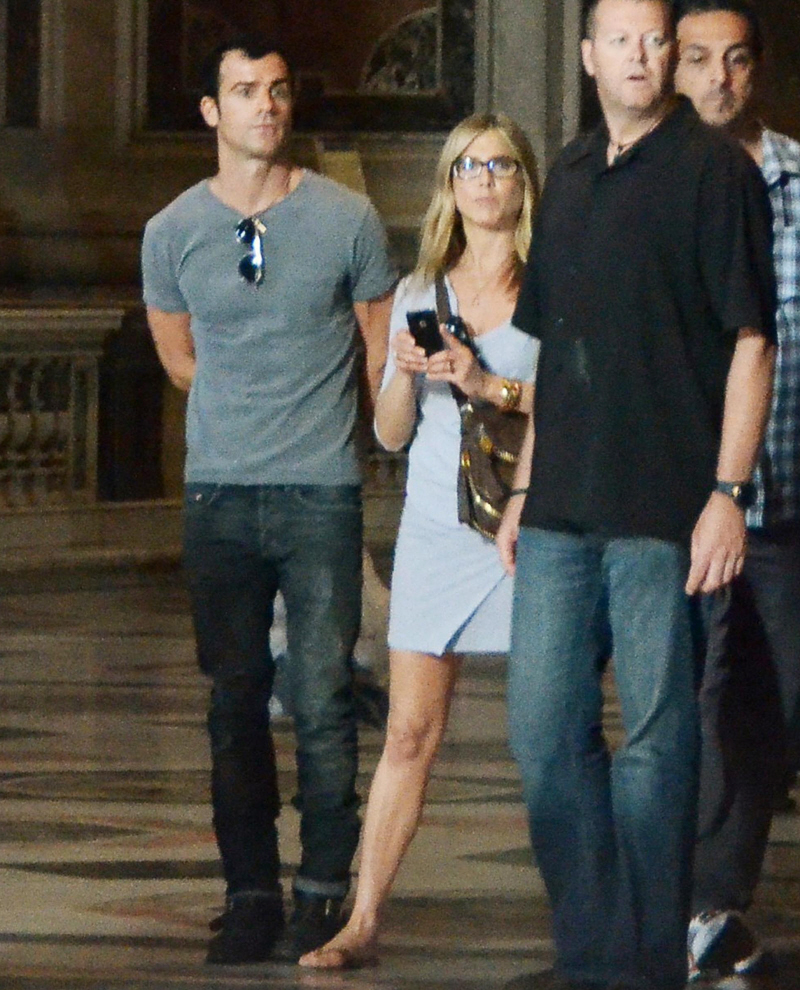 Photos courtesy of WENN.