Jennifer Aniston's engagement ring is allegedly "a huge emerald-cut diamond"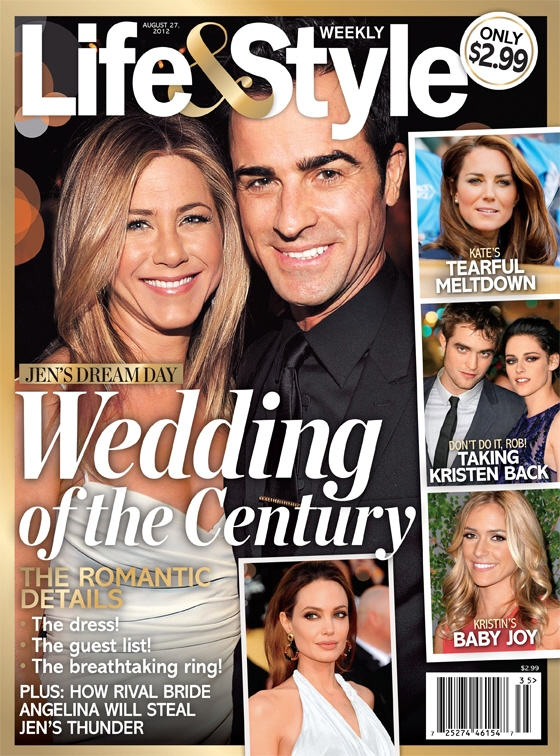 On Monday, Jennifer Aniston was photographed on the set of We're the Millers, that film where she's playing a stripper or hooker masquerading as a wife and mom. We didn't have access to the photos, but you can see them here – she was photographed wearing a grey robe and flip-flops, in between costumes and such. What was notable was that the photographer didn't get a shot of Jennifer's new engagement ring. She managed all the right angles, positioned and draped fabric just the right way so that the photographer didn't get the shot. What does it mean? Does it mean that Justin hasn't picked out a ring yet? Does it mean that Jennifer didn't want her big ring debut to be while she was wearing a robe and slippies? I don't even know. Life & Style claims that THEY know, though. They claim that Justin gave Jennifer a giant emerald-cut diamond ring:
Justin Theroux certainly knows the way to his lady's heart! Just four days after Justin proposed to his girlfriend, Jennifer Aniston, on his 41st birthday, Life & Style, on newsstands tomorrow, can reveal exclusive details about Jen's much-talked-about ring!

"It's a huge emerald-cut diamond," a friend of Jen's tells Life & Style. "It's a rectangle with tapered diamond baguettes on the sides."

The source estimates the ring to be 8 carats, adding, "It's beautiful."

And the 43-year-old actress is beaming with happiness.

"Just after Jen got engaged, she called all her friends and told them about it," the friend reveals. "She was so happy and said she loves the ring. I think she was overwhelmed and overjoyed by the size and beauty of it!"

Though the duo are very protective of their personal lives, Jen has revealed just how great it is to be in the relationship.

"I'm very happy," Jen has said about her personal life with Justin. "I'm extremely lucky, and I'm extremely happy."

"Having experienced everything you don't want in a partner over time, it starts to narrow down to what you actually do want," she's also said. "As I get older, I realize what qualities are important in love and what suits me — and what I won't settle for."

The couple have been dating for more than a year since meeting on the set of Wanderlust in May 2011. Before meeting Jen, Justin dated Heidi Bivens for 14 years. Jen was married to actor Brad Pitt in 2000 and finalized their divorce in October 2005.
I love a good emerald cut. Emerald-cuts are maybe my second favorite after Asscher cuts, although in the past decade, Asscher cuts have grown in popularity to the point where they just don't seem as special anymore. Sigh… what were we talking about? Ah, yes. Jennifer and the ring. I hope she got a nice one. I hope Justin picked it out himself and that he has a good eye for jewelry. I'm not sure if I buy Life & Style's story, but I do think it's strange that no jeweler has come out, proclaiming that Justin Theroux bought from their boutique. Hm.
By the way, yesterday Jezebel ran a strange piece about Aniston and our (society's) continuing interest in the state of her womb, and how we should all just leave her alone, pity party, etc, and why oh why does this never happen to George Clooney? I'll say what I always say – Jennifer did this to herself, she brought all of the speculation on herself because she talked about having babies for years and years and even in that infamous Vanity Fair interview in 2005, she was still claiming that she wanted babies and of course Brad did not leave her because of the lack of babies, etc. I would be fine if Jennifer came out and said, "Yeah, I never really cared about having babies." You know, because that's what George Clooney always says or indicates – he's not interested in having a wife. He's not interested in babies. He's honest about it when asked, which is why his private life gets treated differently – because he sets up a different set of expectations. Just my opinion. This is just to prepare all of you for 20 million tabloid covers proclaiming "Jennifer Aniston: A wedding AND a baby!" and "JustJen's Twins and a Greek Elopement" etc.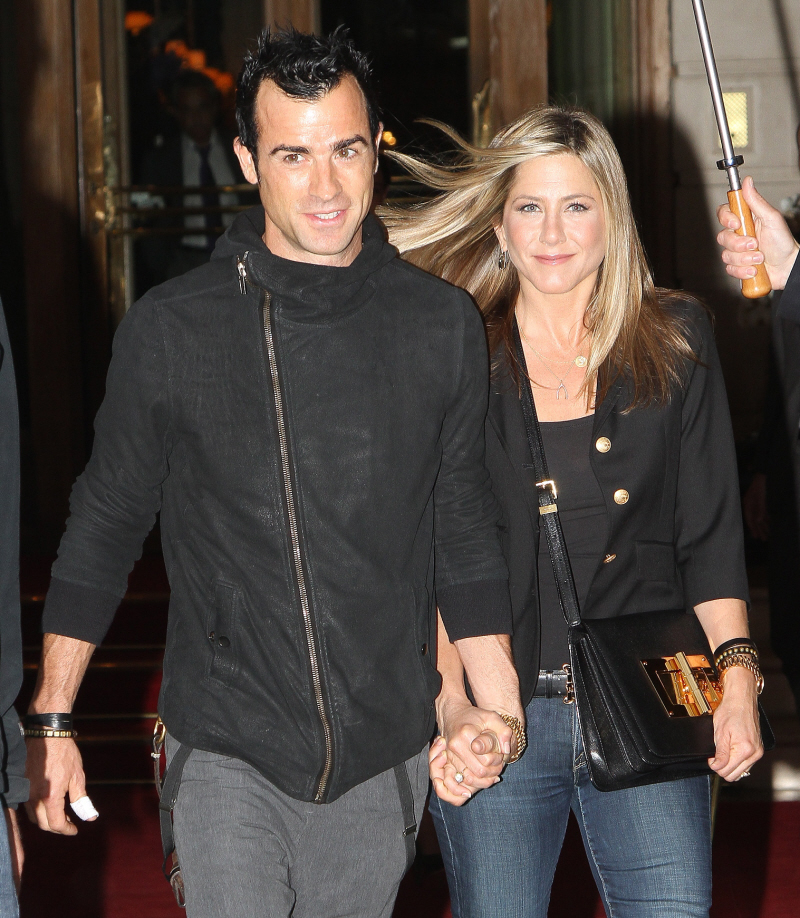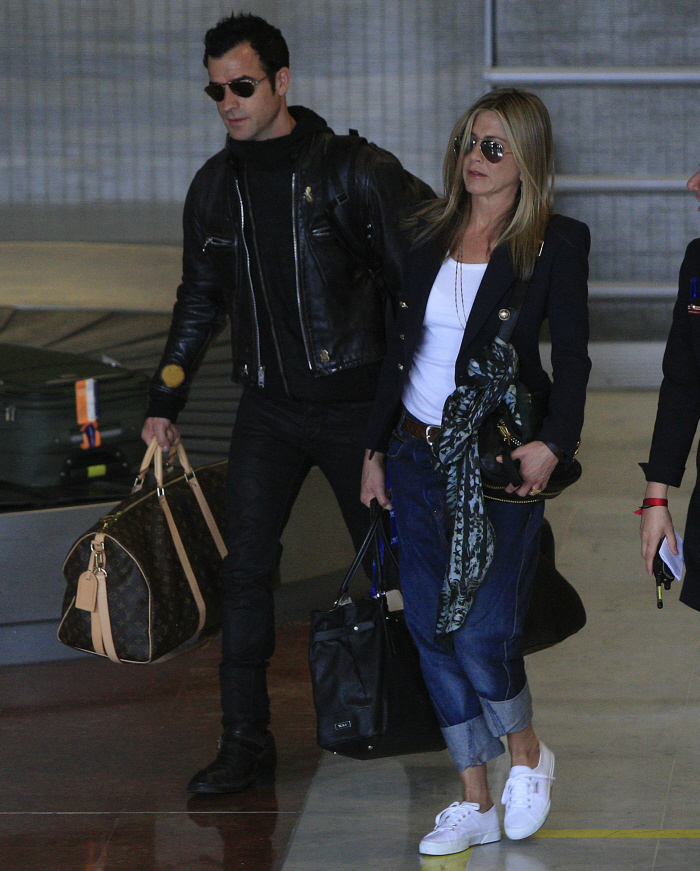 Photos courtesy of WENN, L&S.

Written by Kaiser

Posted in Jennifer Aniston, Jewelry, Justin Theroux

- Friends reunion on Ellen [Popsugar]
- Lindsey Vonn watches Tigers kids [Lainey Gossip]
- George Michael fell out of a car going 70mph [D-Listed]
- Real Housewives of Orange County recap [Reality Tea]
- New Man of Steel trailer [Pajiba]
- Jared Padalecki's hot bod [Buzzfeed]
- Doctors confirm Taylor Swift's new boobs [Evil Beet]
- Catherine Zeta-Jones finished treatment [CDAN]
- Anna Paquin hates the paps [Celebslam]
- Lance Armstrong is gross [The Blemish]
- What is Barbara Palvin wearing? [Moe Jackson]
- This is Petra Nemcova? [SVC]
145 Responses to "Jennifer Aniston's engagement ring is allegedly "a huge emerald-cut diamond""