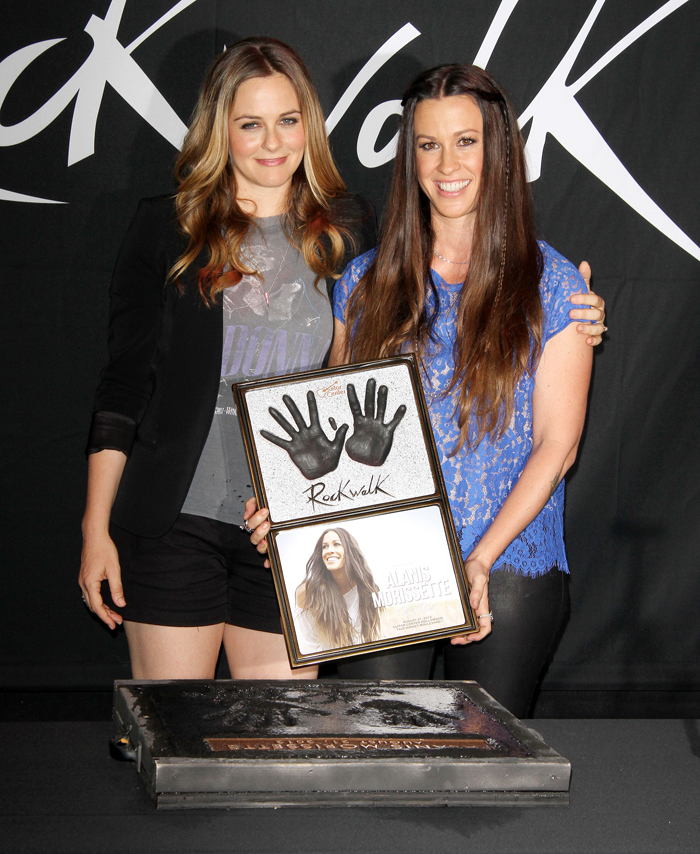 Here's some photos of Alanis Morissette being inducted into Guitar Center's Historic RockWalk yesterday. For whatever reason, Alanis brought Alicia Silverstone along to provide support in what is essentially a paid-for honor similar to the Hollywood Walk of Fame. Of course, this is a familiar public relations strategy when a musical artist is preparing to drop a record, and Alanis' next effort arrives in stores next week.
Speaking of carefully refined PR strategies, Alanis has spoken out on how much she actually enjoys dealing with the paparazzi unlike most stars. Her words remind me a bit of January Jones' sentiment that she doesn't mind the paps who lurk outside her home because they make her feel "safe" since she lives alone and they essentially function as "the best security system ever." I imagine that January gets a lot more pap attention than Alanis does though, and the latter expresses a different sentiment for not minding the photogs. Her message? Transparency: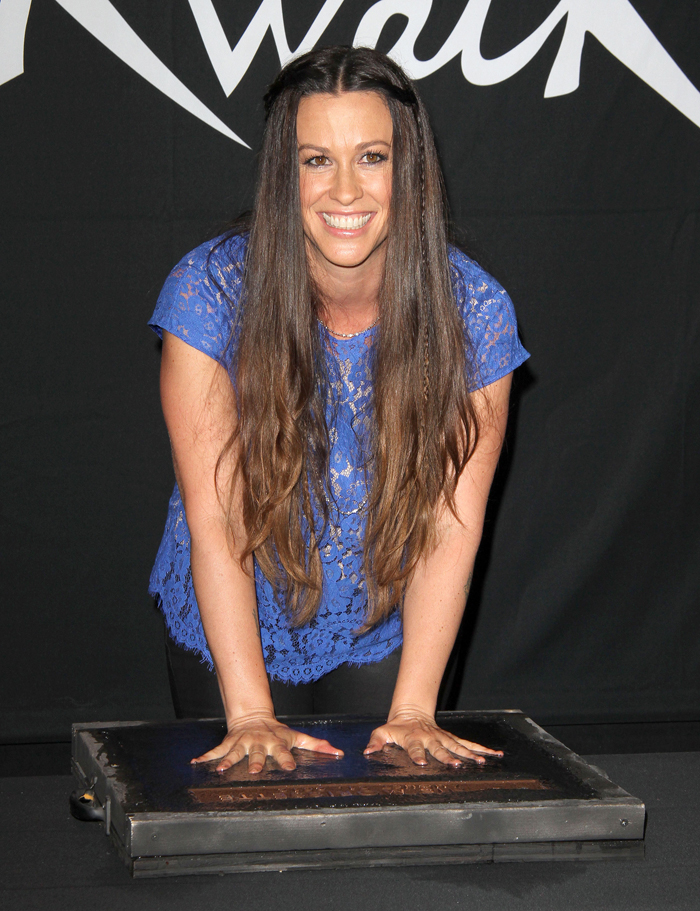 Alanis Morissette is a rare celebrity who doesn't hate paparazzi. "I actually like the paparazzi," she said during a listening party hosted by Target for her new album, Havoc and Bright Lights, at Sonos Studio in LA. "They're forcing transparency . . . What are we afraid of? Our relationships being dysfunctional?" The singer also discussed fame. "I love all the trappings," she said. "I'm as shallow as you can be. I love my 6-inch heels." Her new album drops Tuesday.
[From Page Six]
I get what she's attempting to say about transparency — that celebrities who choose to earn their living in a the public eye shouldn't be afraid to be photographed in candid moments if they aren't doing anything wrong. The complicating factor, however, is when "candid" shots are staged, which happens all too often and a perfect example is Christina Hendricks earning some dough for calling the paps to show off her $23,980 purse. Then there are the staged, fake romances between celebrities and happy-family photo ops. It's all a muddled mess, and "transparency" doesn't really work as a descriptor unless one assumes that everyone is being truthful, which obviously isn't the case.
However, I guess Alanis, who has managed to live a scandal free life thus far, really doesn't mind the paps at all. Here's some photos of her with husband Mario "Souleye" Treadway and their son Ever on 5/26. They do look totally cool with those photographers.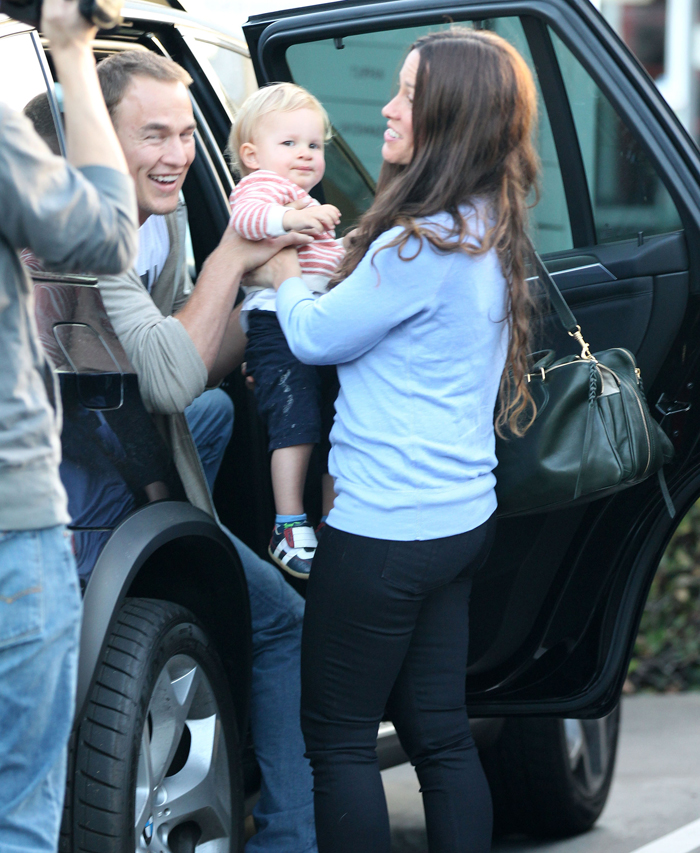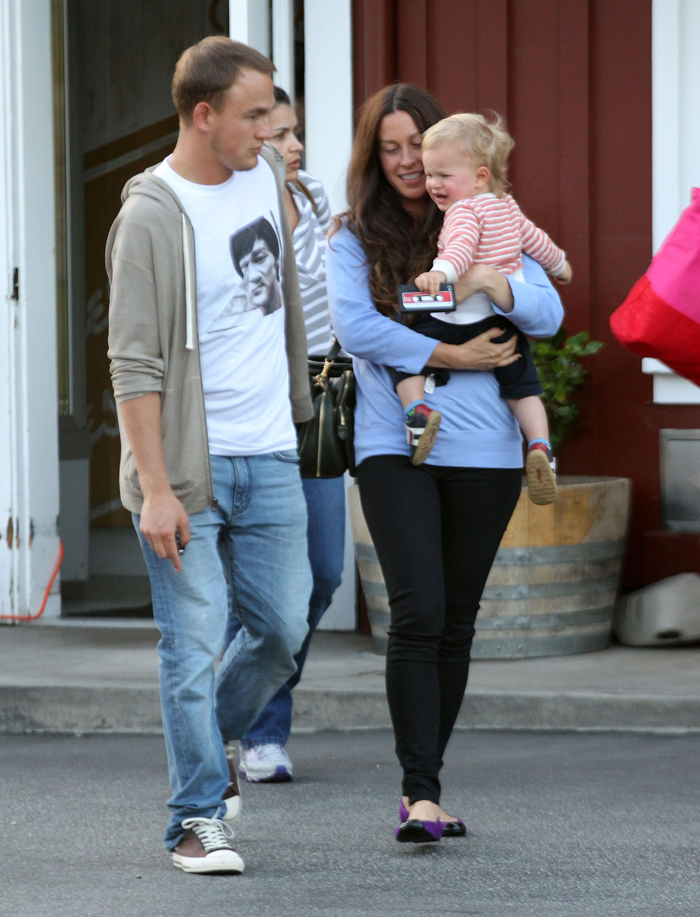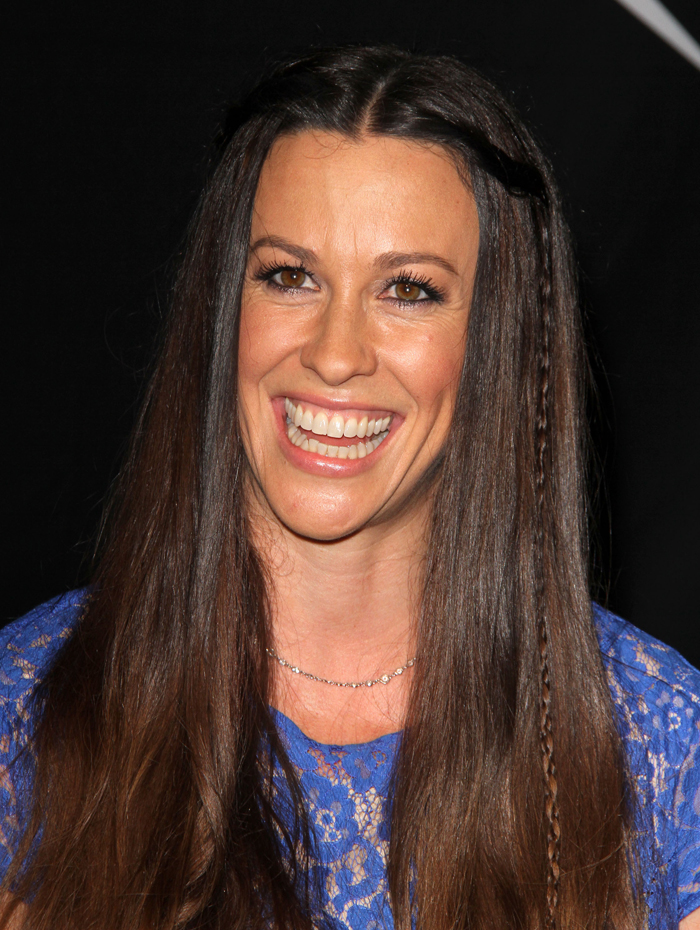 Photos courtesy of Fame/Flynet