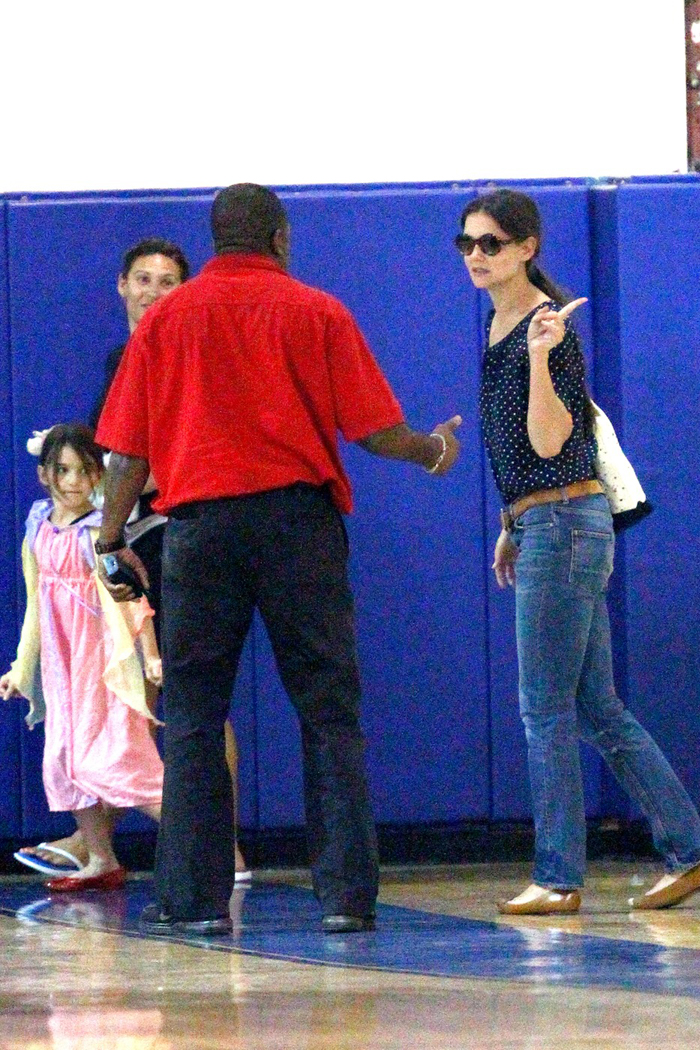 Here's some photos of Katie Holmes taking Suri Cruise to Chelsea Piers in New York City. Presumably, Suri was attending another one of her gymnastics classes, and Katie pulled the rare move of opting for flats and leaving the fug booties at home. What have Katie and Tom been up to lately? Well, Katie reportedly delivered a triumphant secret stage performance (a reading of One Day When We Were Young), for which she was said to be "very focused," in Williamstown, Mass. As for Tom, he's in the UK preparing to film All You Need is Kill; and his entourage was left quite embarrassed when they racked up a £220 bill at a curry house, but Tom only had an American Express card on him and no cash. One of his CO$ lackeys ended up paying the bill. But Katie certainly has reason to be pleased with life at the moment, for she's shed the exhausting presence of Tom, who himself has now shed many pounds as a result of "heartbreak" (i.e., a bruised ego). She's also received a very healthy amount of child support for Suri in the divorce-custody settlement revealed this morning from TMZ: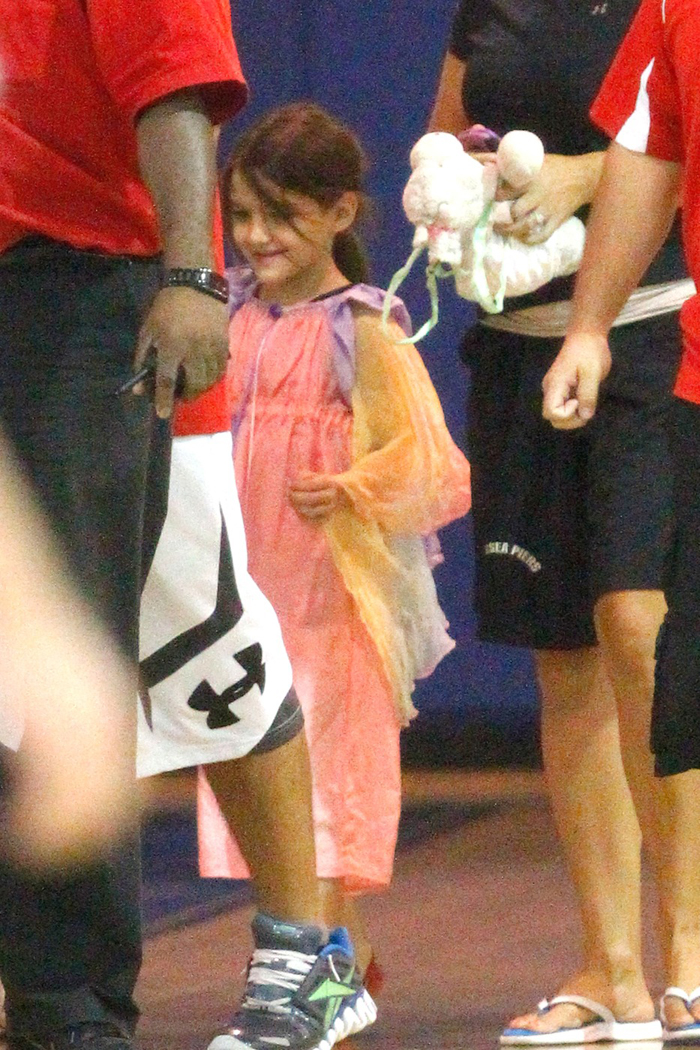 Katie Holmes walked away with nothing other than rather modest child support in her divorce from Tom Cruise … and we at TMZ have the breakdown.

Sources familiar with documents filed with the court tell TMZ … Katie got no lump sum payout, which is consistent with the prenup which essentially shuts her out of Tom's $250 million fortune.

As for spousal support …. Katie got zip.

Katie will get money for child support, but it's way less than a judge could have ordered. According to the settlement, Tom must pay Katie $400,000 a year in child support. That comes to $33,333.33 a month. The money will be paid by electronic transfer.

Tom must pay Suri's support for the next 12 years — until she turns 18. All tolled, that comes to $4.8 million.

Tom must also pay Suri's expenses, including medical, dental, insurance, education, college and extracurricular costs.

And … both Tom and Katie agree that Suri will NOT attend a "residential school" from now through her high school years. Translation — she can't be shipped off to boarding school — Scientology or otherwise.

Katie could have gotten more child support under New York law if the case went to trial, but both she and Tom decided to settle quickly.

We reported early on … Katie said she wanted nothing from Tom other than a divorce — well that's exactly what she got.
[From TMZ]
Who cares if Katie didn't get any alimony? She didn't exactly get "zip" — she got a lot. Katie just wanted out of the marriage, and that kind of child support (on top of Suri's expenses) is phenomenal. Plus, she won't have to claim the child support as income on her taxes like she would with alimony. Can you imagine $400,000 per year after Suri's education, medical, etc. are already accounted for? So much of that can just go in the bank and start accruing interest post haste. Katie won big here — she not only received a finalized divorce less than two months after filing, but she can also go on record with her claim that she wanted nothing from Tom than to be rid of his crushing presence. Also, Tom totally got off easy although I'm sure he doesn't appreciate it at all. He probably thinks it's a huge injustice that Katie divorce him at all since, in his eyes, paying for things should be enough to keep people happy.
Meanwhile, there's a story from this week's In Touch that claims that Katie is completely dreading Suri's first day of school (Sept. 11) and not just because mothers tend to get a bit teary eyed on such an occasion. In addition to the usual stresses of leaving one's child behind with strangers, Katie also will have the added pressure of enjoying a face-to-face meeting with Tom for the very first time since she filed for divorce. Reportedly, Tom will be on the scene as well, and Katie is dreading seeing him because he's very "bitter" about their split, and "he can't let her be happy." Supposedly, Katie plans on ignoring Tom as much as possible when she (unavoidably) must cross paths with him on Suri's inaugural day of formal education. Good plan.
Another story in this week's Enquirer reveals that all of the nation's big TV names (including Barbara Walters, Diane Sawyer, and Matt Lauer) are scrambling to land a sit-down interview with Katie. Supposed interview questions would include her life of confinement, the lack of intimacy in the marriage, more details on how she pulled off the divorce, and the "gay lies that have haunted Tom for years" (although a source says that Katie would probably answer that "Tom is 100 percent straight"). Right. Mostly, TV analysts say that women want to know about the "final straw" that made Katie realize she needed to leave Tom. The question remains, however, whether Katie will ever actually talk about her marriage to Tom in definable terms. I don't think she will. After all, she's got her entire future ahead of her, and I believe she's done wasting her energy on thinking about Tom Cruise.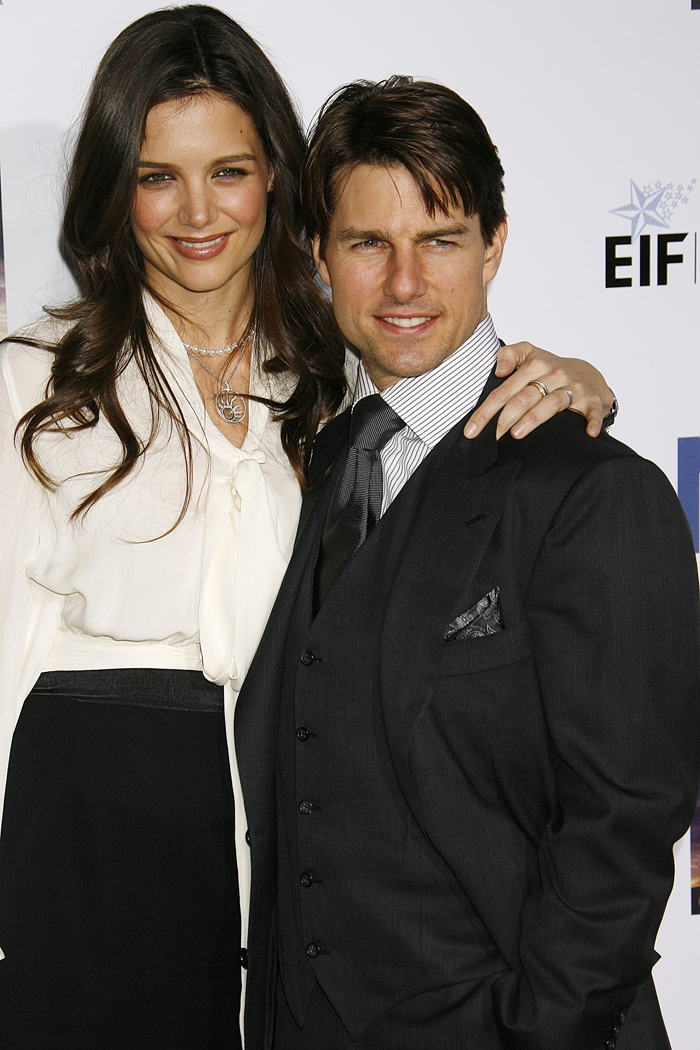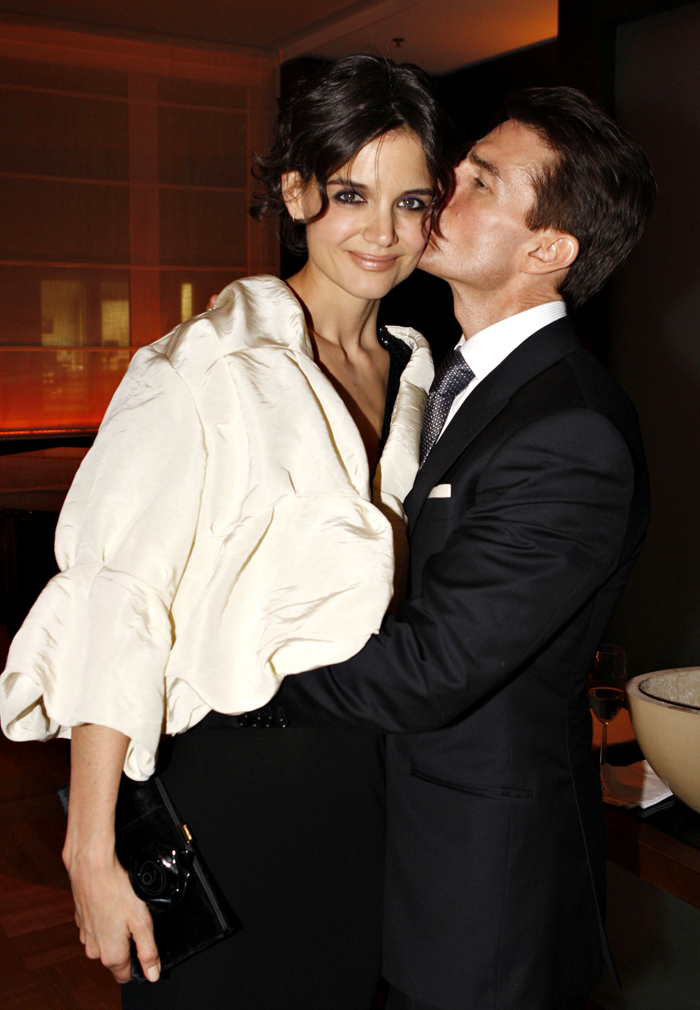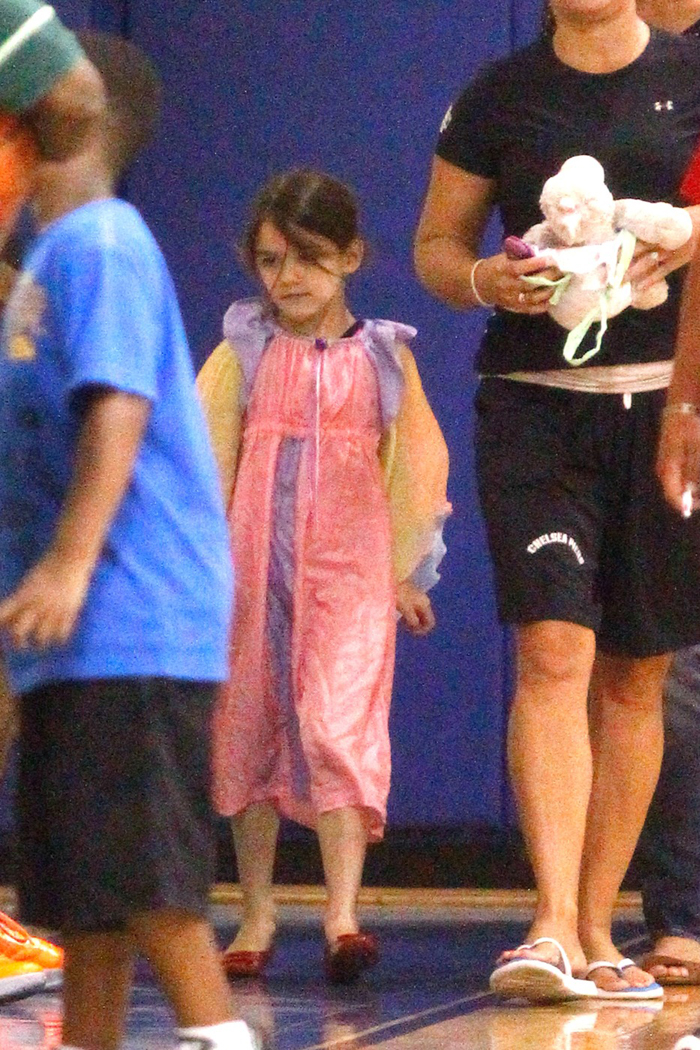 Photos courtesy of Fame/Flynet and Pacific Coast News