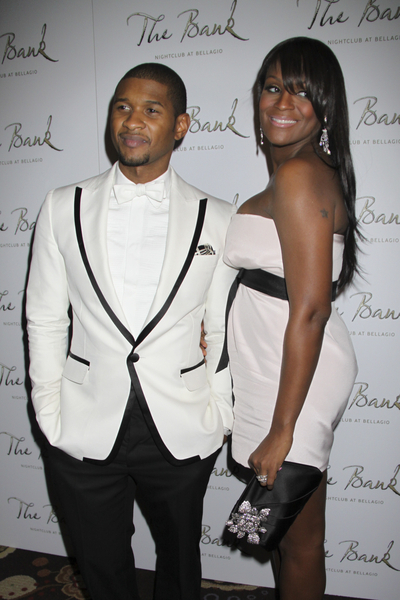 Sometimes when I cover a story I truly wish I had more information about it. Like in the case of Usher's custody battle, I would love to have been able to watch the entire trial, since it was public from what I know. (TMZ had video of Usher's testimony, but I'm not aware of it airing in full anywhere.) There aren't enough hours in the day to pay attention to everything I'd like to know, so I come away from this story about Usher's custody battle just wishing I could feel better about it. If I knew what the judge knew, would I think this was the right decision? Anyway Usher gained primary custody of his two children with his ex, Tameka Foster. He will be the main caregiver for their sons Usher V, 5 and Naviyd Ely, 3. Tameka just lost her oldest son Kile Glover, 11, (from a previous relationship) who died following a tragic boating accident. This has got to be hard on Tameka, and she's vowing to appeal the decision. Here's more on her statements about the ruling:
The bitter custody battle between Usher and his ex wife Tameka Foster ended on Friday, with the singer winning primary custody of the former couple's two sons. After issuing a statement addressing the death of her son Kile Glover and her custody case with Usher earlier this month, Foster took to Twitter this time to send a brief message after the healines broke.

"Money can buy many things… But in the end. Truth & goodness will prevail," she tweeted. "I must continue to believe this. Stand firm." Her previous tweets read: "A woman's loyalty is tested when her man has nothing… A mans loyalty is tested when he has everything!" and "Don't fear the enemy that attacks you… Fear the fake friend that hugs you. There's not much worse."

The details of Foster's access to or visitation rights of her children have not yet been released, but the ruling comes as somewhat of a surprise, given the emotionally charged accusations slung back and forth between Usher and Foster during the trial. Foster accused her ex of being too absorbed in his career to be a good father and that he had used drugs in the presence of his sons. She also told Global Grind that she never wanted to enter the custody battle to begin with and was satisfied with their previously agreed upon "joint custody" arrangement.

Usher was, at one point, held in contempt of court for canceling his wife's credit card at Saks Fifth Avenue. The court ordered Usher to reinstate the card because Foster argued that she needed use of that particular credit card in order to fulfill her duties as a stylist.Usher filed for divorce in 2009 after the couple had been married for two years. The couple's relationship was fraught with drama with rumors that circulated about Foster reportedly controlling the singer, Usher's mother's disapproval, etc.Neither party has commented on the ruling.This is another personal setback for Foster, who is still mourning the tragic loss of her son Kile Glover. The 11-year-old died from severe injuries sustained when he was struck by a Jet-Ski in July.
We've heard that Tameka has gone off on Usher, according to his testimony in court, and that she attacked him for bringing his new girlfriend with him during a custody hand off. That incident may have swayed the judge in Usher's favor. There have been plenty of other incidents we've heard about in which she's gone off on people and threatened them, so I guess I can see how the judge ruled this way. TMZ has a new report claiming that Usher's law firm had a close relationship with the judge and that "Usher's lawyer's law firm threw an election fundraiser back in 2008 for the judge who presided over the trial… the law firm that represented Usher raised $1,278 for [Judge] Lane in March 2008." That definitely may have influenced the decision. Even though I've never liked Tameka and have reported on her antics for years, I still feel for her for losing her older son and then losing custody of her two boys to Usher. It must be hard to take. I just hope Tameka is ok and that she'll still be to spend time with her children. Hopefully this is in their best interests.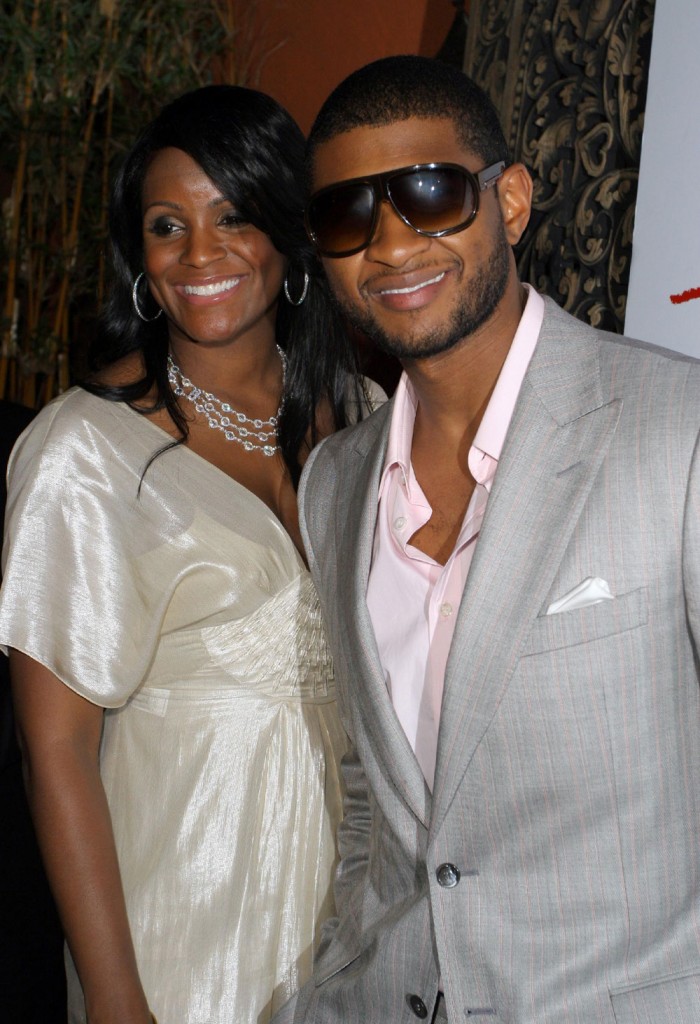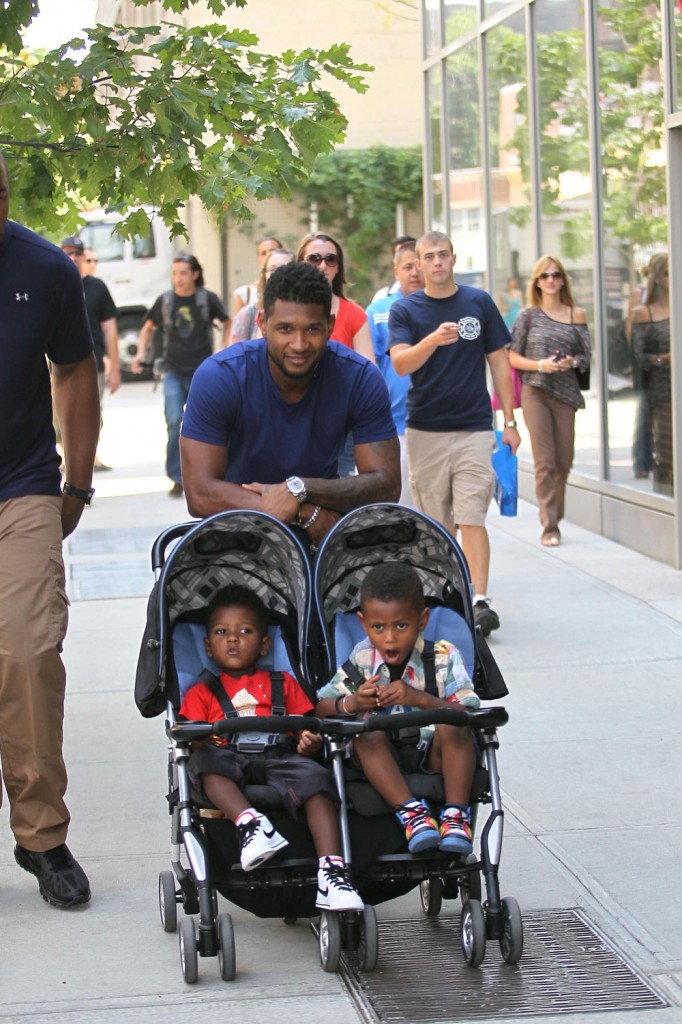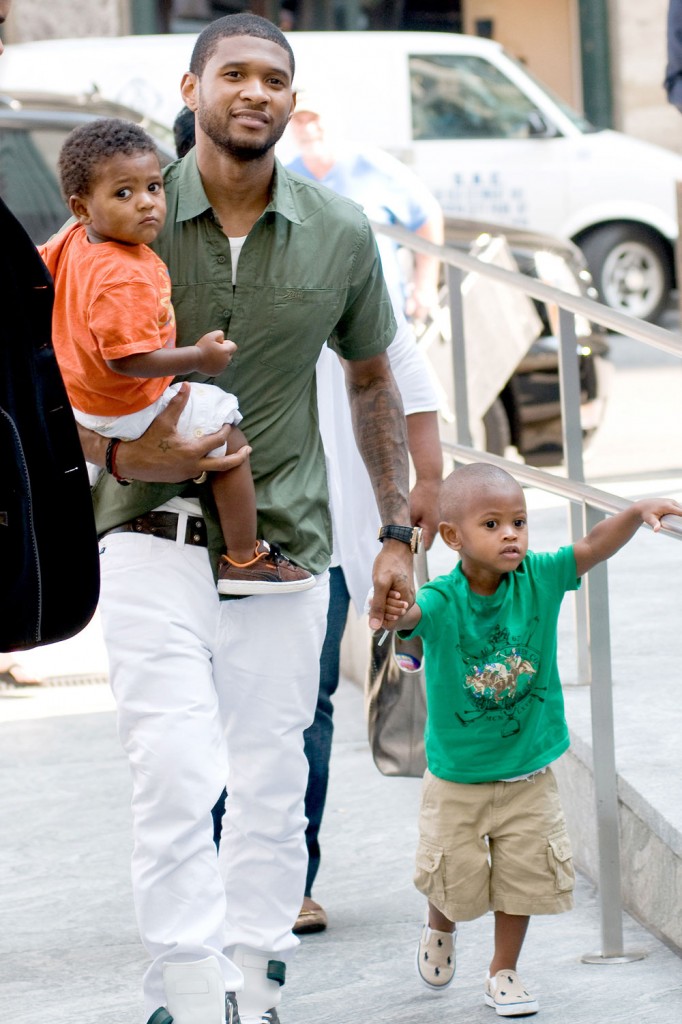 Header photo from December, 2008. Credit: PRPhotos. Photo of Usher and Tameka below from May, 2007. Usher is shown with his sons on 8-3-11 (stroller) and 8-20-10. Credit: WENN.com