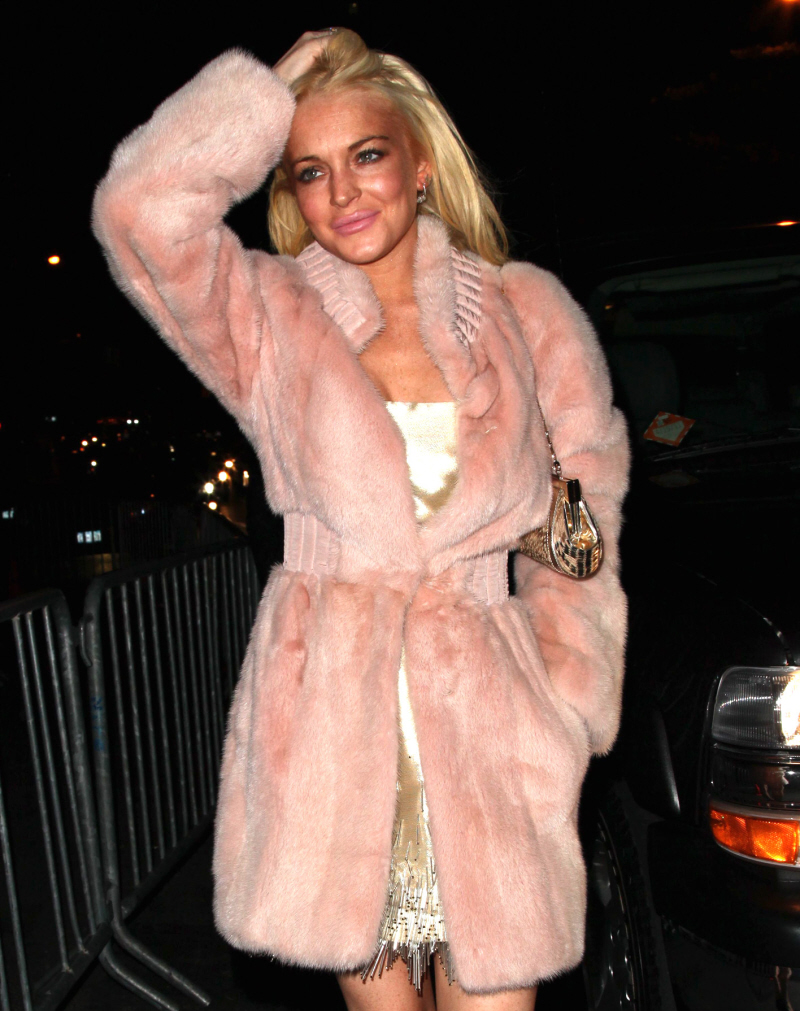 Last week, Lindsay Lohan managed to pull off another cracked-out jewel heist. You know how I know that she pulled off a crack-heist? Because she's been crack-denying it ever since, which is proof-positive from where I sit. So, over the weekend, Lindsay had the nerve to tweet PHOTOS of her jewelry. For real! She tweeted, "Cleaning MY jewels

…… I love feeling like Elizabeth @DameElizabeth @damelindsay" and said she was cleaning her jewelry while watching The Avengers. These are the photos: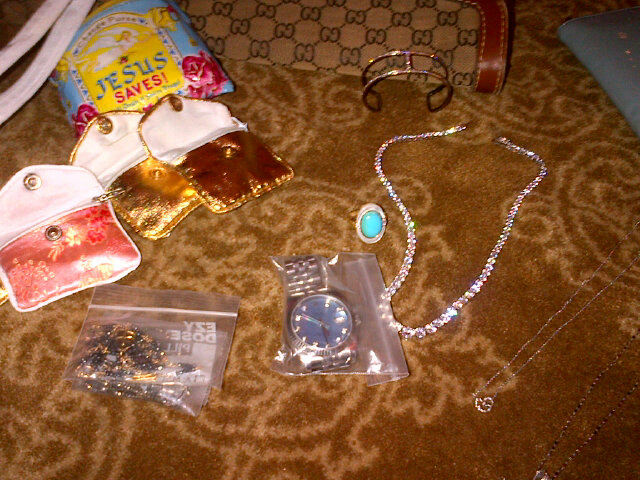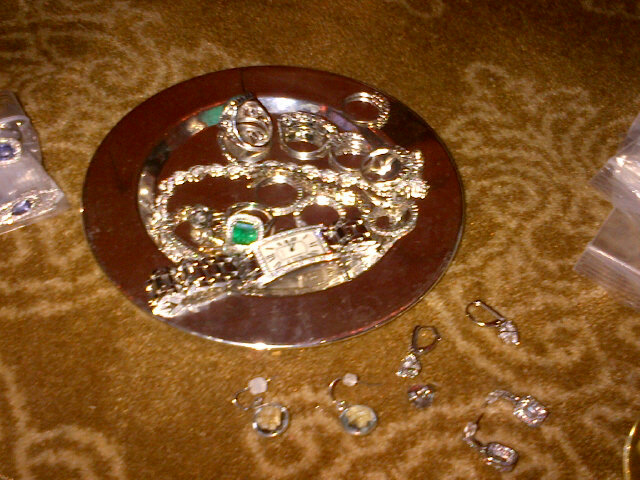 CB was like, "Hm, I wonder what other use that plate has?" and CB also pointed out the "Jesus Saves" pillow. This crackhead… I just don't even know. But it totally gets worse. Because how could it not? TMZ reports:
Lindsay Lohan is more than just a witness to an alleged burglary that went down in the Hollywood Hills last Sunday … law enforcement sources tell us she is a "person of interest," but the case may now be over.

Law enforcement sources tell us they are not ready to call Lindsay a suspect, but they are suspicious of her actions at a house party where 2 watches and an expensive pair of sunglasses — total value $100,000 — supposedly went missing. We're told Lindsay let 2 friends into the house and cops think when they left they took the goods … and she may have been in on it.

But now there's a twist in Lindsay's favor. We're told the owner of the house has recanted his story and written a letter to cops saying nothing was stolen. Of course, it flies in the face of his actions Sunday night when he called the cops and made the theft report.

Michael Lohan tells TMZ, "After personally speaking with the homeowner, there was NOTHING stolen from his home. Lindsay has no involvement and the owner has told the cops that."

We're told as of now the matter is still under investigation, but if the "victim" recants, it's unlikely the case will proceed.
Jesus, how did they manage that? Did the homeowner (and crack-burglary victim) decide to recant because of…? Drugs? Prostitution? A cracked-out payoff? My first thought was a potential payoff, but really, does Lindsay have any money left to use for a pay off? Or was all of this some kind of insurance scam? Oooh… that fits.
Meanwhile, people are talking about an interview Shirley MacLaine gave to The Guardian a few days ago in which she name-checks Jennifer Aniston and Lindsay Lohan in nearly the same breath. Here's the relevant portion:
[Shirley MacLaine] was having lunch with Jennifer Aniston and Justin Theroux the other day, she says, and by the time they finished, there were paparazzi outside the restaurant. "I felt so bad. I think the restaurant called them."

She will have a tough time drumming up much sympathy here. From the civilian point of view, someone such as Aniston is assumed to be complicit in her own exploitation.

"I think Diana did. And there are people who get a kick out of manipulating and moulding and sculpting their public image. But I do not think that people like Jennifer and Justin do."

What about someone like Lindsay Lohan? She and MacLaine were slated to do a movie together but it didn't come together. They had a few meetings, though.

"And, you know, her conversation was 90% about her upbringing. Her parents. Now, she's also a master manipulator, and it's not hard to figure out I'm interested in all that stuff, so she was maybe using it. I don't know. I can't advise any of the young ones, because I don't know what their background was, but I would suggest that anyone who wants to be famous more than anything – there's a problem."

Even if it coincides with real talent?

"Well, that's her. But…" MacLaine sighs. "Too much damage as a child."
So Shirley assessment of Lindsay Lohan is that she's a master manipulator and she had a damaged childhood. Both of which are true, I think, except that I no longer think Lindsay is a "master" at anything. But maybe I'm wrong – I can see through her stupid crack-manipulations, as can most people, but for whatever reason, the justice system keeps buying her act. So maybe she is a master manipulator when it counts.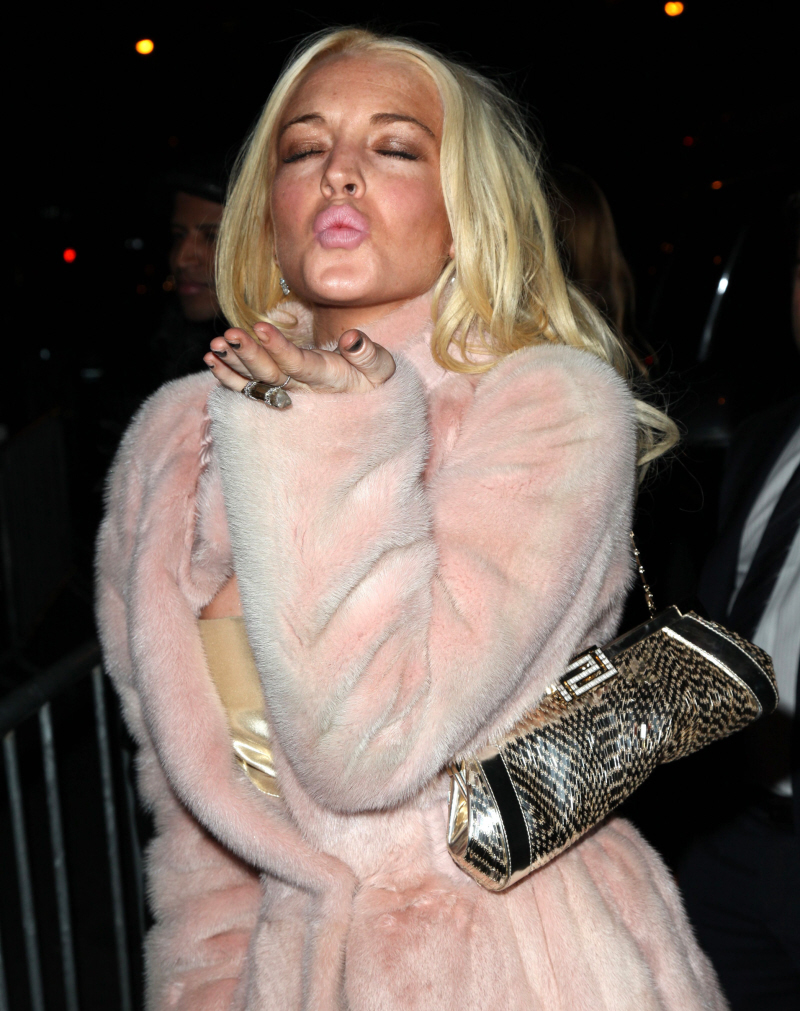 Photos courtesy of Lindsay's Twitter, WENN.