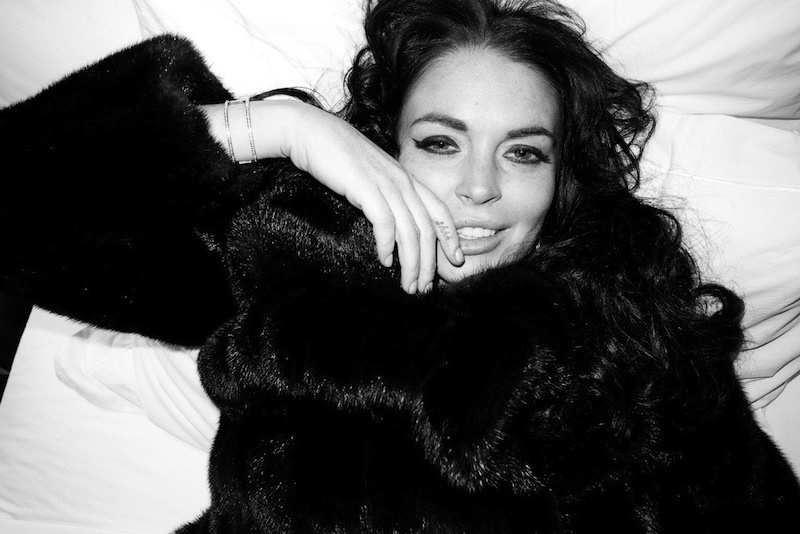 Everything old is crackie again! Does anyone else feel like Lindsay Lohan has just been repeating old scandals for the past year or so? Like, she keeps pulling the same old crack shenanigans and defending herself the same old crackie ways, and telling the same old crack-lies. I think all of that crack has done a number on her brain, quite honestly. So, to recap, Crackenjuice crack-heisted more than $100,000 worth of watches and other valuables from the home of Sam Magid less than two weeks ago. As of Monday, Lindsay is considered a "suspect" in the crack-heist, and police are focusing the investigation on her. So what does a Cracken do when she's cornered? IT'S THE BLACK GUY'S FAULT. That's her crackie M.O.
Lindsay Lohan claims she's been framed in the theft of $100,000 of watches and sunglasses, telling friends the real culprit is a man claiming to be Suge Knight's son. Problem is … cops aren't buying what she's selling.

We broke the story … Lindsay is now officially a suspect in the theft, which occurred at the lavish home of Sam Magid, a good friend of LiLo's.

Magid told cops Monday … he was in touch with 2 of Lindsay's friends — one of whom is Andrew Knight — and they said the night of the theft Lindsay had handed them a bag with 2 or 3 pieces of the stolen items wrapped in her t-shirt. The 2 men returned the items to Magid. Other items were still missing.

Magid also said he was in touch with Lindsay, who told him she had hidden some of the other items around the house because she was afraid they would be stolen by burglars. We're told Magid told cops Lindsay confessed she was on Ambien at the time she hid the jewelry and was hazy about exactly what happened.

Now Lindsay claims Knight is the real culprit, something Knight strongly denies. And apparently cops buy his story, because Lindsay is the target of the investigation.

Magid told cops Lindsay contacted him recently and said, "I'm sorry. Please pray for me."

We're told yesterday Magid gave cops Ziploc bags containing some of the stolen items. In addition to the watches and sunglasses, we're told Tiffany monogrammed silverware was also taken.
There's just so much gold in this story, I don't even know where to begin. First of all, blaming "the black guy" is so old-school, so dumb, and yes, so racist. Second of all, Lindsay was handing out her stolen wares… and the two dudes returned the items to Magid? WTF? She's like, "Shh… take this, I already have two watches in my crack muffin shhhh." And the dudes are like, "Oh, Jesus, what are we going to do with this stuff?" And then Lindsay calls up the dude she ROBBED and tells him, "Yeah, I totally stole some stuff but don't worry, I just hid it in secret places around your house. YOU'RE WELCOME." And then she's all, "Oh, crap, did I just blame Suge Knight's son for my crack heist? Pray for me, because my crackie ass is gonna face some consequences for that one." *headdesk*
Still, this sh-t gets even weirder.
The insanely wealthy man who reported $100,000 worth of watches and sunglasses stolen from his house told Lindsay Lohan she's not a thief, because "What's mine is yours."

TMZ broke the story … Lindsay is the suspect in the theft. The victim, Sam Magid, tried to recant his story but LAPD detectives say they have independent evidence to corroborate the theft and the investigation is full steam ahead.

We've learned text messages were sent between Lindsay and Sam over the last few days, and he says "I officially told Detective Rodriguez you can't take anything from me cause what's mine is yours."

Sam also told Lindsay he told cops the culprits were men. It's also apparent Sam is obsessed with Lindsay, telling her he loves her and, "I will fight for you."
For real question: just how good are Lindsay's beejs? Like, are they "steal my $100,000 watch and I still love you" good? Because if that's the case, Lindsay should really teach a class in beej technique. That would actually be a career path which would make some serious money.
Oh, and here's another addendum to the story (I'm sorry, I'm pre-writing this Tuesday night): TMZ reported Tuesday night that their sources say that Lindsay will definitely not be prosecuted for the crack heist. Apparently, "the D.A. just rejected the case… According to the D.A.'s charge evaluation worksheet, there is insufficient evidence to bring a burglary charge against the actress." There are doubts about the crack heist because Crackenjuice and Sam Magid have a "longstanding relationship." Which makes no sense, because Lindsay steals from strangers AND from people she knows, so WTF? TMZ also says that the Cracken is not a suspect and all of those people who told the cops that Lindsay was stuffing watches up her crack muffin have now "refused to become involved." Meaning…?? I'm tired of this cracked-out analysis. This sh-t is fishy as hell, and I'm sure it involves payoffs and prostitution and an insurance scheme. Nothing is ever simple when Lindsay's drawers are jangling with the weight of heisted jewelry.
UPDATE: One more story and then I'm done. Bitch got kicked out of the Marmont for not paying her bill of $46,350.04. She's been flat-out banned for not paying for a 47 day stay, plus extra expenses like minibar charges of $3,145.07, cigarettes worth $686 (49 packs in 47 days at $14 a pop) AND a $1,992.07 Marmont restaurant bill.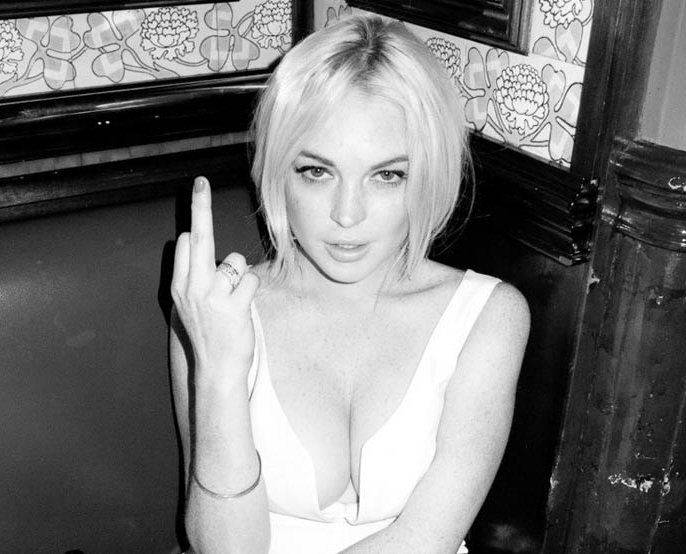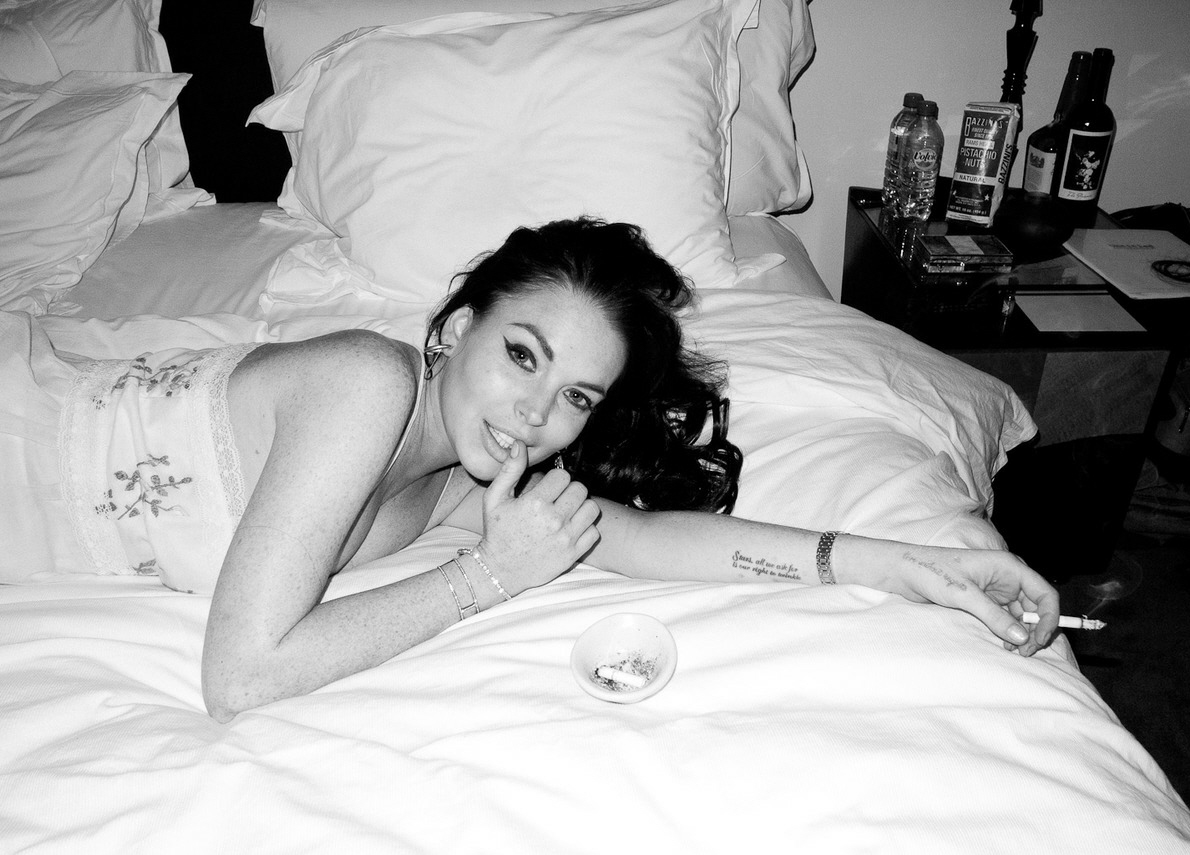 Photos courtesy of Terry Richardson.