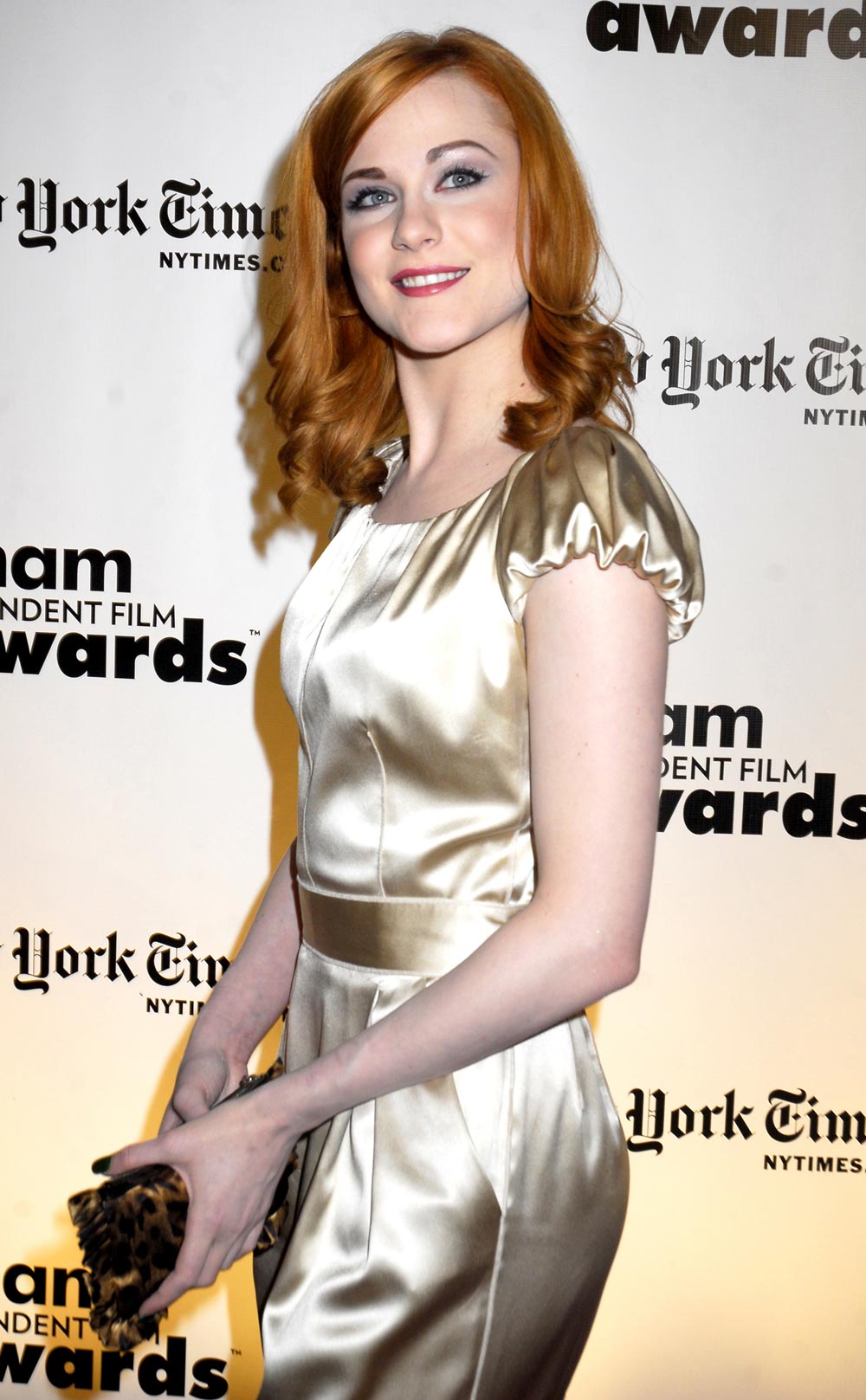 There was a lot of speculation when a then 19-year old Evan Rachel Wood began dating 37-year old rocker Marilyn Manson that there may be some daddy issues involved for Wood and some control issues at play for Manson. As it turns out, Evan and her father have been estranged for most of her young life. Now that she has split with Manson, she's slowly reconciling with her father:
With her 39-year-old beau out of her life, she's reconnected with the original man in her life – her father, Ira. Inspired by her role as a bitter daughter in The Wrestler, Evan re-established a relationship with her dad. They spent Thanksgiving together in North Carolina ("I was really bad – I was dipping pickles in whipped cream!") and plan to see each other for Christmas.

"I was separated from my dad for most of my life, but we forgave each other for whatever had happened," she tells OK! "It's huge for me. He's been the most supportive dad. No matter what has happened, he's always been there. And especially right now – he's been so great. He really helped me out. Making The Wrestler was like getting paid to go to therapy."
[From OK! Magazine]
If the cathartic experience of making The Wrestler is what gave Wood the inner strength and insight to leave Marilyn Manson and re-establish her relationship with her father, I'm willing to go see the movie on those merits alone. I've heard Rourke is fantastic in it, too.
Getting to know her dad again isn't the only plus to being a single girl for Evan. Although she found the initial split hard, as we all do, she's since learned to just let go and have fun with it.
The pair began dating in December 2006 – and even got matching black heart tattoos. Their breakup was announced last month.

"It happens," the 21-year-old actress said at the Gotham Independent Film Awards held in NYC Tuesday. "I feel a lot better now than I thought I was going to. It was hard at first, but I've kept my chin up and it's just fun now. I only have to answer to myself, and it's great."
[From OK! Magazine]
It's really good to hear her say that. With the rumors of Manson's strangle-like control hold he had on her, and everyone around him, it's got to be so liberating to be 21 and at last in control of your own life. While she doesn't mention Manson specifically when she says that there have been people in her life that have hurt her over and over and no matter how much she loves them she just couldn't deal with it anymore, you can't help but speculate. Now maybe Evan Rachel Wood can be happy and positive about life.
Evan Rachel Wood is shown with new strawberry blonde hair at the Gotham Independent Film Awards in NY on 12/2/08. Credit: WENN