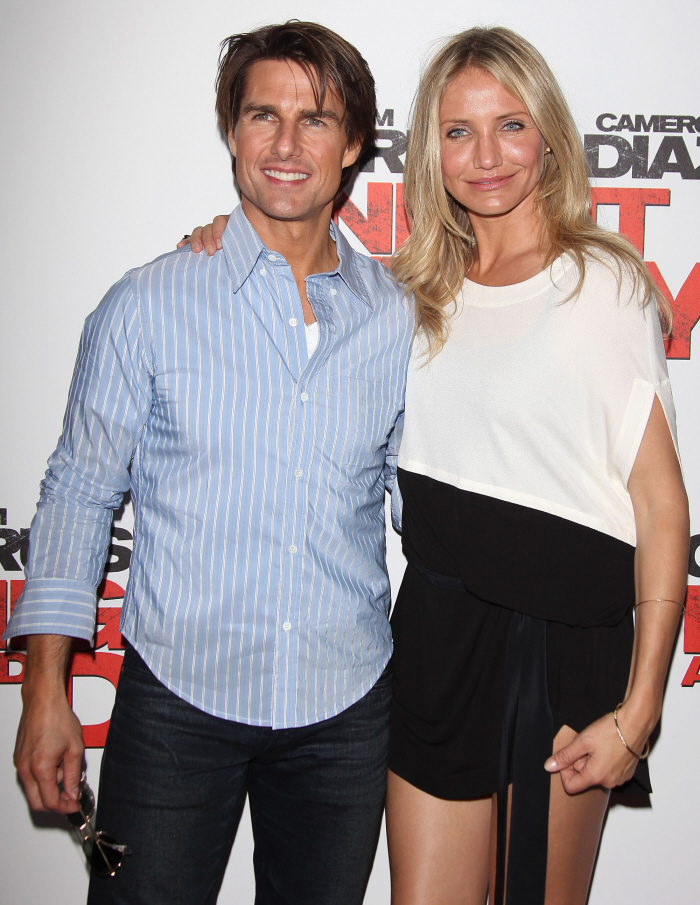 Before I started writing this story, I glanced through some older photos of Cameron Diaz and Tom Cruise from their 2010 publicity tour for Knight & Day. I'm using some of the old photos too – don't these pics make you nostalgic for Cameron's old face? Sigh. Anyway, Tom and Camy have been friends for more than a decade now. To be fair, Camy is so giggly and happy, I think she's friends with most people, and I remember how tight she and Tom seemed after they worked together on Vanilla Sky. Years passed, and they worked together again on Knight & Day, and once again they seemed pretty tight and pretty friendly. I'm saying with no wink or nudge – even though I think Tom's sexuality is Xenu-tastic ball of confusion and withheld desire, I'm perfectly fine with thinking he's able to maintain close, nonsexual friendships with actresses like Cameron. Emphasis on "nonsexual".
So, In Touch Weekly claims that Tom was in London to help Cameron celebrate her 40th birthday. And somehow, this became a thing about Tom and Cameron and their torrid sexual energy, both past and present.
Cameron Diaz had a very special guest by her side as she celebrated her 40th birthday at London's Coworth Park Hotel on Aug.30: her former Vanilla Sky and Knight and Day costar Tom Cruise, 50.

"They're very close," a friend of Cameron's tells In Touch. "She thinks Tom is awesome."

The two were joined by Cameron's other pals – including Tom's ex, Penelope Cruz – but all eyes were on Cameron and Tom, who seems to be drawn to sexy actresses.

"Cameron is totally Tom's type – A-list, stunning and strong," says an insider. "I think they've hooked up in the past. They have crazy good chemistry."

Don't expect Katie Holmes to be fazed by the two spending time together, however: "Cameron can have him," says a source close to Katie. "She's moved on and doesn't care who he hangs out with."
[From In Touch Weekly, print edition]
My take: Tom Cruise wouldn't know what to do with Cameron if he ever got her. My take: Cameron is probably very fond of Tom, but she would not know what to do with him either. But I like this strategy from Team Cruise – the "let's see who we can put him with" strategy. It's fun! Team Cruise tried it with Olga Kurylenko, and now they're trying it with Camy. Honestly, if I'm David Miscavige and I'm picking out Tom's new girlfriend, I would aim for someone more like Cameron and less like "some 20-something starlet." I would love to see Tom "with" a woman in her 40s. I think that would be very interesting.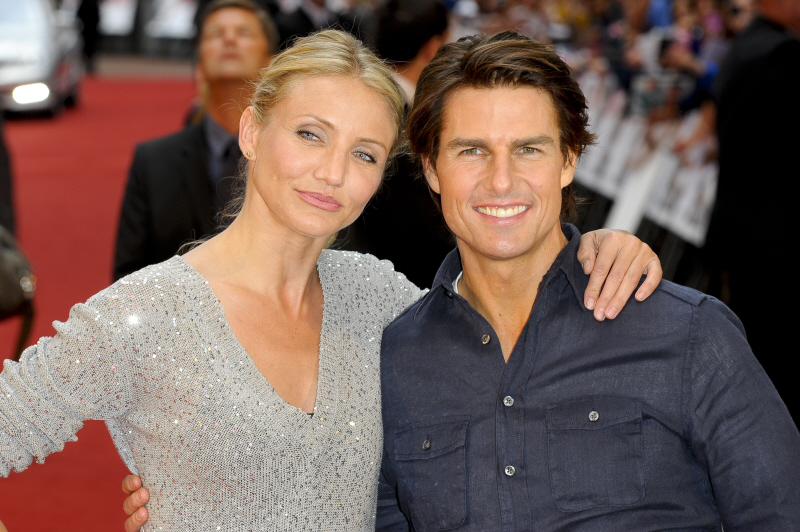 These are some photos of Tom in London from a few days ago – I don't understand why everyone has been saying he looks so thin these days? He looks positively mooby in this sweater. Time for another trip to Brazil, Tom!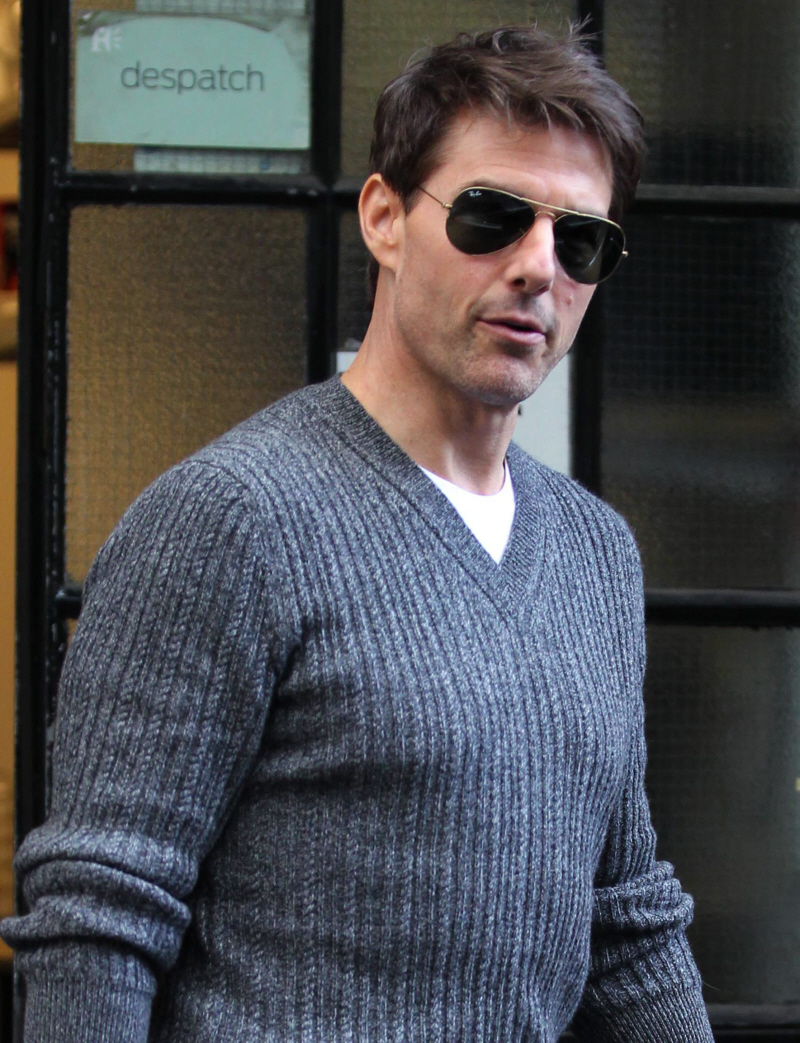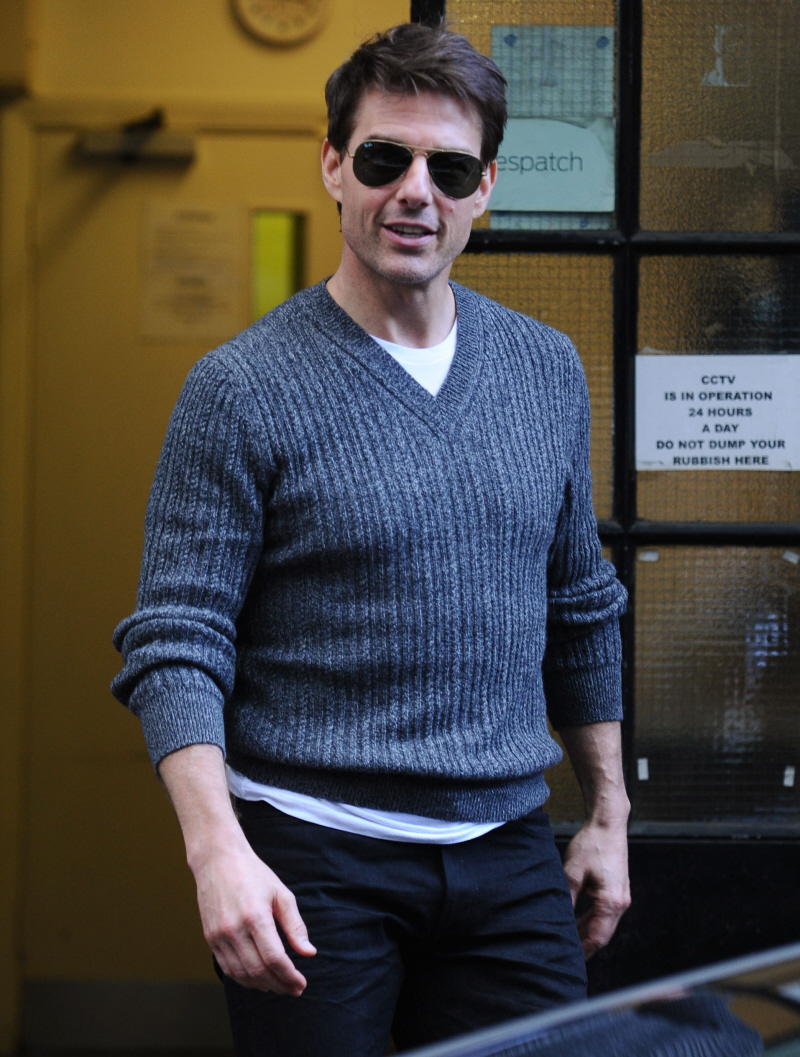 Photos courtesy of WENN.