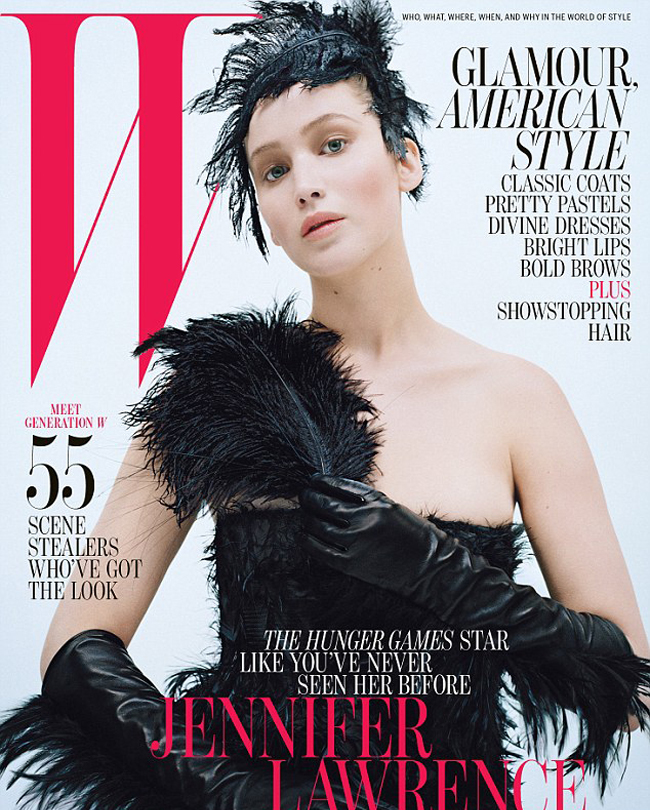 Jennifer Lawrence covers the October issue of W magazine to promote the November release of Silver Linings Playbook, and the whole motif of the photoshoot is, um, birds. There are bird costumes, and actual birds, and all the while, poor JLaw is covered with feathers. The cover itself is very Black Swan crossed with a Rooney Mara vibe, and the output is not flattering in the slightest. Actually, it's bloody awful, and I think this is the worst Jennifer Lawrence has ever looked. Even her expression on the cover is all, "WTF is going on here?" Some stylist thought he was going all avant garde but created a massive disaster. In one of the shots, it totally looks like JLaw is worried that a cockatoo will crap on her head. Poor girl.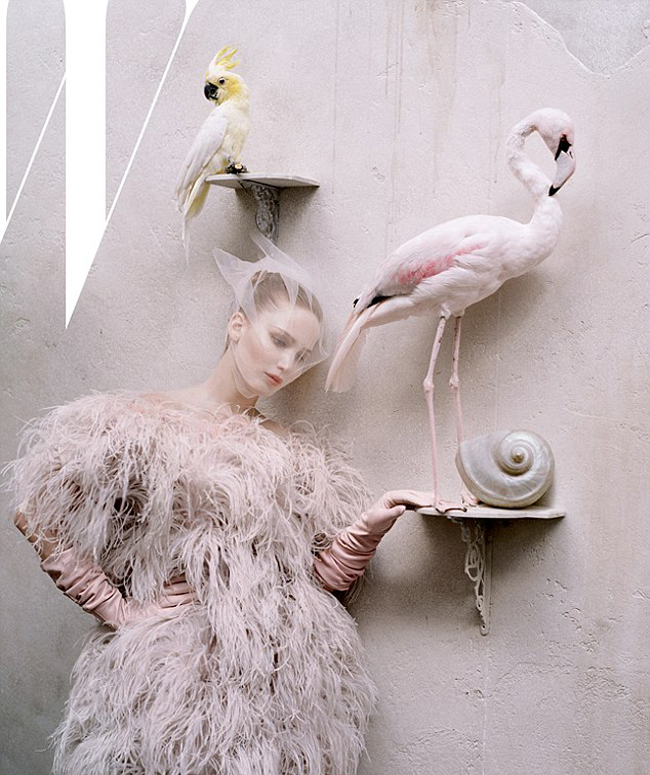 Now about this movie. Word on the street is that the Weinstein Co. wants to go for three in a row at the Oscars after the consecutive Best Picture victories of The King's Speech and The Artist. In Silver Linings, David O. Russell sits in the director's seat for "a romantic comedy about emotionally damaged people," and Jennifer stars as "rather crazy widow" Tiffany. The trailer looks somewhat charming, but I don't see it being the type of movie to sweep the Academy Awards. Maybe the Weinsteins will pull enough strings and get it nominated for Best Picture — now that 10 films are nominated each year, Harvey will probably get his way in that regard — but I don't see how a romcom (no matter how offbeat) with Bradley Cooper in the lead can win top prize. It looks like a cute movie though. Here are some excerpts from JLaw's interview: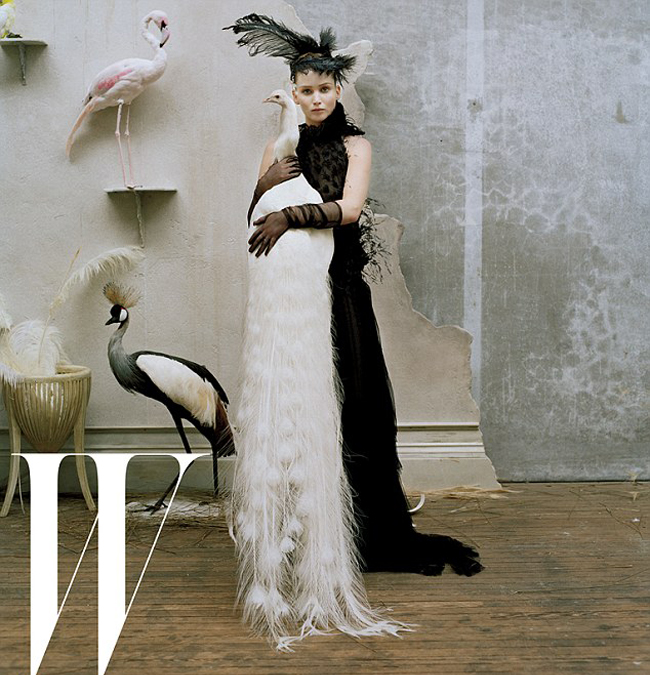 On dancing in Silver Linings: "I'm such a bad dancer [laughs]. I don't have many talents: I'm not a good cook, I can't clean, and I can't sew. The only thing I can do well is shoot bow and arrow — which I learned to do for The Hunger Games and will probably never come in handy — and act. Imagine me 100 years ago: I would have been pointless."

On being blue for X-Men: First Class: "The first test where they painted me blue took around eight hours of makeup. I would stand, lean, or sit on a bicycle seat naked while they painted me. I have no modesty left after X-Men — I had blue in places I didn't even know existed. Afterward, I had to go around naked, with scales over my private parts, surrounded by men. That cures you of all inhibition. The hotel in London wouldn't give me my security deposit back because I turned their tub blue. I also did that to a lot of toilet seats on set. We called it 'getting Mystiqued.'"

On her embarrassing mom: "My mom talked about Hunger Games on the red carpet at the Academy Awards, which was something I had told her a million times not to do. She's like Dina Lohan! — but she has good taste."

On being Katniss: "I do love archery. I could kill someone with a bow and arrow if they'd hold still! With Hunger Games, I got really nervous about signing on to that huge franchise. I was afraid that Katniss would overwhelm any other character I'd try to do. But I love Katniss, and she didn't take over as much of my life as I thought she would."

On fame: "Sadly, I cannot live in Los Angeles anymore. I don't understand how actors can do it. You have no life here. You are followed everywhere. It's not like that anywhere else in the world. I don't want to stay in L.A. and start thinking that's reality — because it's very far from normal. But I still love movies. I'm just going to love being in them from Kentucky, or Prague, or somewhere else."
[From W magazine]
Oh, that's funny about Jennifer's mom, but I'm pretty sure that the real Dina Lohan is a million times more embarrassing than JLaw's mother. Of course, she was just kidding, but I did enjoy the story about the blue body paint, I do recall Rebecca Romijn speaking of a similar type of embarrassment of having to bend over and have "everything" painted blue. How awful.
Speaking of terrible, I can't get over these photos. Like, did the Weinstein Co. purposely ask W to style JLaw as a bird so that we'd forget all about the Bradley Cooper emu situation? Yes, that must be it.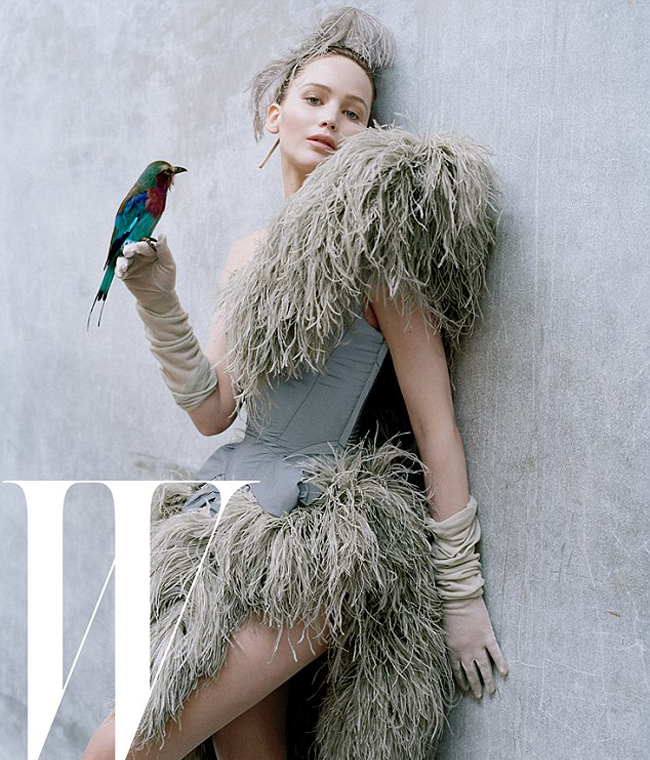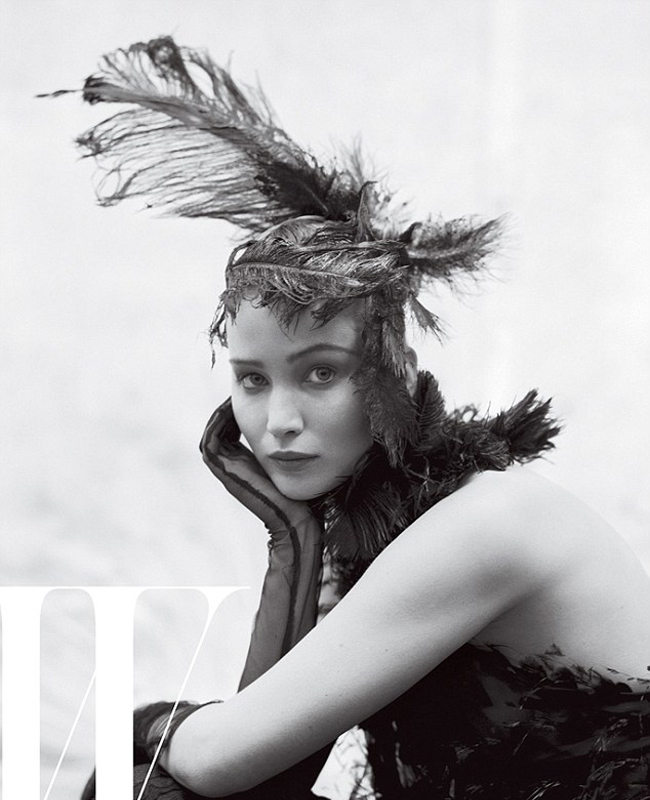 Photos courtesy of W Magazine