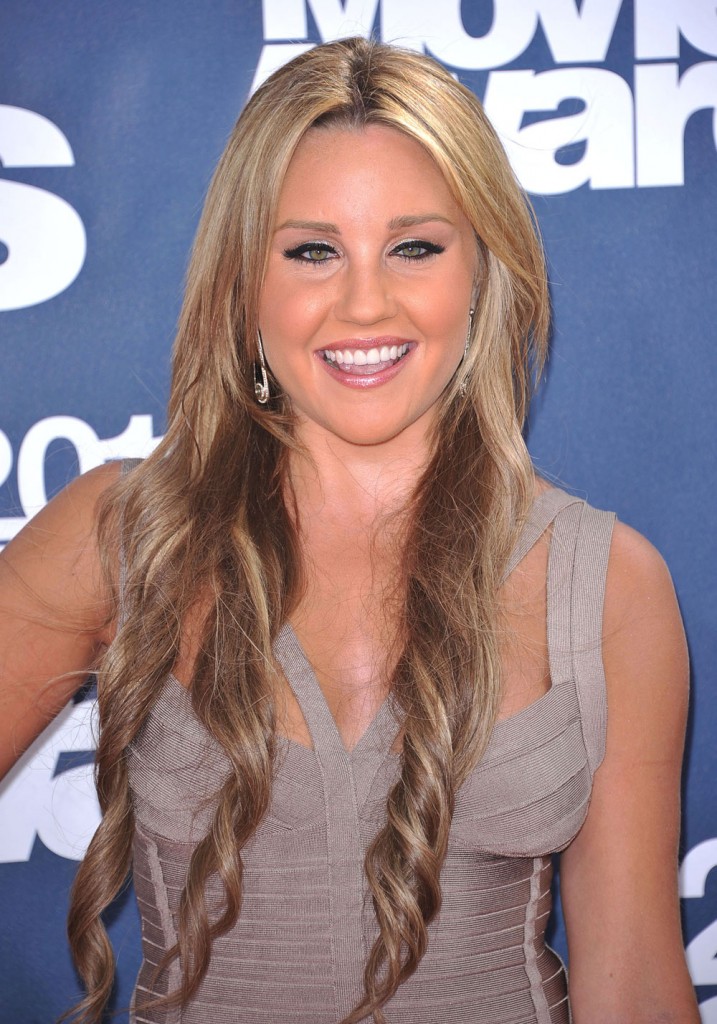 We've seen Amanda Bynes driving on a suspended license twice – there are photos of her getting pulled over by cops for driving without her headlights on, (nothing happened to her then of course) and TMZ recently published a series of photos in which we saw Amanda driving around, parking and getting high in her car. She got high twice that day according to the paparazzo who tailed her, and TMZ had photos of the inside of her car, which was a mess of fast food wrappers and pot residue. (Is that what you call it? I'm so old.) So now we know how she got into so many hit and runs in the first place – she was baked, hit other car(s), barely noticed, and then was too high to stop and conduct herself so she figured she may as well keep driving. She could have been drunk too, I don't know.
Anyway Amanda's license was suspended over a week ago, and now she might actually stop driving because a judge told her lawyer that she had to! Do you think that's going to stop this bitch? You know it isn't. Amanda wasn't even at the hearing. You know her lawyer called her and she told him "sure, whatever" in between tokes. And then she drove to In-N-Out burger and satisfied her munchies. (That conjecture, although all I'm going by her past behavior. I don't even know if she eats meat.)
Amanda Bynes has officially been asked to put away her car keys.

The starlet, 26, was ordered by L.A. Superior Court Judge Marsha Revel not to drive without a valid driver's license, PEOPLE confirms.

Bynes lost her driving privileges while facing a DUI charge and two counts of hit-and-run, according to the Los Angeles Tmes.

On Sunday, the former child star was stopped by police officers in L.A. when her headlights weren't on, but she was not asked to show her license, according to the Times, noting that police are not required to ask for a license in all instances.i

At a hearing Wednesday before Revel – who had presided over some of Lindsay Lohan's legal problems – the District Attorney's Office asked the judge to address the issue of Bynes's driver's license.

Bynes's attorney Bob Wilson – who appeared on behalf of the actress, who didn't attend – initially told the judge: "We haven't completed her DMV hearing so she couldn't have lost her license," E! News

But later Wilson said the D.A. informed him that the actress's license does in fact come up as suspended in the official records.

Sunday wasn't apparently the only day she was on the road. TMZ posted photos of Bynes "driving for hours" and smoking out of some sort of pipe on Tuesday.

Bynes's rep did not respond to requests for comment.
I love how People phrases their article so carefully, "smoking out of some sort of pipe." Plus her lawyer is such an enabler! He's all "she couldn't have lost her license" even though it's suspended.
Radar has another story about how Amanda has been refusing rehab, hasn't been talking to her family or manager, and is a "lost little girl." It looks to me like she knows exactly what she's doing. They quote a source who says:
"Amanda is refusing to go to rehab or seek any form of psychiatric treatment or diagnosis, because it's clear something is up with her. She has been told by her agent and her dad Rick that she has substance abuse issues and needs to get help. She's a lost little girl right now." They add that she has "completely gone off the grid. She won't speak with her manager, her agent, her publicist; she's not returning anybody's phone call."
Their source thinks Amanda has mental health issues and "doesn't seem to be in touch with reality." With all due respect to pot smokers, doesn't that happen when you're high all day? I have nothing against a recreational toke when you're not driving, but it looks like she's pretty much driving around aimlessly all day and getting baked.
Update: We have our answer, and it's just as suspected. No, Amanda will never stop driving. She just "tapped" the bumper of another car last night, while driving illegally AFTER the judge told her lawyer very firmly that his client has lost her privileges to drive. I hope the judge takes this all into account, if it's admissible, when she's finally brought to justice for her DUI. She's the second coming of Lohan, so I guess we already know what's going to happen.