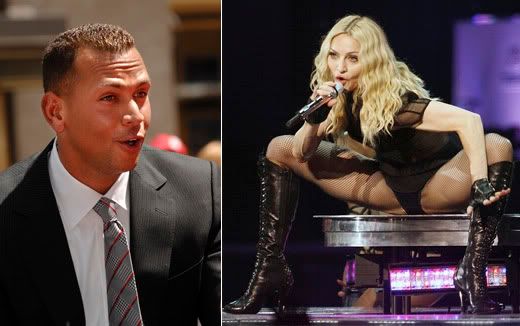 Alex Rodriguez claims he is not in a romantic relationship with Madonna at all. He doesn't just say "we're friends" and leave it at that, he goes on to dispute most of the stories that have been spread about his supposed relationship with the pop singer:
"We're friends," Rodriguez, 33, says.

Asked if there is any romance between them at all, Rodriguez reiterates, "We're friends – that's it."

While rumors have swirled that the slugger and the singer, 50, have been carrying on a romantic relationship and flying around the country in order to spend time together, "I can tell you this," Rodriguez says, "I have never been on a plane with her."

He also finds much of what's been written about them laughable: "I've been to two [of her] concerts, yet I've read that I went to 20. I've also read that we were buying an apartment together. That is absolutely ridiculous and not true."

"You have to have a sense of humor when it comes to this stuff," Rodriguez adds.

When pressed on how much time they have spent together, and whether he had ever stayed the night at Madonna's home, Rodriguez laughed: "If I answered every rumor we'd be here for three weeks."
[From People]
These two have been together in Miami and in Mexico recently and it seems like more than a coincidence that they're in the same place at the same time given their alleged relationship. Madonna was even spotted openly flirting with A-Rod at a concert she gave in Miami. While Rodriguez insists they've never been on a plane together, they were photographed exiting a private plane together in Miami. Was that some other tall dark guy?
My guess is that if Rodriguez hasn't dumped Madonna yet he's about to. He's newly single and isn't about to get tied down to a controlling older woman. Madonna sent her friends down to Miami to babysit him at parties and make sure he wasn't flirting. A-Rod is also said to no longer be taking Kabbalah classes. This is his way of rewriting history and making sure he gets away from Madge. If he was still with her wouldn't he just say "no comment," or "she's a great friend"? Instead he went on about it like he wishes it were true.