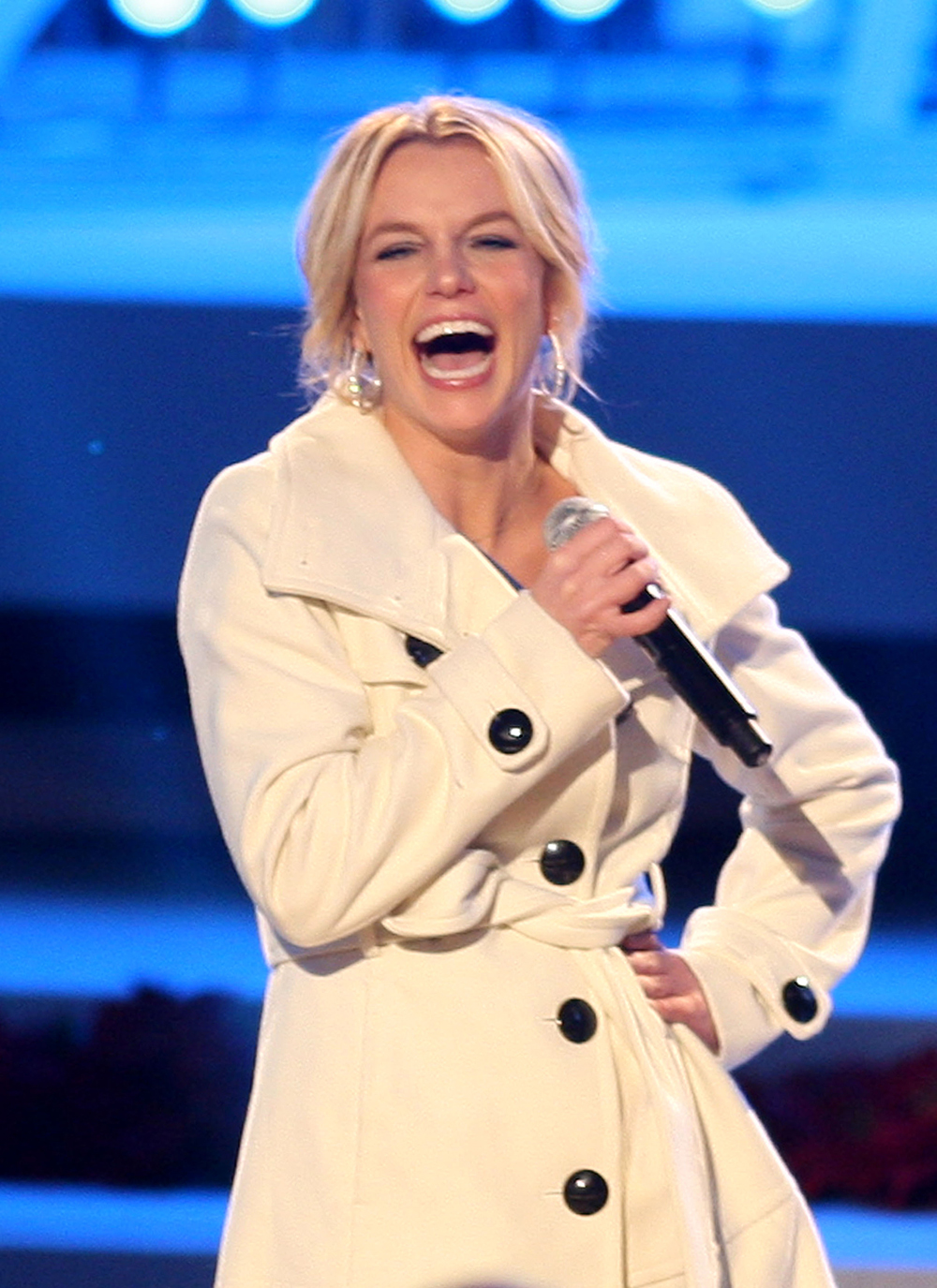 Britney Spears was the surprise tree lighter in Los Angeles last night. Though the tree was easily the ugliest Christmas decoration I've ever seen – probably not Brit's fault. It was described charitably as "a futuristic, metal Christmas tree with nary a pine needle in sight, featuring 11,382 energy-efficient sphere LEDs that serve as a vast video screen for elements of the show," by the L.A. Times. Sounds cozy and festive. Britney basically flipped a switch on a digital light pole. But she looks happy and cute and seemed to enjoy the experience.
Topping off a celebratory week that included her 27th birthday and the debut of her new CD Circus, Britney Spears was the surprise guest who lit the tree at Thursday's launch of L.A. Live! for the premiere performance of Light of the Angels at the Nokia Theater. Sharing the Christmas spirit with her were sons Jayden and Preston and father Jamie – as well as host Adam Carolla and Los Angeles Mayor Antonio Villaraigosa. Asked about her favorite holiday traditions, the pop star said being with family and decorating the tree.
[From People]
In related news, MSNBC's The Scoop defended Britney, saying she didn't renege on her promise to light New York City's Rockefeller Center Christmas tree, and she had always been scheduled to make a video appearance.
Believe it, everyone: Britney Spears came to New York, made several appearances, had a birthday, hit a nightclub, went shopping with her kids, and nothing bad (or really even very interesting) happened to her or others around her. Since the good news often gets overlooked, I present to you two rumors about the pop star that actually have happy endings.

Rumor #1: Britney changed her mind at the last minute about being at the Rockefeller Center Tree Lighting.

Her appearance, like the other big A-listers, wasn't meant to be live. The taping was always part of the schedule, and reports that she was less than cooperative are untrue as well.

"She was nothing but sweet and so nice to everyone during the shoot," says one person who was on hand for the taping of her spot.
[From The Scoop]
I don't know if I completely believe this corrected version of the story, or if Britney's team is just doing some extra PR work. The stories about her backing out and being a pain to work with were very detailed – much more so than The Scoop's little rebuttal. It seems like their sources just said, "Nope" to everything, and that was good enough. But it was never confirmed that she'd be there in the first place – there was nothing more than rumors, though they were all pretty consistent. At least Britney made it to one tree lighting – even if it was the uglier tree.
Here's Britney at the tree lighting ceremony in L.A. last night. Images thanks to Fame, Bauer-Griffin, and WENN.