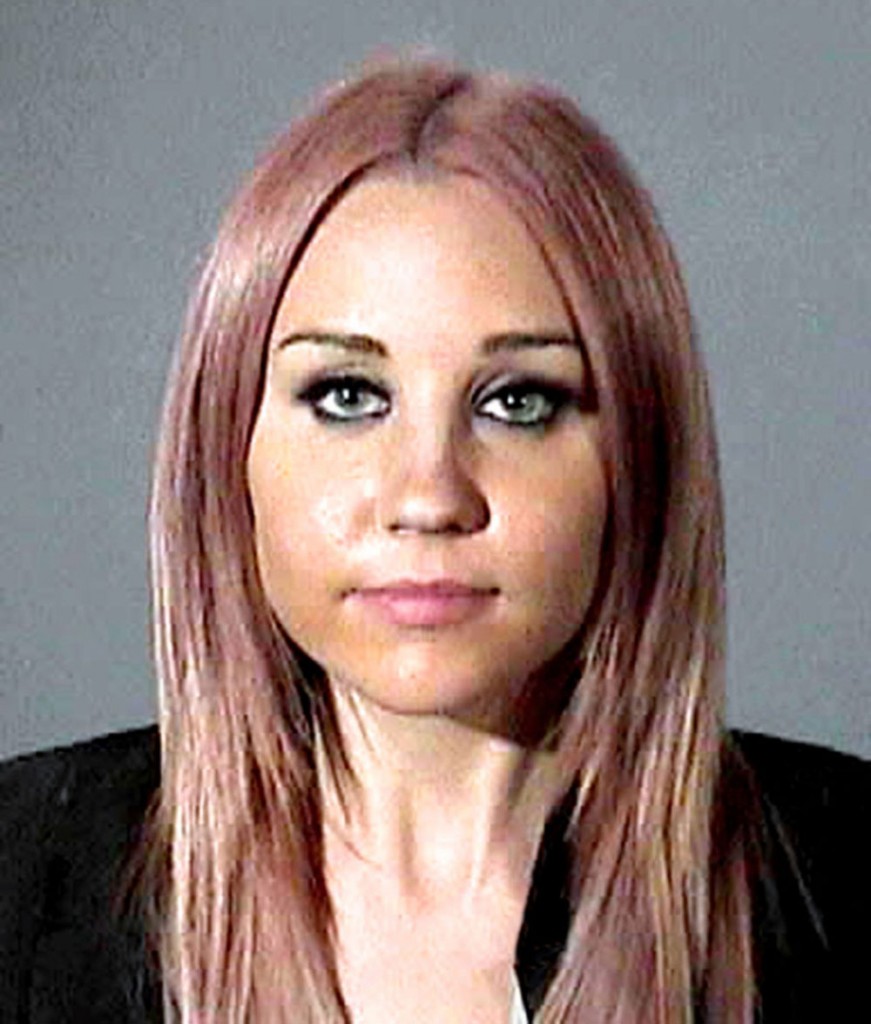 The Amanda Bynes saga rages on, and yet – Amanda hasn't said a word (directly). Many of you commented on our story yesterday that unlike Lindsay Lohan, who was calling out Amanda for a lack of consequences (before she's even entered the justice system), Amanda is keeping her mouth shut. Bynes deleted all her tweets after she begged Obama in June to get the officer who arrested her for DUI fired. She hasn't tweeted since that I can find, and instead of raging to anyone who will listen (like The Cracken), she's just acting very erratic and then denying off the record to TMZ that she has a problem. (Or maybe TMZ is going by her lack of response to paparazzi.) So in that respect she's ahead of Lindsay despite the many other obvious similarities.
Yesterday we heard that Amanda's neighbors and the people who see her at the gym regularly are concerned for her mental health. She's been seen talking to herself and laughing at nothing, so unless she's on the phone or watching funny cat videos it's safe to assume she's having issues. (Some of you speculated she's having mental health problems and is self-medicating with pot and other drugs. Other people think she's on drugs – prescription or otherwise – and is showing the effects. I don't mean to sound so callous but I think it's a chicken and egg situation.) Whatever is going on with her, it's ongoing. A new report on TMZ claims she was in a dressing room at a boutique shop for an hour and forty five minutes. The shop clerk said that Amanda would bang on the wall about every ten minutes, and when they asked her if she was ok she would say she needed more time. Oh no. She bought a few things, and the good news is that she called a cab to pick her up. (Her car was impounded so she likely had no choice.) Here's that story:
Amanda Bynes went shopping today in West Hollywood … and locked herself in a dressing room for nearly 2 hours.

Amanda was shopping at Kin (above) — a hip boutique. Amanda took some clothes inside the fitting room and stayed for 1 hr. 45 min.

The clerks heard a banging sound coming from inside the dressing room every 10 minutes or so. One clerk made a distress call to another employee, saying he was concerned about Bynes being hold up for so long. The employee drove to the store to help, to no avail. Amanda wouldn't come out, telling them, "I need more time."
Amanda finally came out at around 5:30 PM, went to the register and bought a pair of stilettos, a pair of sunglasses and a few other things.

Now get this … as Amanda walked out she noticed she had tried on a bathing suit top that was underneath her dress and told the clerk she forgot it was on. Amanda then paid for the suit.

Amanda saw a few photogs before leaving and then asked the clerk to call her a cab. It's unclear how she arrived at the store.
I'm hoping that Amanda stayed in the dressing room because she wanted the damn paps to leave and was trying to wait them out. It's incredibly strange and suspicious that she did that regardless, don't get me wrong, but maybe she was doing it for a reason. In the video on TMZ of her leaving the store, the photographer calls her by name and asks her if she was ok and then says "do you think that you should be under a conservatorship, do you think that might be the next step to take?" It's possible she was just hiding out in there hoping they'd lose interest, because they obviously harass her. (Again, not that she should be able to drive around aimlessly, get high and hit things, but there's a difference.)
Amanda is set to appear in court on Friday on her DUI and two hit and run charges, according to E! Online. E! also corroborates TMZ's story that Amanda's neighbors are concerned for her. They quote a neighbor who says "Her house has become dilapidated. It used to be beautiful but she's let it go to ruin… She used to leave the house every day to walk her dog, but she has not done that for a couple of months…When she was walking the dog, she would always wear the same clothes, she would put her headphones in, and she would always walk over the other side of the street so she didn't have to talk to anyone." The neighbor also said that Amanda's driving is a concern.
TMZ has a follow-up that Amanda will not be going into rehab, and that she feels she doesn't need a conservatorship. Given the exchange we just heard between Amanda and the paparazzo, it's hard to tell whether TMZ is just jumping to conclusions or whether they have an inside source. I'm starting to think that Amanda doesn't talk to anyone. Celebuzz had an interview with Amanda's uncle, Richard Bynes, who claimed that Amanda's father "doesn't want to talk about her and often changes the subject," and that Amanda is not in touch with her parents. He added "I don't even think they know what's going on with her." Amanda's uncle Bynes does think that "she needs help." No kidding. I'm worried about her now.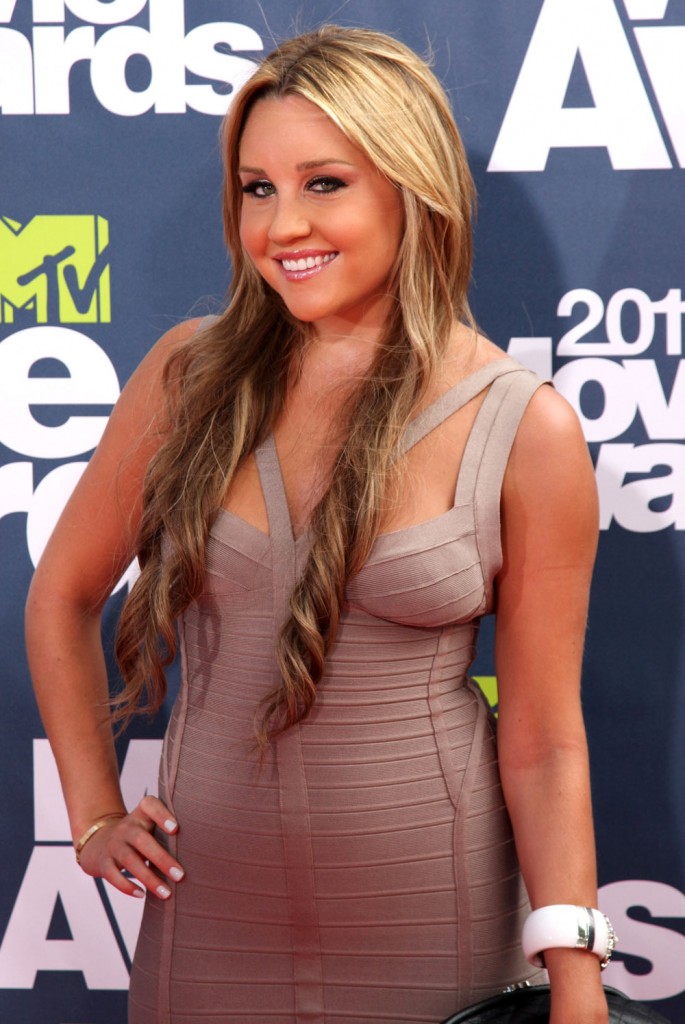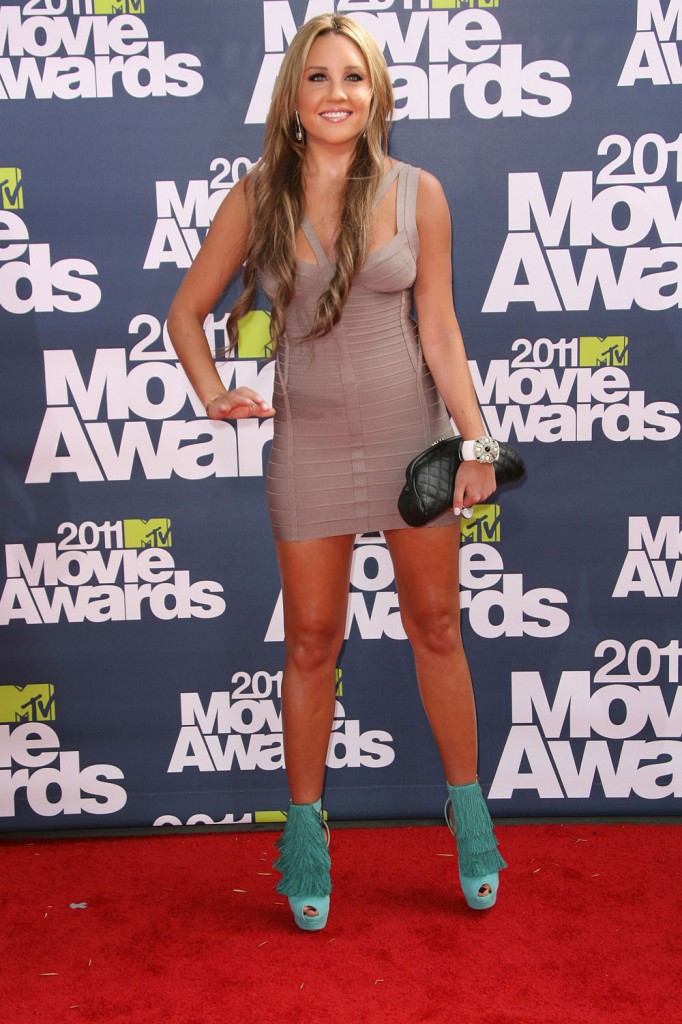 These photos are from 6-5-11, the last event Amanda went to. Her mug shot is also shown. It's hard to find new photos of her because she often hides from the paparazzi. Credit: WENN.com