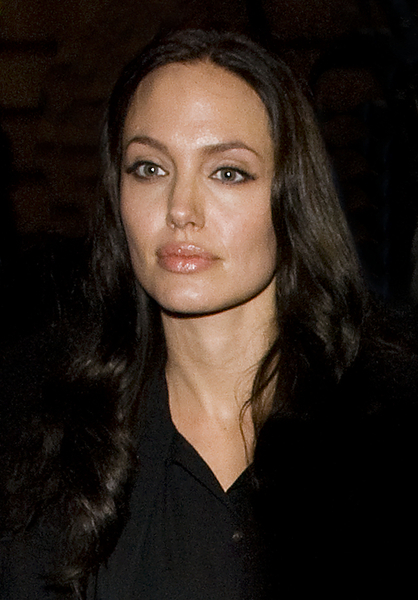 Angelina Jolie has just beat out Reese Witherspoon as the highest paid actress in the world. As if she didn't already have enough going for her. Angelia rakes in more than $15 million a movie, according to Us Weekly, while her films brought in over $1 billion worldwide last year. So it sounds like she's a pretty good investment.
Angelina Jolie has topped the Hollywood Reporter's list of the highest-paid actresses.

Jolie, whose 2008 movies earned nearly $1 billion worldwide, commands more than $15 million a movie, followed by Julia Roberts and last year's top earner, Reese Witherspoon.

(The actress recently replaced Tom Cruise in the espionage thriller Edwin A. Salt. Shooting begins in February.)

Meanwhile, Jolie ranked No. 24 on The Hollywood Reporter's Women in Entertainment: Power 100 list.
[From Us Weekly]
The best thing about Angelina, in my not-so-humble opinion, is the amount of money she and Brad Pitt have given away to charity. They recently donated $100,000 to Global Action for Children, and encouraged others to do the same. The pair have consistently given money to worthy causes, especially those supporting kids.
Angelina Jolie and Brad Pitt's Jolie-Pitt Foundation donated $100,000 to Global Action for Children, it was reported Thursday.

"With the holiday season upon us, we hope the generous gift from the Jolie-Pitt Foundation inspires others to give and focus on assisting orphans and highly vulnerable children around the world," the charity's executive director, Jennifer Delaney, said in a statement. "Each and every donation can truly make a difference in the life of a child."

In 2006, the couple – who are parents to three adopted children – donated $1 million to the GAC. According to tax filings, they donated more than $8 million to various charities through their foundation that year.

"GAC is honored to receive a second grant from the Jolie-Pitt Foundation, and we greatly appreciate the Jolie-Pitt Family's continued commitment to and support of our work," Delaney added.
[From Us Weekly]
Brad and Angelina have received a fair amount of criticism for all their donations, with a lot of people claiming they just do it for attention. If that's the case, there's a lot worse things they could do to get people to notice them. I have yet to see Angelina forget to wear her underpants or Brad beat up a paparazzo. If helping other people gets you some attention, then right on.
Here's Brad and Angelina at the "Changling" London premiere on November 17th. Images thanks to PR Photos.