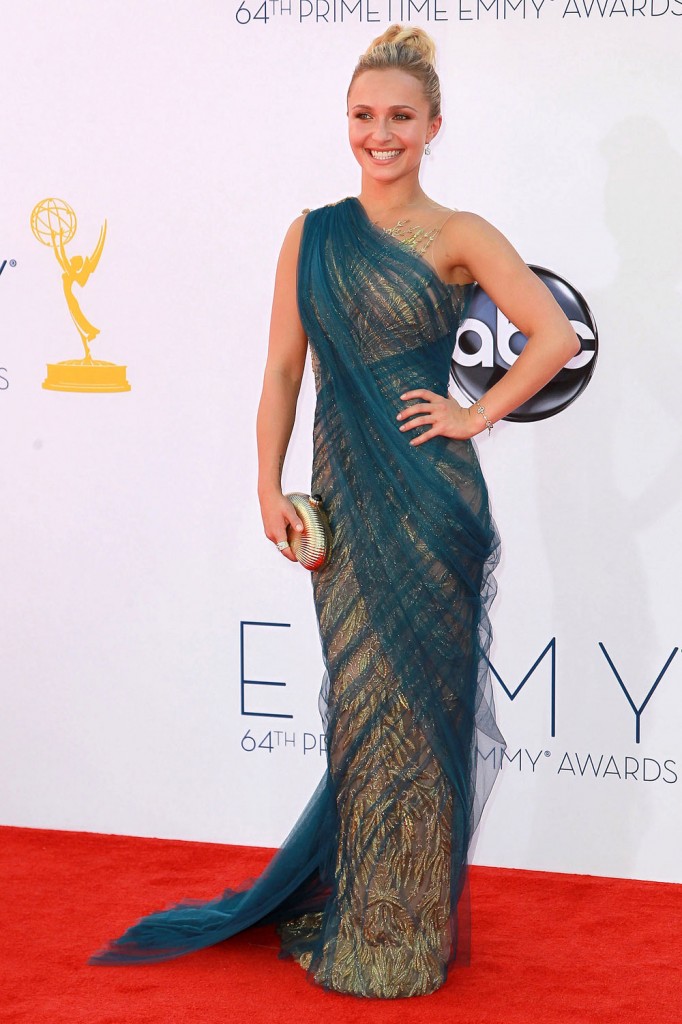 At last night's Emmy awards we had Hayden Panettiere promoting her much-hyped new musical drama, ABC's "Nashville." Hayden wore this odd-looking gold embroidered Marchesa draped in blue tulle. It looked somewhat like a craft project, but the fact that I couldn't immediately identify it as Marchesa is a step in the right direction for the label. Red Carpet Fashion Awards points out that it's from a Bollywood-themed collection, which I wouldn't have guessed. If you think of it as a full-coverage type sari it make sense. Otherwise I couldn't really figure out what was going on with it. Kelly Osbourne said it made Hayden look matronly, but personally I just found the look underwhelming. I actually liked Hayden's topknot and makeup, just not with that dress.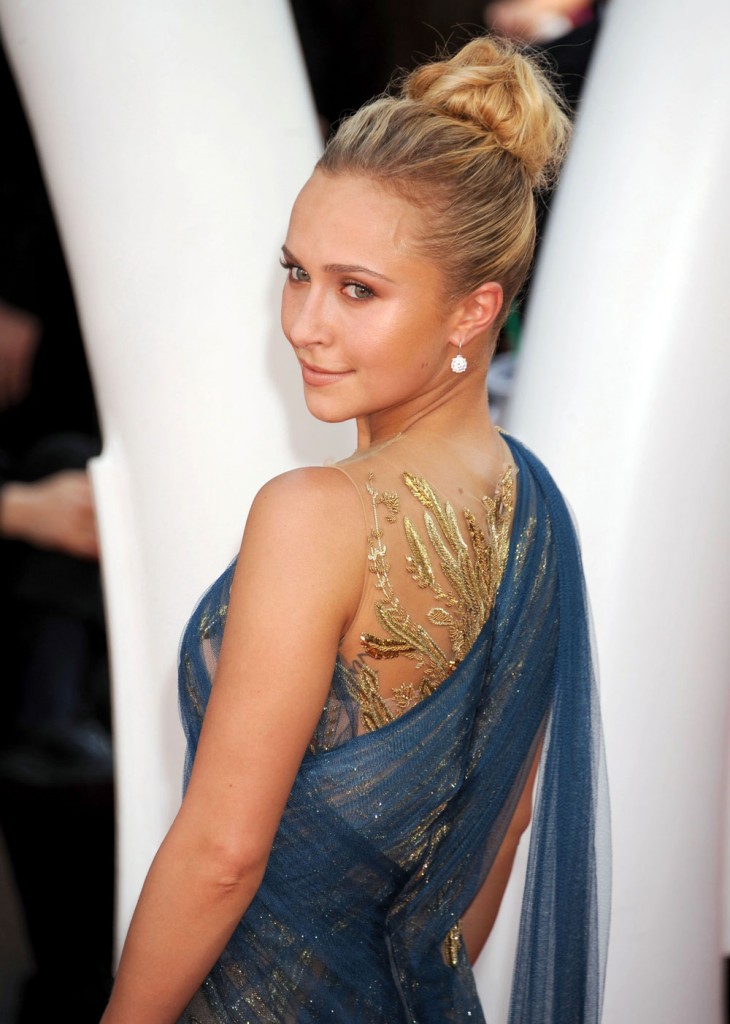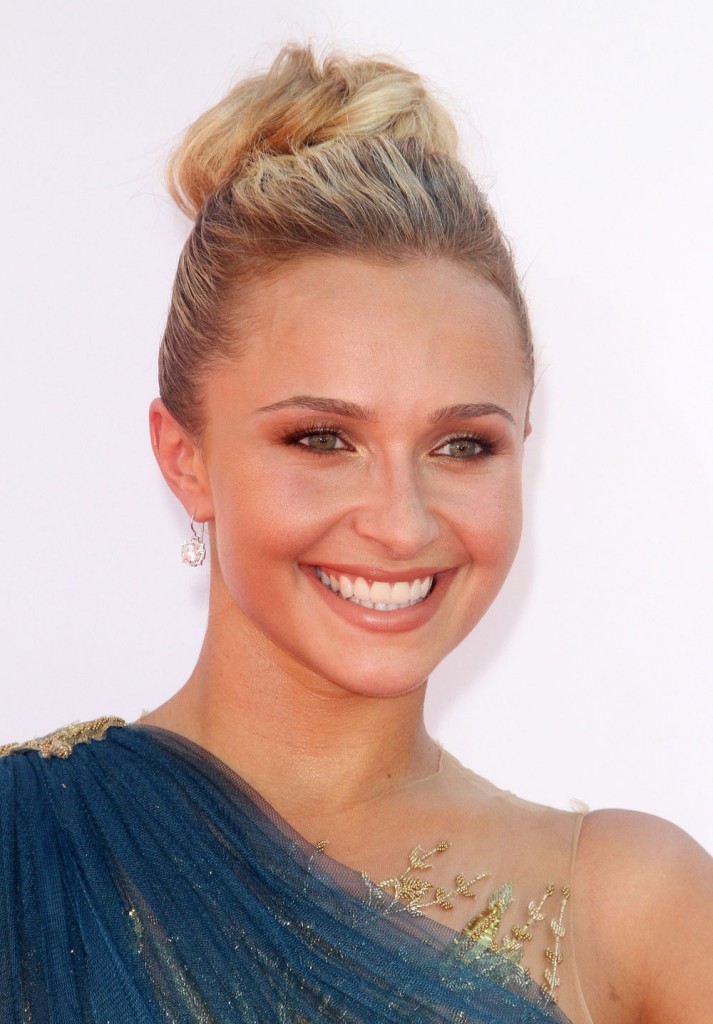 Hayden's co-presenter and Nashville co-star, Connie Britton, was a mess from head to toe. This makes me sad because I loved Britton on "American Horror Story" and find her so pretty. She easily had the worst hair and makeup of the night with that odd half-up, half hot rolled style. Her makeup was so heavy-handed it made her look squinty. She wore heavy black eyeliner paired with pink lips! Plus the dress doesn't flatter her at all. It was so tight along the bodice and waist and seemed cheap. The deep v-neck made her boobs all squished and fake-looking, especially on camera. She reminded me of Melissa Leo, and that's not a good thing.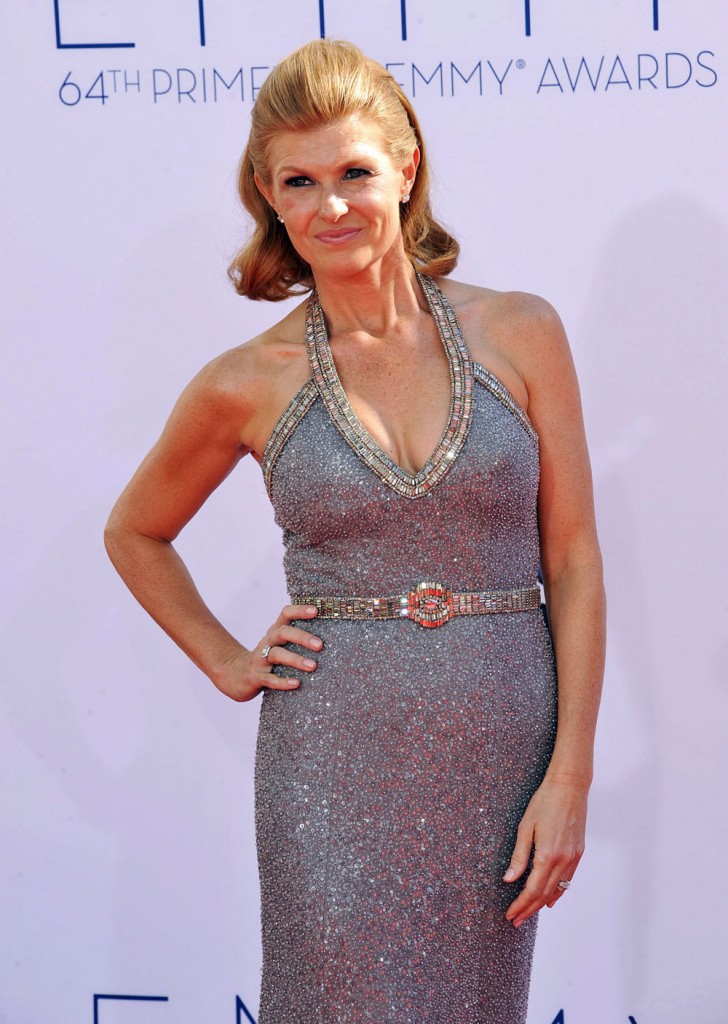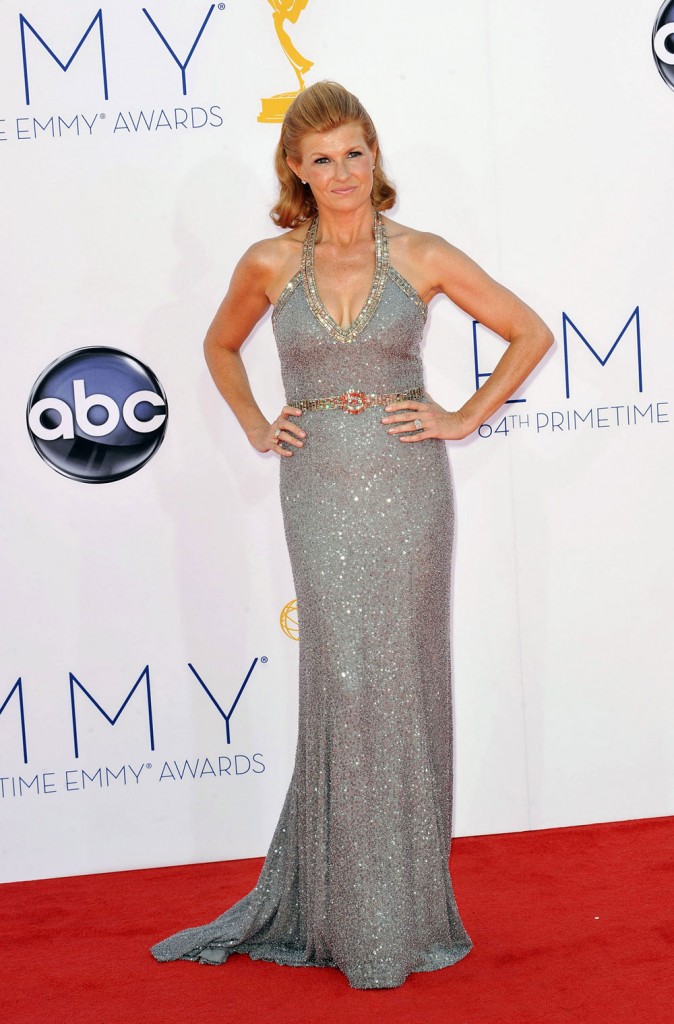 Hayden and Connie presented right after the bit where Jimmy Kimmel asked the home audience to tweet that Tracy Morgan had passed out onstage. I checked twitter and it was getting a lot of play, but the joke seemed to fall flat after that. It was funny in theory.
Ginnifer Goodwin also was a miss in this orange embroidered Monique Lhuillier gown. Fashion blogs loved it, but I found it kind of tacky-looking and overdone. Ginnifer loves to push the fashion envelope. Her makeup was ridiculous too.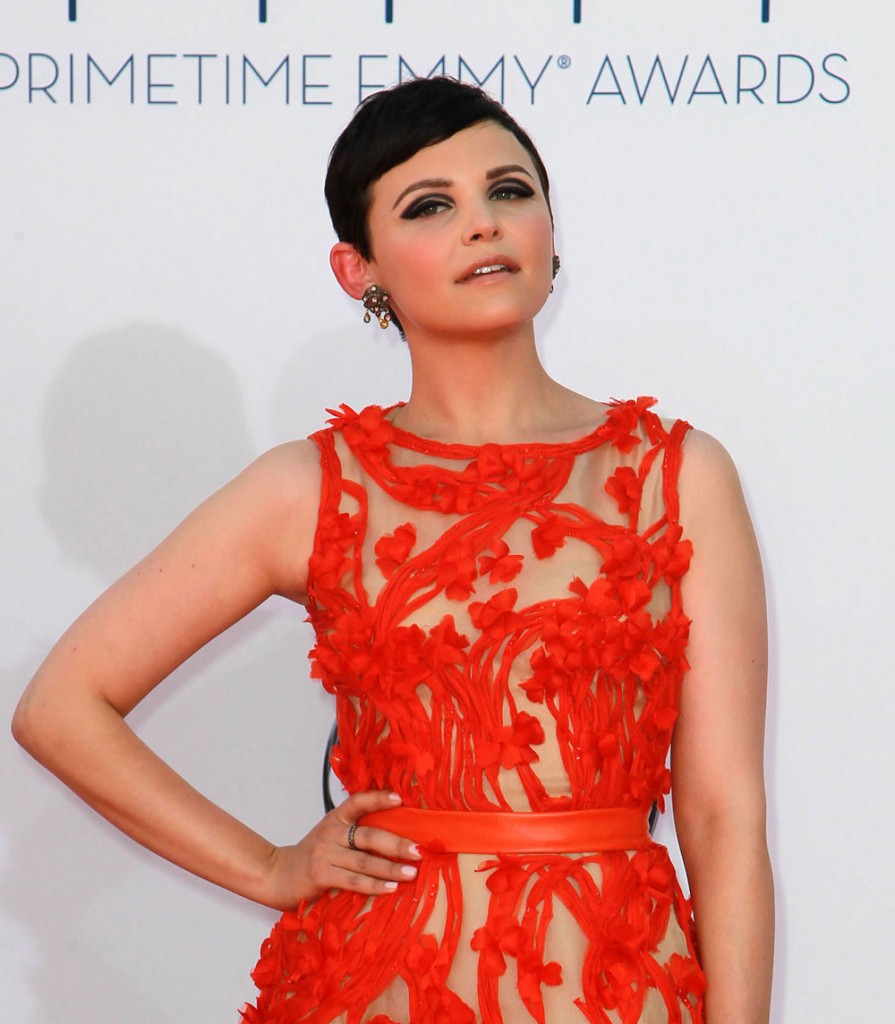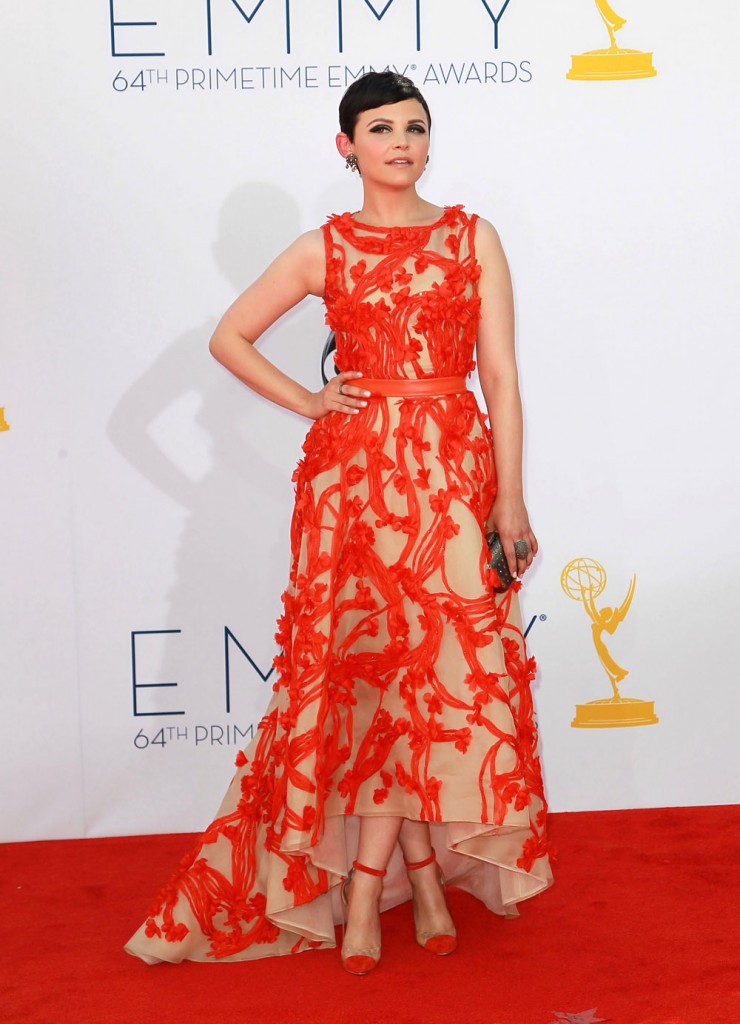 Since we're on a roll with bad fashion, I'll include Ashley Judd in this purple Carolina Herrera dress. I usually love Hererra, they dressed Renee Zellweger for years, but this dress is so prom-like with the huge bow behind the neck, the dippy belt, and the fishtail. Plus the brooch is overkill. It's Ashley's styling and pose-hard that ruin this look though. Check out her poofy Bride of Frankenstein hair and giant drop earrings. Ashley's husband, racecar driver Dario Franchitti, is super hot, though.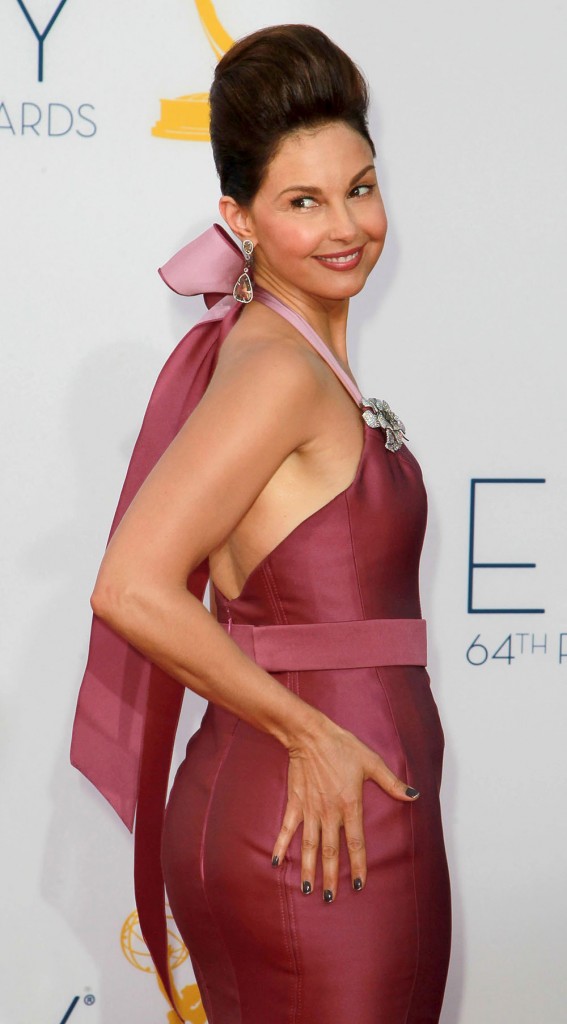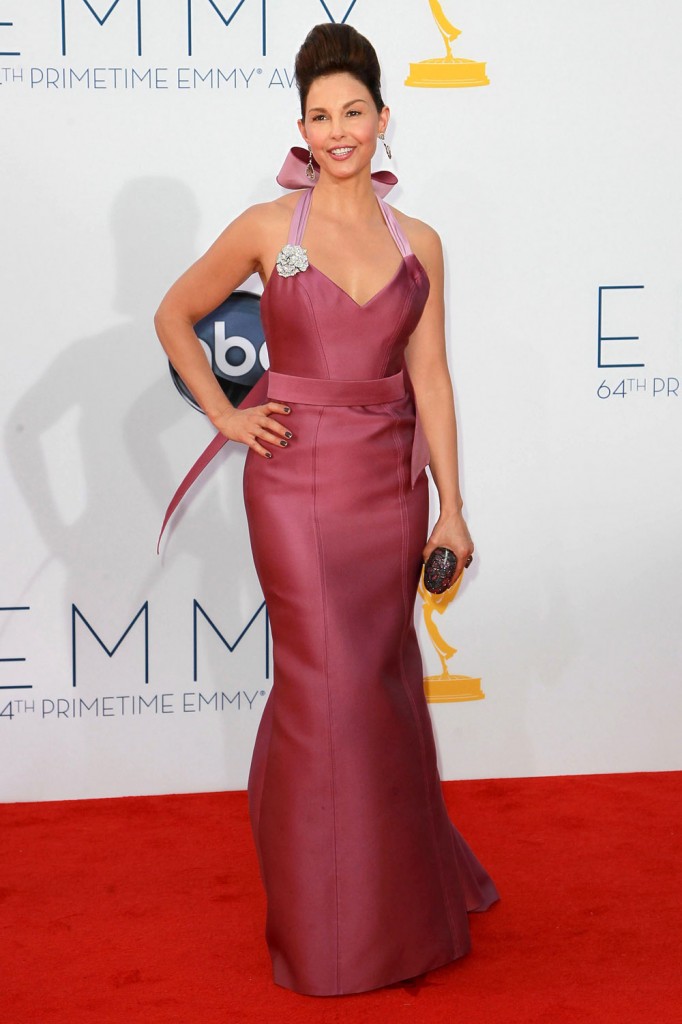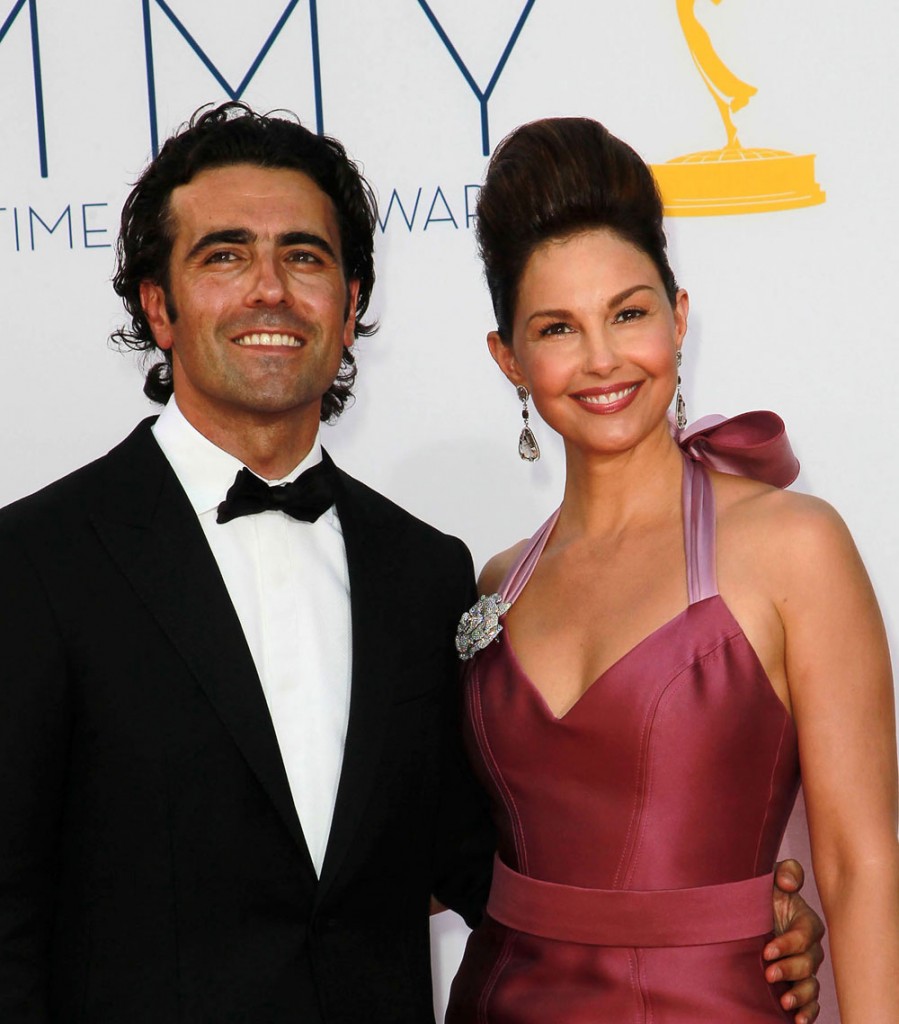 Gretchen Mol of "Boardwalk Empire" was lovely with beautiful hair and makeup and a striking strapless scarlet gown. The dress could have been more fitted, but some flattering shoes would have completed this look. She's a victim of the scroll down, as our friends at Go Fug Yourself often say. Those shoes are awful! They're lines of fussy red bows for God's sake. "Boardwalk Empire" won an Emmy for best directing, along with technical awards like cinematography, art direction and visual effects in a supporting role.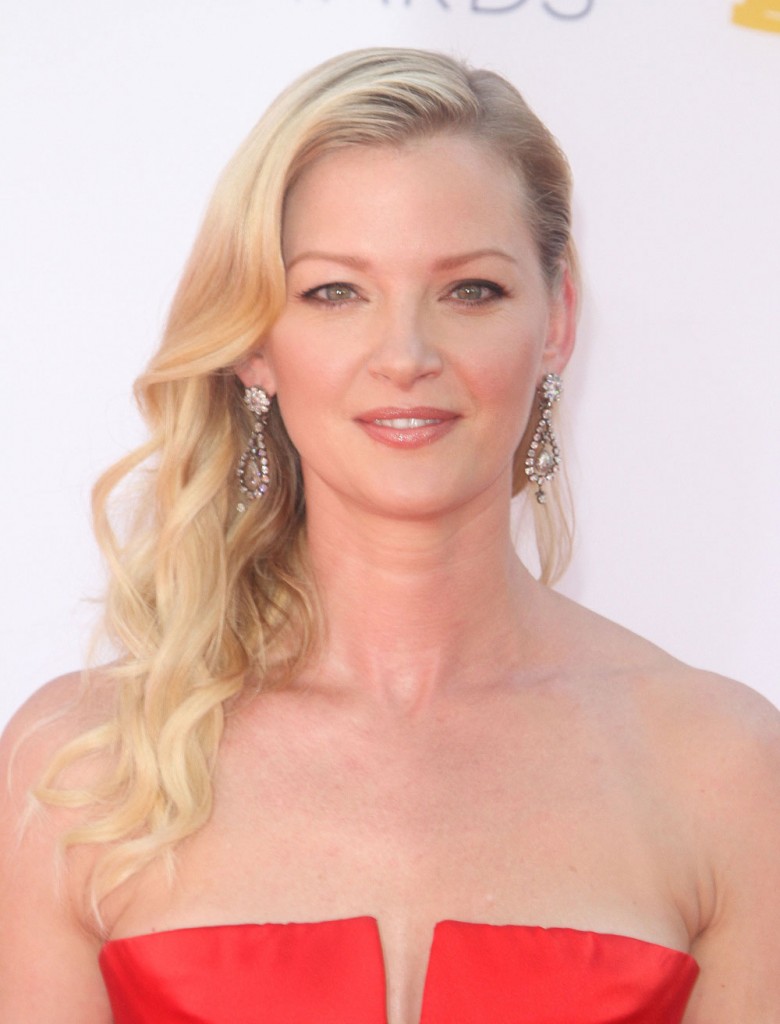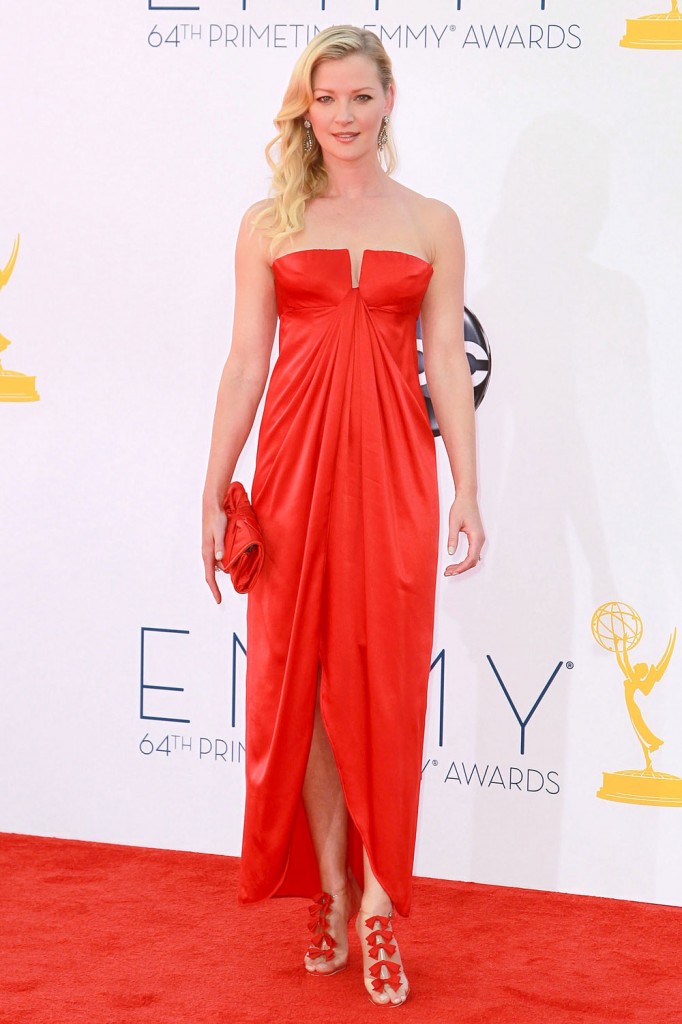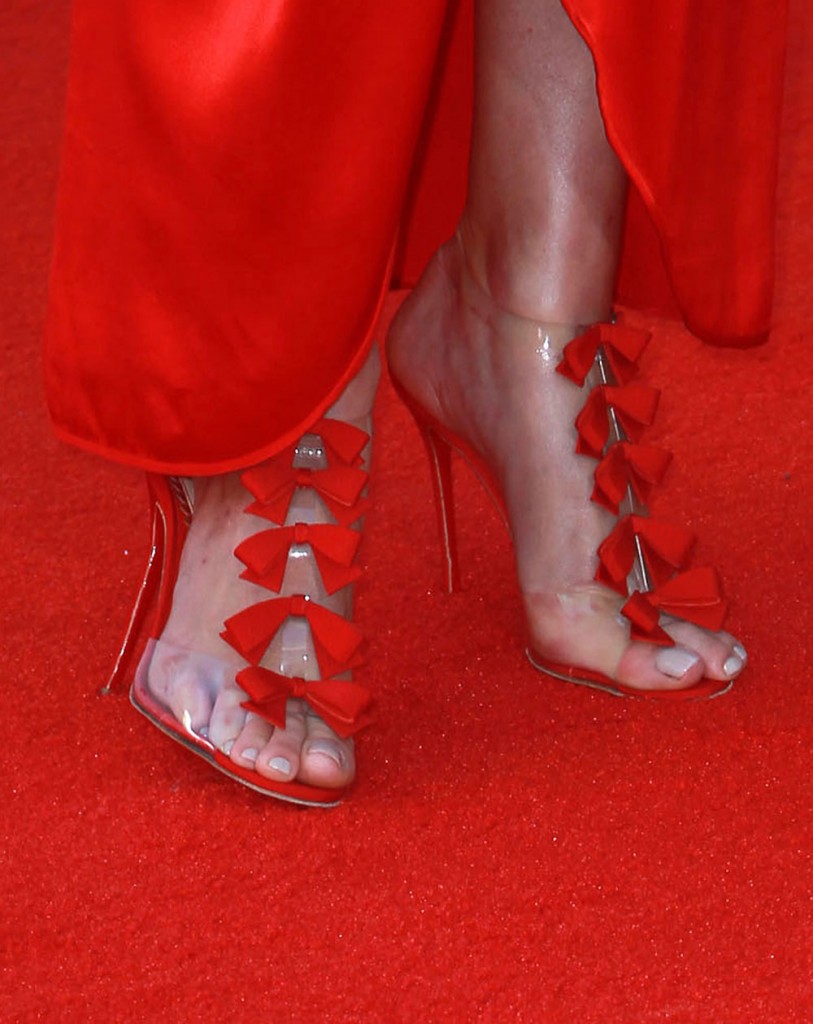 Finally, I'm going to end with the worst dressed of the night, in my opinion, Lena Headey of "Game of Thrones." (There's plenty more Emmys fashion coverage to come today of course.) She bugs me so much as Queen Cersei, and I have a similar opinion of her as a person. We received a whole press release e-mail from Lena's hairdresser on how he created her style. Her hair isn't bad, it's just this dress! It's like 80s lingerie with that skimpy see-through underlay paired with a dotted lace cape thing. This is Armani Prive, but if you told me it was Fredericks of Hollywood I would believe it. You know she thinks she looks great too. Like "Boardwalk Empire," "Game of Thrones" won some technical Emmys: for sound editing and mixing, visual effects, art direction (they tied with "Boardwalk Empire" in that category), makeup and costumes. This dress is like a bad costume for a fan convention.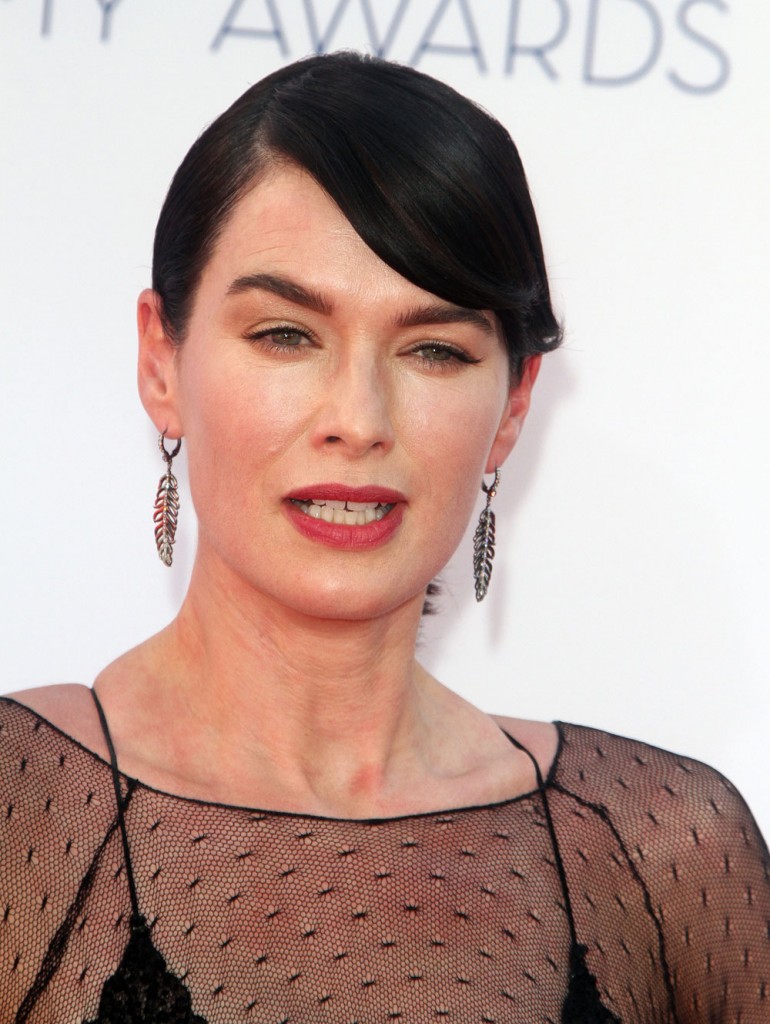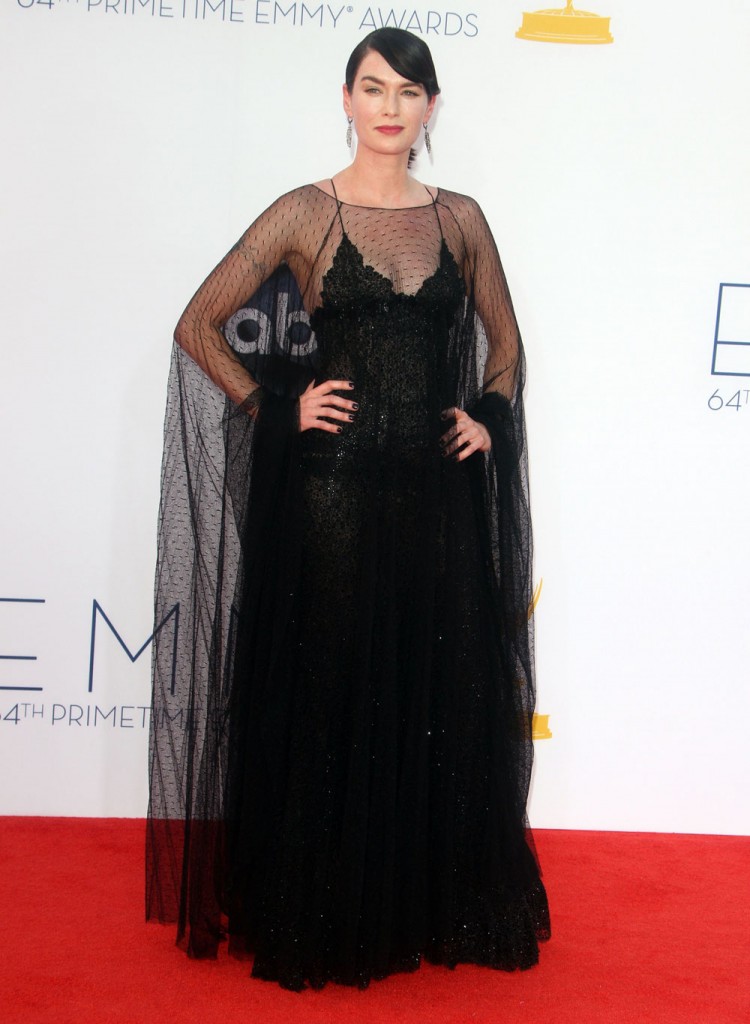 Photo credit: WENN.com and FameFlynet