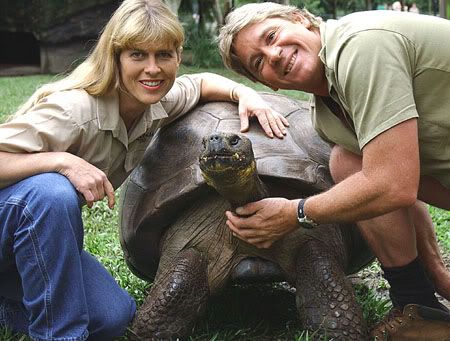 This just seems like a recipe for disaster. Terri Irwin received the original copy of the video of her husband dying at the unlikely end of an aggresive stingray. All of copies of the graphic incident have been reportedly destroyed. Crocodile Hunter Steve Irwin was filming a show called Ocean's Deadliest when one of the ocean's most gentle creatures got agitated and whipped it's tail up into his chest.
Terri was said to be devastated by a cartoon parody of her deceased husband on South Park, so of course this graphic video of his death is going to be the hardest thing she's ever watched. I personally could not stand to see the video of Saddam Hussein's execution, and cannot imagine having to watch a video of a loved one's death. The video seems like the type of thing that would haunt you if you had it in your possession. If you didn't watch it, you would think about it all the time and wonder if you should take the leap to see it. If you did watch it the images would play over and over again in your mind. If someone gave me a video of my husband dying I don't think I would watch it and would give it to a trusted friend or put it in a safe deposit box.
A colleague said of the video near the time of Irwin's death that "I would never want that to get out. It should be destroyed … It's awful. I saw it but I never want to see it again."
For his part, Steve Irwin said that if he ever died while filming he would want the public to see the footage.
The rest of us may not be able to see the video of poor Steve Irwin's death, but the other footage he filmed during his ill-fated ocean stint will be aired shortly. Ocean's Deadliest premieres on Animal Planet on January 21st at 8:00 PM.