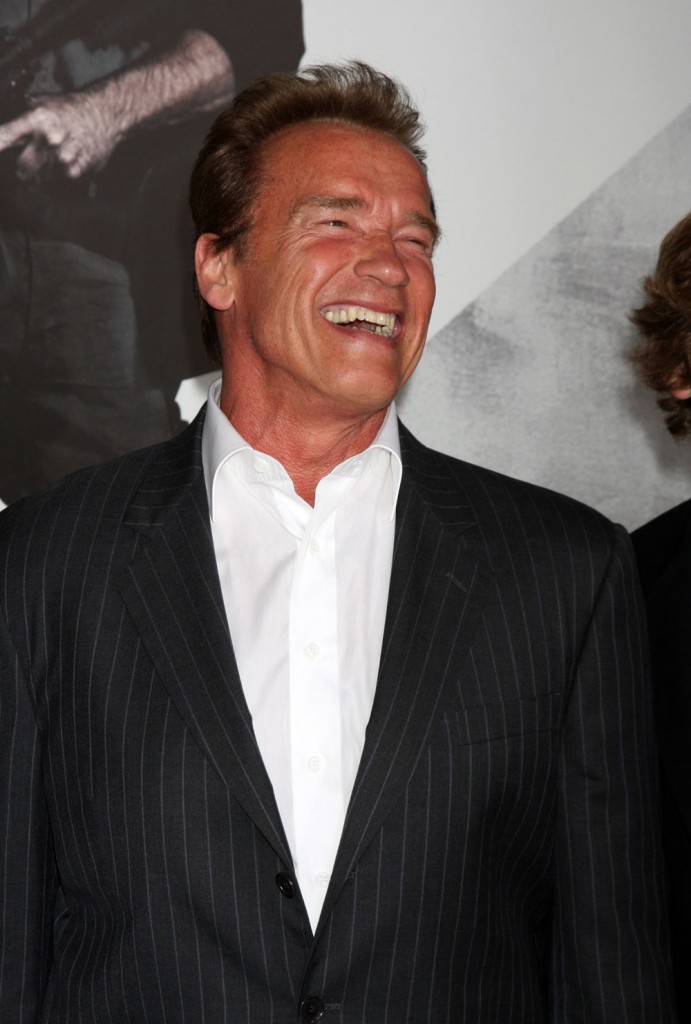 Arnold Schwarzenegger was on 60 Minutes in an extensive profile and interview last night to promote his new book, Total Recall: My Unbelievably True Life Story, which is out today. The first part of the interview was a kind of tribute to the success he's achieved in life, which is of course considerable. The second part was more about his screw ups, and his messed up relationship with Maria.
When it came to discussing his admitted infidelity he was arrogant, smug, and looked pleased with himself. If you want to see what I mean, scroll to around 10:00 into the first part of his interview, available at this link. He smirks when he describes cheating on his then live-in girlfriend, Maria Shriver, with Brigitte Nielsen when they made Red Sonja together in the mid 80s. Leslie Stahl asked Arnold if that was the only time he'd cheated on Maria and he said "no," but didn't get into details, simply saying "it's something that's obviously between Maria and me." Damn this guy is cold, he really is. He's not defensive and he's not playing the victim card like Jesse James. It's like he thinks things just happen and he doesn't have to make excuses or apologize. He plays lip service to feeling bad, but Leslie said he didn't even express regrets in his book.
On the scandal over his love child with the maid, he was vague and didn't get into details, using the excuse that he wanted to protect his kids. It was weak, lame, and insincere considering he just put out a book describing how his wife found out about the boy, who was 13 at the time. Instead of focusing on what he did, Arnold chose to tell the story of how his wife confronted him with her suspicions and how it affected her. It seemed like a way to deflect blame from himself and to further humiliate his wife. Arnold claims he didn't know he was the boy's father until the child was around 7 or 8, meaning he'd known for at least five years and kept it quiet. As for why he never told Maria, he simply said, he didn't know "How to tell her without worrying about, you know, that it would get out or whatever." That's exactly what he said. Here's more of his interview:
On his affairs
Stahl: You write in the book that you had an affair with the actress in that movie. You cheated on Maria. And you were in your relationship. And you don't even write that you felt bad about it. You just write it.

Schwarzenegger: Actually, you know, I did feel bad about it. But, I mean, all of my various different things, they were mistakes. And this is, you know, my failure. My screw-ups.

Stahl: Was that the only affair?

Schwarzenegger: No. I had others. But I mean, ah, but you know, it's something that's obviously between Maria and me.

Stahl: She knew?

Schwarzenegger: Yeah.

Stahl: So it's a recurring issue with you.

Schwarzenegger: I'm not perfect.

On his child with the maid
But by this time Arnold had already had the affair with the family housekeeper, Mildred Baena. And would later learn there was a son, Joseph. He says there were strains in his marriage while he was governor. The day after he left office in 2011, Maria wanted to talk.

Stahl: Maria wants to have a meeting with your marriage counselor. Tell us about that meeting.

Schwarzenegger: That particular visit that you're talking about was the visit where she then said, "Hey, I think that Joseph is your kid. And, am I off here on this or– or not?" And I said, "You're absolutely correct." And I had to face up to that, which I have been kind of hiding but no one knew about. And that I knew about at that point maybe for five, six years or so.

Stahl: You just said, "You're absolutely right"?

Schwarzenegger: I said, "You're absolutely right, and I am sorry." It was very painful for her. She was very disappointed.

Stahl: Maria asked you, "Why didn't you tell me?" And what did you say?

Schwarzenegger: That I did not know how to.

Stahl: You didn't know how to tell her?

Schwarzenegger: How to tell her without worrying about, you know, that it would get out or whatever.

Stahl: And that she'd leave you while you were still governor.

Schwarzenegger: I don't think that was as much of an issue as just how do I keep this under wraps.

Stahl: Well, tell us how it happened. This is a woman who worked in your house–

Schwarzenegger: Exactly. And I found out about it kind of– seven years in or eight years in–…

Stahl: So you have this relationship. And she keeps working in the house?

Schwarzenegger: Uh-huh. (affirm)

Stahl: Do you keep having the relationship?

Schwarzenegger: No. But, look, I have caused enough pain to everyone as it is, if it is my wife or my kids. So I don't want to reawaken and kind of talk about it because it's not going to help them. And I just want to protect them as much as I can.
Later in the interview, Arnold admitted that he started paying the maid, Mildred Beana, money once he knew her son was his. He doesn't call it hush money, though, and said he never even had a conversation with her about the fact that he believed her son, Joseph, was his biological child. He just said "I gave [the money] to her and she knew what it was about," and added "Mildred is a good person. She was not out to get me or to take advantage." As for why he never fired her, he said "it [would] be the wrong thing to do, to let them go. And, not make her feel like she's being punished when I find out that this is my child."
I got the impression that this guy does whatever he feels like doing, has the sense to hide it from the people closest to him that would be hurt, but is then surprised when those people learn about his behavior and are actually harmed by it. He's so smug, so arrogant, and so sure of himself that he thinks he can get away with anything and that what people don't know won't hurt them. He's still acting like he's entitled to do whatever he wants, and that it's other people's reactions that we should be focusing on, not him. If he cares so much about his children he would have the courtesy to stop trashing their mother and exploiting her pain. Maybe if Maria would have put up with his bullsh*t for another decade he wouldn't have written this book. This is payback for a woman who finally stood up for herself.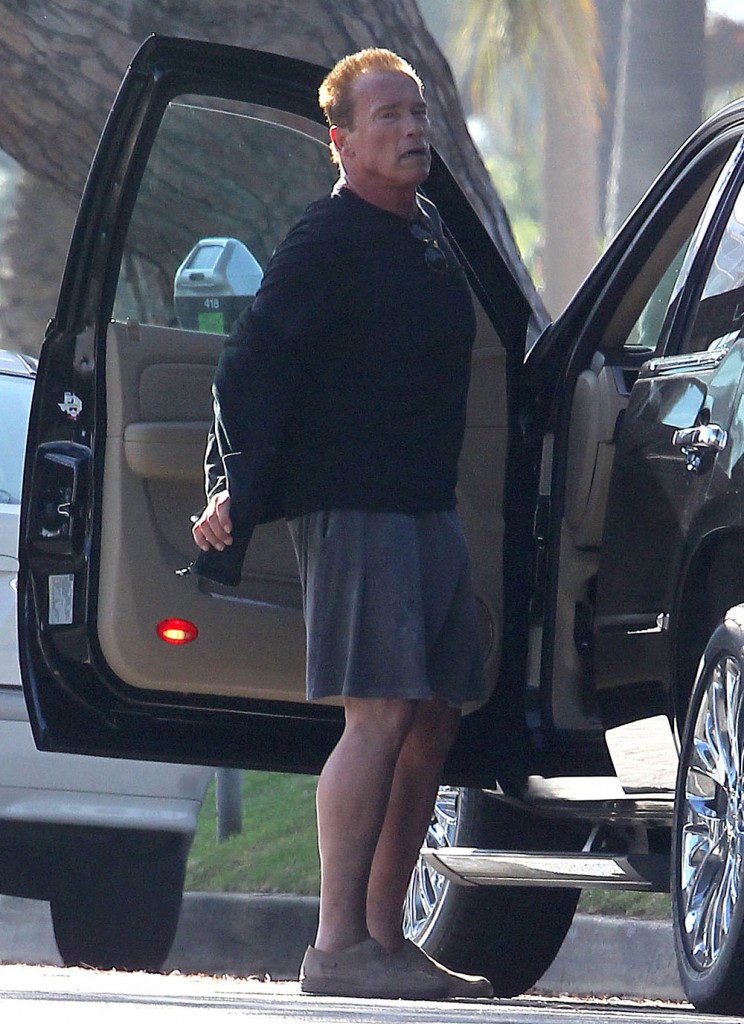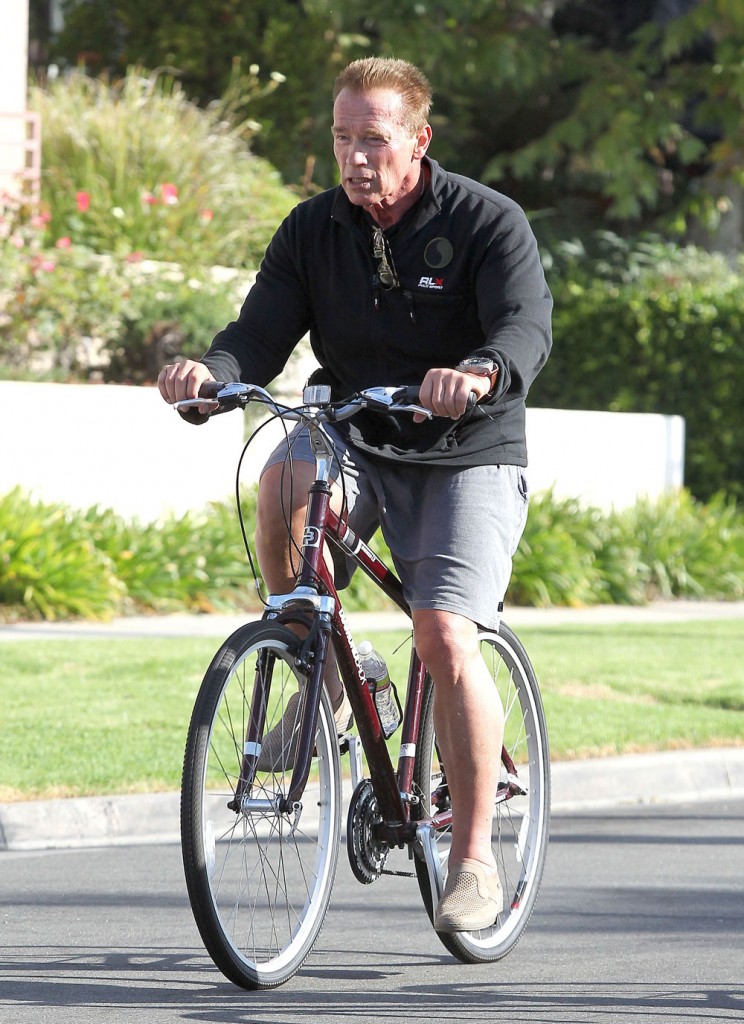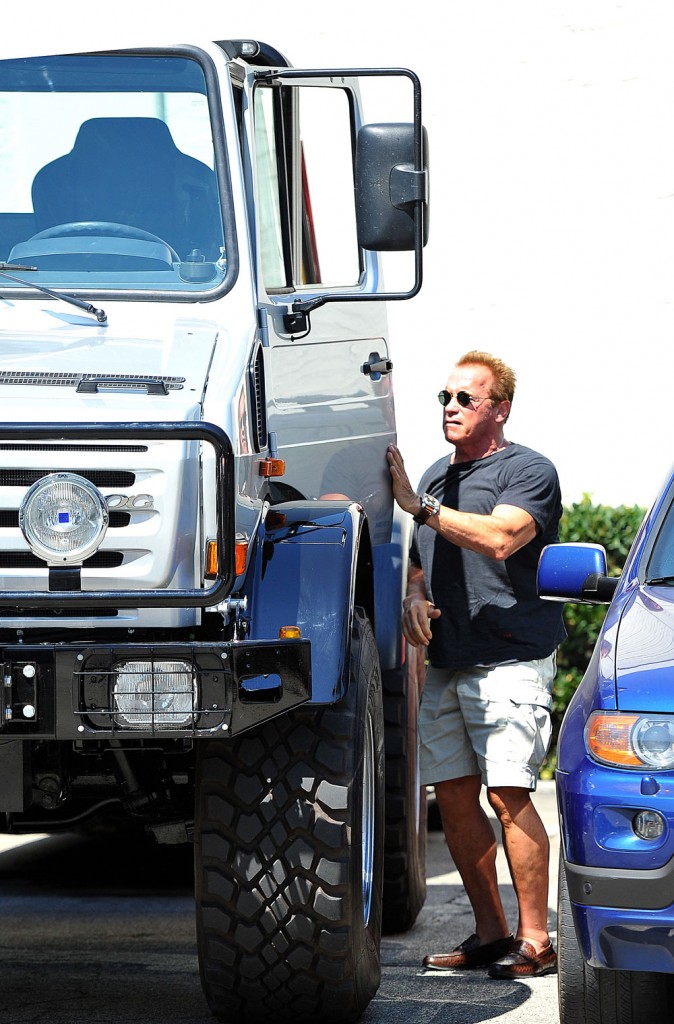 Photo credit: WENN and Fame