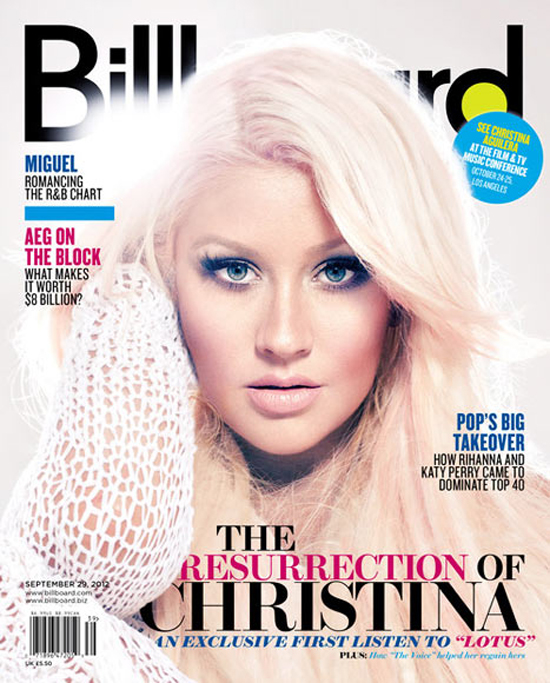 Christina Aguilera covers in the Sept. 29 issue of Billboard magazine to promote her upcoming record, Lotus, which releases on November 13. Interestingly enough, Billboard's review of the "Your Body" single describes the song as possessing "wince-worthy lyrics about anonymous sex" with nothing else noteworthy to bring to the table, which was the general consensus on this site as well. Yesterday, Kaiser covered the video, which was pretty tacky and kind of ruined the song for me. Still, Christina promises in this interview that Lotus (unlike Bionic) will "remind music lovers of her true talent." But she's still defending Bionic too, which we'll discuss below.
The better part of the interview revolves around Christina's surprisingly candid statements on her weight. Christina's previously spoken of her new body in terms of loving her new curves because, in her words, "the challenge I've always had is being too thin." Now she elaborates a bit more on that challenge, which she says was actually down to her record company's demands that she be very thin. Here, she frames the issue not so much as a "gain" but as a return to where her body naturally resides on the scale. I guess she's not really accounting for the effect of alcohol, but she otherwise makes a lot of sense on the issue. She really was pretty skinny while promoting Back to Basics, but she now says that she took a bold stand against her record company and basically told them to just "deal with" her new weight because she doesn't plan on changing anything. She's got a point — a successful pop star doesn't need to be skinny. Just look at Adele, right? Here's some excerpts from the interview: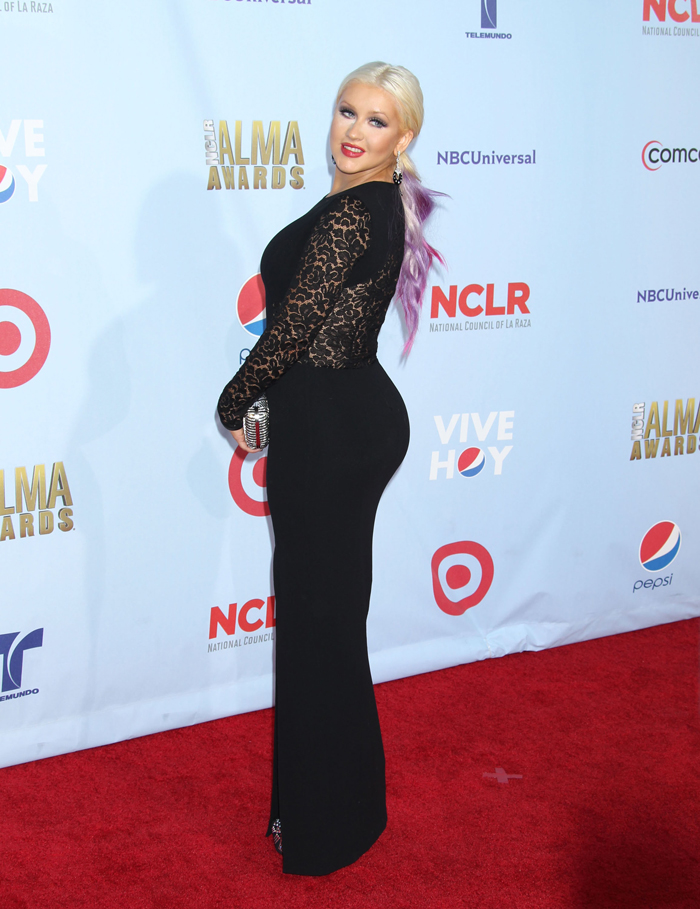 Her record label made her stay thin: "During the promotion of my album Stripped [in 2002], I got tired of being a skinny, white girl. I am Ecuadorian but people felt so safe passing me off as a skinny, blue-eyed white girl. The next time my label saw me, I was heavier, darker and full of piercings! Let me tell you, that wasn't an easy pill for them to swallow. I had gained about 15 pounds during promotion and during my Stripped tour [with Justin Timberlake, 31]. They called this serious emergency meeting about how there was a lot of backlash about my weight. Basically, they told me I would effect a lot of people if I gained weight — the production, musical directors. [They claimed] people I toured with would also miss out if I gained weight because I would sell no records or tickets for my shows. I was young, so I lost the weight quickly and was toothpick thin during Back to Basics promos and touring."

This time around, it's different: "I told them during this Lotus recording, 'You are working with a fat girl. Know it now and get over it.' They need a reminder sometimes that I don't belong to them. It's my body. My body can't put anyone in jeopardy of not making money anymore-my body is just not on the table that way anymore."

Why Bionic flopped: "I can proudly say [Bionic] was ahead of its time, to be honest. It wasn't so commercialized. You had to really be a music lover, be a true fan of music and the love of being open to really appreciate that record. It's just a special piece in my body of work that will forever live on. The older the record gets the more people will come to appreciate it actually and check it out."

On new beginnings: "This album represents a celebration of the new me, and to me the lotus has always represented this unbreakable flower that withstands any harsh weather conditions in its surroundings, that withstands time and remains beautiful and strong throughout the years."

Her songwriting is getting better? "Once I could start writing my own songs, beginning with Stripped, I tried to infuse as much as I could to promote strength and inspire people with that message. And now I'm at a place at 31, where the last time I felt this way was when I was 21 with Stripped and I had a lot to say and a lot to express."
[Update: Falsely attributed to Billboard, see below]
Oh, girlfriend. I was totally with her for the weight-related comments, and then she had to go and ruin it all by talking about Bionic being "ahead of its time" when, in actuality, everyone knows it was a blatant (yet apparently unconscious) rip off of Lady Gaga's dance music. With that in mind, I have no doubts that Lotus will probably not do much better if the video and single for "Your Body" is any indication. Christina has such a great voice; I truly enjoyed both Stripped and Back to Basics, and now she chooses to waste that voice on such terrible, awful music and lyrics. Such a shame.
Update by CB: Apparently these quotes were made up and originated on a Tumblr site, where they were mixed with other real quotes from Christina, and got picked up and disseminated. They were never featured in her Billboard print or online interview. Christina's rep has said that "She never said" this at all.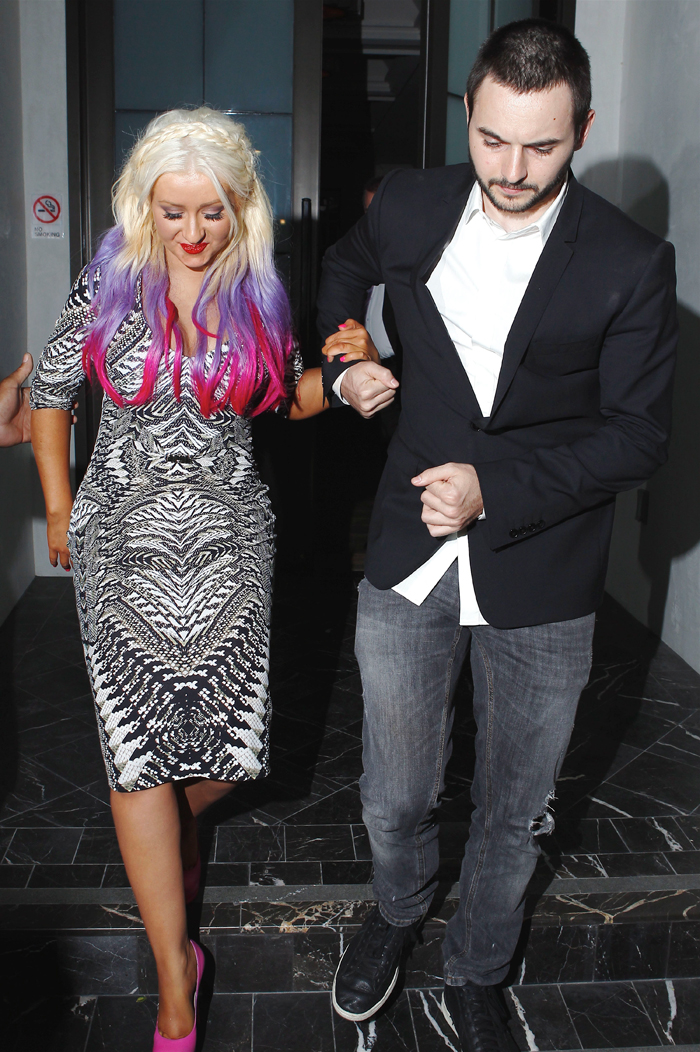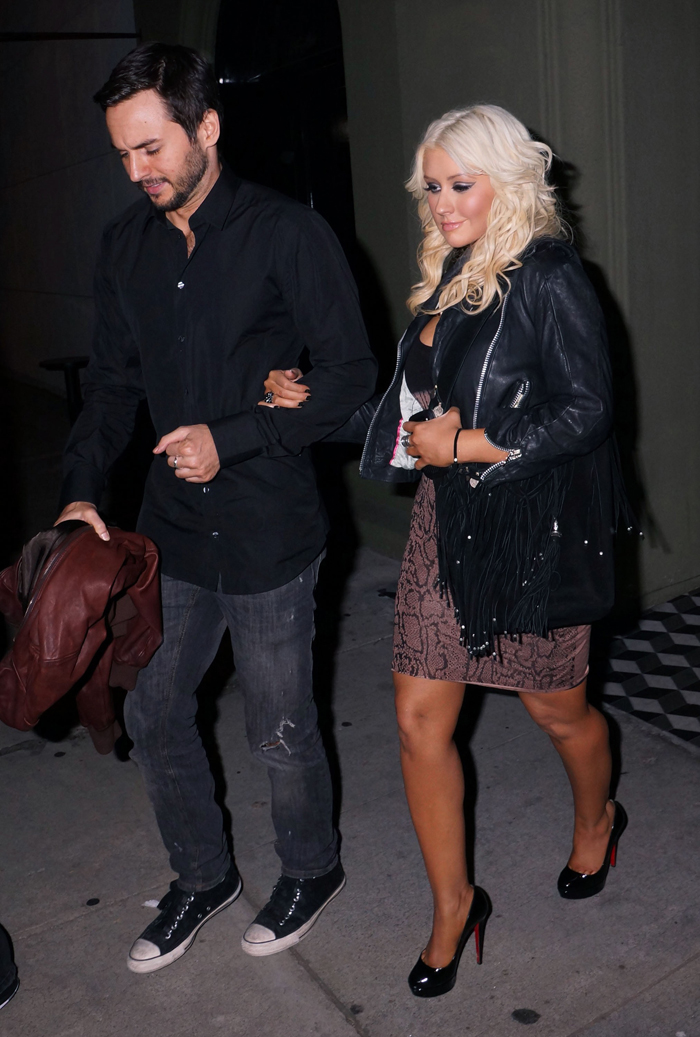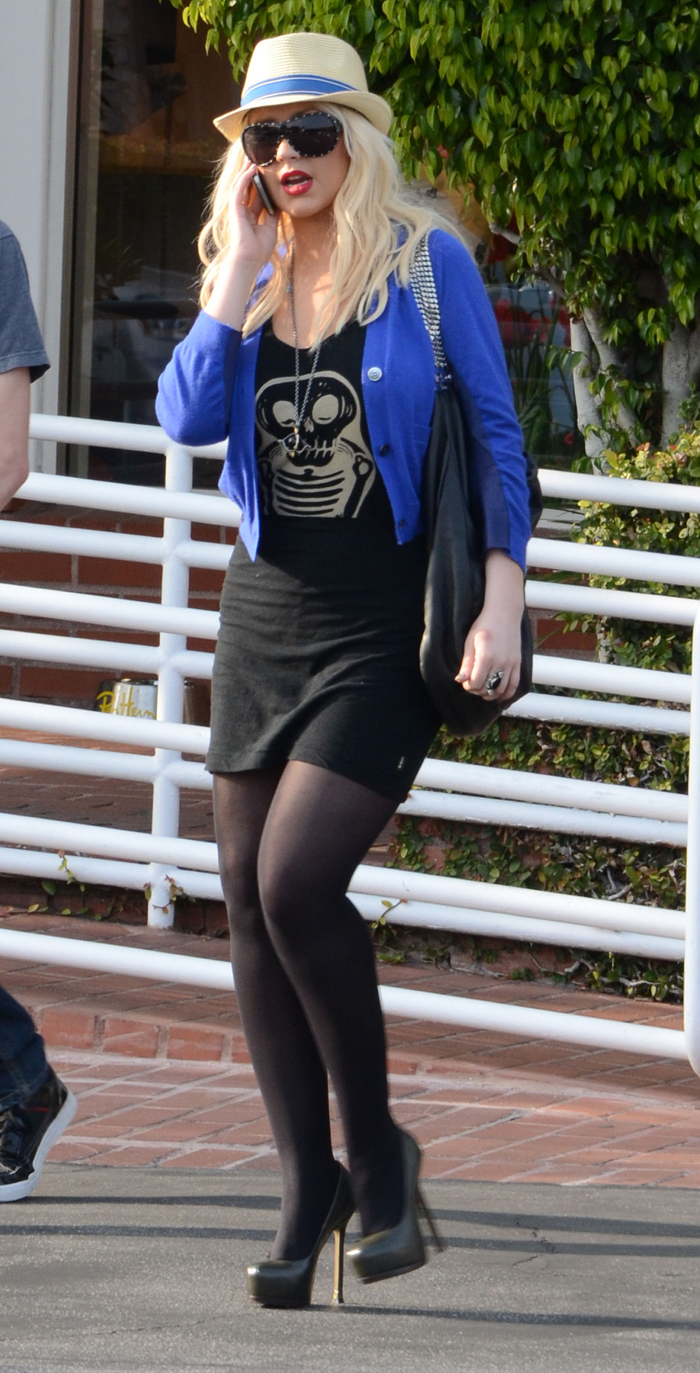 Photos courtesy of Billboard, Fame/Flynet, and WENN