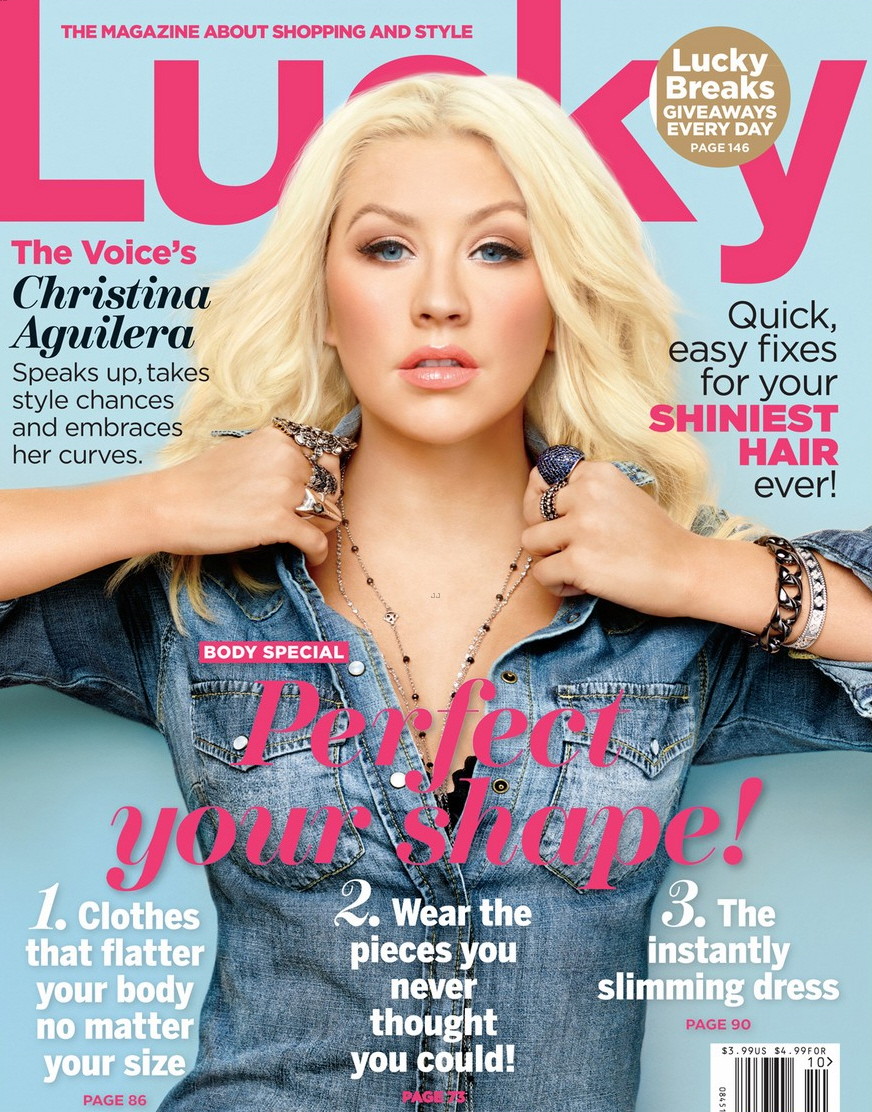 Christina Aguilera covers the October issue of Lucky Mag, because she's back to be a "thing" now that she's on a hit reality show (The Voice). So we will have lots of Christina news and photos for a lot longer than I was expecting. As for her styling for the cover shoot – she looks pretty! I always like it when a magazine does a "makeunder" on Christina, and it's nice to be reminded of her prettiness underneath all of that orange and red clown makeup. You can read the full Lucky piece here, and here are some highlights:
Christina's response when she's complimented about the song "Fighter": "Awww. That's why I wrote 'Fighter,' I have that need in me to help people. I am all about the underdog."

Starting out in the music industry: "When you're young, it's so easy to get bull­dozed," she says. She was surrounded by people trying to control what she said, what she sang and what she wore. "There were these two ladies who worked at the record label who always wanted to come to fittings and dress me up like a Barbie doll. It was disgusting."

The success of her Stripped album: "I was 21 and fearless. It was a really great turning point for me to be the artist I'd always wanted to be."

The difficult years: "Difficult moments in life can either get you down or they can inspire you."

Her new album: In the next few months, she'll drop a new album. "If you love 'Fighter,' " she says, "you're going to love my new album. As a 30-year-old woman, I've been uncovering my independence, and it's been really fun to explore in the new songs."

Her role on The Voice: "It's a big responsibility to help someone express themselves as an artist. I take it seriously," she says.

Showing off her curves: "Actually, the challenge I've always had is being too thin, so I love that now I have a booty, and obviously I love showing my cleavage." Her advice for her curvy sisters? "Hey, if you can work it and you can own it, that confidence is going to shine through."
You know what this second-chance career trajectory reminds me of? Jennifer Lopez and American Idol. I wonder if Christina looks at what's going on with J.Lo and takes it as a cautionary tale – like, "I should stick with a show that gave me a second chance, and just spend my downtime from the show working on my music career." I am interested to see if Christina sticks with The Voice for any longer than, say, another two seasons. I wonder if Christina's boy-toy – like J.Lo's boy-toy – is telling her that she doesn't need the reality show, that she's a big enough star without the show.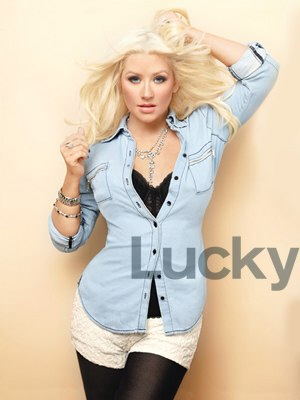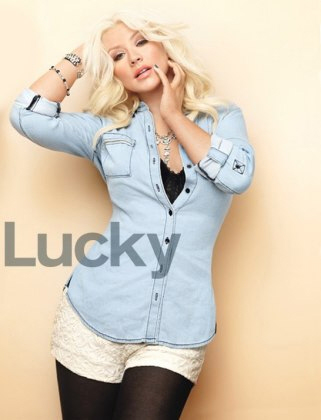 Photos courtesy of Lucky Mag.