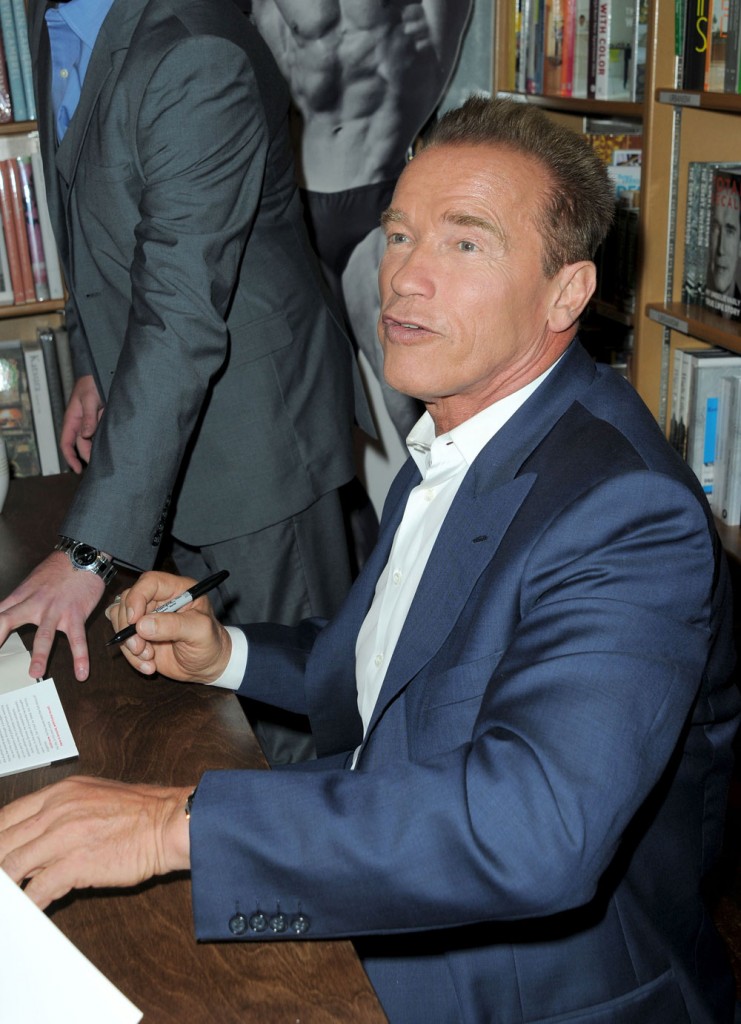 These are photos of Arnold Schwarzenegger out promoting his book yesterday in NY, and outside The Daily Show. His face looks so orange and tight, and you can see the makeup around his hairline. I believe he's had a facelift that settled moderately well, and that he's not getting botox and fillers at least.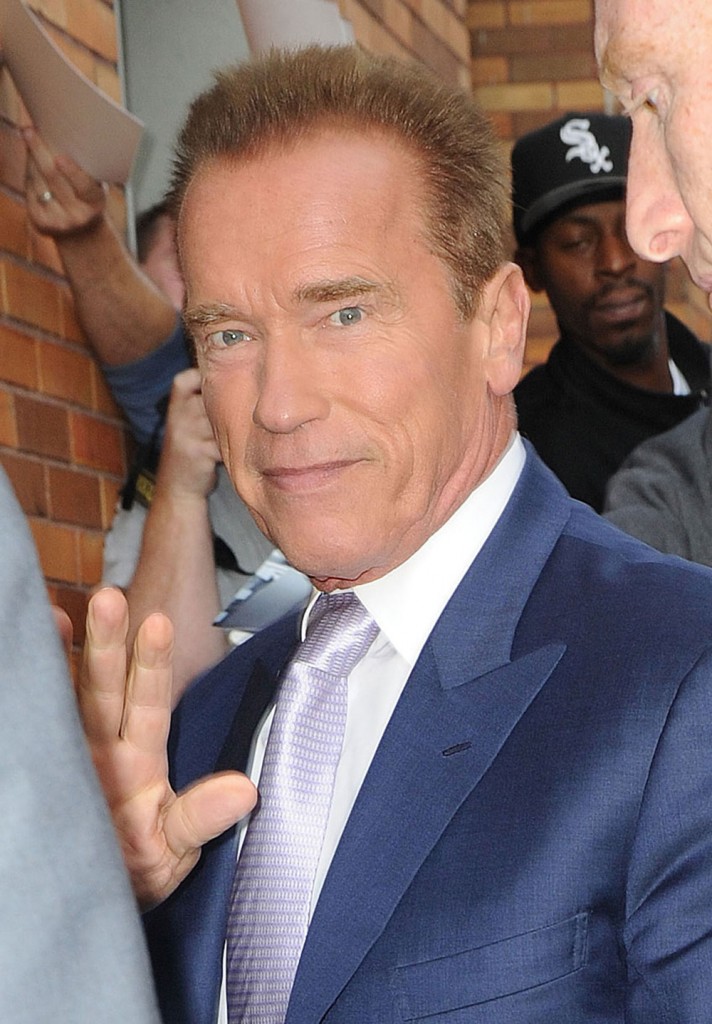 In Arnold Schwarzenegger's 60 Minutes interview on Sunday, he gave the impression that his estranged wife Maria Shriver was completely aware that he had cheated on her multiple times during their marriage. Arnold was talking about his admitted affair with actress Brigitte Nielsen in the mid 80s, when he was living with Maria but had not yet married to her. 60 Minutes' Leslie Stahl asked him if that was his only affair, and he said "No. I had others. But I mean… it's something that's obviously between Maria and me." So even though Ahnold didn't state it outright, he definitely made it sound like Maria knew he was a serial cheater.
According to sources who spoke to TMZ, that's not the case and Maria is peeved, especially because she defended him against sexual harassment and groping charges in 2003. First of all, 60 Minutes never asked Maria for her take on the story before it aired. This seems standard for their celebrity profiles, but in this case Arnold was talking about how his wife confronted him about his love child, and how she reacted to the scandal, and we had to take his word on it. He admitted that Maria hadn't read the book at all, but said that she gives him a kind of blanket approval and "is wishing me well with everything I do." When that involves sharing such personal and painful details of her life, I doubt that's the case, but we can't expect Arnold to try and spare his wife's feelings after 25 years of marriage.
Arnold Schwarzenegger was lying through his gap teeth when he claimed Maria Shriver KNEW he was banging other women during their marriage … this according to multiple sources connected to Maria.

Arnold fessed up to cheating on Maria multiple times during his interview with "60 Minutes" last night … saying Maria knew about ALL of his trysts.

But one source close to Maria tells us … "BULLSH*T" — saying Maria never would have defended him against all of the groping claims several years ago had she known Arnold was stepping out. The source also says Maria would have ended the marriage had Arnold told her.

Another source tells TMZ … Maria definitely suspected Arnold was screwing around behind her back … but it was never discussed until she confronted him about his love child with the maid.

But we're told Maria was really in love with Arnold during their marriage … and was truly crushed when she learned of his betrayal.
So here's the thing. Maria "suspected" that Arnold was screwing around, but she stayed. A lot of women do that and I don't blame them. They have kids and families and a life with these men, and they want to believe the best of them, and that they've changed or that it was a one-time thing. They stick their heads in the sand instead of doing some digging. The reality is often a lot harsher than they believe, and Maria's being faced with it full-on now that Arnold is promoting his book – which she allegedly hasn't read yet. Sources tell TMZ Maria doesn't want to read it, and that "What Maria has already been through.. nothing surprises her anymore." As for what's in the book, The Daily Beast has a nice overview of the best parts, most of which we've already heard in the press. It doesn't sound like Arnold admits to groping women, cheating on his wife, and generally being an a*hole beyond the minor details of his indiscretions he's shared and tried to gloss over. (Love child – no biggie! It was a one time thing with the maid. It wasn't hush money, I just wanted to help her out. I did cheat with a co-star but I wasn't married yet.)
Arnold had a live interview on ABC News yesterday. He bragged about his accomplishments, but he did seem to be trying to sound more contrite than he did on 60 Minutes. He must have realized how poorly he came across, and how arrogant he seemed. He called his affair with the maid "one of the disastrous situations I've created and the worst thing that I've ever done." He also dismissed it as "one stupid mistake." He also said that he hopes to reconcile with Maria and thinks she wants it too. "Maybe Maria doesn't say that, but I'm sure that Maria wishes that we could all be together and I definitely wish that we could all be together." Keep dreaming. Stay strong, Maria, don't take him back!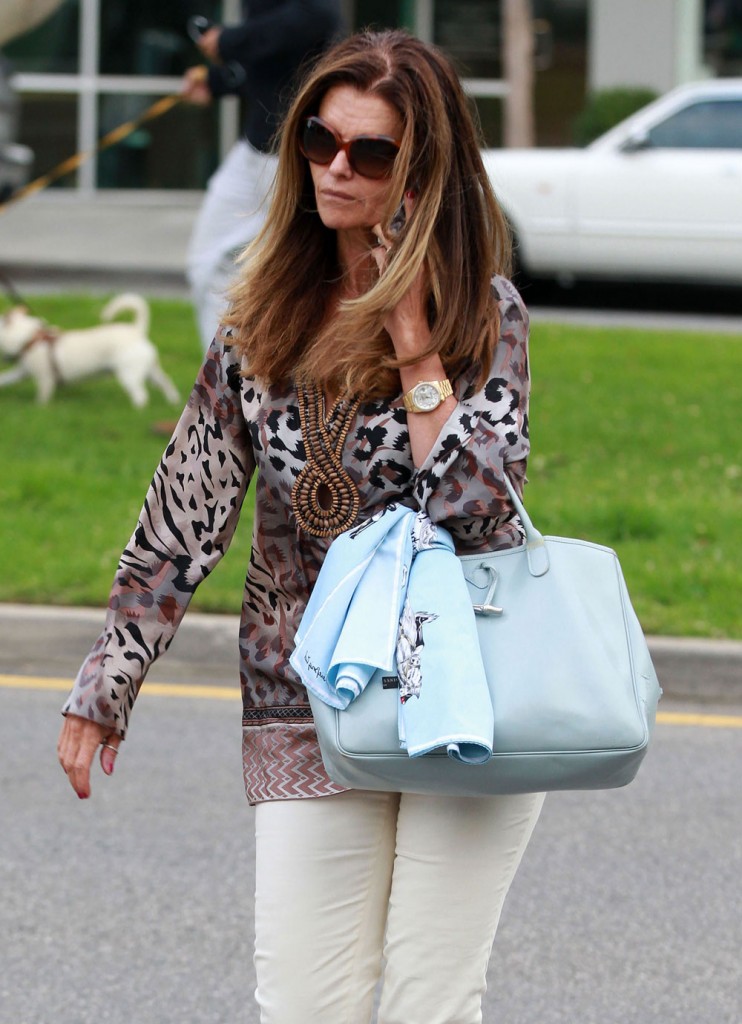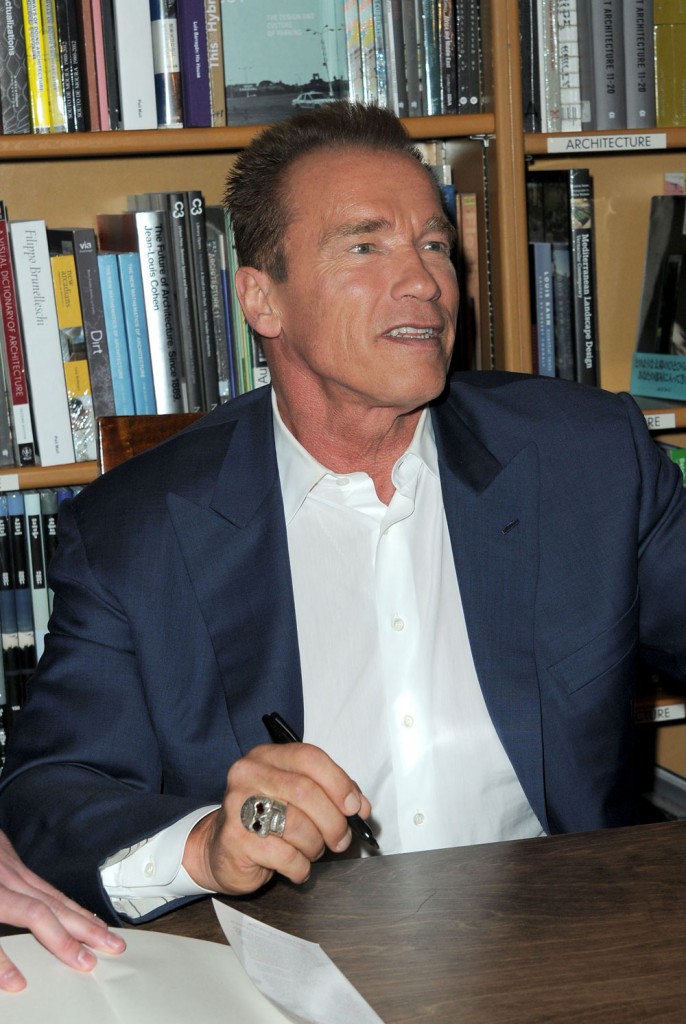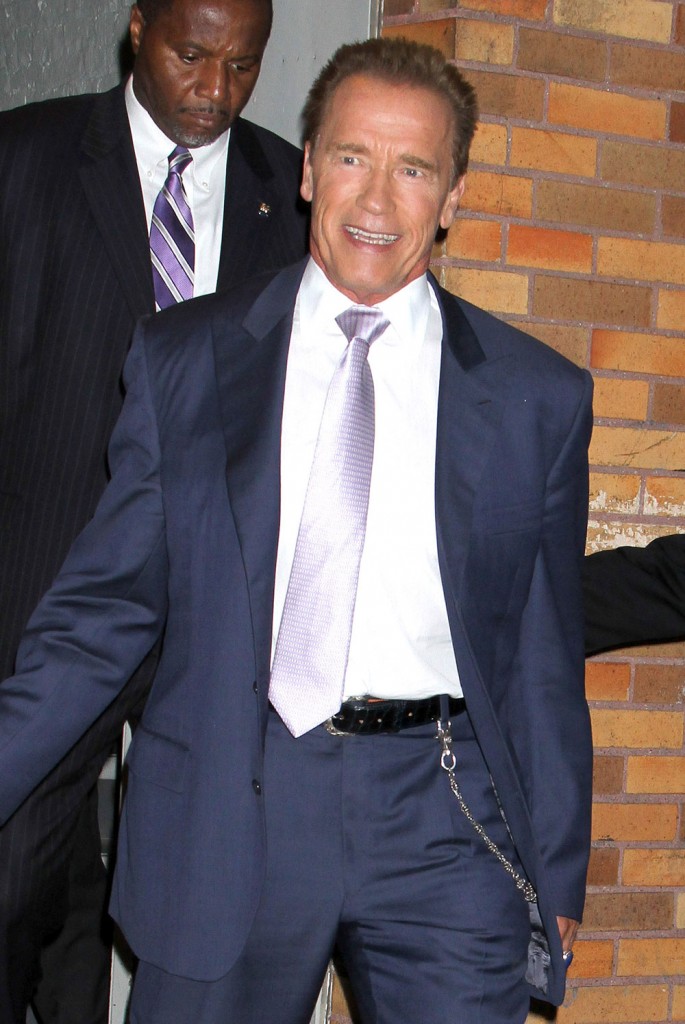 Here's Arnold promoting his book in NY City and outside the Daily Show yesterday. Maria is shown on 6-13-12. Credit: WENN.com and FameFlynet