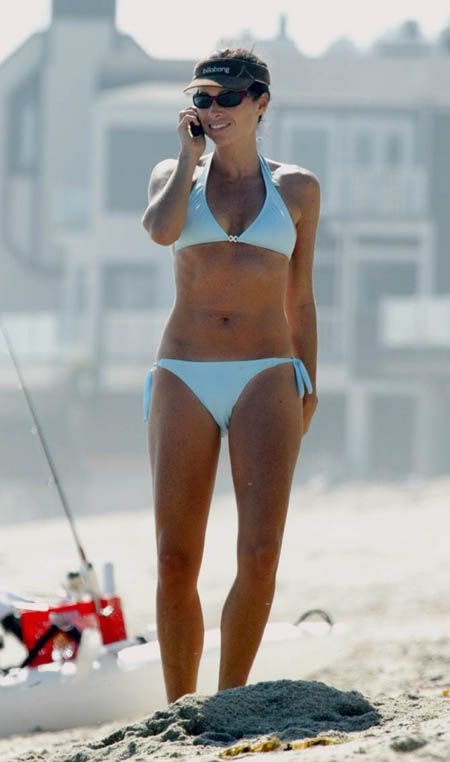 Minnie Driver has the perfect accessories for a photo op at the beach – bikini, cell phone, and dog to play with. She must have called up a photographer friend and told them to help her out with some needed publicity. She's ready to work and wants people to know she's got a banging body. When my two year old son pretends to be talking on one of our cellphones, he grabs his stomach and laughs hysterically at the imagined person on the other end just like Minnie's doing in that second pic.
According to IMDB, Driver is currently filming The Simpson's Movie, where she will voice a to-be-named character, and has two movies in the can.
Minnie shopped mostly online for Christmas this year. She said she's a novice at online shopping, and that she ordered gifts and had them wrapped and shipped to people. She also recommended that people give meaningful charity instead of the usual crap, and said she gave a camel for Christmas. You can give actual animals that will make a huge difference in a family's life through Heifer International. We had an average Christmas with stuff ordered online that people don't really need, but also continued our family tradition of giving gifts from Heifer too.
I'm not sure if these pictures are new or not, but I'm assuming they are. Let me know if you've seen them before. They were found at France-Vidcaps, where all the comments are in French, but from what I can tell no one is saying they're old.