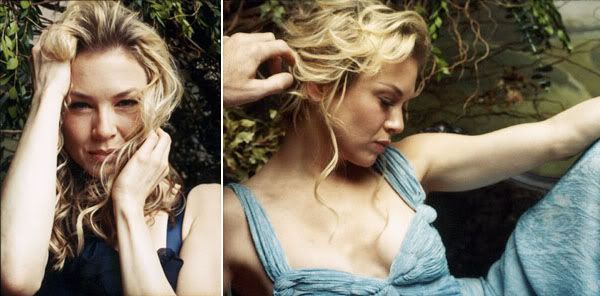 Renee Zellwegger, who we don't see a lot of in the gossip news apart from her spectacularly failed marriage, has a new interview in Time. She's guarded, vague and well-spoken in her comments but it's clear that she's having difficultly coming to terms with fame and has trouble with all of the constant speculation about her private life. She doesn't sound like a happy person. It seems like she would rather bury herself in her work and stay home than go out shopping for designer crap and eat at the best restaurants and have everyone talk about her.
She said that she just got through the days last year and when asked about the hardest part of her year she almost starts to cry:
LIFE: In your new movie, Beatrix Potter best expresses herself through the characters she created, like Peter Rabbit and Flopsy Bunny. How do you best express yourself?
ZELLWEGER: Oh, I don't know. I'm not a performer. I don't want to hop up on a stage and go "Look at me! I'm Renée! What do you think?" That's not me. What I do is very different. If I want to express something, it's through the filter of a character. So I never feel exposed.

LIFE: You made the movie in a very difficult part of your life last year.
ZELLWEGER: It was important for me to make this film—going to work and being with my friends, getting through the days.

LIFE: What was the hardest part about 2006 for you?
ZELLWEGER: Well, I'm sure that if you buy groceries, you might have read something about it. It's not on the top of my favorite things that have ever happened. [Her eyes well up] I'm not a superficial person. I don't care about what's on the grocery-store shelves. That's just salt in the wound. But it's not a television show. I lived it. It's a very sad experience for anyone to go through, and it's not fun when people decide that it's a lovely thing to capitalize on. But you're oblivious to that because you are living the reality of the experience—which is devastating.

LIFE: Are you two still friends?
ZELLWEGER: I'll tell you that I was saddened. I'll tell you that it took . . . it's, it's not something I could reason away. It's something that I'll live through, but I don't want to talk about it beyond that because it matters to me.

LIFE: But is there anything that you feel you need to change about your life in the coming year?
ZELLWEGER: Yes. I need to find a way to manage the things that are very difficult for me in terms of fame. I need to find a way to have more grace in certain situations. I'm not good at the majority of things that come with celebrity. I like my job. I don't mind getting up at three in the morning on the Isle of Man, working in a cowshed that smells like poo. I'm okay with 16-hour days. I'm okay with living out of my suitcase. I am not good at the commodification of me as a person—it's dehumanizing. I'm not good at it because my values are different than that, and so I'm disappointed by it. But it's not my place to be disappointed by it. I need to find a way to be okay with those things.

LIFE: Is it a question of trying to distance yourself from it? To care less about what's written about you?
ZELLWEGER: It's hard to not care. It takes a long time to realize the only way to win is to resign yourself to losing, because then you lose less. Because you are going to lose. There are going to be people who capitalize on your losses, on your sadness, and they'll create it. I expect that if I have a personal crisis, somebody is going to sell magazines because of it. I expect that there will be paparazzi in the street. It's the other side of fame. I've seen stories where people speculate about what it is that [you're] saying based on your body language. It's incredible to me that that's where our society has gone.
When asked about what she looks forward to this year she says Leatherheads, a new movie she'll be filming with George Clooney.
She almost makes me feel guilty for gossiping about celebrities all day. She seems to hate the personal price of fame and tries to avoid it, perhaps at the cost of a personal life. Having people make up shit based on your body language is what goes along with those multi-million dollar paychecks for a few months work. At least that's what I tell myself so that I don't feel guilty for dehumanizing the celebrities as Zellwegger mentions.
Paris, Lindsay and Britney seem like well-deserving targets, but people like Renee make me think twice about talking smack about famous people. Good luck Renee. There are a lot of fun superficial things you can do as a celebrity. Why don't you try to enjoy them for a little while instead of hiding and making yourself miserable thinking about the downside of it?
A lot of people will comment on this article about how Renee looks and not bother to care or read what she's saying. She kind of has a point.