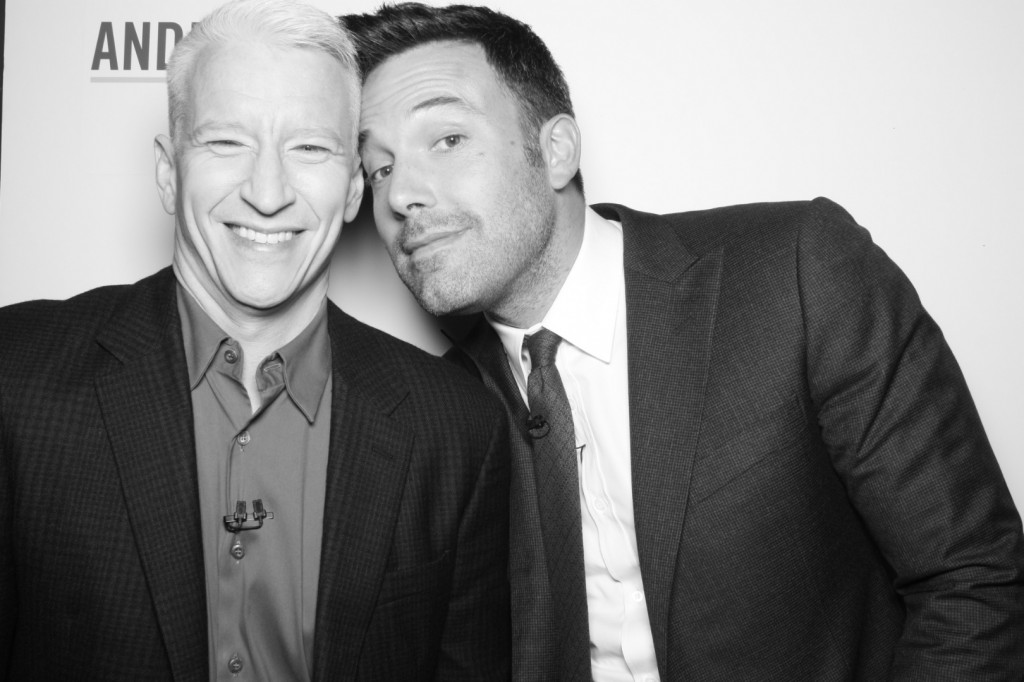 Right after I published our earlier story on Ben Affleck's profile in The Hollywood Reporter, this new story with a lot of quotes from Anderson Cooper's show was emailed to us. Affleck appears on Anderson Live tomorrow, October 12, along with his co-stars, Bryan Cranston and John Goodman. I've said it plenty of times: I love Ben Affleck. He's smart, he's hot, and he's talented, but given what we've heard from him lately I doubt that he's the best husband, you know? He just doesn't seem as excited about his wife as he does about the other women he name drops. I hope I'm wrong, I hope his quotes are being taken out of context or that he's just having an off day, but that's the impression I'm getting. Some of you have floated the "douche" label for Ben, and I don't think it applies – yet. Again I'm biased.
There were rumors that Ben Affleck cheated on Jennifer Garner with Blake Lively while they were filming The Town together. People pointed to these photos and to the interview they did together in which Ben seemed to be fawning all over her. I don't think Ben was stupid enough to cheat, but I think he did have some sort of emotional affair with Blake that involved baked goods and flirtation disguised as deep thoughts. So that's why his comments about her on Anderson Cooper are giving me pause. He didn't gush about his damn wife like this, he just told the Hollywood Reporter that she helped him change his life and that Jen was super nice but that it could be annoying. Get it together Ben! Also, Ben has told this same freaking story multiple times about how Blake allegedly didn't know that he was best friends with Matt Damon. (To be fair, Anderson asked Ben a direct question about it, but still you can tell he loves talking about her.) Many of you have stipulated that Blake was playing dumb, and that of course she knew about Ben and Matt's history. I believe you. Ben fell for it. Stupid!
On turning 40
I do like it. I kind of feel like I got to a point. I went through a certain amount of period with people giving me a hard time and oh we don't have to sort of take this guy seriously. Forty kind of coincided with having three kids and having this marriage that is great and working in ways that I am really proud of and doing philanthropy that I really like. You know, you are forty, no one gets to call you a kid anymore.

On how Blake didn't know about his long friendship with Matt Damon (Anderson asked him about it)
Blake, yes is not forty. Blake is twenty one or whatever she is twenty two. She is fabulous as you can see, she's a gorgeous young woman. She was in the Town with me and she was fabulous. She wanted to do research and she was coming off her television show, Gossip Girl, so she was driving down at nights back and forth and really stretching it to get her research done. And I was driving around the city here's the neighborhood, here's the people she hung up with – the various people who were in these projects and stuff. And then I just drove around to see the sights, John Quincy Adams home, that kind of thing and we went by one and I said, 'That's the house Matt grew up in.' And she's like, 'Matt who?' And I was like, 'Matt Damon grew up there.' And she's like, 'How do you know Jason Bourne?' And my life flashed before my eyes. I was like, 'Oh we did a movie together, Good Will Hunting.'

On achieving success earlier in life
It's a lot to figure out early on. It's a lot to figure out. Even Jeremy Renner who is a young actor, who was forty when he did The Town, and then he got nominated and then he started doing all these franchise movies he just is able to take it in much better than I could and see the perspective much better. I see guys who have lived a full life and come to terms with whatever they needed to come to terms and then become successful. I think you are much more stable and capable of taking it on.
I don't like saying lady boner, but there's no other way to explain it – my lady boner for Ben is going away. It's like at half mast. (Ew! I'm too girly for that metaphor.) I don't like it when he talks about "this marriage working" like it's some kind of business entity and then calls another woman "fabulous" and "gorgeous." Also, how can he praise Blake doing research for the film on one hand and then find it so endearing that she doesn't know about his history with Matt Damon? Everyone knows that damn story. I sense trouble, but maybe I'm reading way too much into things. Or maybe Ben is just too damn honest and not that good at hiding his feelings in interviews.
Anderson Cooper has clips from the show available if you're interested. Here's a video where Ben talks about sideswiping a car and leaving a note about it. Around 1:40 into this video you can hear him say the part about turning 40 and "having this marriage that is great." In this video, he talks about being a father. I also caught another quote from him in that segment in which he praises Garner. He said she's "a saint and does so much of the work [raising their three kids] because I'm inept and she's a genius." So that's nice!
Here's Ben's comments on Blake:

Here are some cute photos from Anderson Cooper, thanks to the show. Oh and Popsugar has some nice photos of Ben and Jennifer out at the DC premiere of Argo.