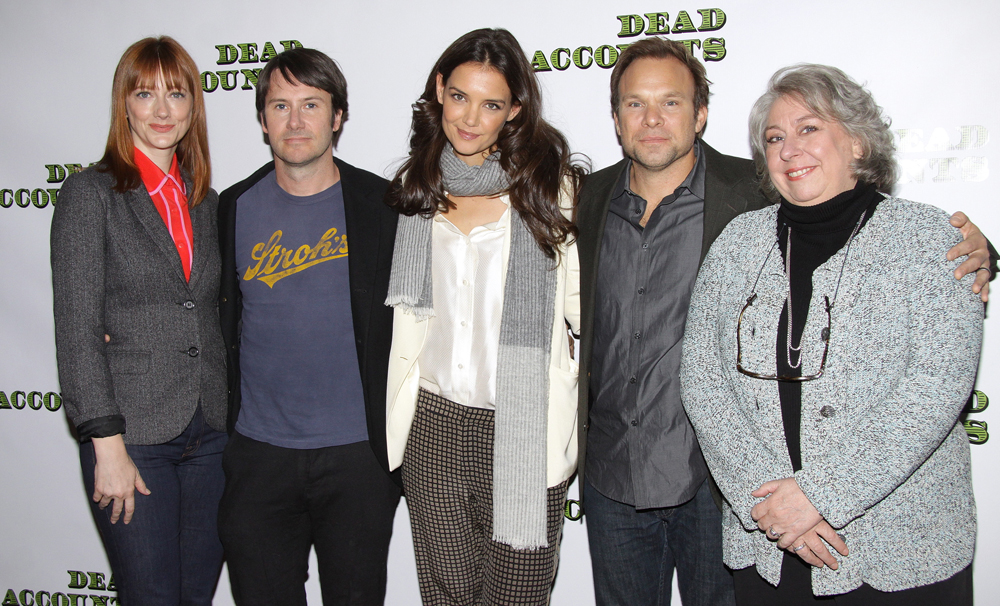 Here are some new photos of Katie Holmes at a meet and greet for her upcoming Broadway comedic play, Dead Accounts. She looks healthy and happy and ready to get back to the business of acting in front of a live audience. Furthermore, Katie seems very glad to be rid of Tom Cruise, who has been (curiously enough) amusing himself of late by receiving spankings from drag queens at Matt Damon's London birthday party. Okay. OH, and I am also pleased to announce that we got confirmation over the weekend (from a source who would know) that Tom's email address really does begin with "1makdaddy." Hurrah! I am also eternally grateful to Katie for starting the ball rolling by including that ridiculous email handle in her divorce papers. She really does look good here, right? Such dewy skin and glowing eyes.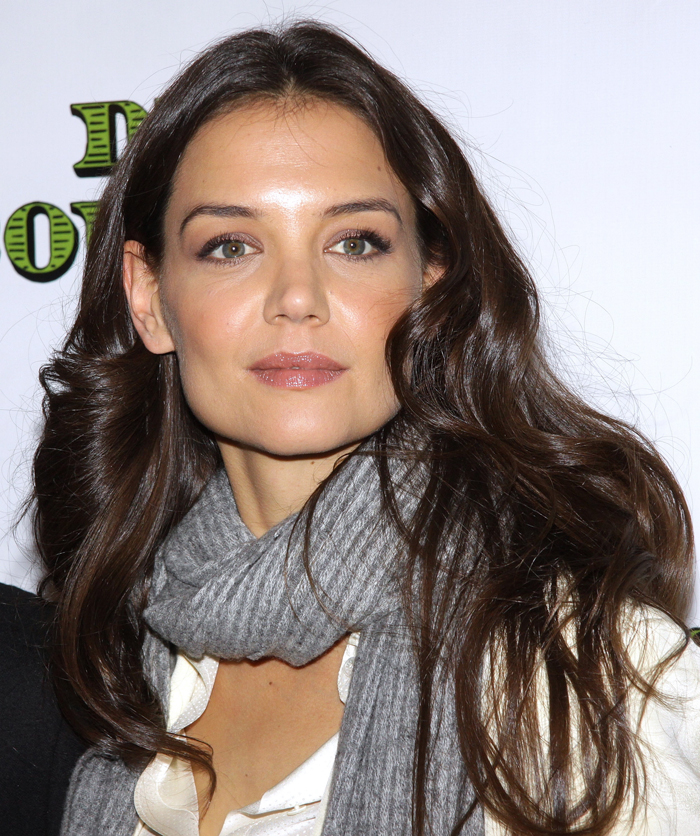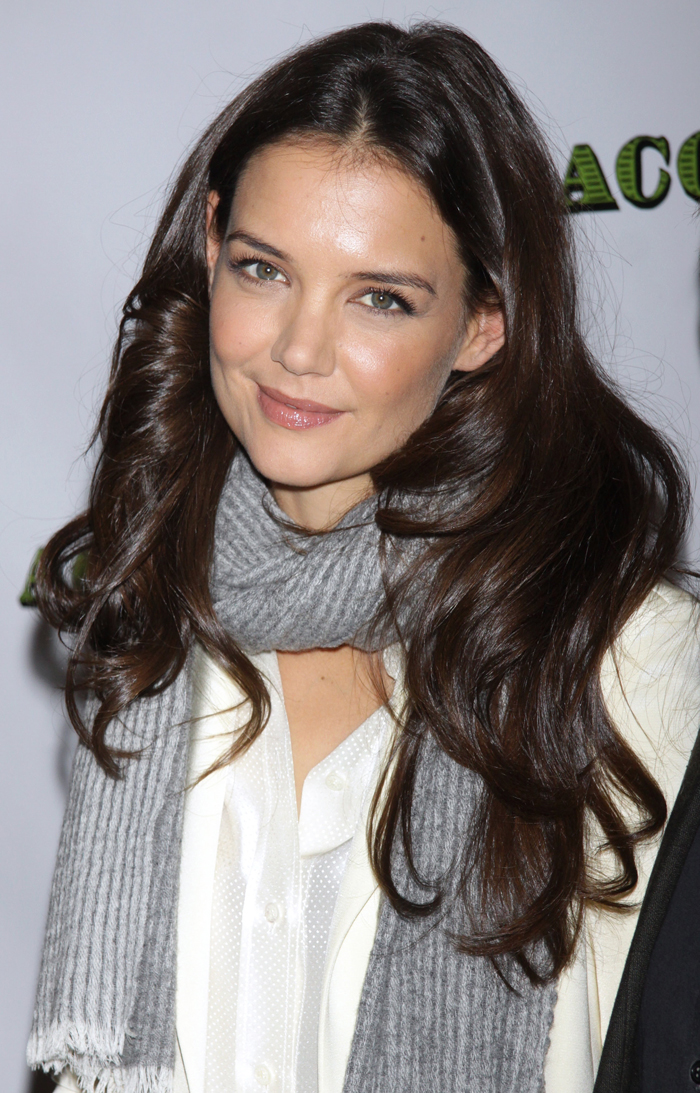 Now onto some more news about how Tom is so lonely and miserable and might allegedly be having a crisis of faith over Scientology. This new spin on the topic even alleges that Tom is more than ready to end his friendship with David Miscavige (thereby ending the most intense bromance in history). I'm not necessarily buying this story at all, but it's still fun to consider:
He's one of the most high profile supporters of controversial religion Scientology, but A-lister Tom Cruise could be leaving the church in a bid to win back his ex-wife. When the couple announced their separation earlier this year, the religion was widely acknowledged to be one of the main catalysts behind it.

Now sources close to the actor have revealed that he might be becoming disillusioned with the church that has helped to destroy his marriage. Speaking to The People, a friend has admitted that Tom might be questioning his involvement with the church:

"Now he's lost the most precious thing in his life, he sees that his Scientology beliefs may not have hurt his box office [success] but have ended not one but two marriages," said the source. Tom joined the church in 1990, during his first marriage to Mimi Rogers, but the religion was blamed for the breakdown of of his second marriage to Nicole Kidman.

Katie, who shocked her husband when she presented him with divorce papers in June, was said to have been concerned with Tom's involvement with the religion and worried for their daughter, Suri. "He lost Nicole and now his wife and daughter. He has always used the Scientology techniques but he has now realised they don't work in marriage," said the source.

The Top Gun actor, who's been spending a lot of time in London recently, shooting his new film Oblivion, has allegedly been cooling his close friendship with the church's leader David Miscavige. "Tom and David have been attached at the hip but this relationship has deteriorated and that, along with the loss of Katie and Suri, is forcing his to question his role in the church. He hasn't lost faith completely but he is blaming Scientology for what has happened,'" said the source.
[From Daily Mail]
I don't believe for one hot moment that Tom would try to get Katie back after their divorce has been finalized. I mean, what's the point of that? He allegedly lovebombed Katie from afar throughout their marriage, and it didn't help matters. It's not like he'd ever change his weird, overcompensating ways (that would be like asking him to give up his precious lifts), and even if he grew a pair of balls and left Scientology (which he won't do), how the hell would he cope? Dude is an empty vessel, and he paid to be programmed in such a manner. I feel sorry for most civilian Scientologists, but the celebrity ones are there because they want to be there. They love getting their asses kissed and treasure the slave labor, and Tom is the king of such indulgences.
So no, Tom isn't changing, and he isn't planning upon leaving the CO$ — ever. He's not going to try and get Katie back either. To put it simply, since he chose not to howl "You've lost that loving feeling" outside her Katie's Chelsea apartment, that means he accepted her decision. Sure, Tom's probably worried about how he'll find his next wife since everyone knows about how his horrific wife auditions really happened, but he at least knows better than to bother Katie now.
Here's some photos of Tom out on the town in London on Friday night and not hanging out with Suri. Again.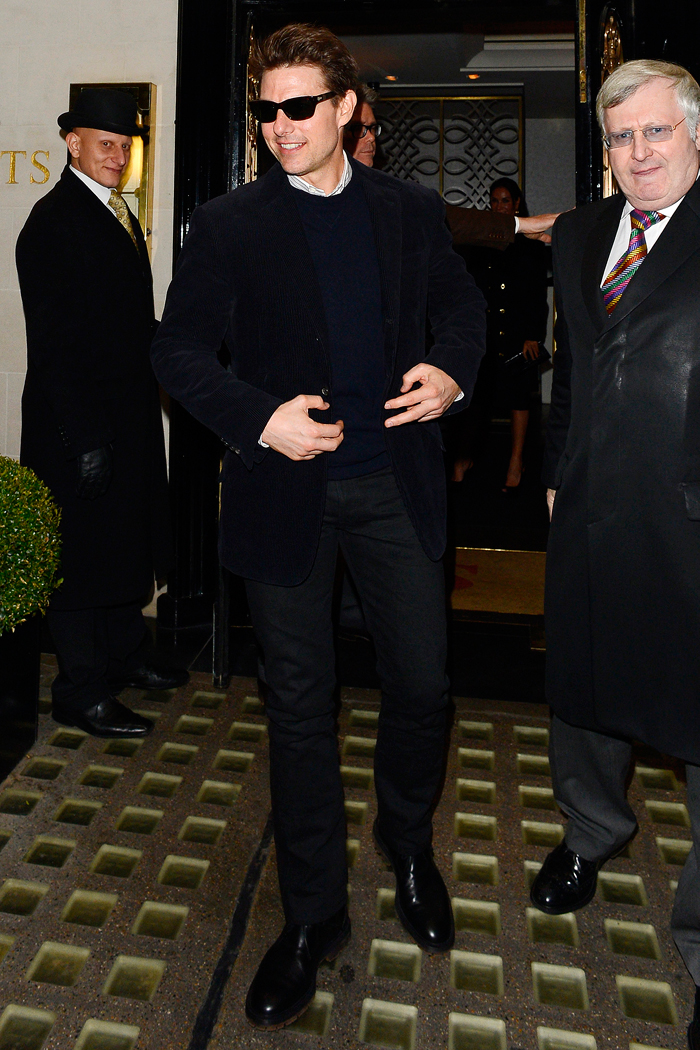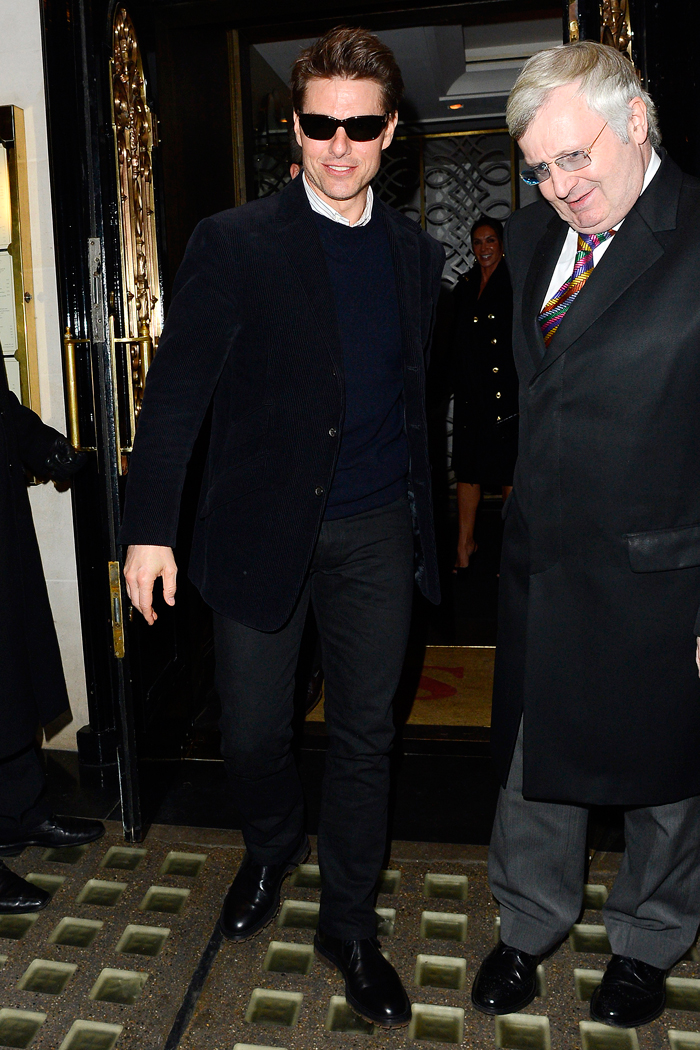 Photos courtesy of WENN