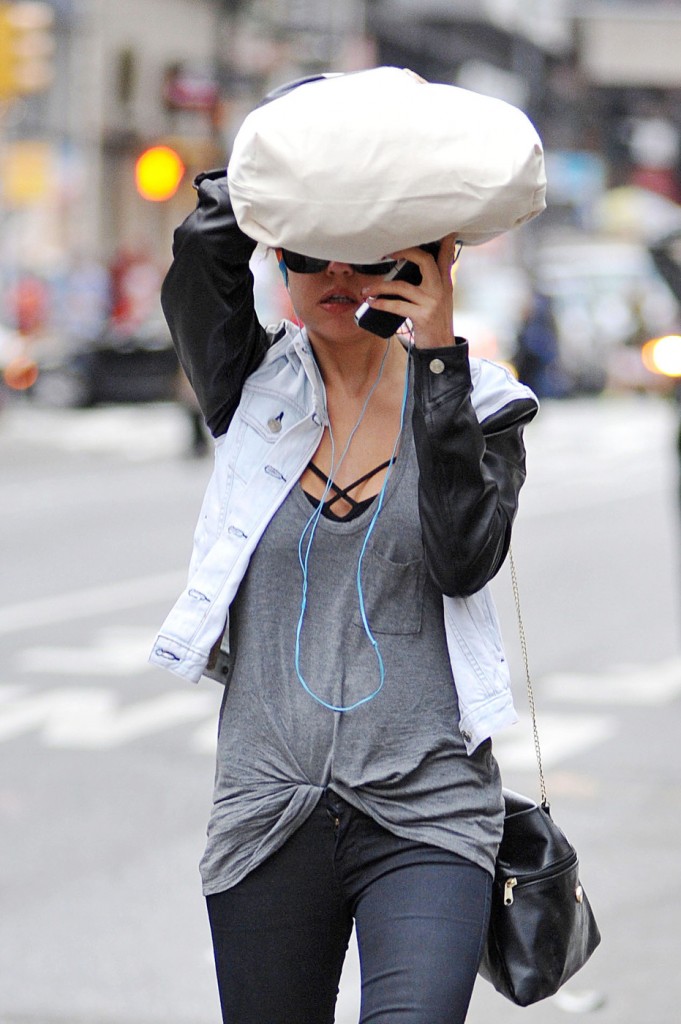 These are photos of Amanda Bynes out in NY on 9-29, trying to hide behind her shopping bag while talking on the phone. I kind of love her shoes. A few days ago, CDAN ran an item floating the theory that troubled actress Amanda Bynes, 26, was somehow faking her breakdown à la Joaquin Phoenix. They wrote that some people claim Amanda "has staged a lot of what has happened," but that they personally don't think she's putting on a show. Amanda seems genuinely disturbed, judging from her multiple hit and runs, and her bizarre behavior in public. She regularly stays in bathrooms in public places for hours, even now that she's in New York. Star Magazine has a new story that isn't as worrisome, but still shows Amanda's having issues. She test drove a Porsche for sale, despite the fact that she couldn't drive a stick, and then asked the owner to drive her around like a chauffeur. That's one way to avoid getting a cab when your license is suspended. Of course Amanda says she's fine:
Amanda Bynes has been terrifying friends and family recently with her very public and bizarre antics. But Star spoke exclusively with the "retired" actress, who claims that she is doing "just fine."

"There is no craziness," Bynes, 26, tells Star when asked about her erratic behavior. "There's no story there. It's all lies." But one man disagrees. The seller of a red Porsche met with Amanda after she saw his ad and asked for a test drive, insisting she could drive a stick shift. "That was certainly a lie," says a source. "After a few blocks, the owner told her to pull over and drover her back to her car." But the odd situation didn't end there. "It got weirder. She asked if he would take her to The Home Depot to purchase some cleaning supplies. She clearly had no intention of purchasing the car. He was livid and told her to get out."

"I wouldn't be surprised if she denied everything," an insider says of the incident. "She seems to be living in a fantasy world."
[From Star Magazine, print edition, October 22, 2012]
Well I hope this all went down before Amanda's license was taken away for good, but probably not. Amanda is now in NY pursuing some kind of fashion career, and The NY Post has a recent item claiming she was in the bathroom of a cupcake bakery for so long that a firefighter had to knock down the door. (It sounds like it was just a coincidence that he was there, although police were called.) That cupcake bakery story was run by Star Magazine last week, (it was in the print edition although we didn't cover it) but it's noteworthy that The Post is confirming it. Star claims the staff shouted at her from the other side of the door "please give us a sign if you are conscious" and she didn't answer.
Bynes was spotted leaving Gotham Lasik Vision on West 57th Street last week wearing the trademark black glasses following Lasik eye surgery — sparking one onlooker to quip, "Perhaps she'll claim in court she keeps crashing because she couldn't see."

A source close to Bynes said, "Amanda wants to stay in New York for a while. She was ordered to formally turn herself in to be booked for hit-and-run on Oct. 21 to be fingerprinted and have her mug shot taken, but her lawyers have managed to get an extension granted, and she doesn't need to return to LA until November."

The source added, "She says she's here trying to take meetings with designers and fashion houses, but, really, she is a lost soul."

Recently, the star acted in bizarre fashion at the Little Cupcake Bakeshop on Prince Street. A witness said, "She was wearing sunglasses at night, tiny shorts and high heels, just walking around staring at the cupcakes — for two hours." Bynes then locked herself in the bathroom for half an hour before a concerned firefighter tried to force the door open. Our spy added, "She said, very calmly, 'Oh, excuse me. I was doing my makeup,' and left."
I'll say what I always say about Amanda – I hope she's ok, I hope she gets help. She's in NY now, though, she's more likely to blend in there even as a celebrity. I'll leave it at that.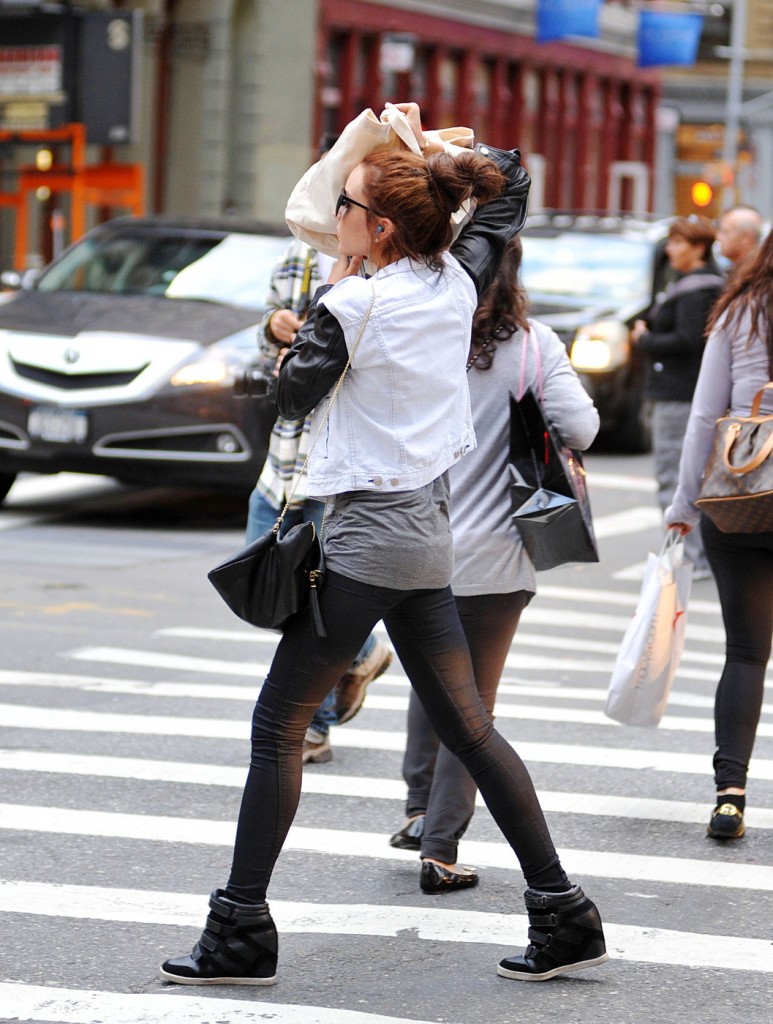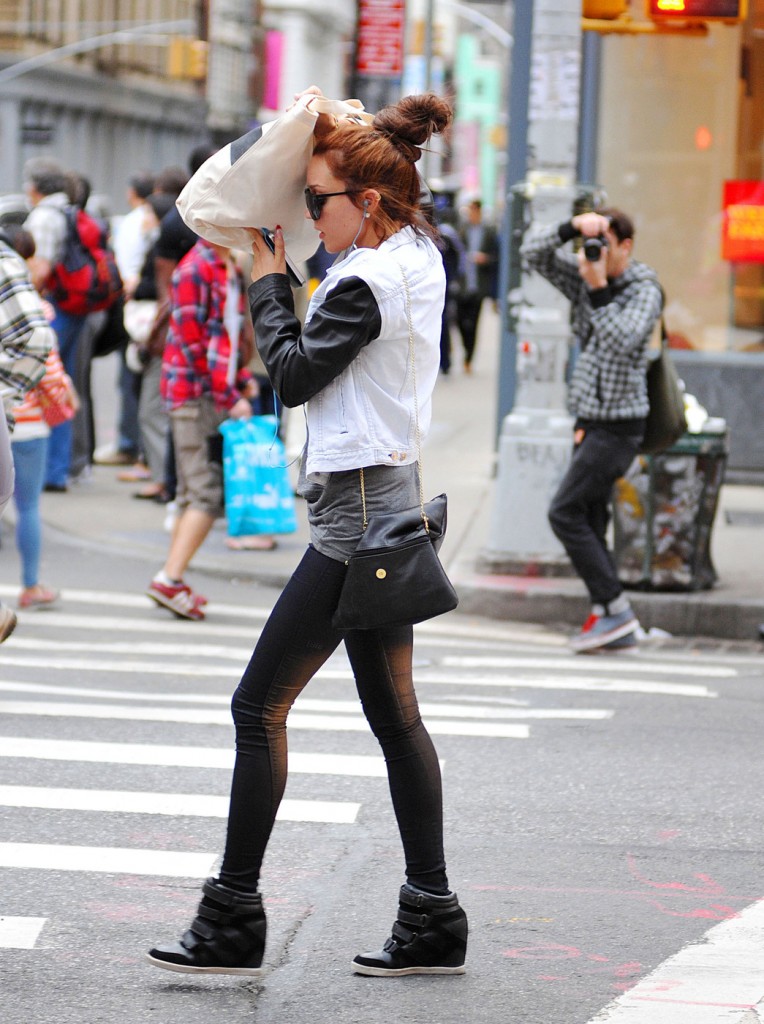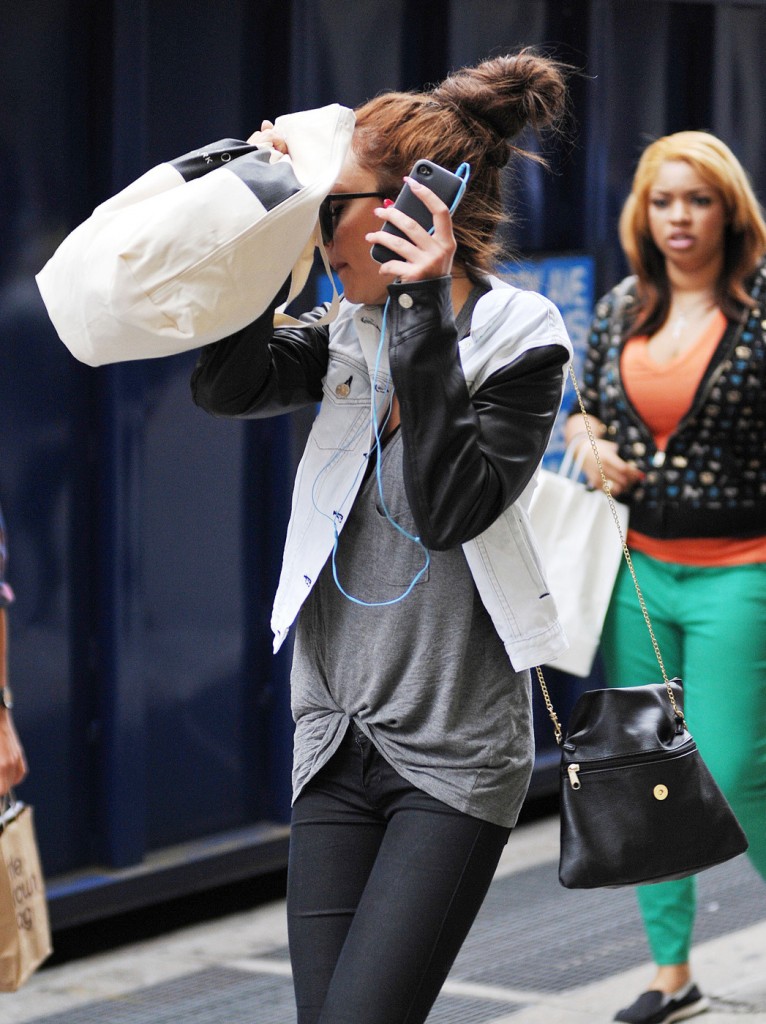 Amanda is shown out in NY on 9-29-12. Credit: TS, PacificCoastNews.com