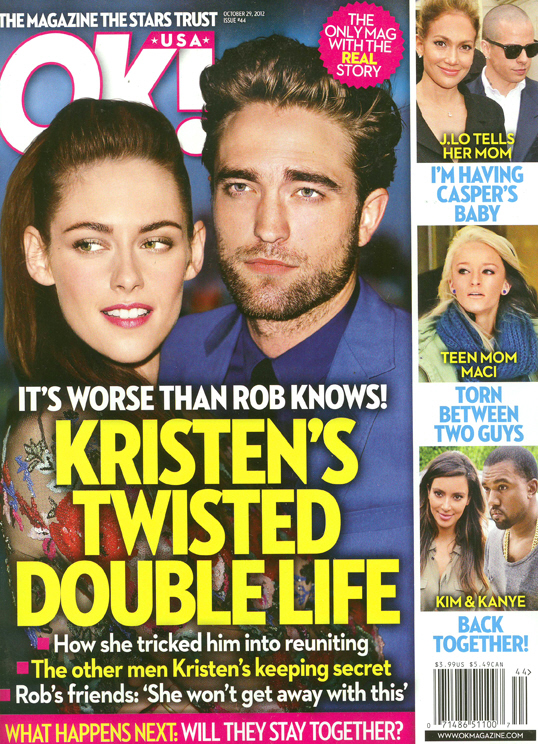 As you can see, Twihard Dramz is still a money-maker for the tabloids this week. Unfortunately, OK! Mag is trying to take Us Weekly's mantle of "Making Kristen Stewart Look Like A Gigantic Trampire". Most of the OK! Mag excerpts I've read are focused on demonizing Kristen and her Biscuit of Trampire Doom. So much so that I go the other way and kind of want to defend her for a second. My default position is "Kristen Stewart is a lip-biting, eye-rolling, bad-attitude'd try-hard," but I think delving into her teenage sexual history might be a trampire-burning too far, you know? Anyway, some highlights from the OK! Mag cover story, plus some additional stories from Star Mag and Us Weekly, all via endless Hollywood Life tabloid excerpts:
*Robert Pattinson's friends tell OK! Mag that "If he ever catches her being unfaithful again — even if t's just a text message or an email — he will dump her… he's taken her off the pedestal. He was so blind to who she really is. Now there's no way he is going to be able to take any crap from her." HARSH. But smart. I actually believe that Rob had her on a "pedestal" before she screwed around.
*OK! Mag says Kristen Stewart was double-dipping in dongs in the early stages of her relationship with Rob. A source says, "When they first got together, she was going back and forth between Rob and her ex-boyfriend Michael Angarano. Eventually she did end it completely with Michael, but it went on or a lot longer than Rob ever knew." The thing about this is that no one really knows when Kristen ended things with Michael and when everything started with Rob. Was there overlap? I'm sure there was. But I kind of think that back in those days, Kristen was just being a teenage baller, you know? She was playing two dudes off one another to get what she wanted.
*OK! Mag completely ruins any credibility (ha) by suggesting that Kristen had a "thing" with Taylor Lautner. A source says, "Everyone knows about their friendship, but not very many people know how close they really got." Allegedly, Kristen "would make excuses to hang out with Taylor when they weren't filming" and "she even lied about it to Rob." Yeah. I'm sure Rob was super-concerned about Taylor too. Hahaha.
*Here's something I do believe: Kristen was boning production assistants while she made Welcome to the Rileys. A source says, "When she worked on Welcome to the Rileys, she had a full-on fling with one of the production assistants. Luckily the guy had a girlfriend, so he was just as paranoid as she was and they kept it pretty well hidden." That just seems in character, I think. I'll believe that.
*Star Mag claims that when Kristen was at the Chateau Marmont earlier this month, she ran into Justin Theroux and DUN DUN DUN she started flirting with him. Star says that "within the first few minutes, Kristen had already begun flirting it up with Justin." Justin was initially with a friend, but the friend left quickly, leaving Justin and Kristen holed up together for an hour. An hour in which Kristen "reportedly laughed continuously at his jokes and at one point even touched his hand." An eyewitness says, "It was kind of surprising to see, but she seemed completely relaxed." Justin cannot be stolen! He's already been stolen from Heidi Bivens! Jennifer Aniston stole him fair and square! Jen-Hens, attack the trampire!
*Us Weekly steps in as the voice of tabloid moderation, I suppose. While sources tell Us Weekly that Rob and Kristen are spending more time together and they're working on their relationship, a source says, "They have the same arguments over and over. It's hard to get past the hurt." And then Rob went to the corner and cried sparkly tears.
A pattern is beginning to emerge, isn't it? It's comparable to what happened to Angelina Jolie in the tabloid universe. I'm not saying "Kristen Stewart is the new Angelina Jolie" in general terms – when Jolie was at her wildest and most self-destructive, she was still a hell of a lot NICER and more professional than Kristen, in my opinion. I'm just making a comparison to the way Kristen is being drawn into a "Villainess" caricature. The Villainess K-Stew! The Villainess Lip-Biter. That's the stereotype. Kristen is being drawn as a bombshell, a wanton woman with an insatiable sexual appetite who uses good men like Kleenex. Wait for it.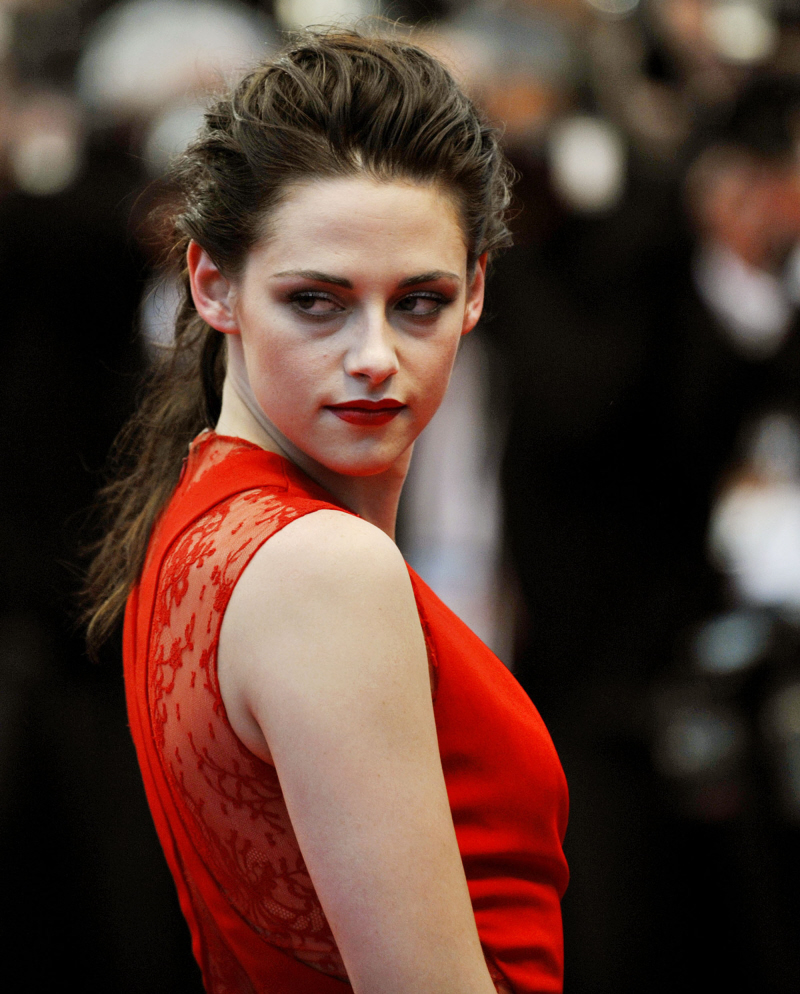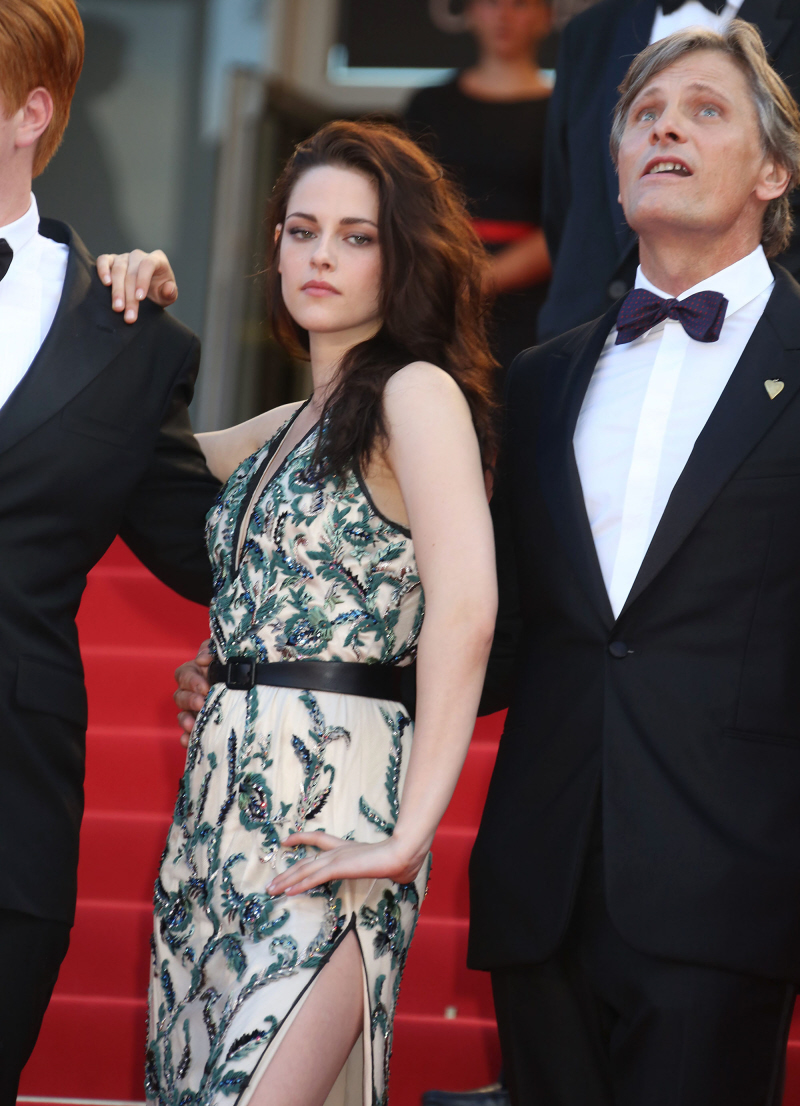 OK! Mag cover courtesy of Jezebel, additional images by WENN.