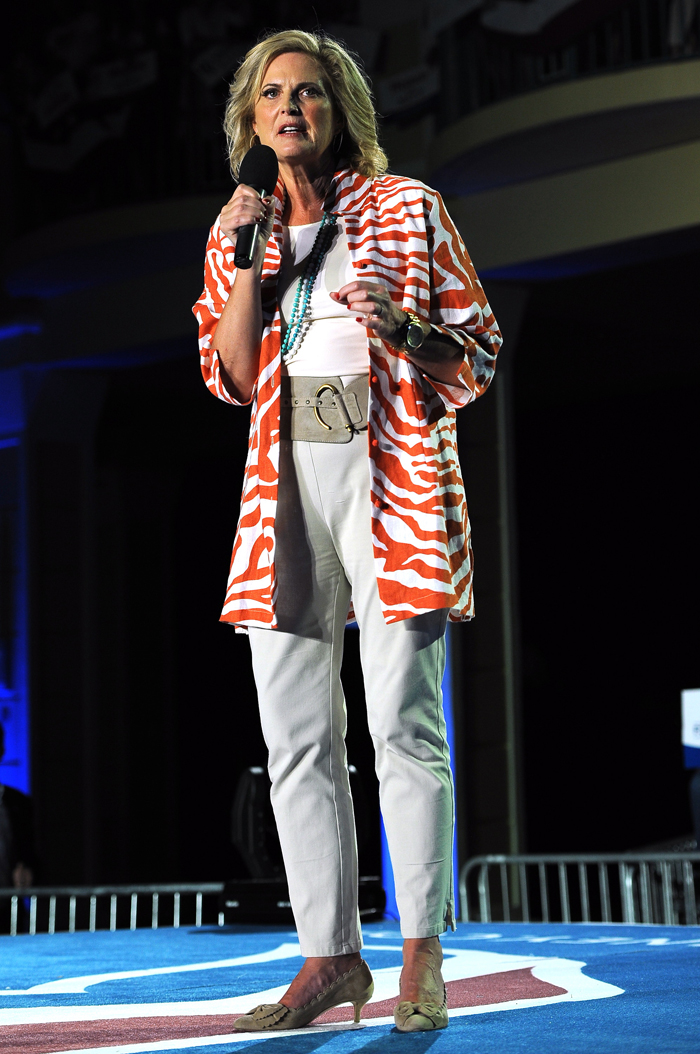 This story is pretty funny because it's probably true. Regardless of politics, has anyone noticed how Ann Romney — despite her husband's enormous wealth (an estimated $250 million) — can't seem to dress to save her own life? One would think that designers would be falling all over themselves to gain exposure for their lines, but apparently, the reality is just the opposite, and there's a pretty good reason for that omission. Enter Anna Wintour, who has raised a total of $2.3 million (thus far) for Obama's re-election campaign and is keen to see her investment protected. Allegedly, Anna is using all of the power in her arsenal to pressure designers into not (voluntarily) dressing Ann Romney for events. Of course, that doesn't stop Ann from selecting and purchasing her own clothes "off the racks," which has apparently caused some major panic amongst those particular designers because no one wants to anger the editor of Vogue magazine. What a hilarious mess: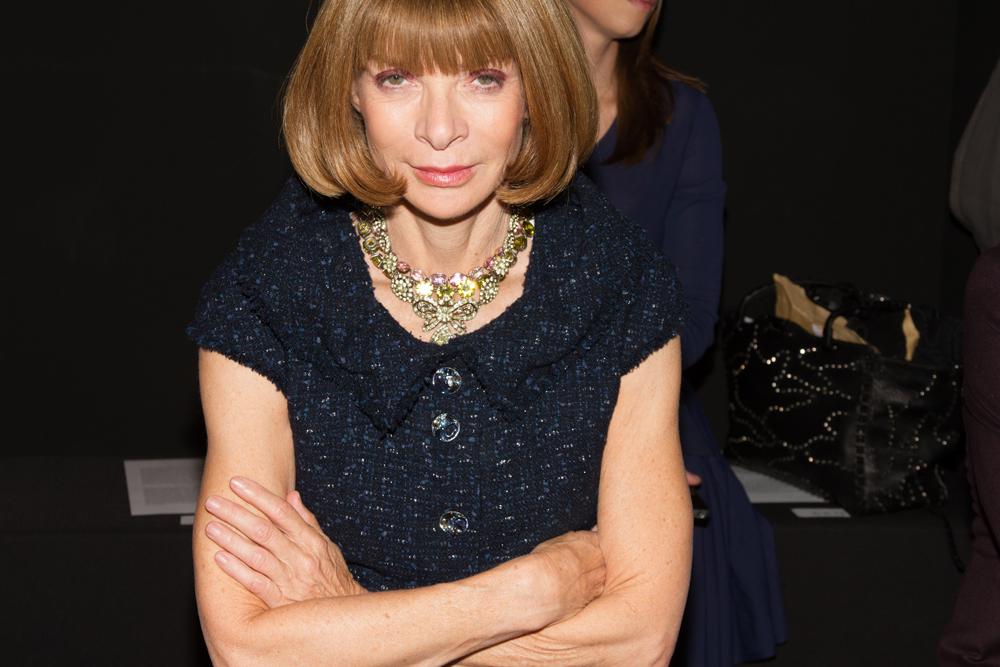 Michelle Obama is a clear favourite in the fashion industry. Her outfits sell out within minutes, designers clamor to dress her, and she counts Vogue's Anna Wintour and J. Crew's Jenna Lyons as supporters.

While fashion publicists routinely send out handfuls of press releases as soon the 48-year-old is spotted in their client's brand, 63-year-old Ann Romney's outfit choices routinely go unclaimed; so much so that many have started asking why.

Some have posed the theory that Vogue's resident Democrat, Ms Wintour, is silently threatening designers' standing in her magazine should they endeavor to dress Republican presidential candidate's wife.

Fashionista wrote: "We receive press release upon press release about Michelle's campaign wardrobe and it's become a major coup for a designer to dress Michelle Obama. But we've yet to receive one–one–about Ann Romney's." For example, after Mrs Romney wore Oscar de la Renta for the first time to the Republican National Convention, the designer's usually vocal press team was silent.

Meanwhile, fashion and news publications quickly received word that Mrs Obama's Democratic National Convention dresses were Tracey Reese and Thom Browne, from their respective public relations teams.

And when Mrs Romney wore a printed Diane von Furstenberg wrap dress, the brand's press team first ignored it. Only after pressure from online media would they state they were "not quite sure how she obtained the dress," revealing that, unlike many public figures, they had not loaned or given Mrs Romney the outfit.

At a Fashion's Night Out event in Manhattan last month, the designer announced to the crowd: "Everyone here better be a Democrat; no Republicans!" Ms von Furstenberg then instructed guests to hurry home and "watch the President [on TV] at 10pm," when he would be giving his DNC speech.

Fashionista's Haley Phelan wrote: "It might be a little awkward to then turn around and dress his opponent's wife – which may explain Diane von Furstenberg's reticence to acknowledge Romney wearing her dress."

Mrs Obama has long been a supporter of emerging American designers, even before she become First Lady, often wearing Mr Wu and Thakoon Panichgul, who afterwards, quickly became household names. However the Runway to Win campaign has been labelled a contributing factor in its contributing designers' willingness to dress Mrs Obama so often.

Fashion publicist Lee Everett of LaunchPad PR told Fox News: "The fashion industry is predominantly on the left," before noting that many brands and designers fear being associated with the Republican party and its marginalizing stances on same-sex marriage and abortion.

Boston-based Alfred Fiandaca is the only designer to publicly lay claim to dressing the "pretty and blonde" Mrs Romney who is often described by the public as today's aesthetic epitome of a Stepford Wife. After Women's Wear Daily revealed the he is the go to designer for the First Lady hopeful, Mr Fiandaca was quick to note that Mrs Romney purchases all of his clothes "off the rack."
[From Daily Mail]
Nobody wants to make Anna Wintour angry! She's got so much power and could make a lot of designers' businesses go to hell in a single season if she merely decided not to feature their lines in Vogue. I guess this is fair though, right? Anna can put her money where she wants and use her power to tell designers not to make Ann Romney look good if she so desires. Republicans have their own support from big business as well, and everybody plays dirty when it comes to politics, so I really don't see the harm in Ann having to pay for her own clothing "off the rack." She just really needs the help of a much better stylist — but maybe Wintour has gotten to them too!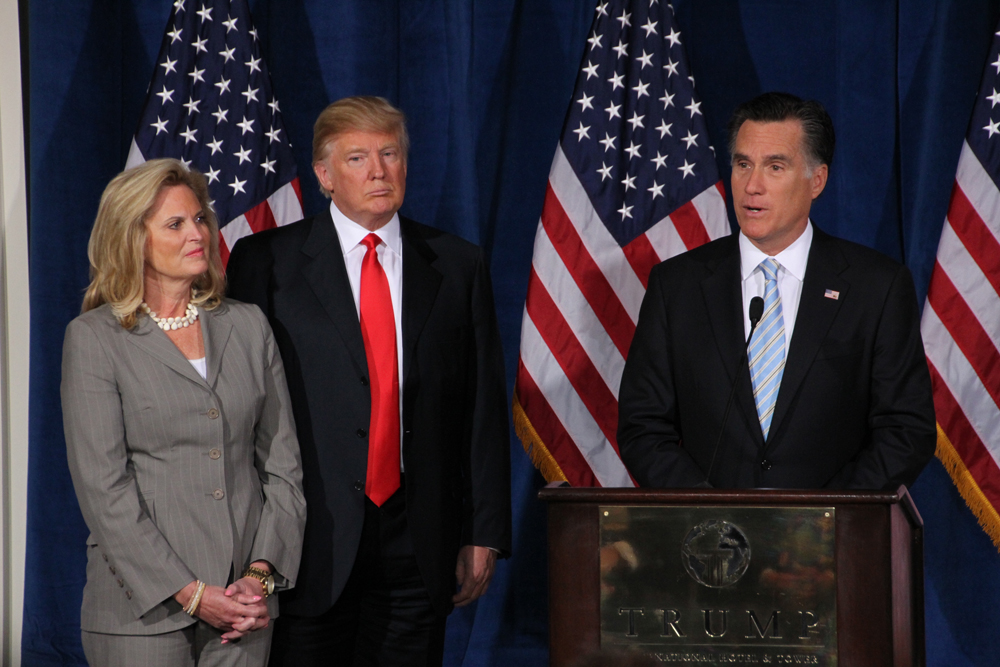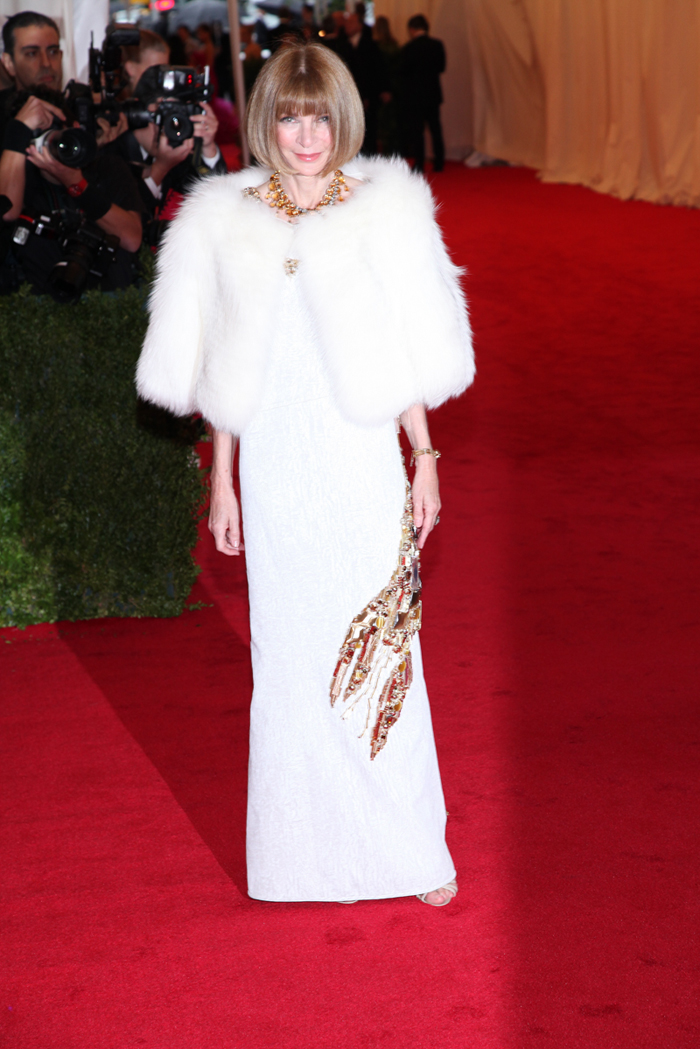 Photos courtesy of WENN