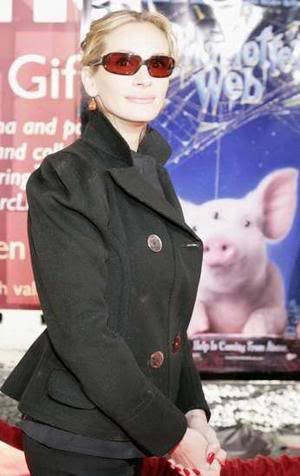 Now that I'm in the states for a short while after the holidays, I've been reading all the gossip rags. There's a story in the latest National Enquirer (which I realize most people don't take seriously, but I still thoroughly enjoy) that Julia Roberts' marriage is suffering because her career has been going down the tubes.
They clearly ran this story, which I'm not really putting a lot of faith in, before the news came out that Julia is pregnant again. She may be having trouble in her marriage, but it also might be hormonally-influenced or fabricated by The Enquirer or whatever.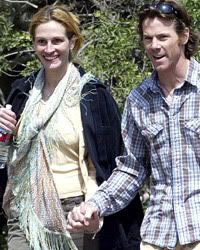 Here's what they're saying:
According to insiders, Julia's been subjecting Danny to long-winded rants about her fears [about her waning career], but when he tells her not to worry, she flips out.

"Julia screams: 'You think this is no big deal? This is my career we're talking about! It's a very big deal… at least to me, it is!'" said the source.

Julia's seething because she feels she supported Danny's career ambitions while she raised the kids, says the source. And now that she's ready to get back to work, the insider says she doesn't feel Danny's being as supportive as he should be.

Since Hollywood is not knocking down her door with big film offers like when she was younger, Julia's been developing her own projects through her Red Om Films, which is being run by Danny's brother-in-law, producer Phile Rose.

"Julia's had to learn the hard way that in Hollywood, out of sight is out of mind," said the source.

However, insiders point out that Julia isn't helping herself or her career by donning the bizarre bag lady look she sported at the recent premiere for the kid flick "Charlotte's Web."
[from The National Enquirer print edition January 15, 2007]
Commentors on the always-heated threads about whether Angelina Jolie is a husband-stealer note that Julia Roberts should be the subject of people's ire, too, since she broke up Danny Moder's marriage. Reader frewtloop points out that Julia Roberts once wore a hand-scrawled T-Shirt with the words "A Low Vera" on it, which was a stupid play on words referencing Moder's estranged wife, Vera. Julia was reportedly pissed off that Moder's wife wasn't jumping to sign divorce papers that would have freed him up to marry Julia in early 2002. They were married in July, 2002.
It seems like Angelina is a much easier target for jilted wives since she's so much more in the spotlight. According to this article, that must really piss off fellow husband-stealer Julia.
All this to-do about Julia's career affecting her marriage doesn't seem as likely now that the news is out that she's expecting her third child, due this summer.