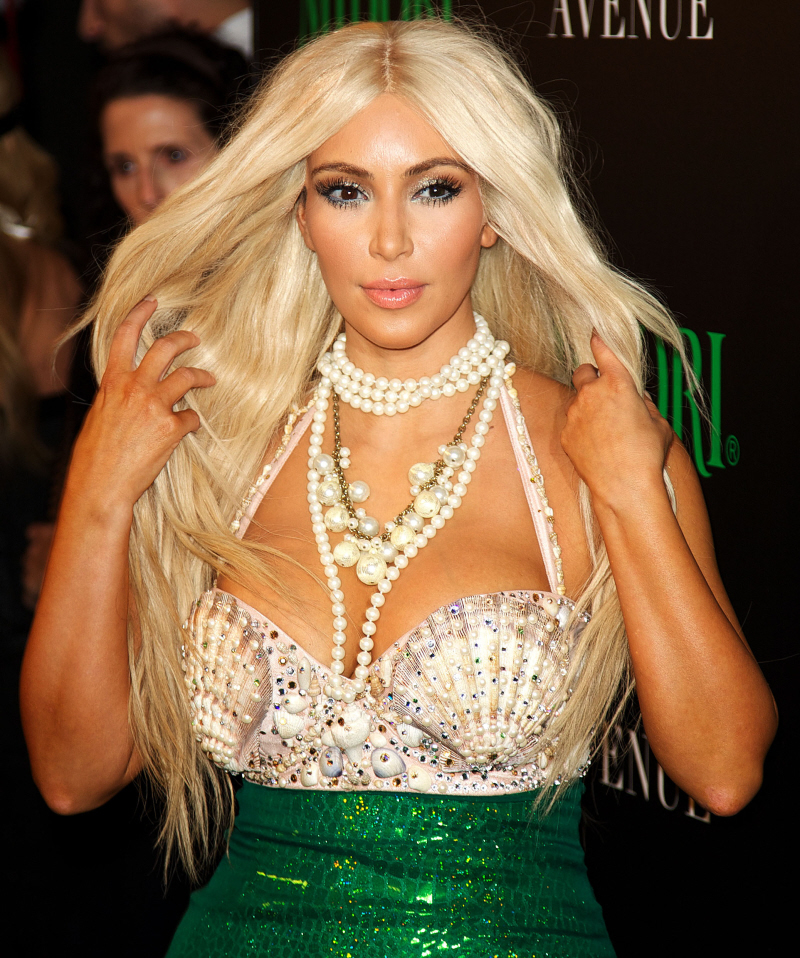 As we discussed over the weekend, Kim Kardashian dressed up as a really awful version of Darryl Hannah's mermaid in Splash for a Midori-sponsored Halloween party. Kanye came with Kim to the event, but Kanye did not dress up. People Magazine reported that this busted, trashy-looking blonde wig actually set Kim back $2000. FOR REAL? For that kind of money, Kim Zolciak could assemble 20 of her Barbie wigs. And Zolciak's wigs look more natural than Kim's.
Now we also know why Kanye was so interested in hanging out with blonde Kim, by the way. An eyewitness told People Mag, "Even though the group was lively throughout the evening – posing for pictures, dancing, ordering bottles of Midori – Kanye stole a couple of sweet moments with Kim. They kissed a few times and he was rubbing her back. At one point, she whispered something in his ear and his face lit up. Kanye kept bragging to his friends about how beautiful Kim looked. And that he loved her as a blonde!" Oh, 'Ye. Don't do it. Don't encourage her to do it, dude. She'll go blonde if you tell her to! DO NOT TELL HER TO DO IT. Oh, too late:
If you ask Kim Kardashian, blondes just might have more fun! Channeling Darryl Hannah in 1984′s Splash for her 2012 Halloween costume — a blonde, fishtailed mermaid — the reality star loved her look so much that she tells Us Weekly she might adopt it permanently.

"I would go blond! I think it's fun, you know? I'm going to keep it on for at least a night and see if it's true that blonds really have more fun," Kardashian, 32, told Us Weekly at the Oct. 28 Midori Halloween party she hosted — as part of her duties as the brand's spokeswoman.

With boyfriend Kanye West on her arm as her captain dressed in naval attire, Kardashian no doubt had a drastically different Halloween 2012 than 2011. Last Oct. 31, the star — currently filming her E! spinoff Kourtney & Kim Take Miami in Florida — filed to divorce husband Kris Humphries. Married for just 72 days, the couple's divorce drama continues to drag out, and will carry over well into 2013.

"My life has definitely changed a lot in the last year," reasoned the reality star at Saturday's bash. "Change is different if you're not used to it, but I think my life has changed for the better and I've become better."

"I feel more confident and more wise," continued Kardashian, who has dated longtime family friend West, 35, since March. "It's like you get to a place and you just know what you want."
I'm fully expecting dozens of comments about "Why are you talking about her, she's fat/dumb/boring" etc. But that's just it, isn't it? There will be so many comments. Plus, I actually like writing about her. I don't have to think about it too much. And you know what? I want her divorce from Kris Humphries to come through so Kim and Kanye can actually take this junk to the next level. Because that will be fun too.
Party photo of Kim and Kanye below is courtesy of Tom Murro at Celebrity Magnet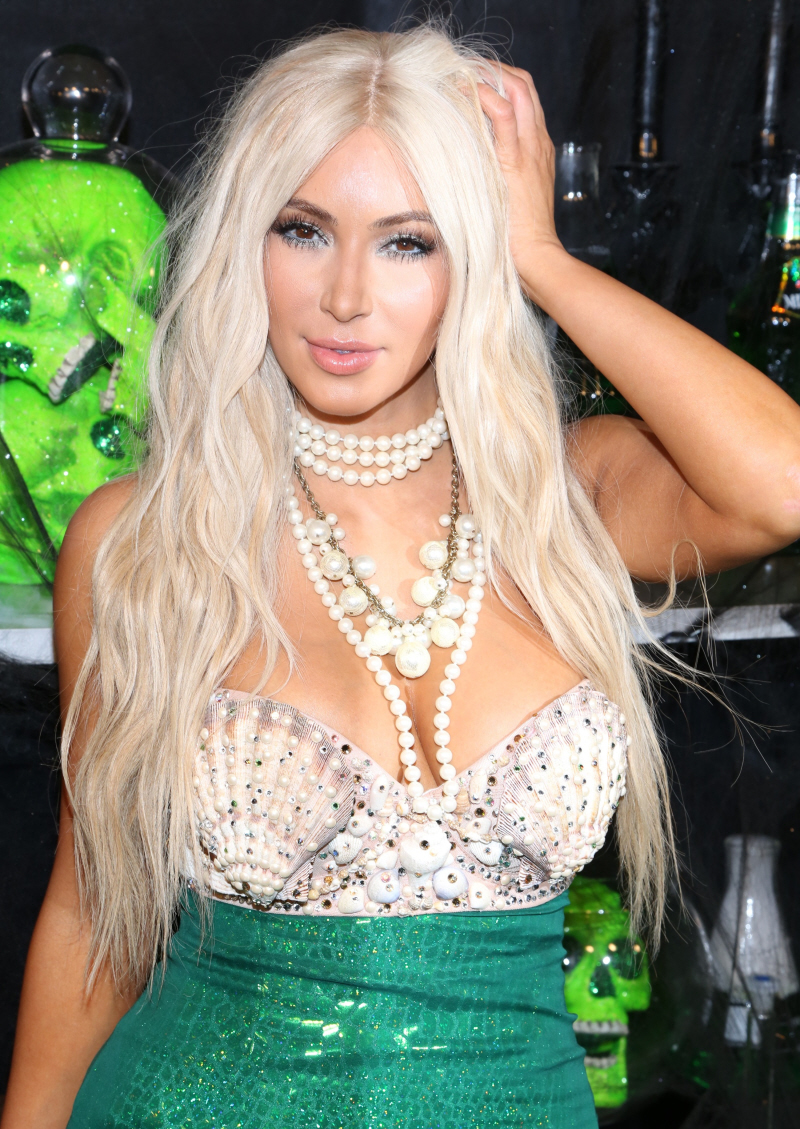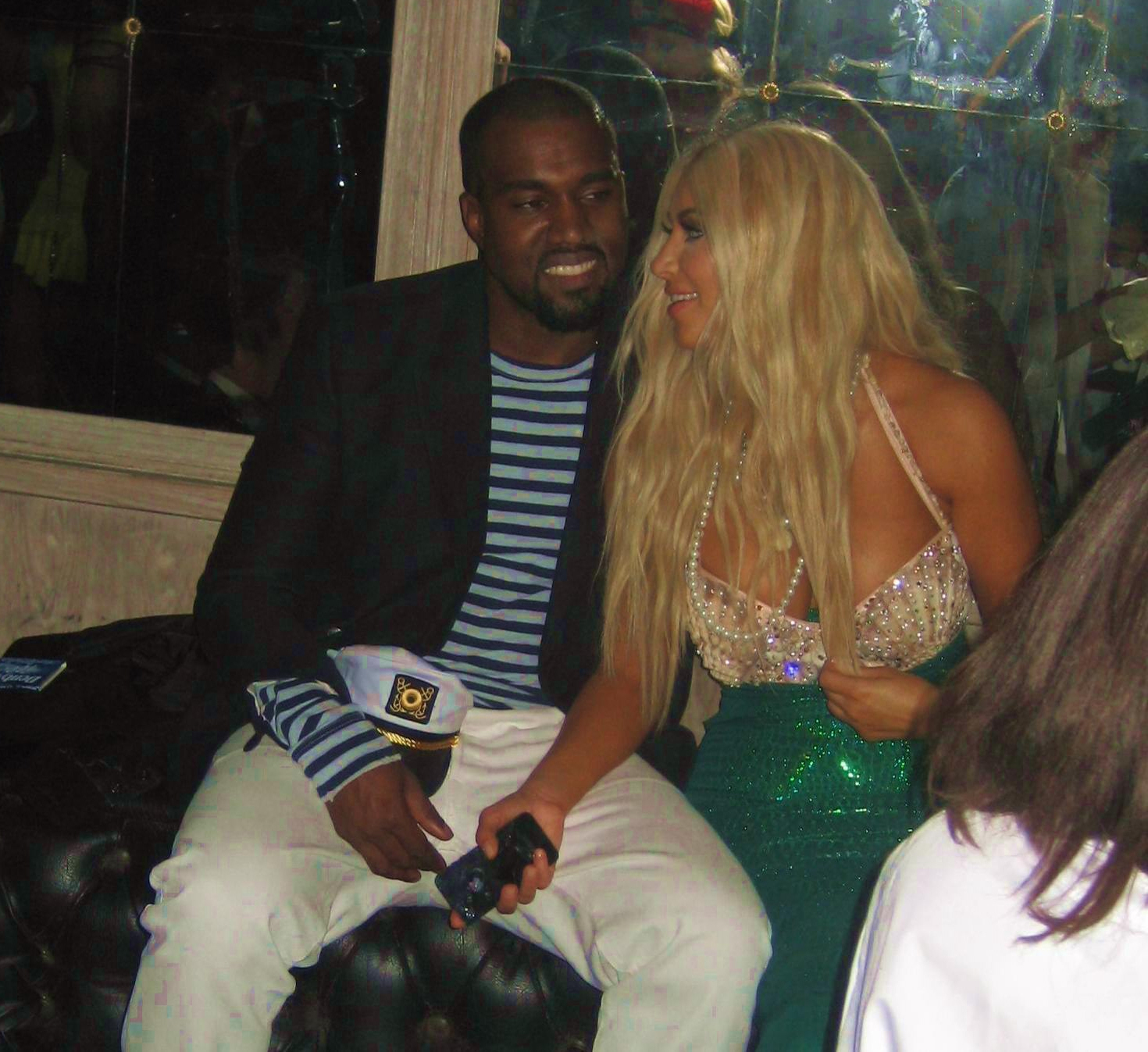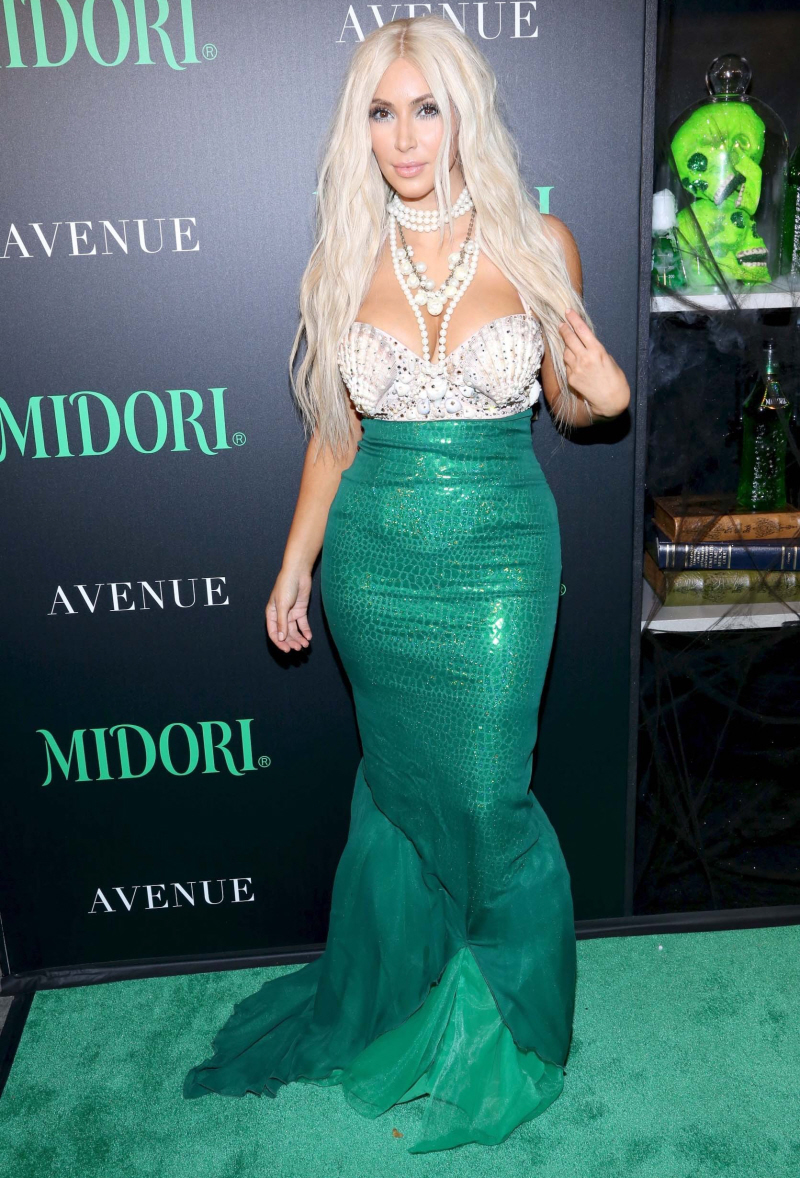 Photos courtesy of Tom Murro (thanks Tom!) and WENN.