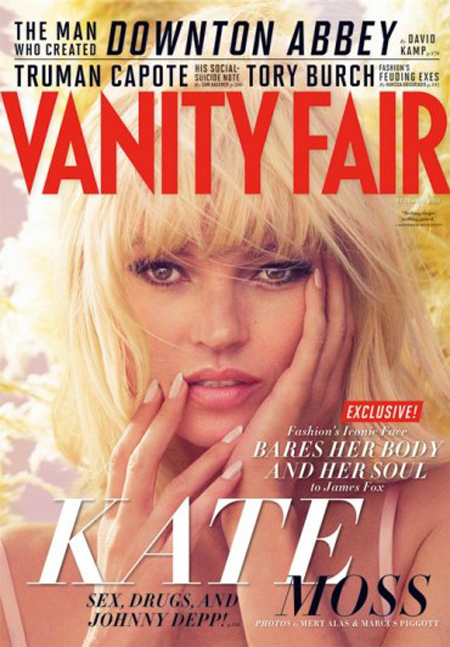 Kate Moss covers the December issue of Vanity Fair, and we've already discussed a few of the early excerpts that leaked concerning Kate's claim that she never did heroin and wasn't anorexic. Now VF has released a few photos and much more of the interview, and I have to say that I am surprised at how much Kate is revealing here. While she is pushing her massive coffee table book, Kate: The Kate Moss Book, it's still quite odd that Kate feels the need to "tell all" in a sense. She's never been one to be interviewed (I think the first in-depth talk she gave was when pushing the first installment of her Topshop line several years ago), and I figure she harbors plenty of scandalous secrets that she'll take to her grave. So it's strange that she's talking about her feelings for Johnny Depp here at all beyond a cursory surface sentence. Here are some excerpts:
Staying in character: "I don't want to be myself, ever. I'm terrible at a snapshot. Terrible. I blink all the time. I've got facial Tourette's. Unless I'm working and in that zone, I'm not very good at pictures, really. On my wedding day, I'm like freaking out, obviously. 'You've got to give me a character.' And [John Galliano] said, 'You have a secret–you are the last of the English roses. Hide under that veil. When he lifts it, he's going to see your wanton past!'"

Regrets over her 1992 Calvin Klein shoot: "I had a nervous breakdown when I was 17 or 18, when I had to go and work with Marky Mark and Herb Ritts. It didn't feel like me at all. I felt really bad about straddling this buff guy. I didn't like it. I couldn't get out of bed for two weeks. I thought I was going to die. I went to the doctor, and he said, 'I'll give you some Valium,' and Francesca Sorrenti, thank God, said, 'You're not taking that.' It was just anxiety. Nobody takes care of you mentally. It was just really weird–a stretch limo coming to pick you up from work. I didn't like it. But it was work, and I had to do it."

On being shot by Corinne Day for The Face: "I see a 16-year-old now, and to ask her to take her clothes off would feel really weird. But they were like, If you don't do it, then we're not going to book you again. So I'd lock myself in the toilet and cry and then come out and do it. I never felt very comfortable about it. There's a lot of boobs. I hated my boobs! Because I was flat-chested. And I had a big mole on one. That picture of me running down the beach–I'll never forget doing that, because I made the hairdresser, who was the only man on the shoot, turn his back."

More on "heroin chic": "I had never even taken heroin–it was nothing to do with me at all. I think Corrine–she wasn't on heroin but always loved that Lou Reed song, that whole glamorizing the squat, white-and-black and sparse and thin, and girls with dark eyes. She loved that look. I was thin, but that's because I was doing shows, working really hard. At that time, I was staying at a B and B in Milan, and you'd get home from work and there was no food. You'd get to work in the morning, there was no food. Nobody took you out for lunch when I started. Carla Bruni took me out for lunch once. She was really nice. Otherwise, you don't get fed. But I was never anorexic. They knew it wasn't true–otherwise I wouldn't be able to work."

On Johnny Depp: "There's nobody that's ever really been able to take care of me. Johnny did for a bit. I believed what he said. Like if I said, 'What do I do?,' he'd tell me. And that's what I missed when I left. I really lost that gauge of somebody I could trust. Nightmare. Years and years of crying. Oh, the tears!"

On the tamer life: "I don't really go to clubs anymore. I'm actually quite settled. Living in Highgate with my dog and my husband and my daughter! I'm not a hell-raiser. But don't burst the bubble. Behind closed doors, for sure I'm a hell-raiser."
[From Vanity Fair]
That part about Johnny is interesting, isn't it? I wonder what husband Jamie Hince thinks of her answers. I've always thought that Kate was still (to this date) kind of hung up on him (or rather, the old Johnny), and she even admitted (in passing) during a Dazed & Confused interview in the late 1990s that she had never gotten over him after several years. Oddly enough, that interview was with Jefferson Hack, with whom Moss went on to have a relationship with and to spawn daughter Lila Grace. So maybe guys who date Kate Moss have always realized that they'll never top Johnny, and they don't mind. If you ask me (and you clearly haven't), Kate totally dodged a bullet when she left Johnny. She didn't have to be the one who dealt with his ridiculous mid-life crisis.
By the way, this is a very Bridget Bardot-inspired photoshoot. Does Kate pull it off?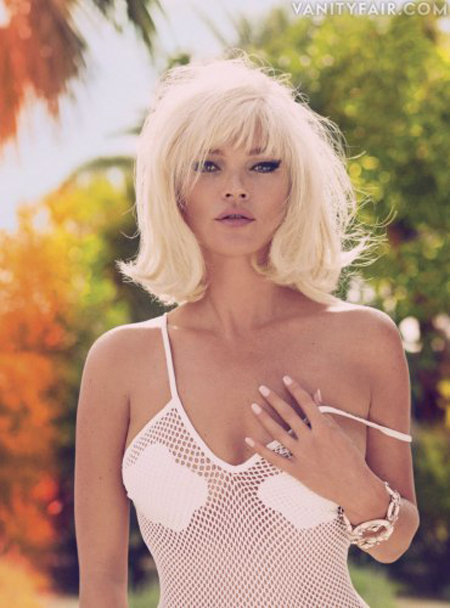 Photos courtesy of Vanity Fair