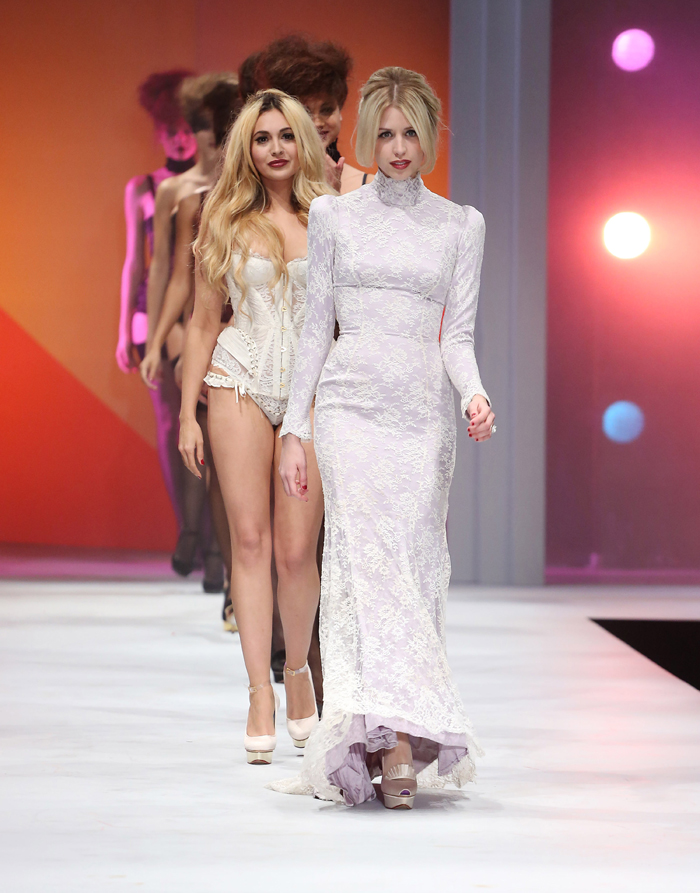 Peaches Geldof is profiled in the December issue of Elle UK, and I've included the magazine's sole photo of her below, but I also wanted to include some pictures of Peaches at the Agent Provocateur fashion show in London on 10/24. She looks pretty good here, right? And she's also fairly classy looking considering that she's flanked by bunch of bra-and-panty clad models while they all sashay down the runway. Peaches has a history with the company and previously modelled for them in their Season of the Witch campaign, and she probably made some nice change for this runway gig too.
For whatever reason (her name, obviously), the London fashion scene has always embraced Peaches, and she is most often photographed these days at fashion events when she's not posing with baby Astala on her Twitter page. Her Elle UK interview makes it rather obvious that, at least as far as appearances are concerned, she's cleaned up her act for good. It's easy to forget that Peaches lost her mother, Paula Yates at age 11, but I think becoming a mother herself has helped her heal a bit. Here are some excerpts: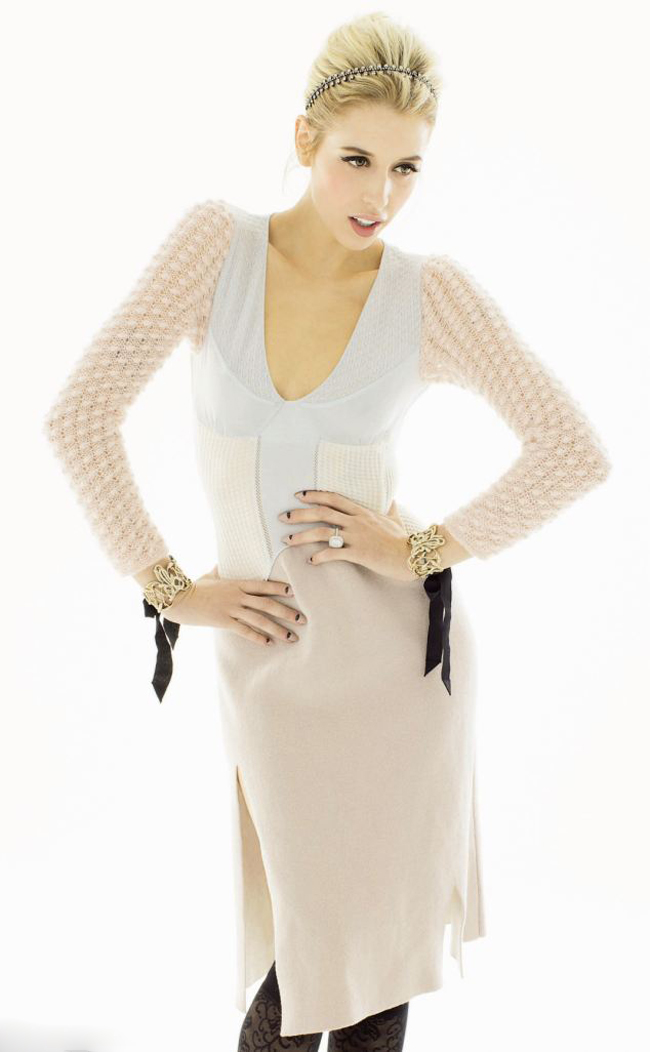 Her parents divorced when she was 7: "My parents had gone through a very public, bitter divorce and I was very much old enough to see what was going on. People talked about us and I knew it was horrendously bad. I was completely aware of the whole situation, the transition of my mother who was amazing, who wrote books on parenting, who gave us this idyllic childhood in Kent' and who then turned into this heartbroken shell of a woman who was just medicating to get through the day. On top of that, there was my father who was very embittered and depressed about it and for us children, an environment that was impossible, veering between a week with my mother that was complete chaos, and then with my father, which was almost Dickensian — homework, dinner, bed — because he was trying in his own way to combat what was going on at my mother's. It was like living on a permanent see-saw and very scary and sad. Those feelings have always stayed with me, they just never went away."

On Paula Yates' death: "I remember the day my mother died, and it's still hard to talk about it. I just blocked it out. I went to school the next day because my father's mentality was 'keep calm and carry on.' So we all went to school and tried to act as if nothing had happened. But it had happened. I didn't grieve. I didn't cry at her funeral. I couldn't express anything because I was just numb to it all. I didn't start grieving for my mother properly until I was maybe 16."

On Paula's memory "I don't blame her, I'm not angry with her, I understand her… I honestly understand what she was going through."

About that party girl image: "I did experiment with drugs, I did get drunk and go to parties, but I was never that wild. I could have been, I could have let myself spiral but all the time I remembered what happened to my mum."

On Astala: "His birth was like a rebirth for me, and I honestly never thought anything in my life would ever be good. I'm obsessed with getting it right. The second I held him it was like this missing piece of my life being put into place; everything started to heal. The very worst thing that happened to me started with my parents''divorce, it really affected the rest of my life. Even if it's an archaic idea I want Astala to have a mummy and daddy together for ever. It's a commitment. I want to be a good wife, a good mother, a good person."
[From Elle UK]
I think Peaches takes being a mother very seriously, and the situation with her mother is simply tragic. However — and if you don't mind me being superficial — can I just say that she looks so much better these days than when she was living in Los Angeles and dating Eli Roth? No more fake orange tan and no more trashy nip slips on the red carpet. Peaches looks lovely and healthy here. Let's hope the trend continues.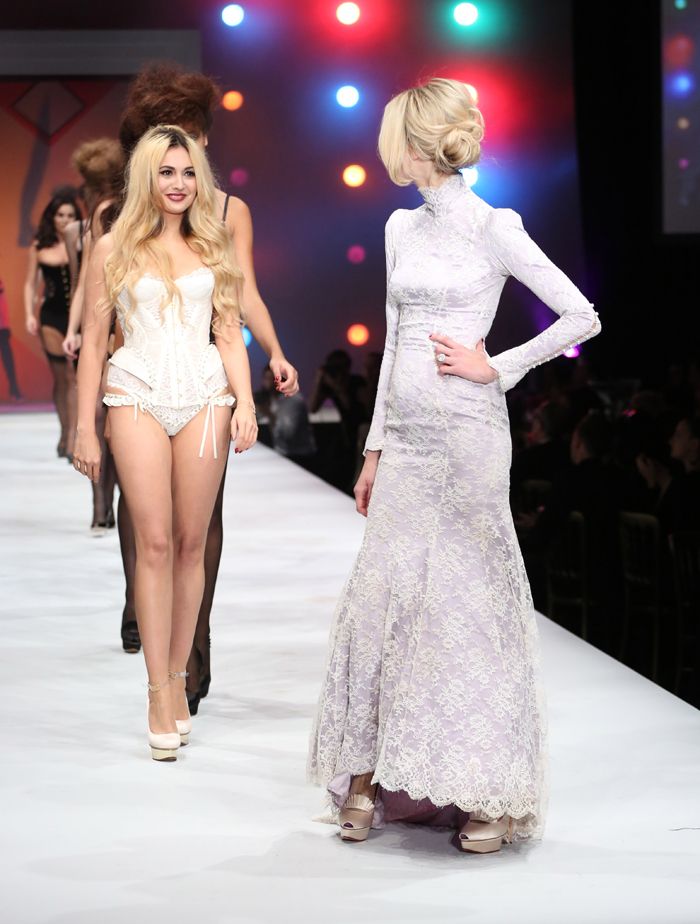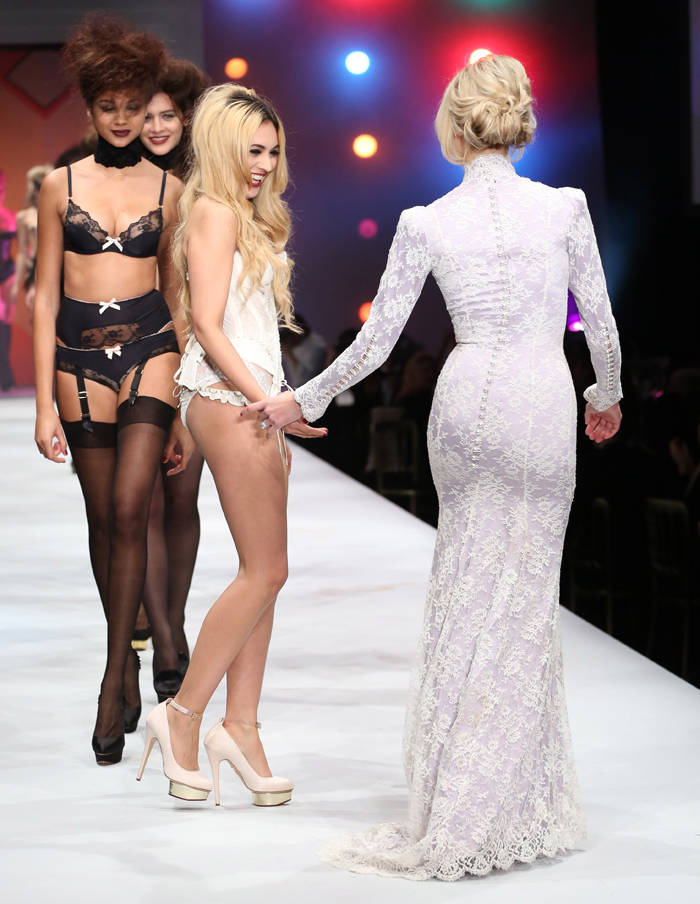 Photos courtesy of Elle UK and WENN