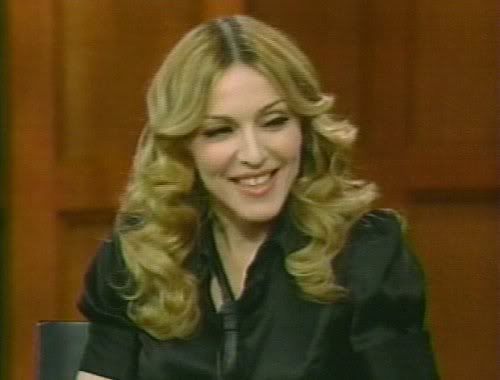 Last night on David Letterman, Dave brought up the issue of stars without their panties and reminded Madonna that she gave him a pair of her panties once and he said he still has them. Madonna said "maybe you could send them to Britney."
She said she's "cut off from a lot of these stories" since she lives in England and apparently doesn't watch TV, read a newspaper or use the Internet. She said she came to NY and the first thing she heard "was about everyone not wearing their underpants."
And here's a clip from Madonna's famous 1996 appearance on Letterman, she says the f word 13 times and it's not censored so it's NSFW. She may diss Britney now, but she was just as bad in her own way. She's smoking a cigar and accuses Dave of being obsessed with her:

Madonna recently said that she and Britney "just drifted apart" and said she never saw her again after their famous kiss at the VMAs, which made it sound like a one night stand. There's speculation that Britney's very public diss of Madonna's Kaballah cult has more to do with their lapsed friendship than Britney's fall from grace. It looks to me like Madonna is just bringing up Britney's name to get headlines, and it seems to be working for her.
Madonna's face looks a little different somehow and people are speculating that she's had some work done recently.
Madonna's most recent Letterman video is courtesy of TMZ.