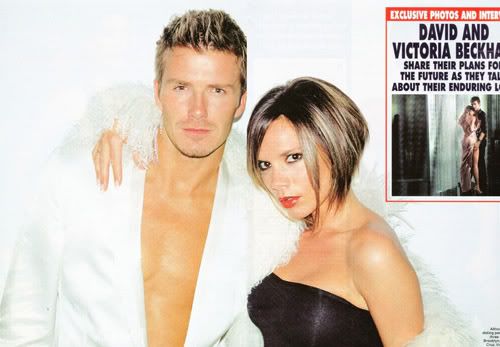 You've undoubtedly heard that David Beckham has scored a five year, $250 million contract with The Los Angeles Galaxy soccer team after leaving Real Madrid. Britain's World Cup team may think his celebrity distracts from the game, but in America it will only bring viewers and publicity to a less popular sport. David has a children's soccer academy that is run out of the same home stadium of his new team and it seems like a smart move for him.
I heard an interview with Beckham on CNN and he said "my reasoning for moving over there are… to provide opportunities for other players." He said he loves working with kids in his soccer academy. He also said that living in LA will be a great experiene for his entire family.
CNN also interviewed the editor of US who said that David and Victoria have the opportunity to become the next Hollywood power couple, since they've all broken up. He seems to have forgotten about Brangelina.
Posh was recently seen looking at homes in LA, and now that her husband's career is moving there we're sure to see her out shopping with Katie Holmes. People say that it's only a matter of time before David and Victoria convert to Scientology, but I give them more credit than that. Even though they come off as dumb they seem kind of savvy to me in their own way, and I bet they'll stay away from the cult.
The Holy Moley newsletter, which publishes a lot of crap but I run it anyway, claims that Posh's new short hairstyle isn't any more real than her super-long extensions. They say she's lost a lot of hair due to anorexia, and is using filler hair or something.
Luckily for Posh, one of the biggest industries in American prisons is providing real hair for use in extensions. Victoria's people have made a large issue of the fact that she has recently got rid of her lengthy extensions in order to sport a more natural look.

The truth is somewhat more hair-raising. She still has a full head of hair extensions, though much shorter. One of the crueller side effects of eating disorders is the loss of hair on the crown of the head. And the growth of Brian Blessed-type mutton chop whiskers on the cheeks.
It sounds like speculation to me and I bet her hair is real.