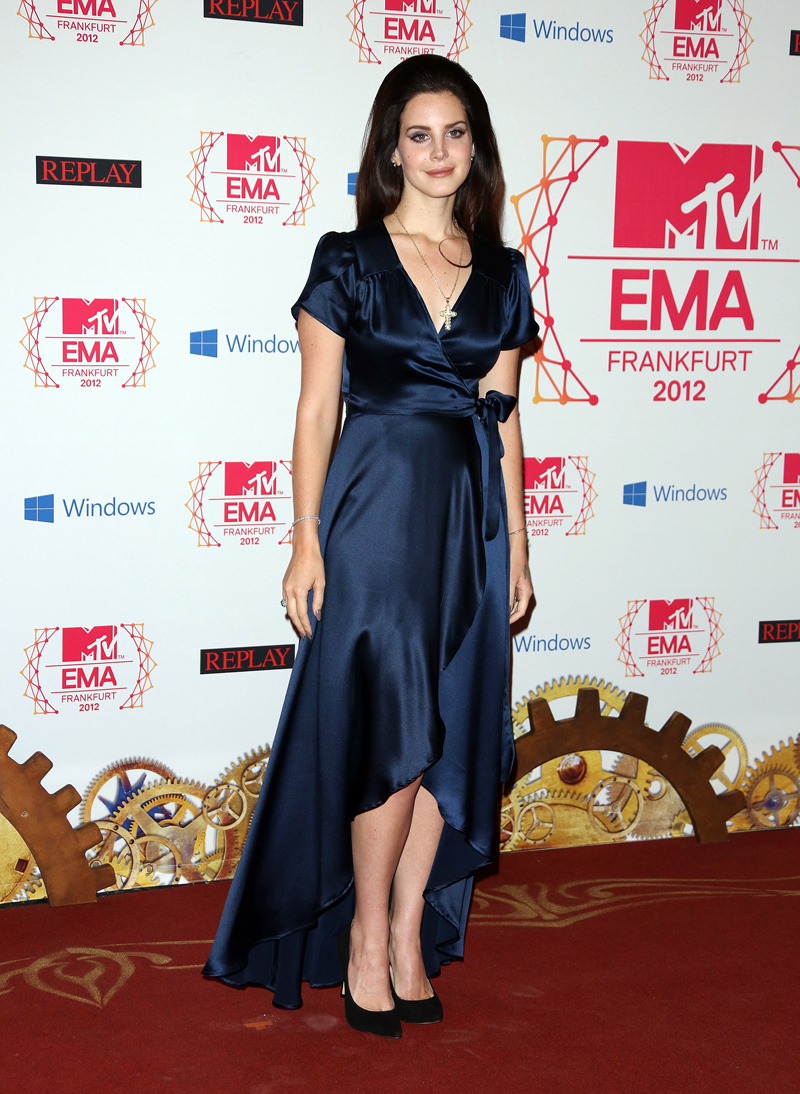 Here's Lana del Rey at the MTV EMAs ceremony held last night in Frankfurt, Germany. Per her usual red-carpet and photoshoot routine, the big lips and big hair are fully intact. Oddly enough, I don't mind this dress very much at all. The sapphire blue is a lovely color next to Lana's hair and skin, and I think this is one of the rare cases where a mullet back actually makes the dress more interesting. Lana was also spotted hugging up on Taylor Swift at the event too. Draw your own conclusions on that one.
For the next week or so, I am fully prepared to weather a Lana del Rey publicity onslaught for her upcoming release of the Born To Die — The Paradise Edition record, which comes out on November 19. At the moment, the convenient focus relies upon Lana's latest release, "Cola," which you can hear the (NSFW) lyrics to here. The first line of the song is "My p-ssy tastes like Pepsi Cola," and Lana is insisting that her boyfriend effectively wrote that intro. Like, she says that is his assessment of how her (to borrow a term from Kaiser) biscuit tastes. Now I don't personally have a frame of reference to assess whether this is actually possible, but I've asked several dudes, who are like, "Uhhh, no way." Here's what Lana has to say about it (and here's a picture of her boyfriend, Barrie-James O'Neill too):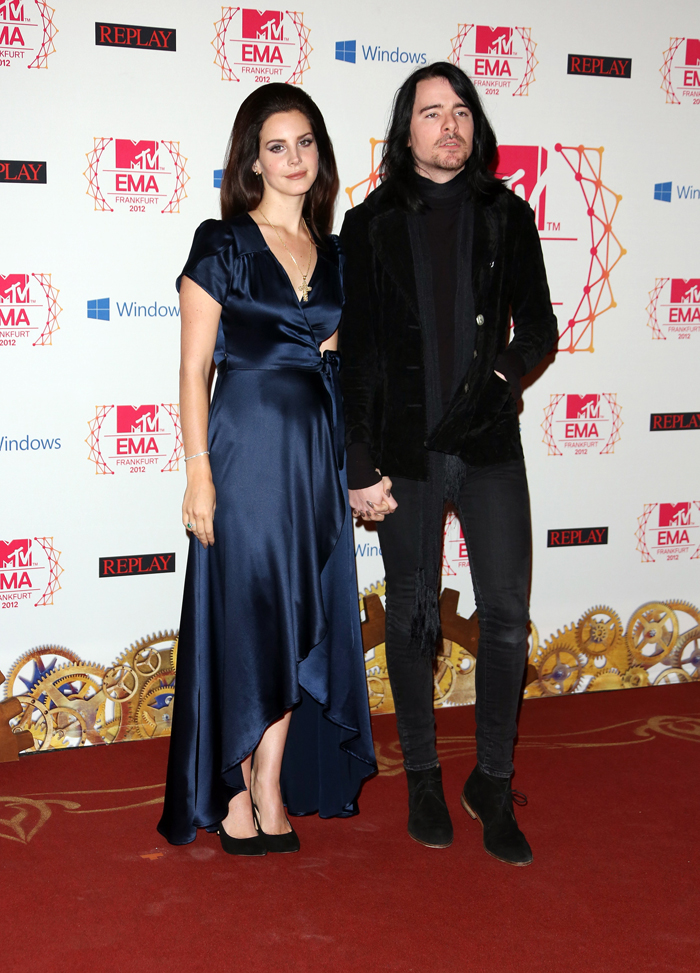 Lana Del Rey has revealed the inspiration behind the bizarre lyrics to her new track "Cola."

The song, which features on the singer's forthcoming release Born To Die — The Paradise Edition, features the lyric: "My p-ssy tastes like Pepsi Cola/ My eyes are wide like cherry pie."

Asked about the phrase, Del Rey said it was something that her boyfriend, Kassidy frontman Barrie-James O'Neill [said] and claimed: "I have a Scottish boyfriend, and that's just what he says!"

She also told Australian radio station Triple J that although she had been happy to release the song, the people she works with were less enthused. "I didn't but everyone around me did. They just thought it was really weird – nothing new here," she said when asked whether she had been hesitant about releasing the track. "For me that song was so cool. The guys got to play electric guitars… the chorus opens up and has tropical undertones. For me, the vibe of it is so good, I love it."

She added: "There was a lot of laughter. I'm getting lots of Pepsi comments, lots of Pepsi fanmail."
[From NME]
Man, I listened to the song on YouTube, and I'm ashamed to admit that (aside from the first line), it's kind of catchy. I am so ashamed to admit this, but one of my gay boyfriends agrees: "It's not odious, not as somnambulist as her other stuff." In further (slightly) infuriating news, Born To Die — The Paradise Edition will include the "Blue Velvet" cover that Lana performed for that H&M commercial that was disguised as a homage to bizarro filmmaker David Lynch. Just wait, she'll show up in one of his upcoming movies too, but at least that will give us a chance to watch Lana try to dress as a leading lady on the red carpet. Can we get some Marchesa on order for this lady? I can't wait.
Here are some assorted photos of Lana in London and Paris over the past monthish. She's such a strange combination of "weird" and "famewhore," isn't she?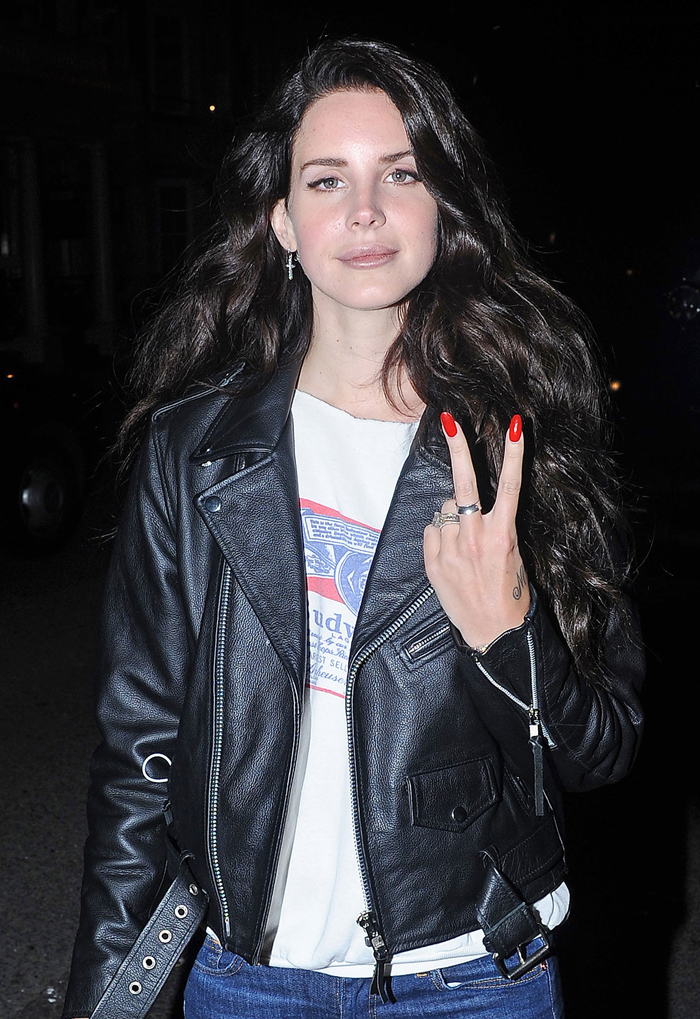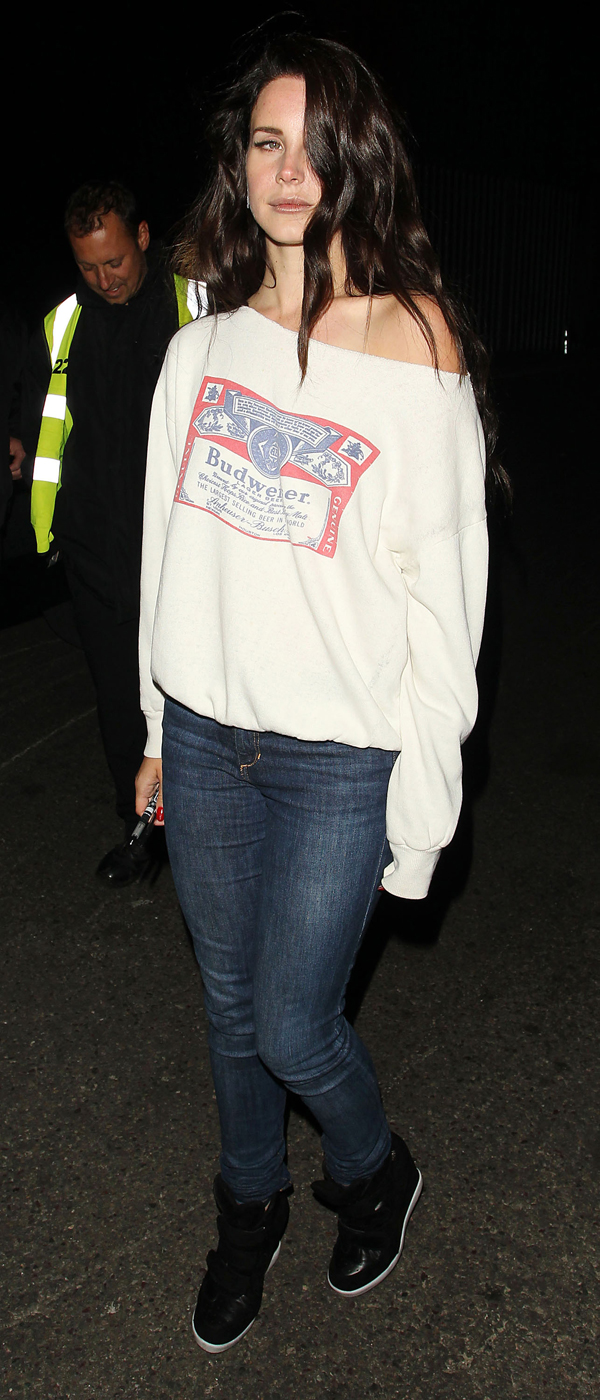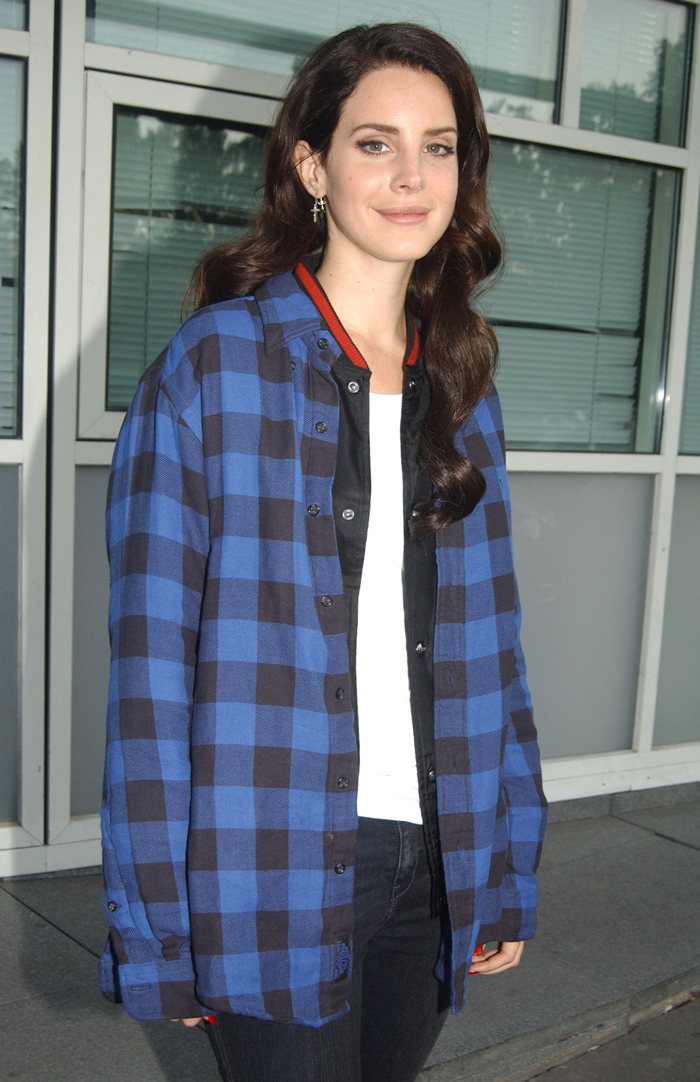 Photos courtesy of WENN